Disney Parks overhauls 'Jungle Cruise' to be more inclusive, Citigroup seeks to educate golfer Justin Thomas after LGBTQ slur, and Instagram launches business hub
Also: What top brands on Twitter are doing to best serve consumers, Google rolls out tools to promote COVID-19 vaccine information, Godiva to close all North America locations, and more.
Hello, communicators:
Google announced that it's rolling out features to help people find "accurate and timely information" about COVID-19 vaccines, including expanding information panels on Google searches, a "Get the Facts" vaccine campaign on Google and YouTube, and adding vaccination location information on Google Maps: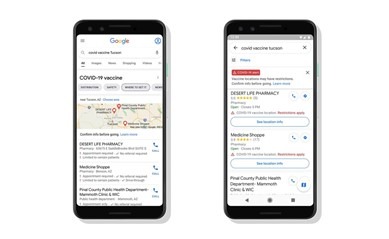 Searches for "vaccines near me" have increased 5x since the beginning of the year and we want to make sure we're providing locally relevant answers. In the coming weeks, COVID-19 vaccination locations will be available in Google Search and Maps, starting with Arizona, Louisiana, Mississippi and Texas, with more states and countries to come. We'll include details like whether an appointment or referral is required, if access is limited to specific groups, or if it has a drive-through. We're working with partners like VaccineFinder.org, an initiative of Boston Children's Hospital, and other authoritative sources, such as government agencies and retail pharmacies, to gather vaccination location information and make it available.
As health care organizations and public health experts focus efforts on COVID-19 vaccination information and access, expect more organizations to take part in awareness campaigns and initiatives, such as Budweiser donating its Super Bowl air time to the Ad Council and COVID Collaborative.
Here are today's top stories:
Disney Parks overhauls Jungle Cruise ride to 'reflect and value' diversity
 The long-standing attraction in California's Disneyland and Florida's Magic Kingdom Parks will receive updates that focus on storytelling as well as an effort to "reflect and value the diversity of the world around us."
Exciting enhancements are coming to the Jungle Cruise in Disneyland park at @Disneyland Resort and Magic Kingdom Park at @WaltDisneyWorld Resort later this year! Here's a first look from Walt Disney Imagineering at some of the "gnu" magic being added: https://t.co/B8HF1peLdF pic.twitter.com/2mWI8RPl3K

— Disney Parks (@DisneyParks) January 25, 2021
The announcement comes after continued criticism of racist depictions in the attraction—and moves by Disney Parks to change its Pirates of the Caribbean and Splash Mountain attractions over similar concerns.
Jungle Cruise has not aged as gracefully as some other attractions. Although the ride was inspired by nature documentaries, one of the sights along the river route is a scene of "natives," which depicts them as wild, primitive and threatening.
"It is our responsibility to ensure experiences we create and stories we share reflext the voices and perspectives of the world around us," Carmen Smith, Walt Disney Imagineering's vice president of creative development and inclusion strategies, said in a blog post: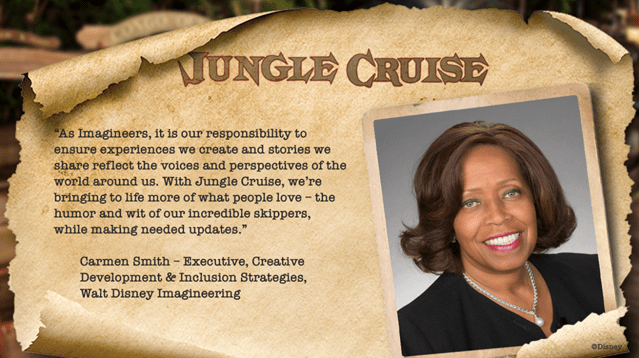 Image courtesy of Disney Parks.
Why it's important: Whether you're beginning your organization's DE&I journey or ensuring your commitments and initiatives are meaningful and relevant, consistently evaluate the current news and digital media landscapes as well as your organization's culture to see what's resonating and working as well as changes that should be made. Creating and executing more diverse and inclusive efforts isn't a sprint, but rather, a marathon. Consider how your efforts will make a difference both now and in the future, with additional goals and strategies.
---
CRISIS COMMUNICATIONS
Godiva Chocolatier announced that it's shuttering the doors on all 128 of its brick-and-mortar locations in North America by the end of March, due to steep declines of in-person shopping during COVID-19.
"Our brick & mortar locations in North America have had a clear purpose since we first opened our doors in this market—to provide an in-person experience for consumers to enjoy the world's most exquisite chocolates," said Nurtac Afridi, CEO of Godiva in a statement. "We have always been focused on what our consumers need and how they want to experience our brand, which is why we have made this decision."
The company said it's planning to maintain retail locations in Europe, the Middle East and Asia, and is leaning into both e-commerce sales as well as partnerships with grocery chains. 
You can see Godiva's focus on digital engagement, marketing and sales efforts with recent tweets such as this one, offering virtual Valentine's Day greetings:
Take a moment to express your affection for those you hold most dear. Send a customized virtual Valentine with your gift of GODIVA. https://t.co/4zUDnZ6sws pic.twitter.com/Dv3qO0TlR5

— GODIVA (@GODIVA) January 23, 2021
---
MEASURED THOUGHTS
Sprinklr and Twitter partnered on a recent report titled, "From AM to DM: Twitter customer care in a 24/7 world." In the report, Sprinklr revealed that top brands on Twitter reply to eight times more tweets than other organizations and receive 10 times more mentions on the social media platform, due to their emphasis on customer service and addressing consumers' questions and concerns.
What else can you do to be a top brand on Twitter? Respond quickly—and own up to your missteps. The report revealed that organizations exceling on Twitter respond up to three times quicker than others, with airlines being the most responsive to Twitter users' questions and complaints. Also, 78% of retailers that are winning with customer service on Twitter take responsibility for mistakes "in order to build trust":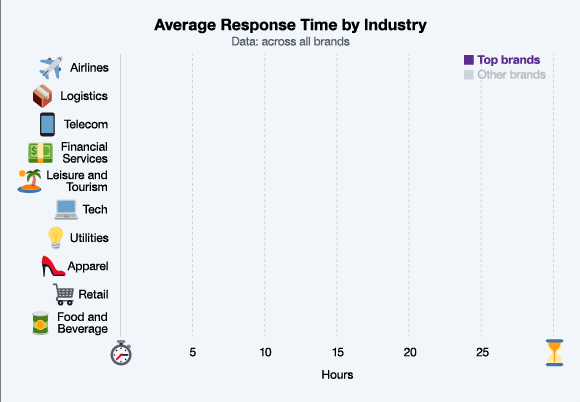 Image courtesy of Twitter and Sprinklr.
You can read the entire report here.
---
SOCIAL BUZZ
Instagram introduced a new tools hub called "Professional Dashboard," which it says is "a central destination to track performance, access and discover professional tools, and explore educational information curated by Instagram." 
Vishal Shah, vice president of product for Instagram, tweeted:
Creators and business owners – check out Professional Dashboard, a new central place to help you track performance, discover new features, get tips and more.

We'll add to it over time so we can keep helping you turn your passion into a living on IG.https://t.co/ewi3T2yeai pic.twitter.com/geDp4cn1SL

— Vishal Shah (@vishalshahis) January 25, 2021
In a blog post, Instagram wrote:
Throughout 2020, we launched a series of products to help creators and businesses accomplish their goals on Instagram like Badges, Instagram Shop, Checkout, and Branded Content tools. We also started to consolidate these tools and resources into one central hub. Since launch in November, over 82 million accounts have visited the Professional Resources hub and 37 million accounts have tapped on at least one item. We have built on this momentum with the launch of the new Professional Dashboard, and will continue to make the experience better throughout 2021.
---
CRISIS LEADERSHIP NETWORK
Looking for more insight on how to address the current global crisis and lead your organization into a strong recovery?
Join Ragan's Crisis Leadership Network to connect and brainstorm with peers, get the latest intelligence and research and start to strategize for the future of your organization.
Learn more about this exclusive membership here.
Citi to work with golf pro Justin Thomas after LGBTQ+ slur
The third-ranked golfer in the world recently lost his sponsorship deal with Ralph Lauren after he used an anti-gay slur at the recent Sentry Tournament of Champions. However, Citigroup is taking a different route, pledging to work with Thomas "to use his platform to play an active role in accelerating support for the LGBTQ+ community and to increase awareness of the discrimination this community continues to face."
 Carla Hassan, Citigroup's chief marketing officer, tweeted:
"Sorry" can not erase the pain and oppression behind an anti-gay slur, even if you said it to yourself. Deciding the future of Citi's relationship with Justin Thomas was not easy. Yet, I deeply believe this is an opportunity to shift minds and behavior. https://t.co/mG2jUc5BXH

— Carla Hassan (@chassan) January 25, 2021
In a company blog post titled "When an apology is not enough," Hassan wrote:
We considered terminating our relationship with him. It would send a clear and important message, but we decided to use this moment to work with Justin to try to create change. While we have engaged with many in the LGBTQ+ community who agree with our decision, there are some—including some of my Citi colleagues—who believe that anything less than termination undermines our firm's commitment to the LGBTQ+ community. We strongly considered that perspective and have great respect for it, and balanced it against the opportunity this situation provides to drive a more sustainable effort to shift minds and behavior. We want to do more than make it clear that it is wrong to use this word. Instead, we hope our efforts can lead more people to make an affirmative choice not to use this word or others like it—and to speak up when others do—because they understand the impact it can have, including on a friend, colleague or teammate who may be struggling with the decision to disclose their sexual orientation.
Why it matters: Most organizations would quickly move to distance themselves from a celebrity, influencer or employee who used a racist or homophobic slur, but Citi's move offers another consideration for organizations looking at their DE&I commitments and values.
Hassan wrote in her blog post that the "strong feelings this situation has evoked," including on Citi's employees who disagree with the company's decision to keep working with Thomas, "weighs very heavily" on her. Yet, she explained that after many discussions and consideration, the company decided that using Thomas' considerable influence as a celebrity athlete could do more for LGBTQ+ initiatives and inclusion than cutting him would. Hassan also committed to working with Citi's internal networks and outside LGBTQ+ organizations on an action plan, promising "if at any point we feel that Justin is not sincere in working toward this goal, we will end our relationship with him."
---
TAKE OUR SURVEY
The start of a new year brings more opportunities for communicators across roles, organizations and industries to develop effective strategies and efforts that can strengthen their brands amid continuing crises, including the COVID-19 pandemic.
Ragan's Communications Leadership Council has created The 2021 Communications Benchmark Survey, and wants to know your challenges, successes and needs as you navigate the rapidly shifting communications landscape and respond to unprecedented crises as well as new opportunities.
Please share your insights with us. As a thank you for your time and insights, you'll receive an Executive Summary of the report, packed with proprietary research that can help you better shape communications strategies in 2021. You'll also be entered to win one of five $100 Visa gift cards.
---
WHAT YOU SAID
We asked what motivates you in the morning, and nearly 43% of you said it's your cup of coffee or other caffeinated beverage, while nearly 43% said catching up on news and social media trends inspires you to start working. Almost 13% raise motivation levels through exercise, while under 3% use meditation or yoga to do the trick:
What gets you going in the morning, PR and marketing pros?

Share your daily routines with us below, and we'll share in tomorrow's #DailyScoop.

— PR Daily (@PRDaily) January 25, 2021
Is there question you'd like to see asked? Please let us know under the #DailyScoop hashtag!
---
SOUNDING BOARD
What's the one tool or resource PR pros need above everything else?
What's the one tool or resource PR pros need above everything else?

Comment with your thoughts below, and we'll share in tomorrow's #DailyScoop. pic.twitter.com/HjcDyC9Giq

— PR Daily (@PRDaily) January 26, 2021
Weigh in below and on Twitter under the hashtag #DailyScoop. We'll share in tomorrow's roundup.
COMMENT