Disney reorganizes to focus on streaming, Facebook bans Holocaust denials, and Barbie speaks out about racism
Also: Steak-umm says brands aren't cool on Twitter, a startup launches an anti-advertising campaign on TikTok, crucial pillars of marketing success, and more.
Hello, communicators:       
 Steak-umm's social media manager, Nathan Allebach, recently tweeted snark regarding brand managers trying to look cool on social media:
brands being cool on twitter, a thread:

— Steak-umm (@steak_umm) October 12, 2020
What efforts have you seen that have worked? Which fell short of the mark? Share your thoughts with us under the #DailyScoop hashtag.
Here are today's top stories: 
Disney announces reshuffle that focuses on streaming
The decision is one of biggest that Bob Chapek has made since becoming Walt Disney Company's chief executive, and "essentially creates three divisions that will focus on content, and another that will handle how it is distributed," The New York Times reported.
Chapek said in a press release:
Given the incredible success of Disney+ and our plans to accelerate our direct-to-consumer business, we are strategically positioning our company to more effectively support our growth strategy and increase shareholder value. Managing content creation distinct from distribution will allow us to be more effective and nimble in making the content consumers want most, delivered in the way they prefer to consume it.
Why it's important: Content continues to reign supreme, especially content accessed through streaming services or on social media platforms. Consumers are watching more content online than ever before as they stay at home during COVID-19, and similar to the growing trend of shopping online, the streaming will only grow. You'd be wise to consider that in your content strategies as you look to the future.
---
SOCIAL BUZZ
Mattel's Barbie is one again making headlines—this time, for discussing racism.
In a YouTube video, an animated Barbie and her friend Nikki discuss Nikki's "experiences about when she has been treated unfairly." The video has racked up nearly 450,000 on YouTube an more than 97,000 on Twitter:
On today's vlog, Nikki talks to #Barbie about racism and some of the ways she has been treated unfairly because of the color of her skin. Having conversations like this is one of the first steps in addressing and combatting a systemic problem. pic.twitter.com/OmFLxQgEkf

— Barbie (@Barbie) October 8, 2020
Mattel also tweeted a link to its guide for parents, "Supporting You to Raise Antiracist Children":
Together, let's keep listening, keep learning, and take action to inspire change.
For more resources on how to talk about anti-racism with your kids, visit: https://t.co/KqeamkFRPo

— Barbie (@Barbie) October 8, 2020
"Barbie is championing gender equality to help close the racial injustice barrier girls face through the Dream Gap and this is one way the brand is addressing it," Mattel said in a statement to CNN.
"The goal of the episode is to help girls to understand that there is a huge movement going on in the fight against racism, why people are marching together and the importance of reading and learning more about Black history," Mattel said.
---
MEASURED THOUGHTS
B2B Marketing recently shared the eight pillars it takes to build a mature and effective marketing strategy, which it says are the top indicators "of progress taken from the marketing leaders' point of view":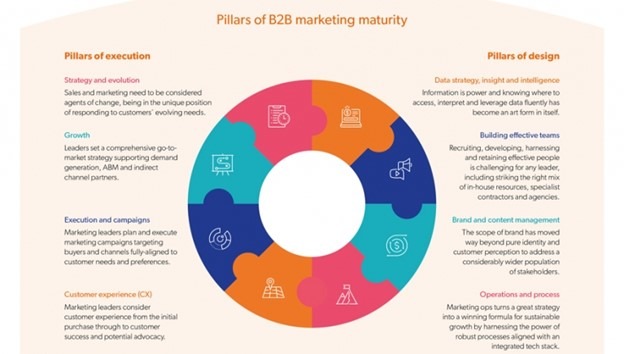 Image courtesy of B2B Marketing.
 You can view the entire infographic here.
---
CRISIS LEADERSHIP NETWORK
Looking for more insight on how to address the current global crisis and lead your organization into a strong recovery?
Join Ragan's Crisis Leadership Network to network and brainstorm with peers, get the latest intelligence and research and start to strategize for the future of your organization.
Learn more about this exclusive membership here.
Facebook bans content from Holocaust deniers
Facebook announced that it's banning content that denies the Holocaust or distorts historical information about the genocide. The rule has become part of Facebook's hate speech policy.
It's a reversal of a decision from Facebook's co-founder and chief executive, Mark Zuckerberg, who said two years ago to Re/code that though he found the content offensive, he didn't think the social media platform should delete it.
Now, Zuckerberg says his "own thinking has evolved" as data show an increase of anti-Semitic violence:
Today we're updating our hate speech policy to ban Holocaust denial. We've long taken down posts that praise hate…

Posted by Mark Zuckerberg on Monday, October 12, 2020
In a news release, Monika Bickeret, Facebook's vice president of content policy, wrote:
Today's announcement marks another step in our effort to fight hate on our services. Our decision is supported by the well-documented rise in anti-Semitism globally and the alarming level of ignorance about the Holocaust, especially among young people. According to a recent survey of adults in the US aged 18-39, almost a quarter said they believed the Holocaust was a myth, that it had been exaggerated or they weren't sure.
 Why it's important: Social media platforms such as Facebook are cracking down on hate speech, harassment and misinformation, not in an effort to be on the right side of history, but due to increased pressure from its users and advertising partners.
As more consumers call for organizations to stand up for political and social issues, expect to see more moves such as this—especially as some reports, such as Edelman's Trust Barometer, show that consumer trust increases for organizations making such moves.
---
DOWNLOAD OUR REPORT
Though 70% of communicators are not looking beyond 2020 in terms of strategic planning, they also don't expect our current state of crisis to ease up by the end of the year. Operating in a constant state of crisis and rapidly responding to events throughout the world are top challenges for communicators, our recent report, Ragan Survey of Internal Communicators, revealed.
The survey sheds light on top challenges, with insights including top issues, what the "return to the office" looks like, which departments internal communicators will collaborate with the most and more.
To learn more about how to rise to the challenges facing organizations across industries, join us at Ragan's Internal Communications & Employee Experience Virtual Conference on Oct. 14. You'll learn from internal and employee communications experts from National DCP, Deloitte, Charles Schwab, American Psychological Association and more.
---
SOCIAL BUZZ
MSCHF—a startup pronounced "Mischief"—is paying TikTok creators to call out unsavory practices by Facebook, Comcast, Palantir, Purdue, Amazon, Fashion Nova and the National Football League. They're even targeting TikTok in their series of jingles, dubbed the "Anti-Advertising Advertising Club":
For this stunt, MSCHF is planning to give out $50,000 in total to creators who use the jingles and reach a certain threshold of views. Each brand has a different payout and different required number of views, so people who hit 5,000 views for attacking TikTok will get $50, while people who amass 50,000 views attacking Amazon will get $100.
It's an interesting take on influencer culture and the power of content creators. Brand managers should watch out, lest one of these loops goes viral. If it does, it won't be as positive as the TikTok featuring Ocean Spray and Fleetwood Mac.
---
EDITOR'S PICKS
Employees are crucial to any organization, and communicators have had to exercise creativity along with engagement strategies to keep members of their workforces connected to one another and the organization's mission. Show your team how much they matter to you and your brand with a thoughtful gift and "thank you."
Consider these options:
---
WHAT YOU SAID
We asked which area could receive the biggest boost, whether through honing skills or increasing budget, and nearly 62% of you said you could improve upon measurement and reporting. Almost 30% of you said you need to strengthen your writing for SEO prowess, while roughly 8% pointed to cybersecurity.
On your team/in your organization, which area could use the most help (by strengthening your skills, securing more budget, etc.)?

Share your thoughts with us below, and we'll share in tomorrow's #DailyScoop.

— PR Daily (@PRDaily) October 12, 2020
Is there a question you'd like us to ask in an upcoming poll? Let us know!
---
SOUNDING BOARD
Where do you stand on brand managers using Gen-Z slang terms in their messages?
Where do you stand on brand managers using Gen-Z slang terms in their messages?

Share your thoughts with us below and we'll share in tomorrow's #DailyScoop.

— PR Daily (@PRDaily) October 13, 2020
Share your insights below and under the hashtag #DailyScoop. We'll share in tomorrow's roundup.
Editor's note: Ragan Communications may earn a commission through our affiliate partnerships when purchasing items in our content.
COMMENT