Experts criticize Cuomo's apology, Amazon tweaks logo after comparisons to Hitler, and Twitter opens 'Spaces' to Android users
Also: Mental Health America's recent report highlights high employee burnout and stress, Reese's introduces all-peanut butter cups, Facebook tests 'Bars' app, and more.
Hello, communicators:
Twitter announced that it's opening up its Clubhouse competitor, "Twitter Spaces"—which the social media platform is positioning to Android users:
Android folks, our beta is growing! starting today you will be able to join and talk in any Space. SOON you'll be able to create your own but we're still working out some things. keep your 👀 out for live Spaces above your home tl

— Spaces (@TwitterSpaces) March 2, 2021
As Clubhouse is still available only to those with Apple's iOS, Twitter's move takes advantage of the growing trend of digital audio content, and also seeks to take advantage of an underserved consumer audience, to quickly boost its numbers.
Here are today's top stories:
Critics slam Gov. Andrew Cuomo's 'tone-deaf' apology
 Following the second accusation of sexual harassment by former employees of New York Gov. Andrew Cuomo, the politician issued a statement that read, in part:
At work sometimes I think I am being playful and make jokes that I think are funny. I do, on occasion, tease people in what I think is a good natured way. I do it in public and in private. You have seen me do it at briefings hundreds of times. I have teased people about their personal lives, their relationships, about getting married or not getting married. I mean no offense and only attempt to add some levity and banter to what is a very serious business.

I now understand that my interactions may have been insensitive or too personal and that some of my comments, given my position, made others feel in ways I never intended. I acknowledge some of the things I have said have been misinterpreted as an unwanted flirtation. To the extent anyone felt that way, I am truly sorry about that.
Several legal and communications professionals have called Cuomo's mea culpa "tone deaf" and "offensive," criticizing his language and apology timing (on Feb. 28, and only after the second accusation surfaced).
The Associated Press reported:
Northwestern University law professor Deborah Tuerkheimer, who teaches law and gender issues, said Cuomo in his statement ignored the crucial power imbalance at play.

"The notion that his behavior was simply unwanted 'flirtation' that may have caused 'offense' entirely ignores a workplace hierarchy in which he—the governor of the state—was positioned at the very top," Tuerkheimer said.
In its article titled, "Andrew Cuomo's apology: Right and wrong ways to say sorry," The Wall Street Journal reported this insight from Lawrence Parnell, associate professor and the director of the strategic PR program at George Washington University's Graduate School or Policial Management:
It's consistent with what a lot of leaders do, but not very satisfying to the average person. It is crafted in such a way, like, 'I'm sorry if I offended,' instead of taking responsibility that you might have actually done something offensive. Some of this is political, some of this is legalistic. These apologies tend to be crafted to minimize personal responsibility, but ultimately it falls short.
CNN's political commentator, SE Cupp, wrote in an opinion piece titled, "Andrew Cuomo's offensive 'apology'":
The passive voice, the couched, conditional language, the excuses, the justifications — all the political equivalent of "I'm sorry if you feel that way." It was an "apology" that no one should take seriously.

… It's meant to dump the onus back on the woman for failing to have a sense of humor or, as Cuomo put it in his statement, in multiple varied ways, misinterpreting "levity," "banter," "being playful," "jokes," and "good natured" teasing as "an unwanted flirtation."
Why it's important: The pitfalls of the "non-apology" can often befall executives and corporate commmunicators, if you're not careful. Apologies are a time to remain humble, sincere and exude empathy. They are not time to flex your corporate speak muscles or highlight your organization's track record.
Learn from the backlash over Cuomo's apology and ensure that when issuing a mea culpa, you take responsibility for any wrongdoing, commit to fixing the crisis and/or changing your strategies to avoid similar issues in the future, and outline the steps you will take along with a timeline to ensure accountability. With the right apology—and crisis response strategy—you can start to rebuild trust and repair your reputation.
---
TACTICALLY SPEAKING
Reese's is launching a limited-edition peanut butter cup without any chocolate, to cater to "peanut butter lovers." The candy will be available in stores in April:
View this post on Instagram
This is the first time in the company's 90-year-history that its peanut butter cups have taken chocolate completely out of the equation. Versions of the Peanut Butter Lovers Cup came out in 2019 and 2020, but those still contained some chocolate. 
"While launching a Reese's Cup with absolutely no chocolate might come as a shock, we're giving the truest peanut butter fans something to go wild about," said Reese's brand manager Margo McIlvaine in a statement.
Though CNet's Gael Fashingbauer Cooper called the product "a major disappointment," the limited-edition nature of the new offering—along with its launch ahead of the Easter holiday, in which many retailers offer seasonal candies—will probably help the Hershey's-owned brand rack up sales.
---
CRISIS LEADERSHIP NETWORK
Looking for more insight on how to address the current global crisis and lead your organization into a strong recovery?
Join Ragan's Crisis Leadership Network to connect and brainstorm with peers, get the latest intelligence and research and start to strategize for the future of your organization.
Learn more about this exclusive membership here.
---
MEASURED THOUGHTS
Mental Health America released its "Mind the Workplace 2021 Report," which revealed more than 5,000 U.S. employees' perceptions across 17 industries. The results are staggering, with 90% of employees reporting workplace stress that affects their mental health, 60% of employees not receiving the help they require to manage this stress, and 25% reporting severe signs of burnout: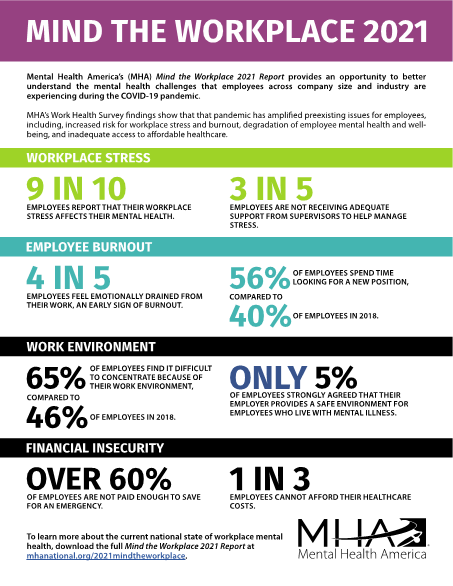 Image courtesy of Mental Health America.
Communicators involved with overcoming remote workplace and employee engagement challenges should remember that not all stress comes from the workload itself.
MHA reports that 60% of employees are concerned about their financial situations. It's not a surprise, considering that workforce realignments and layoffs continue at organizations across industries—and that more than 60% of employees aren't paid enough to save for an emergency. The report highlights the need for communicators to help employees with remote technologies as well as overall support and information, including financial wellbeing. 
You can read the entire report here.
Amazon changes app logo after comparisons to Hitler
The online retailer quietly tweaked its app logo after consumers compared the new graphic to Adolf Hitler.
The Guardian's U.K. technology editor, Alex Hern, tweeted the logos side by side:
lmao I completely missed that amazon quietly tweaked its new icon to make it look… less like hitler pic.twitter.com/Jh8UC8Yg3u

— alex hern (@alexhern) March 1, 2021
The change is ahead of Amazon rolling out the new logo to additional markets, including U.S. consumers.
Only iOS users in the United Kingdom, Spain, Italy and Netherlands saw the Hitler-esque logo over the past few weeks. The updated logo rolled out worldwide for iOS users last week. Android users will see the new logo beginning this week.
Branding agency Coley Porter Bell chief executive Vicky Bullen said: "Unfortunately for Amazon, the visualisation of their parcel tape on the original logo will immediately be associated as a Hitleresque moustache, as that shape is forever embedded in our [subconscious] brains as such – not the best association for a brand that wants to create delight on the doorstep."
Why it matters: Amazon's move has received mix reactions, with some critizing the e-commerce giant for succumbing to consumer criticism. However, when already responding to historical crises including COVID-19—along with focusing on reputation management as reports surfaced about the company's warehouse conditions for employees—it's smart for Amazon to make this change to avoid another potential crisis.
---
SOCIAL BUZZ
Facebook is testing a new app called "Bars" that many are calling a TikTok competitor.
The app offers professionally created beats, which users can then add lyrics to and record 60-second videos over them. Additional features, including autotune and visual filters, help rappers craft and share new rhymes. Bars also offers a "Challenge Mode" that gamifies the rapping experience by offering word prompts.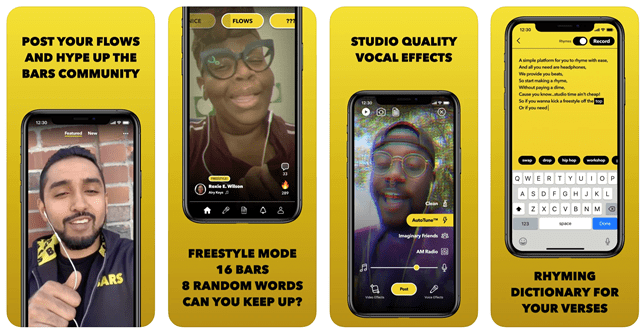 TikTok has already become a launchpad for up-and-coming musicians, including rappers; it has helped rappers test their verses, is favored by many beatmakers and is even influencing what sort of music is being made. Diss tracks have also become a hugely popular format on TikTok, mainly as a way for influencers to stir up drama and chase views. In other words, there's already a large social community around rap on TikTok, and Facebook wants to shift some of that attention back its way.
Bars is currently in testing and there's a waitlist to join. However, even if your organization or clients don't fit the app's target audience, you should still watch for the social media network to continue testing this and other offerings that play on TikTok's success. Taking advantage of new and rising social media platforms can give you an advantage against competitors as you battle for eyeballs and attention online.
---
DOWNLOAD EXCLUSIVE RESEARCH
Where communications fits in an organization is a crucial element of positioning communicators to champion important campaigns, protect reputation and branding, drive key messages and influence top-level strategies.
Are your PR and internal communications teams in sync, or do you place communications and marketing together? How does your organization view its communications function—and are you working on breaking down silos for collaborated, concentrated efforts?
Take a look at how several communicators fit within their organizational workflows with our exclusive case study.
Especially as organizations adjust to remote, dispersed and hybrid workplaces during COVID-19 and prepare for the future of work, considering where your communications team sits within your organization's flow charts can affect leadership efforts and help you successfully execute campaigns and inititiaves.
---
WHAT YOU SAID
We asked if you're increasing audio or video content within your digital and social media strategies, and half of you are going all-in on videos, while 30% say you're incorporating both types of content to reach and engage your audiences. However, 20% of you are focusing elsewhere, such as social media posts with graphics or blog posts:
Are you increasing audio content (podcasts, Clubhouse, etc.) or video content (YouTube, livestreams) within your strategies, PR Daily readers?

Weigh in below, and we'll share in tomorrow's #DailyScoop.

— PR Daily (@PRDaily) March 2, 2021
Is there question you'd like to see asked? Please let us know under the #DailyScoop hashtag!
---
SOUNDING BOARD
What are the best words that a PR or communications pro can hear?
What are the best words that a PR or communications pro can hear?

Comment with a sentence, phrase or GIF below with what makes your heart sing, and we'll share in tomorrow's #DailyScoop. pic.twitter.com/h9HpHx4bbl

— PR Daily (@PRDaily) March 3, 2021
Weigh in below or share what makes your heart sing on Twitter under the hashtag #DailyScoop. We'll share your insights in tomorrow's roundup.
COMMENT
3 Responses to "Experts criticize Cuomo's apology, Amazon tweaks logo after comparisons to Hitler, and Twitter opens 'Spaces' to Android users"
Ronald N. Levy

says:

The PR lesson from Cuomo's situation is that if your guy makes any kind of apology at all, even saying I'm sorry if she incorrectly interpreted some pleasantry as a flirtation, it can sound like an admission of guilt. There's no reason for an executive to apologize if he's not guilty.

Cuomo served New Yorkers over ten years for less than a third of what a law firm would gladly pay him, yet when a former employee says "I felt uncomfortable over what he said," he apologizes as if he has a real reason to feel sorry. That's like apologizing for not working for only half as much compensation. An accusation is an attack and it's not a sensible response to apologize over an attack that's unjustified.

Our CEOs work damn hard as Cuomo does—often MANY more than 40 hours a week–and ridiculous accusations deter other dedicated people from public service and corporate management. Also an unjustified apology can reflect badly on colleagues and the whole organization. It's like an athlete shouldn't apologize for taking drugs if in truth he doesn't go near drugs. Bad for the athlete and the team.

A low level former employee once accused me in an unemployment hearing of asking him personal questions. Close questioning revealed that one key question is–I'm serious–"how are you." And when he said he was sick I asked
what have you got.

Even a prostitute deserves not to be raped, and unjustified attack is reputational rape of someone innocent like the rest of us.

Ronald N. Levy

says:

Cuomo should get up-to-date in language. These days a hetero who is looking even maybe is called not a "flirt" but a "sexual predator." A hetero has a legal right to be what God made him but an accuser has a legal right to hate him and say he makes her afraid so she loses sleep and constantly worries what will happen.

Ronald N. Levy

says:

Finally Cuomo's side is starting to do the right thing: don't just apologize which is like saying he's not as bad as charged, but emphasize the "positive opposite." Top aide Melissa DeRosa is quoted: "I am incredibly proud of the work this administration has done to further women's rights."

An apology quantifies an alleged error but DeRosa suggests the opposite that Cuomo is a hero for advancing women's rights. Perfect. This is how accusation management should be done.