Hasbro and Scrabble association ban slurs, United Airlines might lay off up to 36,000 employees, and 51% of PR pros are burned out
Also: Microsoft reveals new Teams features to complement virtual meetings, Potbelly's drops wellness reminders, get $1,000 to play Animal Crossing, and more.
Hello, communicators:
The social media manager behind Potbelly Sandwich Shop recently tweeted a reminder to digitally detox:
stop checking email
set slack to away
ignore your phone

just for an hour tomorrow

can't be your best if you're always on

— potbelly (@Potbelly) July 9, 2020
Doing so can help you place transitions between work and recreation hours as you work from home. The move to drop wellness knowledge and other truths is also a growing trend among community managers across branded accounts.
Here are today's top stories:
Hasbro and Scrabble players association ban slurs
The toy company, which has removed offensive terms annually from the Merriam-Webster Official Scrabble Players Dictionary, announced that slurs aren't acceptable—and will add it to the official rules.
Hasbro's statement read, in part:
Hasbro Gaming is rooted in community and bringing people together, and we are committed to providing an experience that is inclusive and enjoyable for all.

For that reason, Hasbro is changing the official rules of its Scrabble game to make clear that slurs are not permissible in any form of the game.
The North American Scrabble Players Association also announced that offensive slurs would be removed from the official word list used for competition.
John Chew, NASPA's chief executive, wrote a letter to members that read, in part:
How can we in this day tell prospective members that they can only play with us if they accept that offensive slurs have no meaning when played on a board? If the youth of SCRABBLE are our future, then why do we haze them by making them memorize lists of offensive words? If a word is so offensive that it can only be referred to by its initial, does that not indicate that it retains its meaning in all contexts? How can we say words have no meaning, when the meanings are there for anyone who holds down their finger on a word in SCRABBLE GO?

… As diverse and inclusive a community as we think we currently are, we exclude those who think that the N word is always meaningful. We exclude Jewish people whose idea of recreation does not include having their opponent spell out anti-Semitic slurs against them. We exclude LGBTQ+ people who think that the time is past for slurs targeting them to be accepted. We exclude not only these players, but their families and friends.

We may be split quite evenly as a community about what we should do, but that is because we have insulated ourselves from the rest of the world, clinging to the notion that our use of words is privileged. The world has moved on past us, and as more than 90% of our outside poll respondents told us, it is time for us to catch up or be left behind.
Why it's important: Diversity, equity and inclusion initiatives are not "one and done" strategies. No matter your response in the early days of Black Lives Matter protests, you would do well to talk with your employees and find ways that you can improve your efforts in all three pillars, whether through eliminating offensive words and processes, or increasing opportunities and hiring new team members. Aim for goals you can institute now, as well as long-term goals.
---
TACTICALLY SPEAKING  
Microsoft is rolling out new features for its Teams platform, which the company created as a response to remote collaboration and meetings during COVID-19.
Along with features including video filters, live speaker captions and the reactions (which look similar to LinkedIn or Facebook post reactions), Microsoft is also debuting "Together Mode," which will be available to everyone in August. The tool creates a virtual live avatar of yourself using artificial intelligence, which you can place in a virtual auditorium, and react to comments and news shared during meetings.
As many organizations' workforces continue to collaborate remotely, employees' behaviors are shifting, with analysts predicting that more work-from-home arrangements will remain after the pandemic.
Don't treat your remote workforce efforts as temporary fixes. Instead, check in with your employees to see what's working and what's not, and create flexible long-term strategies that can see your organization through COVID-19 and into the future.
---
MEASURED THOUGHTS
A recent study by BuzzStream and Fractl revealed that 73% of PR pros feel confident about the value of PR during COVID-19, but only 59% are confiident about their effectiveness throughout the crisis.
Though 60% of PR pros said they feel confident about job security during COVID-19, more than half have been affected by furloughs, layoffs and reduced pay. Job security doesn't mean smooth sailing, either. Only 42% said they feel satisfied within their current roles, while 51% feel burned out and 65% of PR pros are stressed.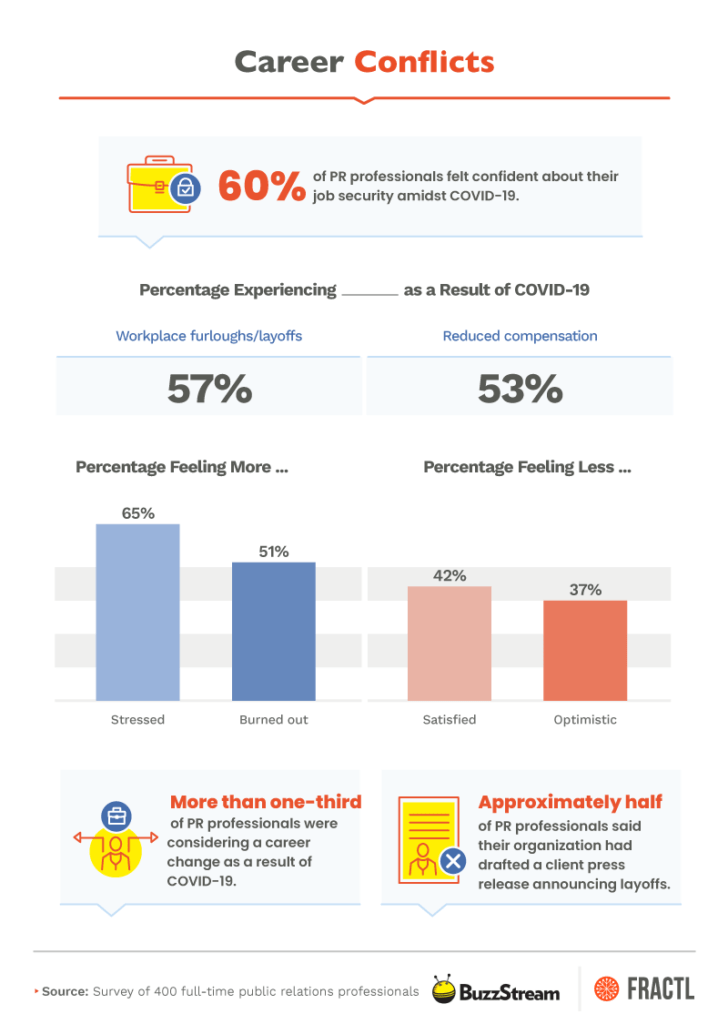 Combat stress by instituting workplace wellness programs and fostering open and supportive environments for employees to speak up. You can learn more on July 16 at our Curbing Employee Burnout Webinar, featuring speakers from Mental Health America, Big Brothers Big Sisters of America, Aerobodies and Booking.com.
You can also read the entire study here.
---
CRISIS LEADERSHIP BOARD
Looking for more insight on how to address the current global crisis and lead your organization into a strong recovery?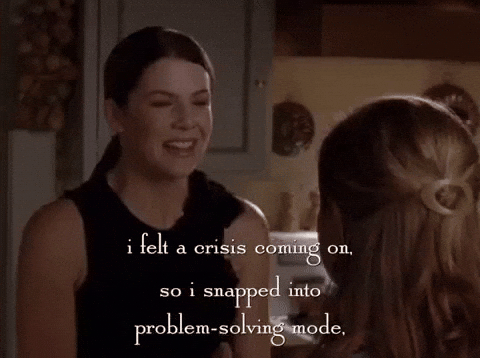 Join Ragan's Crisis Leadership Board to network and brainstorm with peers, get the latest intelligence and research, and start to strategize for the future of your organization.
Learn more about this exclusive membership here.
United Airlines prepares to furlough 36,000
The airline told employees that it could temporarily lay off up to 36,000 employees on Oct. 1—nearly 40% of its global workforce. Additional furloughs from other airlines across the industry are expected, as the $25 billion U.S. federal stimulus program given to airlines bar the companies from cutting jobs through the end of September.
"The reality is that United simply cannot continue at our current payroll level past Oct. 1 in an environment where travel demand is so depressed," the airline told employees. "And involuntary furloughs come as a last resort, after months of companywide cost-cutting and capital raising."

The furloughs would include about 15,000 flight attendants, 11,000 customer service and gate agents, 5,500 maintenance employees, and 2,250 pilots. United could cut fewer employees if ticket sales pick up significantly or if many thousands of workers accept fewer hours or apply for buyouts and early retirement packages before a mid-July deadline. Workers will know if they are being furloughed by the end of August, and most will be eligible to return to work when travel picks up. United is also cutting about a third of management and administrative employees.
Why it's important: The travel and hospitality industries have been hit hard during COVID-19, along with many retailers. Sur La Table recently filed for bankruptcy, announcing it would close almost half of its stores, and Bed Bath & Beyond is also closing 200 locations as it sales fell 49%.
Regardless of your industry or organization, remain transparent in your communications and consistently check in with your employees. They should hear about impending layoffs and restructuring plans, including bankruptcy, from your leaders—not from headlines.
---
TAKE OUR SURVEY 
Ragan has partnered with PoliteMail to ask how COVID-19 has affected your role as a communicator, including what channels you're using more than ever before and what your organization's employees are asking.
When you have a moment today, please fill out this three-minute survey on the state of communications. Thank you! https://t.co/i3bgKR7DcF

— Ragan.com (@RaganComms) June 26, 2020
As a thank you, you'll receive a copy of the results, The State of Communication Summer 2020.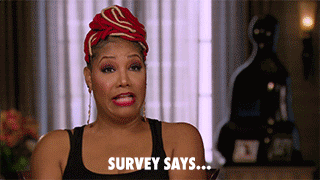 ---
SOCIAL BUZZ
HighSpeedInternet.com is offering one person the opportunity to make $1,000 by playing Animal Crossing.
Attention all Nintendo Switch enthusiasts: We're Hiring! We want to pay one of you $1,000 to play Animal Crossing: New Horizons for 50 hours. Not a bad gig, huh? To apply give us a follow, and visit us athttps://t.co/kGLby0fehC
to fill out your application!#HSIAnimalCrossing pic.twitter.com/bd9uXnZnBv

— HighSpeedInternet.com (@TeamHSI) July 6, 2020
In a blog post, the company said it wanted "to make the experience a little sweeter for one Animal Crossing fan, and hopefully it'll make the pandemic pass by just a little easier." The $1,000 prize equates to $20 for each hour of required game play.
Players must own the newest version of the game (and a console to play it on), be 18 or older, and live in the United States to enter. You must run an internet speed test and send in the results with your application.
Positioning contests and sweepstakes as jobs has been an increasingly popular tactic, probably because its novelty makes for an interesting story. Consider taking this tack or employing another creative way to pitch a competition in the future.
---
WHAT YOU SAID 
We asked what you consider the biggest measurement myth that challenges your efforts to prove ROI, and nearly 45% of you said believing you can't prove PR wins remains a top obstacle. Roughly 21% said the myth of data not lying is a stumbling block, while 18% said believing key performance indicators don't matter can stunt measurement efforts.
What's the biggest measurement myth that challenges PR pros' efforts to prove their worth?

Share your thoughts with us under #DailyScoop.

— PR Daily (@PRDaily) July 8, 2020
---
SOUNDING BOARD
Are you a fan of working from home, or can you not wait to go back to the office?
Are you a fan of working from home, or can you not wait to go back to the office?

Weigh in with how remote working effects your PR efforts under #DailyScoop, and we'll share in tomorrow's roundup.

— PR Daily (@PRDaily) July 9, 2020
Weigh in below and share your thoughts under the hashtag #DailyScoop.
COMMENT
One Response to "Hasbro and Scrabble association ban slurs, United Airlines might lay off up to 36,000 employees, and 51% of PR pros are burned out"
Kate Tam

says:

ah, we have been complaining about the offensive slurs from a very long time and our voice was never heard. Glad that the masses are raising the voices and very happy to see the slurs are going to be removed. i could still see some sites like scrabblegocheat.net listing the offensive scrabble words though they are playable.

Great , this should also be propogated to the scrabble Go game thats just a mobile version of the classical version.