Labor shortage excuse rankles American Airlines customers, mask anxiety falls, and the SEC to monitor climate impact
Also: Coca-Cola announces DE&I push, Facebook launches live audio rooms, and Del Monte creates a sustainability ambassador program.
Hello, communicators:
Coca-Cola has announced plans to nearly double its spending with Black, Hispanic and Asian-American and Pacific Islander (AAPI)-owned media companies over the next three years. The soda giant has set a benchmark goal for these media companies to account for 8% of Coca-Cola's total annual media budget in North America by 2024. More immediately, Coca-Cola North America is taking immediate action to boost its 2021 spending with media companies owned by people from diverse backgrounds by 5 times its expenditure in 2020.
"Following a thorough analysis of our marketing spend, we recognized we could do more to support an equitable media landscape by creating growth opportunities for minority-owned and led outlets," chief marketing officer of The Coca-Cola Company's North America Operating Unit Melanie Boulden said in a press release. "We must take a leadership role, and that's why we're not only committing to increase our investment with minority-owned and led media companies, but also are focused on non-media partnerships and empowerment initiatives designed to foster growth and increase competitive advantage of minority businesses and communities."
Remember that your DE&I and purpose work should be part of a sustained campaign rather than a one-off donation or partnership. Being transparent about your goals and the timeline for meeting them allows your messaging efforts to highlight specific milestone moments that renew your company's commitments to its values and continue the narrative of your purpose work long after the first press release is published.
Short-staffed American Airlines struggles to connect with angry fliers
American Airlines [AA] has announced that it is canceling hundreds of flights through mid-July as the company works to meet the massive upswing in travel demand. The airline initially announced 120 flight cancelations and is estimating another 50 to 80 will be cancelled per day over the next month.
"The first few weeks of June have brought unprecedented weather to our largest hubs, heavily impacting our operation and causing delays, canceled flights and disruptions to crew member schedules and our customers' plans," Shannon Gilson, a spokesperson for the airline, told CNN. "That, combined with the labor shortages some of our vendors are contending with and the incredibly quick ramp up of customer demand, has led us to build in additional resilience and certainty to our operation by adjusting a fraction of our scheduled flying through mid-July."
Frequent fliers were quick to challenge this explanation on Twitter, noting that phrases like "labor shortages" negate the fact that there are plenty of people out there to work who just don't want to work for paltry wages:
I repeat: there is no – DOUBLE REPEAT: THERE IS NO!!! – labor shortage in America!! Everyone willing to offer an actual living wage can find willing applicants!https://t.co/q05x8SrNHR

— Tennesseine (@Tennesseine) June 21, 2021
Others questioned why the airline was struggling to meet customer demand in the first place after the airline received nearly $6 billion in pandemic assistance funds:
A reminder that American Airlines received $5,800,000,000 in pandemic assistance from the Department of The Treasury.

$4,100,000,000 GRANT
$1,700,000,000 LOAN pic.twitter.com/d2D4lXeerl

— Yo Dammit (@YoDammit) June 21, 2021
In the five years before the pandemic, American Airlines spent 90% of profit on stock buybacks and dividends. Its CEO made $11.6 million.

Then it got a $5.8 billion bailout and still cut 19,000 jobs.

Now it blames canceled flights on a "labor shortage"https://t.co/s93u93X3x4

— Dan Price (@DanPriceSeattle) June 21, 2021
Others, acknowledged what the disconnect between a message about labor shortages implied about how the company treats its workers:
American Airlines received almost $7 billion in PPP loans, their CEO made almost $11 million, yet they still laid off 30,000 of their employees during the pandemic.

Can you guess why most of those 30,000 people don't want to get their old jobs at American Airlines back? https://t.co/HvvENLfbmU

— Erin Leigh (@pukeuprainbows) June 21, 2021
Why it matters:
Though other airlines have seen their share of flight cancelations over the past week, American Airlines is taking more flak because of the way that the company positioned its explanation.
Whenever possible, use your channels to share stories and highlight experiences of your employees who have navigated the difficulties that you describe firsthand to put a human face on your communications and avoid making larger, sweeping generalizations about your industry. Remember in this era of stakeholder capitalism that your stakeholders demand more transparency around a company's financial arrangements than ever before. Consider crafting responses that explain your financial commitments (including how PPP loans were disbursed) to prevent speculation and negative sentiment from escalating until your company no longer has control over its own narrative.
---
MEASURED THOUGHTS
A new study by Morning Consult has found that the comfort gap between vaccinated and unvaccinated Americans has narrowed following updated, relaxed mask guidelines by the CDC. Fifty-one percent of vaccinated U.S. adults on average said that they are comfortable returning to a range of 43 activities, compared to 53% of unvaccinated adults who expressed a similar level of comfort.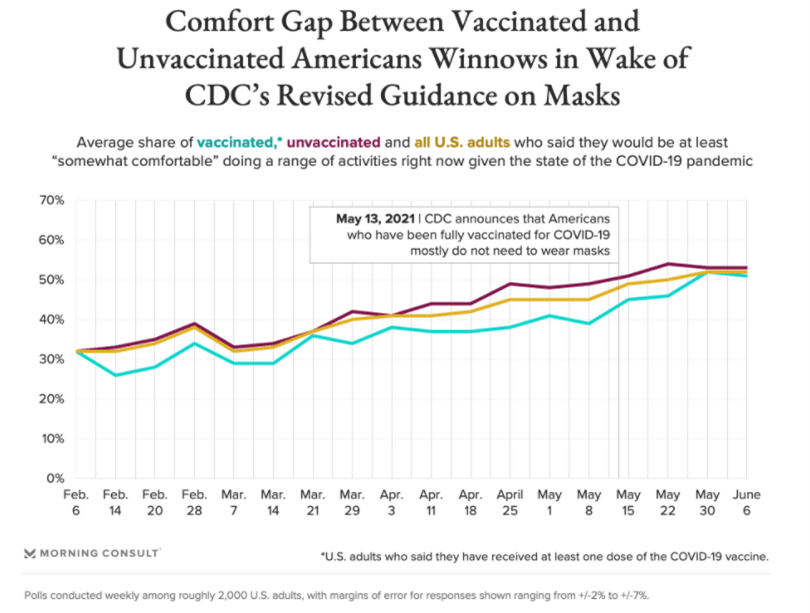 These numbers spell good news for communicators working at companies with brick and mortar locations, those working on live events, offices reopening and much more. In any event, take a pulse of stakeholder comfort levels around mask wearing before instituting company-wide policies and set the expectation that those policies may change should pre-established benchmarks for vaccinations be reached as reported by your state and/or local governement.
Check out the full study here.
---
TACTICALLY SPEAKING
Fruit and vegetable distributor Fresh Del Monte has launched a campaign intended to reinforce the company's Corporate Social Responsibility (CSR) and sustainability efforts. The "Bunch of Good" campaign features six "branch of good" efforts including Del Monte donating nearly 15 million pounds of fresh produce in the USA, offering scholarships to students in the Philippines, funding six medical centers in Kenya, designating nearly 10,000 hectares of protected biodiversity areas in Central American rainforests and more.
The puns don't end there: Del Monte is also offering customers the chance to become "bananefactors" by offering a membership to its Bunch of Good Society that requires a vow to become involved in CSR work in their local communities. One bananefactor will win a trip to the Feeding America headquarters in Chicago and present the society with a $10,000 donation on behalf of Del Monte.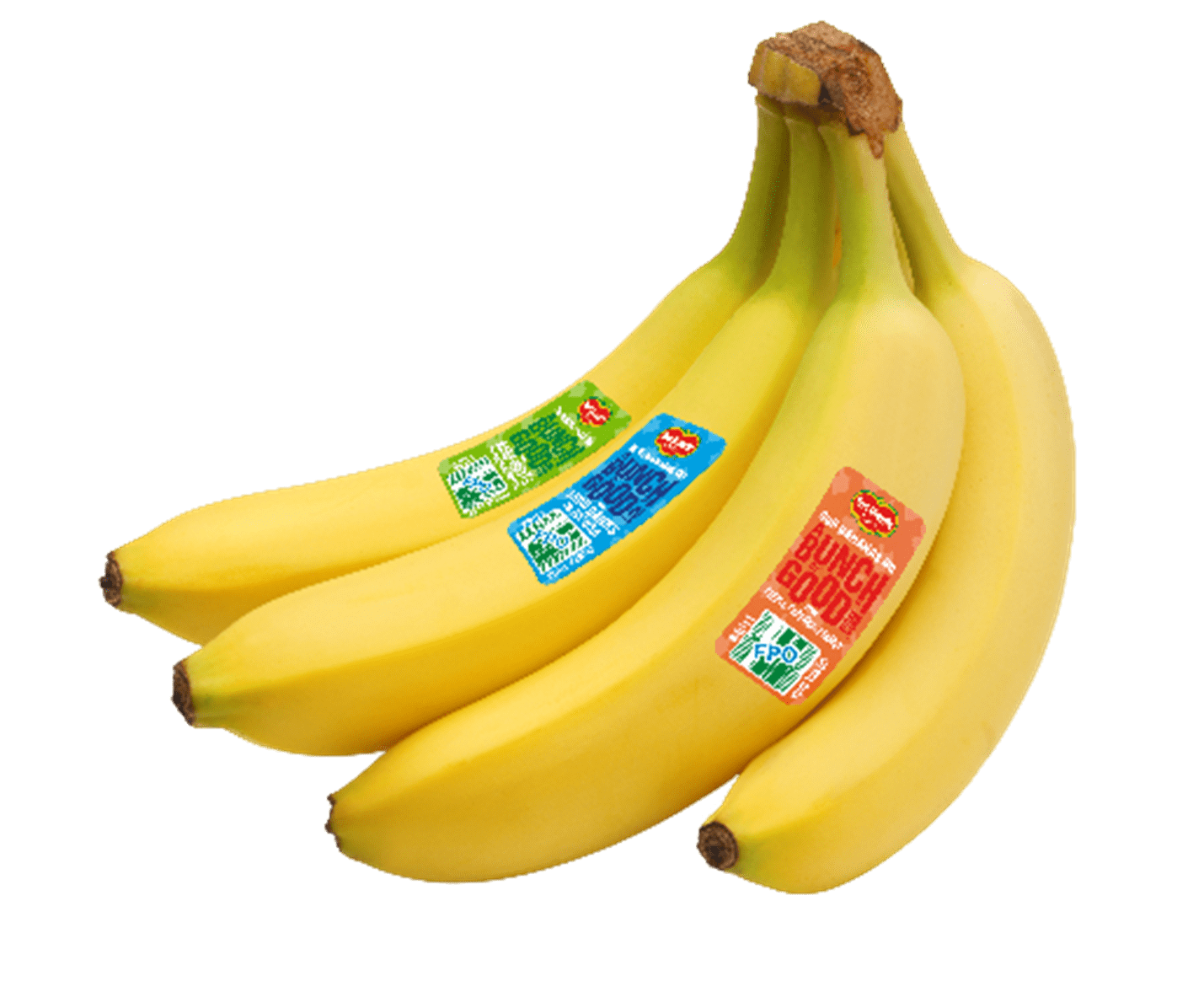 According to its press release:
"We are proud of our ongoing community and sustainability efforts, as Fresh Del Monte prides itself on its corporate social responsibility," said Pablo Rivero, vice president marketing north america, Fresh Del Monte. "Giving back to our communities and making strides with sustainability are just two of our company's core values. We not only strive to conduct our business in ethical, socially responsible and transparent ways, but want our consumers to feel good about the food they are eating while enjoying Fresh Del Monte."
Del Monte's pun-laden campaign serves as a reminder that empowering customers and external stakeholders to engage with your company's CSR efforts can be about more than optics and the image of local engagement, but also a powerful tool for holding your company accountable to the benchmarks and goals that it sets. In order for this to happen, consider creating a channel for dialogue between your external ambassadors (or bananefactors) and those influencing the CSR work internally to keep the conversations going past the initial campaign.
---
RAGAN'S 2021 BENCHMARK REPORT
Ragan has released its annual Communications Benchmark Report, an exclusive study from Ragan's Communications Leadership Council that analyzes the major trends in the profession over the last year.
During that time, comms pros have been called on to develop and distribute messages on new policies that affect internal and external stakeholders alike. Their role has become more essential as they helped keep their organizations focused and moving forward. They've seen their access to the C-suite increase throughout 2020, and they forged important new alliances with peers in other departments, including HR, finance and workplace wellness.
Culled from more than 750 respondents, the 32-page report is available in its entirety exclusively to members of the Communications Leadership Council.
Download your copy of the exclusive Benchmark Survey Executive Summary today and get a crucial competitive advantage that will fuel your success for 2021 and beyond.
---
SOCIAL BUZZ
Facebook has launched live audio rooms to compete with Clubhouse, Twitter Spaces and Spotify's recently released Greenroom app. While any user is invited to listen in, only public figures with verified accounts can start live audio rooms on the platform, as opposed to Greenroom which allows any Spotify user to create a room. Facebook is also offering a small selection of podcasts for the first time, with plans to add more later.
"Live Audio Rooms and podcasts rolling out in the US is just the beginning of our audio journey," wrote Fidji Simo, head of the Facebook app, in a blog post Monday. "Looking ahead, we are working with creators who will use our audio tools to further develop and launch Soundbites — short-form, creative audio clips."

But podcasts and live audio have also been an outlet for racism, misinformation and extremist material. Live audio is particularly difficult to moderate, compared with traditional social media posts. Facebook, which announced its audio plans to push into audio streams in April, says its rules apply to live audio and podcasts and anyone can report offending material.
Take note to craft messaging that emphasizes what distinct value your company's new product adds to the industry before launching to distinguish it from competitive products. If a push to launch something new has the potential to resurface past reputational crises or criticisms, then be prepared to communicate how the new product will mitigate lingering concerns, not add to them.
---
COMMUNICATIONS WEEK
Ragan is delighted to add industry event and thought leadership brand Communications Week to our portfolio. You can read the full press release here.
"We are reimagining Communications Week as a year-round endeavor," says Ragan Communications CEO Diane Schwartz. "The rollout will begin next month with thought-provoking content on the future of communications on Commsweek.com, Ragan.com and PRDaily.com, culminating with a weeklong series in November that will feature conferences, networking events, workshops, webinars and more."
The flagship event for 2021 will take place Nov. 15-19. Stay tuned for updates on the many opportunities and offerings that will help communicators connect, learn and celebrate their achievements later this year.
SEC pushes companies to disclose climate change efforts
The Securities and Exchange Commission [SEC] has announced that it will soon require companies to disclose how they are responding to climate change with a rule proposal arriving as soon as October. The SEC has authority to require disclosure of any company that sells securities.
The Wall Street Journal reports:
The challenge, regulators and corporate officials say, is identifying which measurements are necessary to help investors gauge a company's financial prospects, and how to set requirements that are flexible enough to generate specific, and not generic, information about corporate risks.

"Without a mandatory disclosure requirement, we expect to see a continuation of the current hodgepodge of disclosures in which issuers oftentimes cherry-pick which disclosure to adhere to, or in some cases, simply choose to avoid disclosure altogether," Pacific Investment Management Co. managing director Scott Mather wrote to the SEC.
What it means:
The SEC's increased push on climate change disclosures highlights concerns about how metrics can be selectively chosen to fit a narrative that a company wants to tell. If you are unsure of the right metrics to communicate your CSR efforts, consult experts in the sustainability space and advocate for the creation of a leadership position dedicated to sustainability. Look to other players in your industry who are earning positive feedback from advocates and regulators for their CSR work and borrow their measurement strategies when appropriate.
---
WHAT YOU SAID
Yesterday we asked if your company's brand voice allow you to use humor in your messaging when appropriate. A solid 60% of you said yes, while 40% of you said no.
Does your brand voice allow you to use humor in your messaging when appropriate, PR pros and communicators? #DailyScoop

— PR Daily (@PRDaily) June 21, 2021
Is there a question you'd like to see asked? Let us know by tagging #DailyScoop!
---
SOUNDING BOARD
Considering the SEC's plan to require corporate disclosures about climate change, how is your company measuring its environmental impact, PR pros and communicators?
Considering the SEC's plan to require corporate disclosures about climate change, how is your company measuring its environmental impact, PR pros and communicators? #DailyScoop

— PR Daily (@PRDaily) June 22, 2021
Let us know if your company has taken any creative approaches toward measuring CSR and sustainability by tagging us at #DailyScoop.
COMMENT
One Response to "Labor shortage excuse rankles American Airlines customers, mask anxiety falls, and the SEC to monitor climate impact"
Ronald N Levy

says:

The government gave American Airlines and millions of other people payments that the government judged to be in the national interest, and American accepted the money just as all of us accept government money we receive.

The PR imperative for American is not to justify government helping people and companies survive the pandemic, but to explain how American has also helped—transporting passengers, life-saving medicines and other freight, and paying money to employees, federal and local tax collectors, plus hospitals, universities and other good causes. American paid my company enough years ago to put two daughters through excellent universities, and American has helped many other people.

You and I are not hogs when we receive government money for Social Security, health insurance, unemployment compensation and tax refunds, nor are companies hogs that receive government money honestly. Religious people can thank God, and non-religious people thank whatever they believe in, for American Airlines, other companies that help us and government people who help us.

Like people in a lifeboat, we can thank the Almighty and our good fortune that we are in the boat because many people and companies didn't make it. Neither American nor the present government are responsible for what we've been through and both are fortunately helping us to get past it.

PR can and should help both American and our government to tell how they are helping us. Perhaps executives who may work 60 or 80 hours a week have no more obligation than quarterbacks do to say why they are worth the millions they are paid. If other people could do the same things for less, the athletes and executives would be replaced. Said a book title years ago: "I love ya honey but the season's over."