Marks and Spencer to lay off 7,000 employees, 300 Pizza Hut locations to close, and 'Ellen' cuts ties with senior producers
Also: How consumers are using social media during COVID-19, a snark-filled out-of-office email from Ryan Reynolds, Disney Channel debuts first LGBTQ character, and more.
Hello, communicators:
Another cast of characters has reunited virtually—and for a good cause.
Anna Kendrick, Rebel Wilson, Brittany Snow, Anna Camp, Hailee Steinfeld are among the a capella-singing Bellas — who last appeared in "Pitch Perfect 3" in 2017 — singing together in a new cover of Beyoncé's "Love on Top" to raise money for UNICEF. Downloads of the song and donations made on its YouTube page support children in Lebanon and people around the world impacted by COVID-19.
Aca-scuse-me?! The Bella's are back together for a very special reason. The proceeds from the downloads of our rendition of "Love on Top" will go directly to @UNICEF to help children in Lebanon and around the world who need our support right now. https://t.co/9jBWian4hx pic.twitter.com/PQyhtOEVE7

— Pitch Perfect (@PitchPerfect) August 17, 2020
Universal Picture's YouTube video includes the UNICEF donation link as well as a link to purchase the song.
Here are today's top stories: 
Marks and Spencer to cut 7,000 jobs and 300 Pizza Huts to close
United Kingdom retail chain Marks and Spencer will lay off roughly 7,000 employees in the next three months, eliminating positions in its stores, regional management and corporate office as the company shifts its business model to accommodate more e-commerce sales.
M&S said over the last 13 weeks, like-for-like food sales, excluding the closure of hospitality and travel franchise units, rose 10.6%, while clothing and home revenue slumped 38.5%. Since stores re-opened, total clothing and home sales have been down 29.9%.
In a press release, Marks and Spencer wrote:
It is clear that there has been a material shift in trade and whilst it is too early to predict with precision where a new post Covid sales mix will settle, we must act now to reflect this change.

… We expect a significant proportion will be through voluntary departures and early retirement. In line with our longstanding value of treating our people well, we will now begin an extensive programme of communication with colleagues.
Retailers aren't the only organizations grappling with shifting consumer behaviors. Roughly 300 Pizza Hut locations will permanently close after one of the chain's biggest franchisees declared bankruptcy.
ABC affiliate KITV 4 reported:
The agreement provides NPC with "flexibility to explore options for achieving a value maximizing outcome as it seeks to finalize the terms of a comprehensive financial restructuring and emerge from Chapter 11," it said in a release. A perfect storm of coronavirus-related shutdowns, a massive debt burden of nearly $1 billion and rising labor and food costs tipped NPC into bankruptcy.
Why it's important: Adjusting to shifts in consumer behaviors means creating strategies and business models that look to long-term sustainability. Many changes will continue past the COVID-19 crisis, so prepare now and do your best to help members of your workforce adjust.
---
TACTICALLY SPEAKING
Disney Channel's "The Owl House" is receiving kudos for its first-ever LGBTQ character.
Luz Noceda, the show's 14-year-old protagonist, is a normal teen who goes on a journey to another world to become a witch. Luz has shown she's attracted to male characters in the show, and in the two most recent episodes, "Enchanting Grom Fright" and "Wing It Like Witches," a relationship between Luz and the recurring female character Amity is explored. It is revealed that Amity had intentions to ask Luz to Grom, their world's version of Prom, and the two share a dance together.
The show's creator, Dana Terrace, tweeted:
When I was first developing Owl House I always wanted to do a prom episode to make up for my own experiences. Back then PROM was an anagram for "Perennial Ritual Offering Maiden". I'm so INCREDIBLY grateful for the crew working to make this episode so badass. pic.twitter.com/Ak8dNVMAdo

— Dana Terrace (@DanaTerrace) August 9, 2020
---
MEASURED THOUGHTS
New data from Sprout Social show that consumers are using social media platforms for the experiences they got in person, before the COVID-19 crisis. In the last six months, 62% have used social media to connect with friends and family members and 48% are using it for entertainment. More than half (55%) use social media to stay current with news: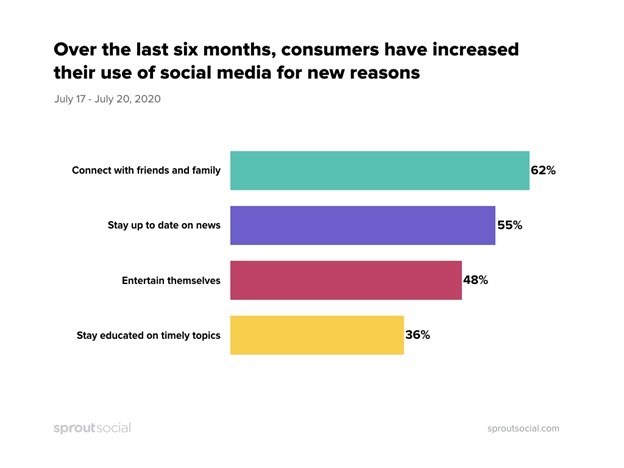 Image courtesy of Sprout Social.
If you're not posting valuable content, however, 36% of consumers say they'll unfollow your brand. That also goes for posting insensitive content, such as messages that aren't inclusive.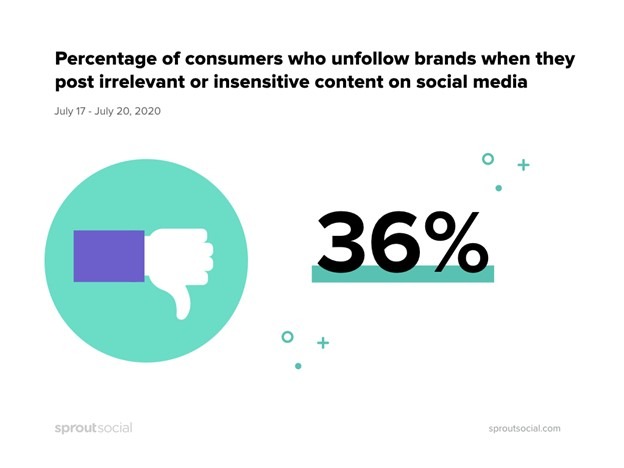 Image courtesy of Sprout Social.
---
CRISIS LEADERSHIP BOARD
Looking for more insight on how to address the current global crisis and lead your organization into a strong recovery?
Join Ragan's Crisis Leadership Board to network and brainstorm with peers, get the latest intelligence and research, and start to strategize for the future of your organization.
Learn more about this exclusive membership here.
'Ellen' drops three producers in culture overhaul
"The Ellen DeGeneres Show" has been facing increasing backlash after claims of sexual misconduct, toxic workplace culture and racism surfaced. Following an investigation, the show fired some of its senior producers.
Three senior producers — executive producers Ed Glavin and Kevin Leman, and co-executive producer Jonathan Norman — have been ousted from the Warner Bros.-distributed syndicated strip following damning allegations raised in recent reports by Buzzfeed and Variety. "Ellen" veterans Mary Connelly, Andy Lassner and Derek Westervelt will remain at the show as executive producers alongside host DeGeneres. Connelly, Lassner and Westervelt have been with the show since its inception in 2003.

… After interviewing more than 100 people connected to the show, the probe found that there was no evidence of "systemic" racism on the show, although there was an acknowledgment that more needed to be done in terms of diversity and inclusion. DeGeneres and others vowed that everyone on staff — including DeGeneres — will participate in diversity and inclusion workshops.
Why it's important: Your organization and its leaders don't have to participate in outright racist behavior or sexual harassment to provide a setting for a toxic workplace. Instead, ask how your organization can improve upon its diversity, equity and inclusion goals as well as how you can improve employee communications with leadership. These questions are meant to be tough and require honesty for marked improvement that enhance the employee experience as well as loyalty.
---
DOWNLOAD OUR REPORT
Following the deaths of George Floyd, Ahmaud Arbery, Breonna Taylor and others, organizations were pushed more forcefully than ever before to take stands against systemic racism and move to support social justice initiatives. Which responses made an impact—and which responses fell flat?
Learn from 10 of the biggest brand messages in our special report, "Organizational responses to Black Lives Matter." The report offers communicators important takeaways to lead organizations and clients in the second half of 2020 and into the future.
---
TACTICALLY SPEAKING
Following the sale of Aviation Gin to Diageo for $610 million, Ryan Reynolds used a snarky out-of-office email to "apologize" to a list of people and companies, including AMC Theaters, TGI Fridays, The Rock and Betty White.
According to Bloomberg's report, Reynolds will remain as the public face of the brand for the next 10 years, receiving a partial upfront payment for the sale now with all further payments based on the future performance of the brand.

Joking about the small print of the deal in his email, Reynolds wrote: "I just learned what an 'earn out' is… And I'd like to take this opportunity to apologise to everyone I told to go f— themselves in the last 24 hours. My lawyers just explained how long it takes to achieve an 'earn out'… so… turns out I'm not as George Clooney as I thought."
Though your corporate email messages will probably not include obscenities, you can take a nod from the actor and infuse humor into your communications where possible. Doing so can help you to strengthen relationships as well as make a bigger story.
---
WHAT YOU SAID 
We asked what you miss most about live events, and nearly 43% of you said the in-person networking, while almost 43% of you said you long for the venue and atmosphere.
What do you miss the most about live events?

We're looking forward to seeing you in person again in 2021, but it's fantastic having you join us virtually! Share your thoughts below. #DailyScoop

— PR Daily (@PRDaily) August 17, 2020
Tressa Robbins, vice president of customer onboarding at Burrelles, said virtual fatigue is real:
After six months of zero in-person events, I'm feeling 'virtual event fatigue'. That is, wanting to learn and participate but increasingly finding it difficult to focus during these events. IMHO, it's from the lack of multisensory stimulation (vs. IRL events). #DailyScoop

— Tressa Robbins, MPRCA ✨ (@tressalynne) August 17, 2020
However, 12% of you think virtual events are great. They certainly are easier to join—and we invite you to do so as we continue to find ways to communicate during COVID-19.
Is there a question you'd like us to ask in an upcoming poll? Let us know!
COMMENT