Microsoft buys Activision Blizzard, audiences expect brands to acknowledge crises, and mobile providers limit 5G near airports
Also: MTN DEW awards grants to outdoor community organizations, Carhartt explains vaccine mandate memo, and more.
Hello, communicators:
PepsiCo announced that it will award $5,000 to 40 community organizations focused on the outdoors as part of the MTN DEW Outdoor Grants program. The soda brand launched its grant program in 2020 as a response to the uptick in outdoor recreation during the pandemic as outdoor organizations struggled with declines in funding.
Applicants who received the grants shared how they or their favorite community organizations positively impact their local outdoor spaces. Recipients were selected based on their efforts to preserve and protect the great outdoors and get people outside through conservation or infrastructure initiatives.
"We're proud to invest in the work of even more diverse, local organizations who are helping the great outdoors be even better for future generations," PepsiCo Beverages North America, Central Division CMO Jill Abbott said in a press release.
MTN Dew says it will consult the recipients later in the year to share how they spent the grant money at their organizations, offering ongoing storytelling opportunities. Contests, awards and grants also set precedents for future partnerships.
Here are today's top stories:
Microsoft explains Activision Blizzard acquisition
Microsoft announced that it will acquire video game publisher Activision Blizzard in an all-cash transaction valued at $68.7 billion, acquiring hit franchises including "Warcraft," "Diablo" and "Overwatch" in the deal. The company said that Activision Blizzard's Bobby Kotick will stay on as CEO until the deal closes and focus on strengthening the company culture. Microsoft said that the announcement is part of its commitment to the future of gaming.
According to its press release:
"Gaming is the most dynamic and exciting category in entertainment across all platforms today and will play a key role in the development of metaverse platforms," said Satya Nadella, chairman and CEO, Microsoft. "We're investing deeply in world-class content, community and the cloud to usher in a new era of gaming that puts players and creators first and makes gaming safe, inclusive and accessible to all."
News of the acquisition came just days after reports that Activision Blizzard terminated dozens of employees over workplace misconduct, the company's latest response to a series of sexual harassment allegations that were addressed by Kotick in heavily criticized employee memos. Kotick previously vowed to take a pay cut until the company's recently set DE&I benchmark goals were met.
The Wall Street Journal reports:
An Activision spokeswoman, Helaine Klasky, confirmed that 37 people have "exited" and 44 have been disciplined as part of the company's investigation. In a statement, she said employee comments included statements on social media, and the issues raised ranged from what she described as benign workplace concerns to "a small number" of potentially serious assertions, which the company has investigated.
What it means:
As some reports suggest that Microsoft's purchase of Activision Blizzard was motivated by the latter company's workplace problems, Nadella's words emphasize Microsoft's values on safety in the workplace. The acquisition comes as Microsoft has announced its own internal review of sexual harassment policies and safeguards.
The messages from Microsoft and Activision Blizzard are reminders of the many opportunities to emphasize your organizations' values and commitments to employees.
---
MEASURED THOUGHTS
A new report from Twitter found that 61% of its users said brands should acknowledge crises in their advertising and communications as they are occurring, while 60% said they want to hear from brands on sensitive cultural or political topics. Forty-eight percent said that it is more important for brands to support economic, social, political or cultural issues compared to a year ago.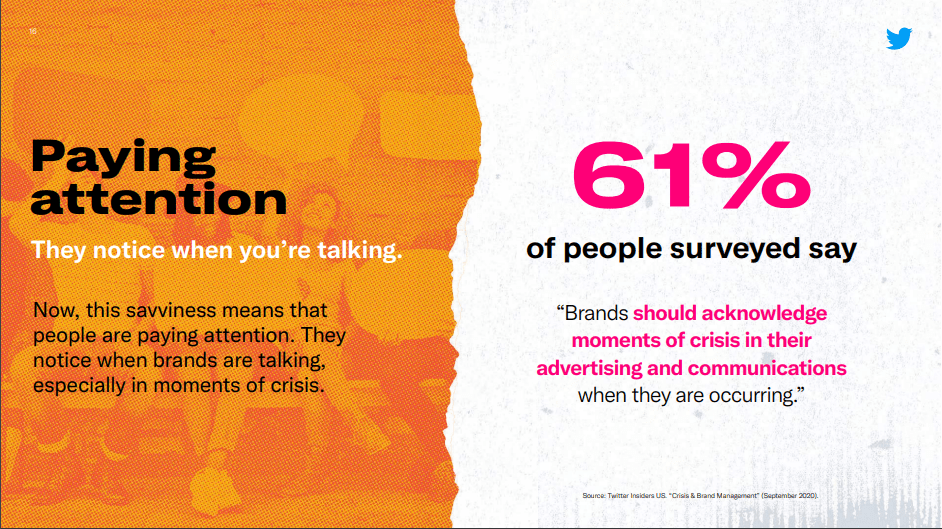 Twitter's latest research challenges the practice of staying silent amid a brand or national crisis in hopes it becomes buried in the news cycle. It also suggests that Twitter users equate authenticity with vulnerability, whether a company is commenting on its own troubles or addressing a sensitive topic of national conversation.
Partner with your social media team to find a balance between being vulnerable and open with digital audiences that still stays true to brand voice.
Check out the full report here.
---
TAKE OUR SURVEY
If you're looking to further your understanding of your industry to navigate what's ahead in 2022, lend us a hand—and help yourself and your peers identify shared benchmarks in areas such as budgets, team structure, ESG and DE&I efforts, and more. Participate in Ragan Communications Leadership Council's 2022 Benchmark Survey, a comprehensive look at how to negotiate budgets with your executives, how to best reach deskless workers and foster culture among a hybrid workforce, and more.
Both internal and external communicators are encouraged to participate.
By taking part, you'll be entered to win one of three $100 gift cards. All who complete the survey will receive a full report on the findings. Responses are anonymous.
Survey takers will receive an executive summary of the findings.
---
SOCIAL BUZZ
After outdoor workwear company Carhartt sent an employee email reinforcing its commitment to employee vaccine mandates was shared on Twitter, several customers weighed in on whether Carhartt's messaging was in line with its brand identity and target audience.
Several Twitter users supported the messaging:
Wow @Carhartt I'm impressed and I will be purchasing from a company that cares about protecting all its workers. Thank you for not making this issue political & for believing in science. We need more companies like yours! 🇺🇸 pic.twitter.com/Vs4ae9s4Nl

— Babetta 📎 (@babettalane) January 18, 2022
Proud to support good corporate citizens like Carhartt. pic.twitter.com/pD1Myhn6er

— Amy Siskind 🏳️‍🌈 (@Amy_Siskind) January 18, 2022
Others attempted to start a boycott on Carhartt products:
I'm done with Carhartt. 🎤drop pic.twitter.com/0OC79J04dN

— Brent Terhune in OKC Jan 20-22 (@BrentTerhune) January 18, 2022
I spend thousands a year on @Carhartt hoodies, jackets & winter gear. Today that ends. I guess I am looking for alternatives. Seriously, this is insane given their target market. I am done purchasing any of their stuff and giving them thousands in free advertising. pic.twitter.com/kyHaNwlO6c

— TheQuartering (@TheQuartering) January 18, 2022
Amy Hellebuyck, Carhartt's senior public relations manager, confirmed that the email—from CEO Mark Valade—was legitimate and accurately represented the company's position on vaccines for employees. Hellebuyck notes that while the email to employees was not originally intended for an external audience, the team anticipated the possibility.

"While a company may not intend for its internal communications to be shared publicly, communications professionals are always aware that the possibility exists," she says. "Which is why at Carhartt, our communications team works hand-in-hand to ensure that our messaging is consistent, regardless of the channel."
Hellebuyck's statement is a reminder that what is internal always has the potential to become external.
---
Announcing the PR Daily Leadership Network
PR Daily is launching the PR Daily Leadership Network, a unique membership group from Ragan Communications offering peer-to-peer advisory and team training along with a unique slate of resources and events to help public relations professionals break through the noise, increase their visibility and forge meaningful connections.
The Network provides daily insights and coverage on a range of topics including media relations, social media, measurement, Diversity, Equity & Inclusion, branding, thought leadership and crisis communications.
"The fast pace of change coupled with the demand on public relations professionals to protect and sometimes defend their company's reputation make it imperative for leaders to tap into the wisdom of other communicators and continue to learn and grow," says Diane Schwartz, CEO of Ragan Communications. "The PR Daily Leadership Network provides the answers but also encourages members to question the status quo and push for positive change."
Visit leadership.prdaily.com to learn more.
AT&T and Verizon announce limits to 5G services around airports
Telecom giants AT&T and Verizon have announced plans to temporarily limit the larger rollout of their 5G networks within 2 miles of airport runways. The decision is the latest in a series of concessions the companies have made to delay the 5G rollout after airlines issued previous warnings about the widespread disruptions that 5G would cause to flight operations. The carriers did not specify which airports would have limits imposed on them.
"The Federal Aviation Administration (FAA) and our nation's airlines have not been able to fully resolve navigating 5G around airports, despite it being safe and fully operational in more than 40 other countries," Verizon said Tuesday afternoon in a statement announcing a temporary limit in service around some airports.

AT&T said Tuesday that it had agreed "to temporarily defer turning on a limited number of towers around certain airport runways as we continue to work with the aviation industry and the FAA to provide further information about our 5G deployment, since they have not utilized the two years they've had to responsibly plan for this deployment."

"We are frustrated by the FAA's inability to do what nearly 40 countries have done, which is to safely deploy 5G technology without disrupting aviation services, and we urge it do so in a timely manner," an AT&T spokesperson said in an emailed statement. "We are launching our advanced 5G services everywhere else as planned with the temporary exception of this limited number of towers."
Why it matters:
The blame shifting and deflected responsibilities between telecom companies and the FAA amounts to a missed opportunity for partnership between the two groups. Verizon's statement demonstrates how your messaging can put public pressure on a partner by comparing their handling of a crisis to other organizations in the same industry.
AT&T's statement demonstrates how that pressure can also be applied by sharing a clear timeline, which also helps to align any frustrations with those of external stakeholders to drive toward a meaningful solution.
COMMENT