NFL fines Green Bay Packers for lax COVID-19 protocols, US adults consume less news in 2021, and Uber slammed over wait fees for riders with disabilities
Also: Mitsubishi launches Veterans Day promotion, Microsoft adds Teams integration to Meta, and more.
Hello, communicators:
Mitsubishi Motors North America (MMNA) is celebrating Veterans Day by offering a special discount for active-duty military and veterans through the end of the month.
The launch of this program follows the finish of an MMNA-backed all-veterans team in the 2021 Rebelle Rally, the first women's off-road navigation rally in the U.S. MMNA partnered with veteran's nonprofit Record the Journey to sponsor the team.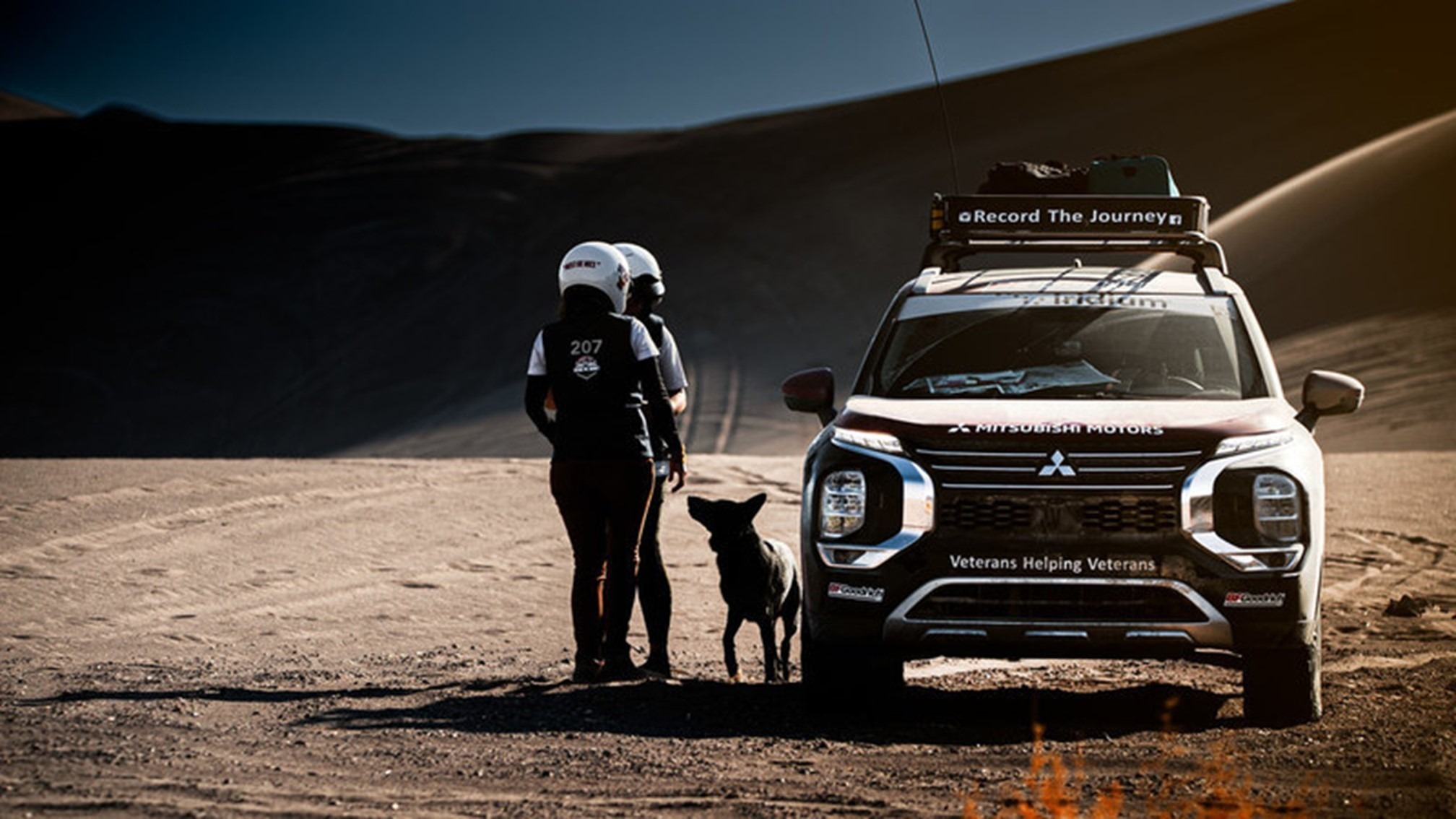 "Through our 'Small Batch – Big Impact' corporate social responsibility program, we've been honored to partner with veteran's nonprofit, Record the Journey, for three years, raising the profile of the valuable work they do on behalf of military veterans," MMNA COO Mark Chaffin said in a press release. "We're proud to be able to offer these heroes even more this month, as our nation comes together to recognize those who serve our country."
By offering its Veterans Day discount all month and nodding to its previous work with veterans and partners, Mitsubishi demonstrates how your brand can extend the footprint of its social responsibility efforts by launching similar, relevant initiatives and campaigns on both sides of a holiday.
Treating a holiday as a guidepost for social responsibility work allows an organic narrative arc to emerge and allows you to time the release of relevant communications accordingly.
Here are today's top stories:
Green Bay Packers respond to NFL fine for violating COVID-19 protocols
The National Football League (NFL) fined the Green Bay Packers, along with quarterback Aaron Rodgers and wide receiver Allen Lazard, for violating the league's COVID-19 protocols. The fines came after Rodgers tested positive for COVID-19, and an investigation revealed he had attended press conferences without a mask and a Halloween party despite being unvaccinated.
"We respect the League's findings and we recognize the importance of adherence to the COVID protocols to keep our team and organization safe and healthy," Packers president Mark Murphy said in a statement. "We will continue to educate the team regarding the importance of the protocols and remain committed to operating within the protocols."

Speaking Tuesday on YouTube and SiriusXM's The Pat McAfee Show, Rodgers discussed his decision to not be vaccinated and earlier comments he has made on the subject. "I shared an opinion that's polarizing," Rodgers told McAfee, a former NFL punter and kicker who has garnered a wide audience commentating on sports. "I get it. And I misled some people about my status, which I take full responsibility of, those comments. But in the end, I have to stay true to who I am and what I'm about. I stand behind the things that I said."
 What it means:
Rodgers lost at least one sponsor after the scandal broke and it was revealed that he deceived the press when he claimed to be "immunized" against COVID-19. The wide gap between Murphy's mea culpa and Rodgers' apology for his deception reveals a disconnect that demonstrates how apologies are better delivered as a joint statement.
Doing so displays a mutual understanding and alignment of message that can convince stakeholders the severity of the issue is understood by all parties involved.
---
MEASURED THOUGHTS
New data from Pew Research reveals that 84% of U.S. adults say they often or sometimes got news from a smartphone, computer or tablet in 2021. More than half (51%) say they did so often. This is a decrease from the 60% of Americans who said they often got news from digital devices in 2020.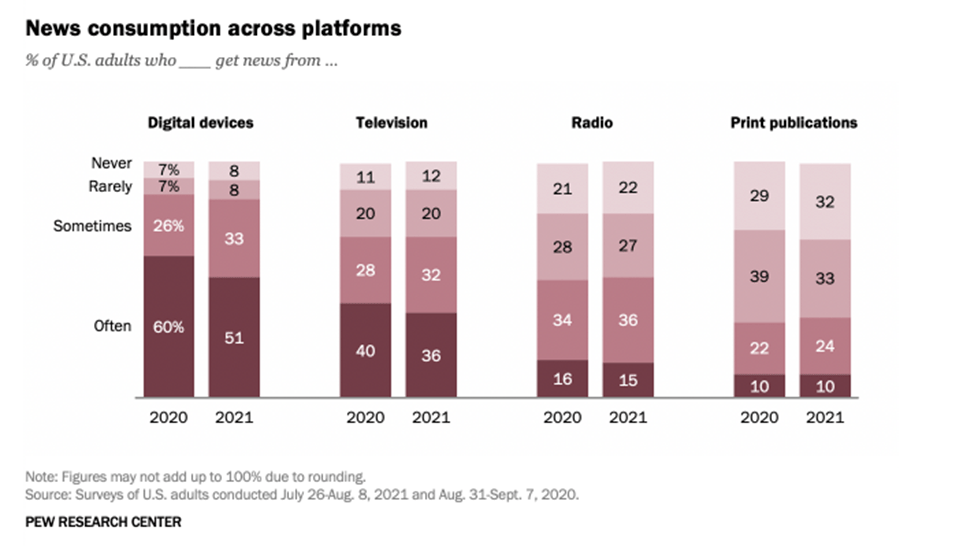 This data shows that American digital news consumption continues to outpace the number of people who get their news from broadcast outlets, despite the decline. Consider these numbers when deciding how much time you will spend pitching broadcast programs, and share this information with clients and partners who still consider the placement of broadcast coverage to be the gold standard of earned media wins.
---
Announcing the PR Daily Leadership Network
PR Daily is launching the PR Daily Leadership Network, a unique membership group from Ragan Communications offering peer-to-peer advisory and team training along with a unique slate of resources and events to help public relations professionals break through the noise, increase their visibility and forge meaningful connections.
The Network provides daily insights and coverage on a range of topics including media relations, social media, measurement, Diversity, Equity & Inclusion, branding, thought leadership and crisis communications.
"The fast pace of change coupled with the demand on public relations professionals to protect and sometimes defend their company's reputation make it imperative for leaders to tap into the wisdom of other communicators and continue to learn and grow," says Diane Schwartz, CEO of Ragan Communications. "The PR Daily Leadership Network provides the answers but also encourages members to question the status quo and push for positive change."
Visit leadership.prdaily.com to learn more.
---
TECH TALK
Microsoft announced plans to partner with Meta, the company formerly known as Facebook, to intergrate Microsoft Teams into Meta's Workplace platform. The partnership will let employees using Teams livestream video into Workplace groups and interact with meetings in real time without having to switch between apps.
"One thing I've learned … there's not going to be a one and only communications tool on the planet," says Jeff Teper, head of Microsoft 365 collaboration. "People are going to choose a number of tools, so I think it's on us as responsible vendors to make sure they can integrate and interoperate."
Despite Microsoft's plans to launch its own Metaverse, the company's emphasis on the importance of tech collaboration suggests why you should work with your digital team to optimize your company's tech stack in line with your organization's larger communications strategy.
As strategic communications requires a melding of multiple tools and services that looks different for every organization, providing feedback and oversight on the optimal mix will allow you to catch potential inefficiencies, and identify new opportunities, to ensure everyone is equipped with the proper tools.
Uber responds to DOJ lawsuit over charging wait fees to riders with disabilities
The Department of Justice (DOJ) sued Uber on Wednesday, accusing the transportation company of charging wait-time fees to customers with disabilities. The suit notes that such a practice violates the Americans with Disabilities Act (ADA), which has a specific clause prohibiting transportation companies from discriminating against disabled passengers.
Uber said in an emailed statement it disagrees with the DOJ that its policies violate the ADA.

"It has been our policy to refund wait time fees for disabled riders whenever they alerted us that they were charged. After a recent change last week, now any rider who certifies they are disabled will have fees automatically waived," an Uber spokesman said.

"Wait time fees are charged to all riders to compensate drivers after two minutes of waiting, but were never intended for riders who are ready at their designated pickup location but need more time to get into the car," the spokesperson added. "We recognize that many riders with disabilities depend on Uber for their transportation needs, which is why we had been in active discussions with the DOJ about how to address any concerns or confusion before this surprising and disappointing lawsuit."
Why it matters:
This lawsuit highlights how companies that promote robust Accessibility policies, including Uber, can still fail to consider the situations customers with disabilities experience every day. Contrasted with Microsoft's accessibility work being led by accessibility officer Dave Day, who has a disability himself, this news also highlights why your policies and procedures should be written reviewed and revised by the people who they are intended to help.
COMMENT