Peloton escalates crisis response with treadmill recall, exclusives lead to media coverage, and Uber protests changes to gig worker regulation
Also: New York Times sees record subscription growth, NASA celebrates Asian American Pacific Islander Heritage Month, Twitter changes image sizes, and more.
Hello, communicators:
Though many digital publishers have seen heavy losses in advertising revenue over the past year, some have offset shortfalls with the launch of newsletters, subscriptions and membership models.
In the latest example of this trend, The New York Times saw a total of 7.8 million subscribers across both print and digital platforms, with 6.9 million users signing up for online news or its Cooking and Games apps. "The company reported adjusted operating profit of $68 million, a 54 percent jump from last year, as it generated more dollars from each subscriber, partly because of the expiration of promotional rates as the new year rolled over," The New York Times reported.
"The Times sees another opportunity to convert people into paying readers in its cache of newsletter subscribers. About 15 million people read one of the paper's many newsletters each week. About five million read The Morning, the flagship newsletter, daily. The Times met expectations for subscription sales, which rose 15 percent to $329 million; digital subscriptions vaulted 38 percent to $179.6 million."
How are you working with your marketing and audience development teams to come up with new solutions for reaching your customers? Have you spoken to colleagues about the untapped opportunities for revenue growth and new audience insights that a direct content product with your customers can provide? Consider that these models not only streamline the financial relationship between publishers and their audiences, but also create an opt-in relationship that allows publishers to collect first-party audience data without having to navigate the treacherous waters of changing privacy regulations that is upending the advertising industry.
Peloton recalls treadmills, apologizes for pushing back on regulators
Exercise equipment manufacturer Peloton has issued a voluntary recall of its Tread and Tread+ treadmills following at least 72 reported safety incidents involving people, pets and objects pulled under the machine and the death of a 6-year-old. Peloton initially pushed back against The U.S. Consumer Product Safety Commission's suggestion that they recall the product lines, assuring customers that the treadmills were safe when used as directed.
Peloton CEO John Foley said in a statement:
The decision to recall both products was the right thing to do for Peloton's Members and their families. I want to be clear, Peloton made a mistake in our initial response to the Consumer Product Safety Commission's request that we recall the Tread+. We should have engaged more productively with them from the outset. For that, I apologize. Today's announcement reflects our recognition that, by working closely with the CPSC, we can increase safety awareness for our Members. We believe strongly in the future of at-home connected fitness and are committed to work with the CPSC to set new industry safety standards for treadmills. We have a desire and a responsibility to be an industry leader in product safety."
Twitter users were quick to roast Peloton, with some accounts resurrecting memes of the infamous alarmed cyclist from its old ads:
Peloton right now: https://t.co/8NJhrB5xlW pic.twitter.com/4sZQKmgcnO

— Parker Molloy (@ParkerMolloy) May 5, 2021
Peloton

1 day: -7.5%
5 days: -13.5%
1 month: -20.2%
3 months: -43.6% pic.twitter.com/rA6ZTLissD

— Morning Brew ☕️ (@MorningBrew) May 5, 2021
Why it matters:
Pelton's mea culpa serves as a reminder that making a public statement before coming to a consensus with regulators is rarely productive. A widely publicized crisis can become an opportunity to reform your brand reputation as industry thought leaders if you are willing to put in the work developing campaigns that showcase your commitments to reform. When partnering with legal counsel to craft a crisis response or campaign, be sure to bring up the reputational implications of any company position alongside the legal ramifications, and work with them to craft an apology that doesn't make your company vulnerable to further litigation.
---
MEASURED THOUGHTS
Muck Rack's State of Journalism Report for 2021 found that 78% of journalists are likely to cover a story if it is pitched to them as an exclusive. Elsewhere in the study, journalists identified their most credible exclusive sources as academic subject matter experts (86%) and CEOs (74%).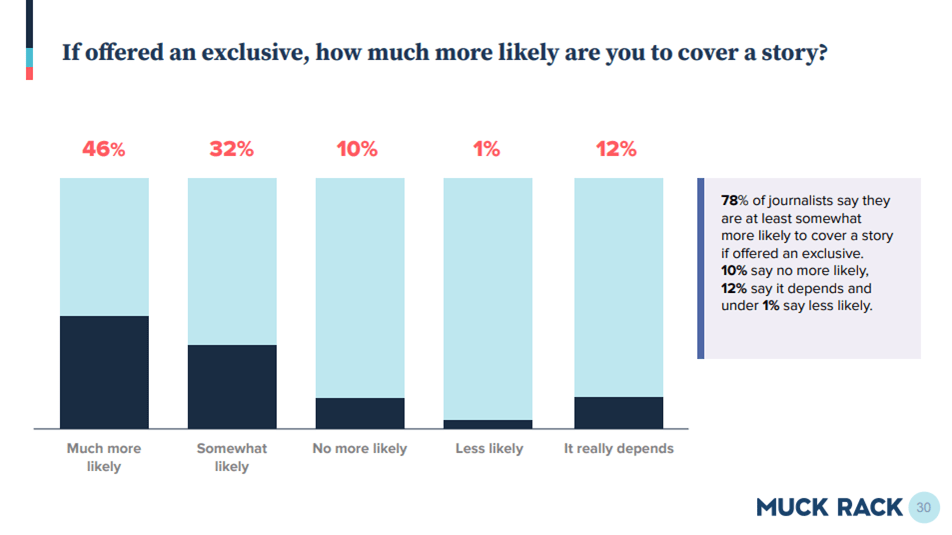 These insights make a strong case for pitching journalists in smaller, phased batches as opposed to sending out a mass email, as exclusives require you to be deliberate and tactful when choosing which journalists to offer access. Start by focusing the majority of your outreach on the top tier journalists you want most, and spend most of your time crafting personalized pitches to these targeted contacts instead of blasting out generic pitches to everyone on your media list.
---
TACTICALLY SPEAKING
NASA has created a campaign to promote Asian American Pacific Islander (AAPI) Heritage Month this May by celebrating its AAPI employees with a variety of internal and external events and products.
"Asian Americans and Pacific Islanders make valuable contributions to every aspect of our society, including NASA's missions and successes. This year's AAPI Heritage Month brings heightened awareness and significance, given the recent violence directed against Asian Americans," said NASA Administrator Sen. Bill Nelson.

…In addition to internal events that celebrate AAPI people and cultures, external events throughout the month will showcase the stories and talents of AAPI members of the NASA workforce.
Remember that every culturally-specific holiday or celebration is an opportunity for your brand to evaluate how that cultural group thrives (or doesn't) within your organization. Take the opportunity to celebrate your organization's diverse workforce by telling stories that highlight the hard work of your employees with a focus on transcending stereotypes and be sure to promote their stories beyond your intranet or brand newsroom.
---
SOCIAL BUZZ
Twitter has altered the dimensions for photos in posts, allowing for vertical images to be fully visible in posts without being cropped.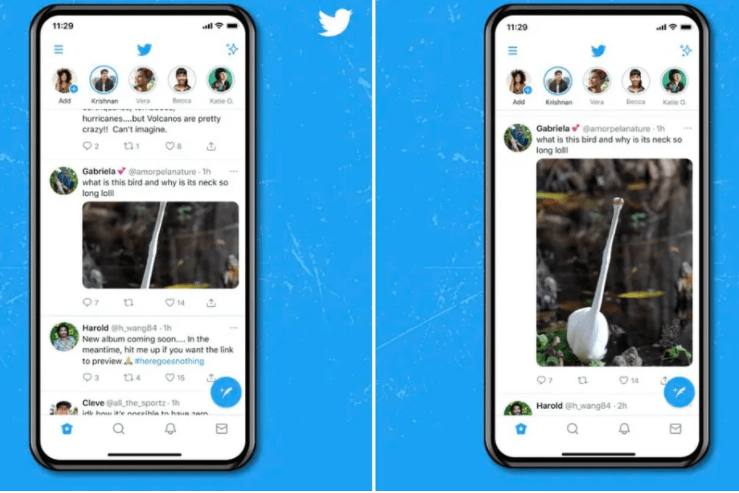 Those pictures should also be clearer, given Twitter's recent update to 4K images—because some art just needs to be seen as clear as possible.

Of course, Twitter giveth and Twitter taketh away—the change will, for the most part, make the "open for a surprise" tweets not so surprising. I suppose it's a fair trade-off to avoid the sometimes wildly embarrassing crops that used to plague the platform. (Or at least it is for me, someone who follows a ton of artists and is tired of scrolling past poorly cropped drawings that actually end up being really good.)

And hey, if you want to see those memes, it seems like the web version of Twitter on desktops is still susceptible.
As suggested above, artists on Twitter celebrated the revised image dimensions, noting how it made the platform more palatable for showcasing their work:
TWITTER CROP IS GONE??
ARTISTS! TODAY WE RISE! 🚀🚀 pic.twitter.com/YahvsHGp1V

— MJ 🐭 (@minjimouse_art) May 5, 2021
twitter crop is gone post all the puppeteer photos pic.twitter.com/fR21BNGfxy

— elyse! 🌼✏️ (@toonfully) May 5, 2021
Consider how you communicate and share your content with audiences with respect to accessibility. Are the delivery channels, formats and styles that you share content through optimized to match the preferences and consumption habits of your external stakeholders? Are you losing out on meaningful engagement because of a presentational style that can be easily tweaked? Something as simple as a resized image or a caption will let your audiences know that their needs have been considered in your strategies.
---
COMMUNICATIONS WEEK
Ragan is delighted to add industry event and thought leadership brand Communications Week to our portfolio. You can read the full press release here.
"We are reimagining Communications Week as a year-round endeavor," says Ragan Communications CEO Diane Schwartz. "The rollout will begin next month with thought-provoking content on the future of communications on Commsweek.com, Ragan.com and PRDaily.com, culminating with a weeklong series in November that will feature conferences, networking events, workshops, webinars and more."
The flagship event for 2021 will take place Nov. 15-19. Stay tuned for updates on the many opportunities and offerings that will help communicators connect, learn and celebrate their achievements later this year.
Uber speaks out against gig worker regulation changes
The Biden administration has blocked a new rule that would have allowed businesses to categorize gig workers and others as independent contractors, sending a signal to companies like Uber that Washington will be more involved in regulating how employers classify their workers. By blocking the regulation, which would have made it more difficult for gig workers to be classified as employees under federal law, workers will be protected by federal minimum wage and overtime laws.
The Wall Street Journal reports:
Uber spokesman Noah Edwardsen on Wednesday said the company views the current federal employment system as outdated. Workers must choose to be an employee with more benefits and less flexibility, or an independent contractor with more flexibility and limited protections, the spokesman said.

"Uber believes that we can combine the best of both worlds by offering independent work opportunities to the hundreds of thousands of workers that use the Uber platform while also providing these workers with meaningful benefits," he said.

In January, Uber said the Trump rule recognized the flexibility gig workers sought. Trump administration officials said their rule made it easier for Americans to be self-employed and set their own hours.
Why it matters:
Remember to position your workforce's well-being as a top priority whenever your labor practices are called into question—but be careful not to speak on workers' behalf lest it seem as though they don't have a voice. Support any claims around worker preferences with hard numbers and data that has been obtained using an impartial methodology. Be specific in any modified solutions that you propose,  submit those proposals through formal channels and transparently outline the steps you are taking to comply with the law in the interim.
---
CONFERENCE ALERT
Communicators are in a unique position to collaborate with other DE&I leaders to foster unity, build a stronger internal and external brand reputation, maximize innovation and improve the bottom line. The days of brands comfortably remaining silent are gone as employees and customers are demanding impactful change.
Join us at Ragan's Diversity, Equity and Inclusion conference on May 19 and glean timely strategies to educate, engage and uplift your employees and customers in the wake of unparalleled uncertainty, political upheaval and a new mandate for social justice change.
Learn powerful insights and approaches from speakers at organizations including Ben & Jerry's, Reebok, Warner Music Group, E.W. Scripps, NielsenIQ, Facebook and more.
---
WHAT YOU SAID
Yesterday, we performed a mid-week wellness check to learn how you were feeling. Some of you showed perseverance and commitment to the grind:
Mid week mood! pic.twitter.com/4d0f3UN67B

— Mike Champagne 🍾🇺🇸 (@Mike_Champagne) May 5, 2021
#DailyScoop pic.twitter.com/25c0PypyLg

— Chloe Barr (@Chloesbarr) May 5, 2021
While others still found themselves in an overwhelmed daze:
#dailyscoop pic.twitter.com/uxCV90Tlpe

— mariah. (@riah_on_fiahh) May 6, 2021
#DailyScoop pic.twitter.com/Ljp1u6F9MW

— Andrea Hansen (@galacticvalkyri) May 6, 2021
The "glass-is-half-full" set, meanwhile, found a ton to be grateful for:
After severe storms night before last resulting in a 6-hour power outage (yesterday morning), I'm happy today is a sun-shiny day! 😎 #DailyScoop pic.twitter.com/ZV7SJuORQR

— Tressa Robbins, MPRCA ✨ (@tressalynne) May 5, 2021
We're feeling great!🙌 pic.twitter.com/ayj0TBPapQ

— Cision (@Cision) May 5, 2021
Is there a question you'd like to see asked? Let us know by tagging #DailyScoop!
---
SOUNDING BOARD
Have recent controversies over content moderation on social media platforms prompted your company to reevaluate its investments in social media strategy, PR pros and communicators?
Have recent controversies over content moderation on social media platforms prompted your company to re-evaluate its investments in social media strategy, PR pros and communicators? #DailyScoop

— PR Daily (@PRDaily) May 6, 2021
Sound off on your company's response (or lack thereof) to Facebook's big ruling below and tag us #DailyScoop. We'll share the results in tomorrow's roundup.
COMMENT
2 Responses to "Peloton escalates crisis response with treadmill recall, exclusives lead to media coverage, and Uber protests changes to gig worker regulation"
Ronald Levy

says:

Look at the collection of PR blunders and the TRUTH related to Peloton's recall of over 125,000 treadmills.

Truth #1: Peloton treadmills save lives! The treadmills help increase heart health and over 325,000 DEATHS are caused each year by heart attacks.

Truth #2: One six-year-old without enough caregiver protection was pulled under a treadmill and killed but THOUSANDS of children with not enough caregiver protection are killed by cars, fires, and by swallowing poisonous detergents. The protective answer is not to eliminate all cars, fires, poisonous detergents and exercise machines but to be sure our children have caregiver protection!

Truth #3: When there's a recall, at least say it's "to increase safety" not "we should have" done it sooner. Or report the truth that "we're doing this because maximum public safety is way more important to our company than maximum profit."

Truth #4: The Wall Street Journal story of 5/6/21 makes clear that adding a safety feature, a "rear guard element," could reduce the risk of anything or anyone "getting pulled under the machine" and EVERY Peloton treadmill can hereafter have a triple-tested "rear guard element" at no additional cost so Peloton buyers get MORE safety but NO more cost.

Another TRUTH is that having at least one great PR firm can reduce PR blunders and so increase public awareness of the truth that sales go up instead of down. All the media coverage can—with skilled PR work—increase public awareness of the public's need for more exercise and of the health benefits plus happiness people can get by having a Peloton treadmill.

It's a persuasive and valid appeal: Give yourself fitness and health! Give yourself a Peloton treadmill! That's better for the public and better for the company than an apology.

Ronald Levy

says:

Another excellent PR newsletter suggests that Peloton has made three PR mistakes.

Mistake #1 is said to be calling the accusation "inaccurate and misleading" but it was. It would be inaccurate and misleading to say that hospitals are very dangerous places because research shows many people die there. It is similarly inaccurate to say exercise equipment is dangerous because an untended six-year-old who plays with exercise equipment can get hurt. It's like the reality that letting a child play with kitchen knives or garden chemicals is unwise, not a fault of companies that make cutlery or garden chemicals.

Mistake #2 says the other excellent PR newsletter was that Peloton "dug in" by not saying which family did not have the six-year-old watched more protectively. But we should not fall for someone saying "I'm employed by the government so tell me what I want to know." Respecting customer privacy is no sin. Revealing private information may be no virtue.

Alleged mistake #3 was that Peloton "deflected blame." But a classic PR defense is that "it was them not us." If women's backsides are being patted in the elevator, it's the fault of weirdo patters, not the company, so deflecting blame to where it belongs is a good idea. If a child is allowed to play near an exercise machine or lawn mower, an injury may the fault of who should be child-watching, not the fault of the machine or mower manufacturer.

In PR an excellent protection from accusations is repeatedly the truth. We can see this by clicking on the excellent "crisis" reports next to the PR Daily flag above. In one crisis PR report after another we can see the power of that marvelous defense weapon in PR accusation situations: the truth! In one PR Daily course after another we can see how skilled use of the truth can help to get top jobs and make top money.