Report: Employees want to hear from leaders as election remains undecided
Though staffers find it inappropriate for employers to endorse a specific candidate, they think a message of empathy is crucial.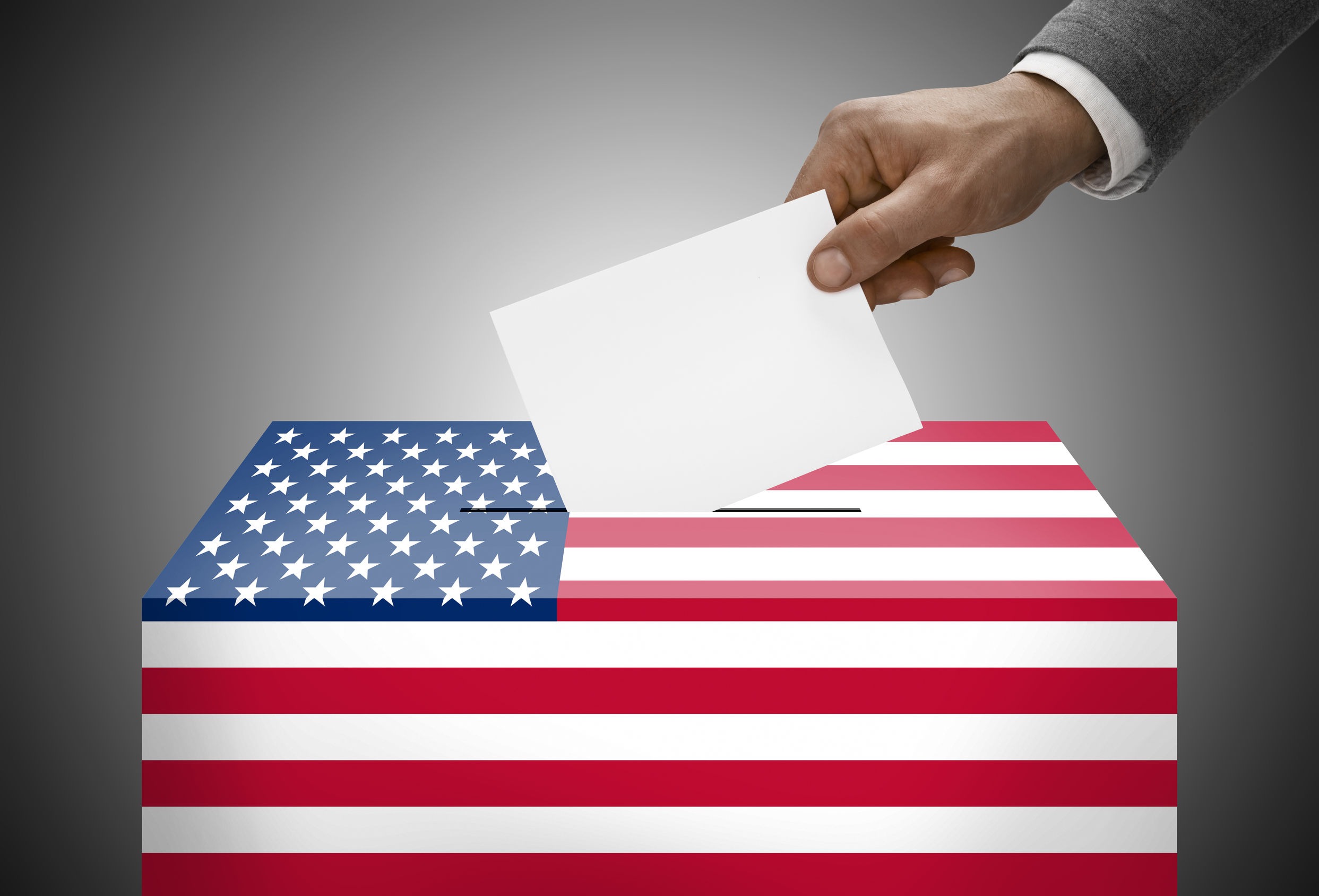 What's your message to employees while the election results hang in the balance?
According to a report from Zeno Group, you should prioritize communication with employees right now. Overall, 45% of employees say it is important for leaders to comment about the election if the result isn't clear on election night—a reality that has come to pass. So, what message should you offer?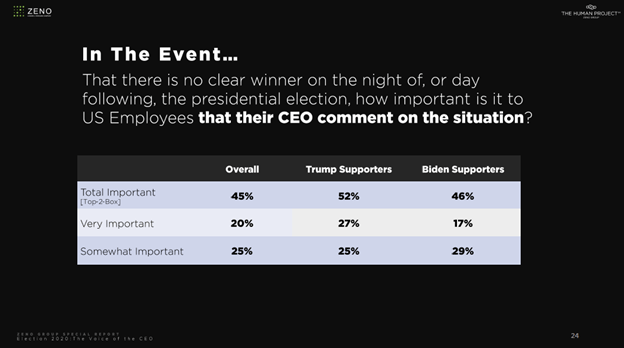 (image via Zeno Group)
What workers don't want to hear is an endorsement of a particular political candidate. Almost three-fourths (74%) say they do not think their CEO should comment on specific candidates.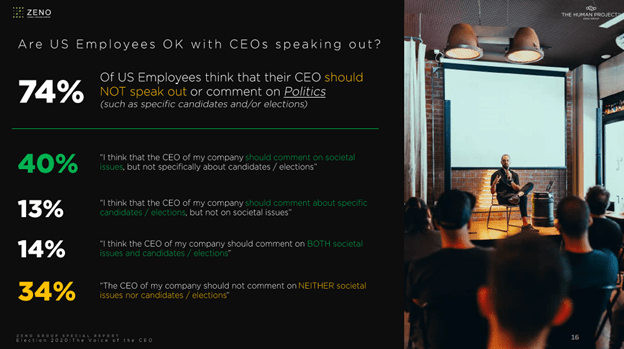 (image via Zeno Group)
Audiences say they want to hear statements of empathy and encouragement. In the report, respondents say they want reassurance that they will still have a place at the company and that their concerns are being heard.
What might that look like in practice? Several business leaders have spoken out about the election.
JP Morgan Chase's CEO Jamie Dimon wrote a memo encouraging employees to have "patience and fortitude" as the country awaits the final tally from election night.
"While strong opinions and tremendous passion characterized this U.S. election, it is the responsibility of each of us to respect the democratic process, and ultimately, the outcome," Dimon said Wednesday in a memo to all U.S. employees with the subject line "U.S. Election update."

"We must have faith in our electoral and judicial systems and have the patience and fortitude to await the final determination," Dimon said, adding that "once a final outcome is determined, together we must move forward to address our nation's challenges."
The note is an example of a bipartisan message that could help deescalate an emotionally charged day—and perhaps provide a bit of solace for exhausted workers.
Here are some tips on the message you should send to employees right now:
1. Know what your employees want from you. Your response should be tailored to the makeup of your specific workforce and the nuances of your company culture. Younger employees, for example, are more likely than older employees to want to hear a message from your organization's leaders on cultural or political events.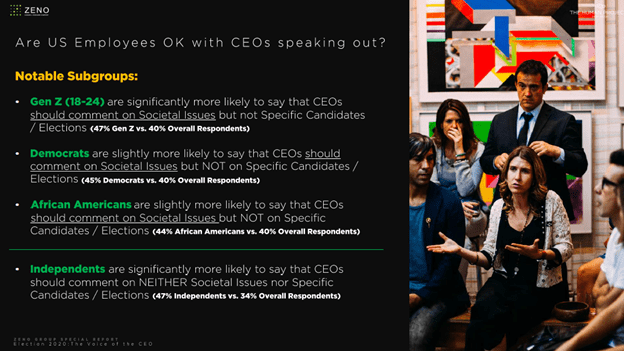 (Image from Zeno Group)
2. Start with your core values. Focus on your organizations' commitments to civility and respect, dignity for all and dedication to serving your community. By focusing on the ideals that your company stands for, you can avoid partisanship—and instead help heal the divisions that have been made so apparent in the election results thus far.
3. Don't confuse politics and social justice. Employees don't want your organization to openly back specific candidates for office, but they do want you to take a stand on cultural issues.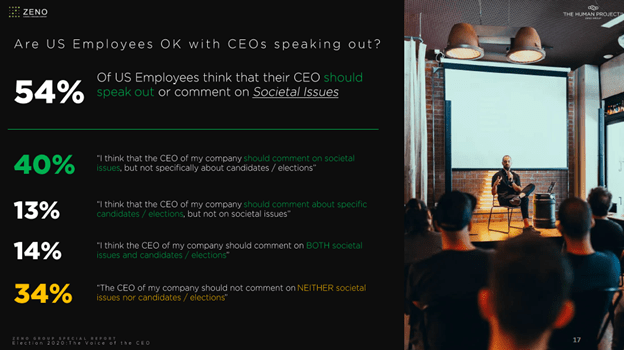 (Image via Zeno Group)
That means you should look to affirm values such as a commitment to diversity and inclusion, as well as  fundamental American principles like the right to life, dignity and the pursuit of happiness.
4. Don't be silent.
Business leaders are important sources of information—especially for their employees. More than half (54%) of employees say that CEO is an important and credible voice on the top issues of the day.
An election is no different, but it does require care and tact. If a leader can remind employees—regardless of party—of the many bonds, responsibilities and shared dreams that bring us all together, that leader has the potential to be a guiding light for his or her workforce during a particularly difficult time.
COMMENT