Saks requires employee vaccinations, Americans won't share data to stop COVID-19 spread, and HBOMax launches ad-supported tier
Also: Burger King joins chicken sandwich war, Spotify rolls out automatic transcriptions, and TD Bank launches digital content hub.
Hello, communicators:
The chicken sandwich wars may never end. The battle first began as Popeyes' sandwich looked to compete with competitor Chik-fil-A's sandwich and created buzz by fostering a cheeky rivalry between brand accounts on Twitter. Now, Burger King is fighting for the crown and has told the other heavy hitters to hold their buns with the introduction of its Ch'King sandwich.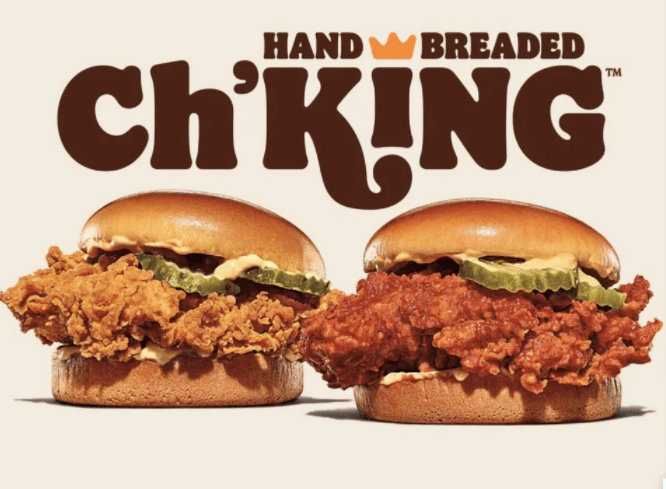 "We were the first in mainstream burger in QSR (quick service restaurants) to brand a burger the Whopper, [so] we want to be the first in mainstream QSR to brand a chicken sandwich the Ch'King," Ellie Doty, Burger King's chief marketing officer, told Yahoo Finance.
Doty added that Burger King is aware of the poultry shortage currently affecting all fast-food restaurants and stressed that the company has a variety of contingency plans in place.  "We've done a phased rollout to ensure that we're ready for our launch from a supply point of view," she said.
Burger King's quest for hand-breaded glory serves as a reminder that being early adopters of a new trend isn't the only move for success. To the contrary, watching the mistakes that your competitors make when rolling out a new product allows you to craft messaging that addresses how your launch will go differently, eschewing the errors of your competitors and demonstrating that your brand has learned from their past blunders.
Saks requires employee vaccinations ahead of office reopening
Clothing company Saks says that the company's downtown Manhattan offices will be the primary workplace for employees come September, and employees will be required to be vaccinated upon returning to the office in the fall.
"If we're asking people to come back, we have to make the environment as safe as we possibly can," [Saks CEO Marc Metrick said]. "He added that office workers represent "the first wave of a very essential layering of the density of New York City that's needed to bring this city back."

"Zoom and the virtual world is a culture killer for companies," [he] said. "It doesn't mean the individual is engaged or not engaged, or working hard or not working hard, or productive or not productive — but culture is so important to a business. And there's no way that having 900 people dispersed and only existing in an intentional Zoom world with no unintentional conversation is good for a culture."
What it means:
Saks' announcement comes days after Delta said that it would require all new employees to be vaccinated. Metrick earns points for embedding this news inside larger quotes about Saks' commitments to employee culture and New York at large, along with his deliberate words about employee productivity that paint his thought leadership in sharp relief from the WeWork CEO's comments doubting remote engagement last week.
Nonetheless, it serves as a reminder to frame any employee requirements first and foremost around how it will affect individuals, not company culture as a whole nor the wider community.
---
MEASURED THOUGHTS
A new study by David Grande, associate professor of medicine at the University of Pennsylvania School of Medicine, found that most people in the U.S. don't want their digital data used to mitigate the spread of COVID-19. Only 43% of those surveyed approved of a version of a smartphone app to track infection rates that was optional to use, while just 28% approved of monitoring social media to set health policies. Over 50% of those surveyed were wary of their data shared in multiple public health scenarios.
"Grande thinks people may be more interested in the exposure notification app than official use of social media data because they get a more direct benefit, even though it's a more invasive tool," reports The Verge. "'Some of the other uses, people may think, "I'm contributing my data for the common good but how is it going to protect me as an individual?"' he says. A tool that was developed to tell people if they've been exposed to a virus may seem worth the trade-offs around privacy."
Grande's findings underscore how strongly stakeholders feel about privacy. They also serve as a reminder to be careful how you survey employees about their COVID-19 and vaccination experiences and doubly careful about how you share any employee data that you collect with external stakeholders.
---
TECH TALK
Spotify has announced plans to launch automated transcripts for podcasts on the streaming service. Spotify hopes that the feature, which will first transcribe Spotify exclusive podcasts, can eventually be rolled out to all podcasts on its platform. Alongside the announcement, Spotify also introduced other accessibility features including readability tools and options for resizing text.
This can be useful from an accessibility standpoint, as it makes the audio programs available to a wider audience that includes those who are hard of hearing or deaf. However, it also makes it easier for any listener who wants to jump to a particular part of a conversation without having to fast-forward or rewind to trying to find the right spot.

Users will be able to scroll and navigate the provided transcripts, then click on any paragraph to start streaming the show from that point, the company explains.
Take note that improved accessibility functions need not only benefit differently-abled stakeholders but can also provide value to stakeholders who interact with your product or service in nontraditional ways. When crafting messaging that acknowledges the stakeholders who directly benefit from your new accessibility features, be sure to address the larger impact that these features have on your business and industry as well.
---
RAGAN'S 2021 BENCHMARK REPORT
Ragan has released its annual Communications Benchmark Report, an exclusive study from Ragan's Communications Leadership Council that analyzes the major trends in the profession over the last year.
During that time, comms pros have been called on to develop and distribute messages on new policies that affect internal and external stakeholders alike. Their role has become more essential as they helped keep their organizations focused and moving forward. They've seen their access to the C-suite increase throughout 2020, and they forged important new alliances with peers in other departments, including HR, finance and workplace wellness.
Culled from more than 750 respondents, the 32-page report is available in its entirety exclusively to members of the Communications Leadership Council.
Download your copy of the exclusive Benchmark Survey Executive Summary today and get a crucial competitive advantage that will fuel your success for 2021 and beyond.
---
TACTICALLY SPEAKING
TD Bank is launching TD Stories, a multimedia digital hub that replaces its old brand newsroom with a variety of content that highlights the bank's thought leadership stances on issues including social equity, economic vitality and sustainability.
"TD Stories reflects our commitment to drive meaningful, authentic conversations with consumers and media about our core purpose, community initiatives and business goals," Chad Mitchell, vice president of content and digital platforms at TD Bank told PR Daily in a statement. "Through TD Stories, we hope to inspire actionable conversation around our brand's purpose of creating a more inclusive and sustainable tomorrow across the diverse communities we proudly serve."
The digital hub will be organized across six pillars that the bank sees as defining its leadership goals:
"Your Money" provides customers with content about personal finance
"Innovation" highlights the role that technology plays in advancing the banking industry
"Colleagues" will spotlight the 90,000 TD bank employees who drive its internal culture forward
"Community" spotlights the banks DE&I work,
"Insights" offers longer commentary and insights from leaders
"News" collects the bank's latest press releases and company announcements.
Remember that with brand newsrooms, "form should follow function. Organize your site in a way that provides easy navigation and user experience to external stakeholders while also streamlining your internal team's ability to find and repurpose content for your audiences across multiple channels.
---
COMMUNICATIONS WEEK
Ragan is delighted to add industry event and thought leadership brand Communications Week to our portfolio. You can read the full press release here.
"We are reimagining Communications Week as a year-round endeavor," says Ragan Communications CEO Diane Schwartz. "The rollout will begin next month with thought-provoking content on the future of communications on Commsweek.com, Ragan.com and PRDaily.com, culminating with a weeklong series in November that will feature conferences, networking events, workshops, webinars and more."
The flagship event for 2021 will take place Nov. 15-19. Stay tuned for updates on the many opportunities and offerings that will help communicators connect, learn and celebrate their achievements later this year.
HBOMax announces new ad-supported tier, original programming
Just days after merging with Discovery media network, WarnerMedia has announced that the HBOMax streaming service will undergo a massive expansion, including an ad-supported pricing tier that will cost $9.99 and a "Front Row" service that will include new, original programming such as animated Batman and Superman shows along with a "Friends" reunion special.
According to its press release:
"'Front Row' is a great example of the strength of WarnerMedia's broad distribution, moving with consumers," said [Tony] Goncalves, [EVP and chief revenue officer for WarnerMedia]. "We know viewers discover content in a variety of ways, and with 'Front Row' we are giving more of them an opportunity to encounter our groundbreaking Max Originals. To put it simply, we're growing audience. That's valuable to each and every one of our partners from distributors to brands."
Come June, advertisers will be able to own an entire block of content on HBO Max's ad-supported tier. In the future, they will be able to sponsor a screen that appears when consumers hit pause on a show or movie. Those ads are meant to engage consumers when they take a break. For example, this type of ad space would be great for a snack or toilet paper advertiser. Advertisers will also eventually be able to buy ads while consumers are browsing for shows. At the presentation, the company also announced new programming and teased special events like the highly anticipated "Friends" reunion.

HBO Max's ad-supported tier is still significantly more expensive than its competitors. NBCUniversal's Peacock, Discovery+ and ViacomCBS' Paramount+ all offer an ad-supported tier for about $5 monthly. Hulu's ad-supported tier is $6 monthly.
On Twitter, any concerns about the price of the ad-supported tier were muted as "Friends" fans celebrated the big news:
It's happening… #FriendsReunion pic.twitter.com/thOdCTjNtj

— Friends TV Show (@HookedonFriends) May 19, 2021
visual representation of me #friendsreunion pic.twitter.com/N0her0Znk4

— nicole (@anistonily) May 19, 2021
joey is me right now #FriendsReunion pic.twitter.com/BXQLRSClZm

— giulietta is waiting for friends reunion (@im_giuliaa) May 19, 2021
People also published an exclusive about the "Friends" reunion:
Friends Reunion Exclusive! Go Inside the 'Emotional' HBO Max Special with the 6 Stars https://t.co/Fg7zBkt0ep pic.twitter.com/Zxno1Uo25c

— People (@people) May 19, 2021
Why it matters:
The new HBOMax model's innovative approach to customizable ad space offers a solution to ad partners looking to capture a shifting TV audience.  WarnerMedia's decision to bundle the industry news with multiple show announcements and magazine exclusives activates existing fanbases to generate online buzz for the streaming service and potentially turn skeptical streamers into brand advocates.
It also serves as a reminder that big company announcements can best be communicated through a media relations strategy that distributes individual details and exclusives across multiple outlets and publications where the target audiences are already engaged.
---
CONFERENCE ALERT
Communicators face a crossroads this year as they anticipate markets recovering and workplaces reopening. Their work crafting a flexible crisis plan and mindful messaging that ensures your brand or organization is ready to handle any future unforeseen situation smoothly will be essential.
Join us at Ragan's Crisis Communications Conference on June 10  to learn timely strategies to help you reimagine your approach to crisis communications, mobilize internal and external stakeholders to be your megaphone and foster goodwill—and make fresh plans for unforeseen obstacles that may arise.
Learn powerful insights and approaches from speakers at organizations including Carnival Cruise Line, KFC, IBM, Amtrak, Mastercard and more.
---
WHAT YOU SAID
Yesterday, we asked if you've worked on a vaccine awareness campaign for internal stakeholders, external stakeholders, neither or both. The majority (62%) of you have not worked on vaccine awareness campaigns at all, while more have worked on internal campaigns (19%) or internal/external campaigns (15%) compared with purely external efforts (4%).
Have you worked on a vaccine awareness campaign for internal or external stakeholders, PR pros and communicators? #DailyScoop

— PR Daily (@PRDaily) May 19, 2021
Is there a question you'd like to see asked? Let us know by tagging #DailyScoop!
---
SOUNDING BOARD
Have you restructured your brand newsroom over the past year to make your company's content more accessible, PR pros and communicators?
Have you restructured your brand newsroom over the past year to make your company's content more accessible, PR pros and communicators? #DailyScoop

— PR Daily (@PRDaily) May 20, 2021
Let us know in the comments below. We'll share the results in tomorrow's roundup.
COMMENT
One Response to "Saks requires employee vaccinations, Americans won't share data to stop COVID-19 spread, and HBOMax launches ad-supported tier"
Ronald Levy

says:

Ad-supported tiers that cost $9.99 a month may not become tiers of joy for buyers or sellers. You can get more content for less money from Netflix and with no ads. Plus Netflix already has a huge customer base so HBO Max is trying to sell in a market that is already amply supplied.

"We're growing audience," says the HBO Max guy but one who offers the public less while trying to charge more may be growing not audience but frustration.

"Why you?" prospective customers ask a would-be entrant into a market. PR wisdom: it's not a winning answer to say "because we offer you less and charge more and ask you to tolerate ads"

There is already huge demand for PR Daily courses on how to succeed with
crisis situations, and it may be a blessing to some if PR Daily crisis courses are enlarged to teach how not to cause yourself a crisis or a tier of management regret.