Delta requires new employees to get vaccinated, the best times for posting on Twitter, and Bill Gates defends reputation as relatable philanthropist
Also: Coca-Cola stops energy drink sales, governments celebrate International Day Against Homophobia, Transphobia & Biphobia, and WarnerMedia declares support for CNN.
Hello, communicators:
Coca-Cola offers a good example of how to say goodbye to a product that has fizzled out, as the brand says it will stop producing its line of energy drinks following low sales.
"As we scale our best innovations quickly and effectively…we need to be disciplined with those that don't get the traction required for further investment." a Coke spokeswoman told The Wall Street Journal, adding that the company undergoes a "consistent and constant evaluation of what's performing and what's not."
While there may seem like no graceful way to sunset a product or service in your brand messaging without admitting defeat, Coca-Cola's message of discipline and prudence echoes the language that LG used last month when the electronics manufacturer announced that it would stop manufacturing smartphones by the end of July in what it called a "strategic decision."
Both instances serve as a reminder that reframing bad news with a story about strategy and data can build a narrative that your company has the wisdom to learn from past mistakes along with the foresight to make adjustments before those losses cause additional damage to the company's bottom line.
Delta CEO details thinking behind required employee vaccinations
Delta Airlines says it will require all new hires to be vaccinated before joining its workforce, but the airline won't impose the same requirement on its approximately 74,000 current employees. This makes Delta the first and currently only airline to require vaccinations of some employees.
 "Any person joining Delta in the future we will mandate to get vaccinated before they can sign up with the company," CEO Ed Bastian told CNN's Richard Quest in an exclusive interview.

"It signals confidence that we're doing everything we can to keep them safe as well as to keep our customers safe because customers knew Delta employees were being tested all throughout the process," Bastian said of the airlines' testing and vaccination procedures.
Delta's statement read, in part:
Delta knows that vaccines are the best tool available to protect one another and bring an end to the pandemic, and the airline has made great progress to achieve herd immunity within its workforce, with more than 60 percent of employees already vaccinated.

This is an important move to protect Delta's people and customers, ensuring the airline can safely operate as demand returns and as it accelerates through recovery and into the future.

Approximately two out of 10 Americans have been infected by COVID-19, and one out of 1,000 Americans has died from the virus. The vaccines are not only extremely effective in preventing illness and symptoms from COVID-19, but they are also nearly 100 percent effective in preventing hospitalization and death. Vaccines are safe, effective and essential to the future of the airline and our world.
Why it matters:
Delta's industry-leading rules for vaccination requirements has dodged some of the controversy lobbed at other airlines by the anti-mask crowd largely due to how the message was rolled out. Delta's CEO reminds us that when leadership is willing to go on record with an announcement, customers respond positively. Framing your decision around putting both employees and customers first creates a narrative about how all stakeholders are working toward a shared goal.  Tread lightly when sharing data about the vaccination status of your workforce, because while it can show customers that your company is being transparent with them, it can also invite additional questions about how the data was obtained.
---
MEASURED THOUGHTS
A report from Spout Social found that the best times to post on Twitter are Wednesdays from 9 a.m.– 3 p.m. and Tuesday through Thursday from 9–11 a.m. Twitter's levels of engagement were consistently high during all weekdays in 2020, which "could reflect the ongoing attention to developing news and updates, as well as the platform's role as a place for entertainment via viral Tweets and memes," the report states.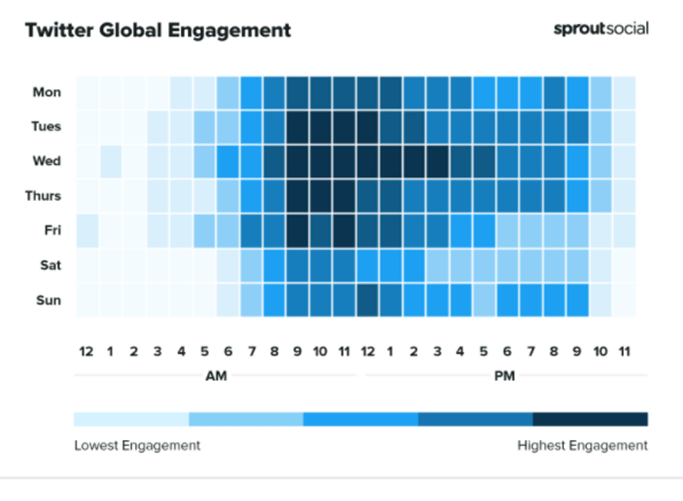 Courtesy of Sprout Social
While Twitter became a timely news resource over the past year, communicators should remember that stakeholders who read news on the platform also treat it as a direct line of communication to your brand or organization. This requires you to have a social media messaging strategy in place that can move at the speed of large, newsy conversations and balances your resources to address timely news developments when relevant while still allocating people to respond to individual issues through social listening.
---
SOCIAL BUZZ
May 17 marked the International Day Against Homophobia, Transphobia and Biphobia, as world governments celebrated sexual and gender diversities.
Today is the International Day Against Homophobia, Transphobia and Biphobia, I support equal rights for all and an end to discrimination!#IDAHOBIT #IDAHOBIT2021
❤️🧡💛💚💙💜 pic.twitter.com/suceIro5zi

— may17 (@may17org) May 17, 2021
The U.S. pledged to work with governments around the world to advance LGBTQI+ rights as a human rights issue:
The United States will work with governments around the globe and civil society advocates to advance the human rights of LGBTQI+ persons. #IDAHOTB pic.twitter.com/JW8bAFFHYf

— Department of State (@StateDept) May 17, 2021
Toronto's CN Tower lit up in rainbow colors in a show of solidarity, and Canadian prime minister Justin Trudeau shared a graphic and linked to a longer statement detailing Canada's efforts to support the LGBTQI+ community:
Tonight's bottom of the hour rainbow light show will be in honour of the International Day Against Homophobia, Transphobia and Biphobia

🌈🌈🌈 pic.twitter.com/vxTFloim61

— CN Tower/La Tour CN (@TourCNTower) May 17, 2021
Homophobia, transphobia, and biphobia have no place in our country. That's true today, on #IDAHOTB, and every day – and it's up to each and every one of us to make sure everyone can live freely and openly, regardless of who they love or how they identify. https://t.co/dZsuXAVALH pic.twitter.com/RHn2AgkXJ3

— Justin Trudeau (@JustinTrudeau) May 17, 2021
The Danish embassy in Poland also created a video and linked to a larger open letter to raise public awareness of issues affecting the LGBTQI+ community in Poland:
On behalf of 48 Embassies and Representations in Warsaw 🇵🇱, @DKambPL 🇩🇰 presents the open letter of support for the efforts to raise public awareness of issues affecting the #LGBTI community in Poland.
📩 Read the letter here 👉https://t.co/bVsvTB3EN6#IDAHOTB #IDAHOBIT2021 pic.twitter.com/1bIoD9DXUR

— Denmark in Poland (@DenmarkinPoland) May 17, 2021
The UK's Foreign, Commonwealth and Development Office also created a video, but didn't share any specific policy commitments or work:
On International Day Against Homophobia, Biphobia and Transphobia, the UK reaffirms its commitment to promoting and protecting the rights of LGBT+ people around the world.

Human rights are universal and should be applied equally to ALL.

Retweet if you agree.#IDAHOBIT pic.twitter.com/Yx76dtUDyq

— Foreign, Commonwealth & Development Office (@FCDOGovUK) May 17, 2021
These varied approaches by global governments to commemorate the holiday serve as a reminder that sharing GIFs or graphics to express advocacy can only go so far. More effective approaches use splashy visuals as an initial engagement tactic, then offer a short link to a larger statement of commitment to the cause and/or a thoughtful video featuring leadership discussing your organization's commitment to the issue at hand.
---
RAGAN'S 2021 BENCHMARK REPORT
Ragan has released its annual Communications Benchmark Report, an exclusive study from Ragan's Communications Leadership Council that analyzes the major trends in the profession over the last year.
During that time, comms pros have been called on to develop and distribute messages on new policies that affect internal and external stakeholders alike. Their role has become more essential as they helped keep their organizations focused and moving forward. They've seen their access to the C-suite increase throughout 2020, and they forged important new alliances with peers in other departments, including HR, finance and workplace wellness.
Culled from more than 750 respondents, the 32-page report is available in its entirety exclusively to members of the Communications Leadership Council.
Download your copy of the exclusive Benchmark Survey Executive Summary today and get a crucial competitive advantage that will fuel your success for 2021 and beyond.
---
TACTICALLY SPEAKING
After Monday's announcement that WarnerMedia and Discovery would merge into a single network, CEO David Zazlav was quick to ease any concerns that the merger would affect WarnerMedia's commitment to its news brands, which include CNN and HLN.
"Not only are we going to keep it," Zaslav said in a Monday press conference with AT&T CEO John Stankey, but the new company will "lean into news." He noted that his company already has a substantial news presence in Europe, which will be combined with CNN to create "a world leader in news."

Zaslav also added that the new mega-company is committed to expanding CNN's streaming offerings since streaming is at the heart of the new company's content distribution plans.
Mergers demand that leaders assure affected stakeholders that the quality and integrity of cherished products or brands will not be affected by the restructure. Be sure to specifically addresses your commitments to growth in any messaging around restructuring and focus on the products that have been performing well to activate brand advocates and reinforce your company's status as an industry leader.
---
COMMUNICATIONS WEEK
Ragan is delighted to add industry event and thought leadership brand Communications Week to our portfolio. You can read the full press release here.
"We are reimagining Communications Week as a year-round endeavor," says Ragan Communications CEO Diane Schwartz. "The rollout will begin next month with thought-provoking content on the future of communications on Commsweek.com, Ragan.com and PRDaily.com, culminating with a weeklong series in November that will feature conferences, networking events, workshops, webinars and more."
The flagship event for 2021 will take place Nov. 15-19. Stay tuned for updates on the many opportunities and offerings that will help communicators connect, learn and celebrate their achievements later this year.
Bill Gates' spokesperson dismisses harassment and infidelity reports
The circumstances leading up to Bill and Melinda Gates' divorce have received lots of media attention in recent weeks, including multiple sources who claim that Bill Gates pursued multiple women who worked with him at Microsoft and the Bill and Melinda Gates Foundation and the revelation that Bill stepped down from the board at Microsoft following an investigation into an affair that he had with an employee. Sources also claim that Bill was much closer to Jeffery Epstein than previously reported, with one source claiming that Epstein even advised Bill on how to end his marriage.
Now, Bill Gates is pushing back through a PR team.
"There was an affair almost 20 years ago which ended amicably," said Bridgitt Arnold, a spokeswoman for Mr. Gates. "Gates's decision to transition off the board was in no way related to this matter. It is extremely disappointing that there have been so many untruths published about the cause, the circumstances and the timeline of Bill Gates's divorce."

"Your characterization of his meetings with Epstein and others about philanthropy is inaccurate, including who participated," she continued. "Similarly, any claim that Gates spoke of his marriage or Melinda in a disparaging manner is false. The claim of mistreatment of employees is also false. The rumors and speculation surrounding Gates's divorce are becoming increasingly absurd, and it's unfortunate that people who have little to no knowledge of the situation are being characterized as 'sources.'"
Whether the allegations are true or not, the stories have done real damage to Bill Gates' reputation as a relatable philanthropist and billionaire.  To that end, Twitter users questioned how much of the public image of Gates as a loveable, good-hearted nerd was accurate and what it meant fo
r the philanthropy world writ large:
The Bill Gates news is proof that the biggest difference between a kind billionaire and a movie villain style billionaire is the quality of the NDA

— Shiv Ramdas (@nameshiv) May 17, 2021
I can't believe the Youtube comment section was actually right about Bill Gates. pic.twitter.com/CENi1slhOZ

— Coffeezilla (@coffeebreak_YT) May 17, 2021
I hope that in the wake of the Bill and Melinda Gates divorce, we can have a much more open and honest conversation about the harms of mega-philanthropy

— Becca Lewis (@beccalew) May 18, 2021
What it means:
This response from Bill Gates' PR team serves to highlight the philanthropist's questionable history of media support, further undermining the reputation Gates has carefully built over the years. It's a reminder to communicators that any attempt to push back on allegations of wrongdoing must be carefully vetted to not undermine the industry partners and stakeholders that your organization claims to support.
---
CONFERENCE ALERT
Communicators are in a unique position to collaborate with other DE&I leaders to foster unity, build a stronger internal and external brand reputation, maximize innovation and improve the bottom line. The days of brands comfortably remaining silent are gone as employees and customers are demanding impactful change.
Join us at Ragan's Diversity, Equity and Inclusion conference on May 19 and glean timely strategies to educate, engage and uplift your employees and customers in the wake of unparalleled uncertainty, political upheaval and a new mandate for social justice change.
Learn powerful insights and approaches from speakers at organizations including Ben & Jerry's, Reebok, Warner Music Group, E.W. Scripps, NielsenIQ, Facebook and more.
---
SOUNDING BOARD
When will your company or organization issue new policies on employee travel for work, PR pros and communicators?
When will your company or organization issue new policies on employee travel for work, PR pros and communicators? #DailyScoop

— PR Daily (@PRDaily) May 18, 2021
Let us know in the comments below. We'll share the results in tomorrow's roundup.
Image by Cor Gaasbeek from Pixabay
COMMENT
One Response to "Delta requires new employees to get vaccinated, the best times for posting on Twitter, and Bill Gates defends reputation as relatable philanthropist"
Ronald Levy

says:

Whether you like or dislike Bill Gates—and how many of us dislike one who donates tons of money to medical research?—his situation evidences that most normal people may feel deep gratitude to Gates and others who protect our lives.

Microsoft with net profit of $47 billion in 2020, Google ($29 billion), Amazon ($21 billion) and Facebook ($18 billion) may be seen as "rich bastards who just care about money"—or as generous companies that protect our lives—depending on whether they are seen spending a billion or more to guard the public's health.

Google may be next in the congressional batters box, to bat or perhaps be battered. So look how with the help of a superstar PR firm from Omnicom, WPP, Interpublic, Publicis or Edelman, Google's fate could be saved by the public knowing three realities, bad news and good.

.1. Bad news is that If you are average, you have more than one chance in five of death from cancer. More bad news is that 80% of advanced stage cancer patients have moderate to severe pain Including "breakthrough pain" that defeats your medication.

.2. Good news is that doctors are now so successful against cancer that last year 1,806,590 got it but 606,250 died from it. The five-year survival rate is now 98% for prostate cancer, 92% for melanoma and 90% for breast cancer
(Wall Street Journal 1/10/20). You have sharply improved chances of surviving cancer if you (a) know what you can do to avoid it and (b) catch it early enough for doctors to get rid of it.

.3. To help find a cancer vaccine and to increase cancer prevention plus early detection, Google is donating $1 billion—a BILLION–over the next ten years to the Google Anti-Cancer Institute at Memorial Sloan Kettering Cancer Center. Google and MSKCC hope to save over five million American lives in the following ten years, over 50 million lives worldwide. MSKCC is already testing close to 100 possible cancer vaccines and has already found a few that work partially.

A team of Google Institute doctors and nurses can appear on hundreds of TV stations and do interviews for hundreds of syndicates and major dailies. The expert information will be on what each of us can do to (a) avoid cancer, (b) catch it early enough to be cured, and (c) stay informed about cancer vaccines. Google Institute and MSKCC could certify 5,000 doctors who volunteer to give talks to groups that welcome an expert speaker on health.

Every quarter: worldwide media coverage on the Google Institute's progress against cancer–achievements and hopes for protecting the world in the coming quarters.

If Google gets 75 million Americans to feel their necks and breasts for a lump—and if the 75 million know that Google is spending a billion on research to prevent cancer lumps or cure them:

.A. How many of the 75 million Americans will not only appreciate Google but pray to God for Google's success?

.B. Would even one in 25 political leaders of either party advocate government action that could hurt Google's financial ability to protect the public against cancer?

.C. If a top PR firm has success running a program like this that could bill for $10 million a year, how many additional accounts will ask the PR firm: "Can you do a big health PR program like this for us?"