Spotify and LinkedIn to launch social audio apps, YouTube refuses employee request to remove rap song with anti-Asian lyrics, and Netflix touts plan for net-zero carbon footprint
Also: Volkswagen' launches pun-laden electric car campaign with playful pun, Nike responds to bootleg Satan sneakers with lawsuit, businesses drastically reduce political donations, and more.
Hello, Communicators:
Just days after the conclusion of its multi-year internal investigation into its 'Dieselgate' emissions scandal, Volkswagen announced a campaign that will rebrand the embattled automaker as "Voltswagen" to emphasize its renewed focus on electric vehicles.
The company now faces the ire of media outlets for what it now says was an April Fools' joke, despite confirming the truth of the press release to multiple outlets.
Volkswagen admitted Tuesday that it had put out a false news release saying that it had changed the name of its U.S. subsidiary to "Voltswagen of America" in an attempt to be funny and promote a new electric utility vehicle.

Several news organizations, including The Associated Press, USA Today, CNBC and The Washington Post, had reported the original press release as real news, some after being assured specifically that it was no joke.
Audiences might welcome a bit of fun this year, after months of hard news, pandemic, lost lives and global tragedy. However, no one enjoys being lied to or made to look a fool and Volkswagen's little media stunt could cost the brand with its relationships with media outlets.
Here are today's top stories:
Spotify and LinkedIn announce new Clubhouse competitors
Spotify announced yesterday that it is acquiring Betty Labs, which created a live sports audio app called Locker Room, in order to rebrand and relaunch the app to include a wider focus on cultural content.
The Verge reports:
Spotify says it sees live audio as ideal for creators who want to connect with audiences in real time, whether that's to premiere an album, host a question and answer session, or possibly even perform.

Gustav Söderström, chief R&D officer at Spotify, tells The Verge that Spotify will let anyone host conversations—not just approved creators—meaning its app will directly compete with all of the various live audio apps currently on the market, including Twitter Spaces, Clubhouse, and Discord. Although he says Spotify-employed creators won't be required to go live only on Spotify's app, he thinks it'll be a "great complement" to their existing Spotify audiences. Still, the two apps will remain separate.
Meanwhile, LinkedIn also announced yesterday that it is working on a social audio app of its own.
Unlike the Clubhouse rivals being built by Facebook and Twitter, LinkedIn believes its audio networking feature will be differentiated because it will be connected with users' professional identity, not just a social profile. In addition, the company has already built out a platform that serves the creator community, which today has access to tools like Stories, LinkedIn Live video broadcasting, newsletters and more.
Why It Matters:
As these new social audio apps remind us that Clubhouse is not a well-timed gimmick or fad, communicators should take note that the future of communication will be driven by digital conversation. Start thinking about the role you play in a virtual room where journalists, experts and sources are already together. Pay attention to the different audiences that gravitate toward each new platform to make sure your messaging is present in the right place at the right time.
Reach out to emerging platforms pre-launch to see if there's any opportunity for your company to become an early adopter.
---
TAKE OUR SURVEY
We are running a short survey to find out how we can better serve readers like you. Your feedback will help us plan new editorial initiatives, direct our resources for industry research and analysis, and let us know what parts of the site are most valuable. Your answers will be held confidential.
Please take this 3-minute survey by Thursday, April 8. As a thank you, you will receive a $150 voucher to apply to a Ragan/PR Daily event and you'll be entered to win one of five $25 gift cards from Amazon.
Take the survey here.
We look forward to learning more about the PR community and how PR Daily can best serve your needs, interests and career growth. Thank you in advance for your time and feedback.
---
CRISIS COMMUNICATIONS
Nike has filed a lawsuit against Brooklyn-based company MSCHF for selling 666 modified pairs of Nike Air Max 97s as "Satan Shoes" in a collaboration with rapper Lil Nas X. The suit follows online criticism from religious community after the shoe drop was announced on Palm Sunday.
MSCHF started selling 666 pairs of the shoes — each pair cost $1,018 — on Monday as a follow-up to a line of Jesus Shoes, which contained holy water. They sold out in less than a minute.

In a statement on Sunday, Nike said: "We do not have a relationship with Little Nas X or MSCHF. Nike did not design or release these shoes, and we do not endorse them."

[O]n Monday, Nike sued MSCHF in U.S. District Court over the shoes, alleging that MSCHF's "unauthorized Satan Shoes are likely to cause confusion and dilution and create an erroneous association between MSCHF's products and Nike."

"Decisions about what products to put the 'swoosh' on belong to Nike, not to third parties like MSCHF," Nike said in its lawsuit, referring to its "swoosh" logo. "Nike requests that the court immediately and permanently stop MSCHF from fulfilling all orders for its unauthorized Satan Shoes."
The sneakerhead community quickly rushed to defend MSCHF on social media, claiming the move was hypocritical since Nike did not file a lawsuit over MSCHF's "Jesus Shoes" or other similar drops:
@Nike should get over themselves. Id suggest this artistic commentary be covered under parody laws. Everyone loves it and people need to stop catoring to deplorable christians who use gods name is vain to target minorities. @Nike is just sympathizing with them with this action.

— ArecArws🎨🇸🇪🇺🇸 (@ArecArws) March 30, 2021
When your brand or image is co-opted, sometimes a lawsuit is the only logical course of action. Aside from any formal filings, communicators should also prepare messaging that addresses the wider community of stakeholders who might be negatively impacted or otherwise angered at your brand's decision.
---
CRISIS LEADERSHIP NETWORK
Looking for more insight on how to address the current global crisis and lead your organization into a strong recovery?
Join Ragan's Crisis Leadership Network to connect and brainstorm with peers, get the latest intelligence and research, and start to strategize for the future of your organization.
Learn more about this exclusive membership here.
---
TACTICALLY SPEAKING
Netflix has announced plans to achieve a net-zero carbon footprint by 2022, eventually eliminating its greenhouse gas emissions to produce streaming content in a more eco-friendly way.
The "Net Zero + Nature" plan was outlined Tuesday in a blog post by Emma Stewart, PhD, who joined Netflix as its first sustainability officer last fall. At Netflix, "we aspire to entertain the world," she wrote. "But that requires a habitable world to entertain."

In 2020, Netflix estimates its carbon footprint was 1.13 million metric tons, down slightly from 1.31 million the year prior (mostly due to delayed content productions during the COVID-19 pandemic). Roughly 50% of that was generated by the physical production of Netflix films and series, including third-party projects licensed as Netflix-branded originals. Another 45% came from corporate operations (e.g. office space) and purchased goods (like marketing spend) and 5% was attributed to internet cloud providers like Amazon Web Services and Netflix's Open Connect content delivery network.
Publicly promoted campaigns and press releases don't only serve as PR, but also work to hold your company accountable toward fulfilling its purpose-driven goals and initiatives. Provide benchmark data to the public to avoid perceived inauthenticity and show that the initiative has been undertaken with measurable expectations.
---
MEASURED THOUGHTS
In its report on the political spending of businesses, The Conference Board ESG Center surveyed 84 large public and private firms to understand how the events of January 6 affected their corporate political spending. The study found that a majority 28% of firms surveyed suspended all PAC contributions to Congress after the resistance to certification of presidential electors. Another 27%, meanwhile, suspended contributions to members of Congress who voted specifically against the certification.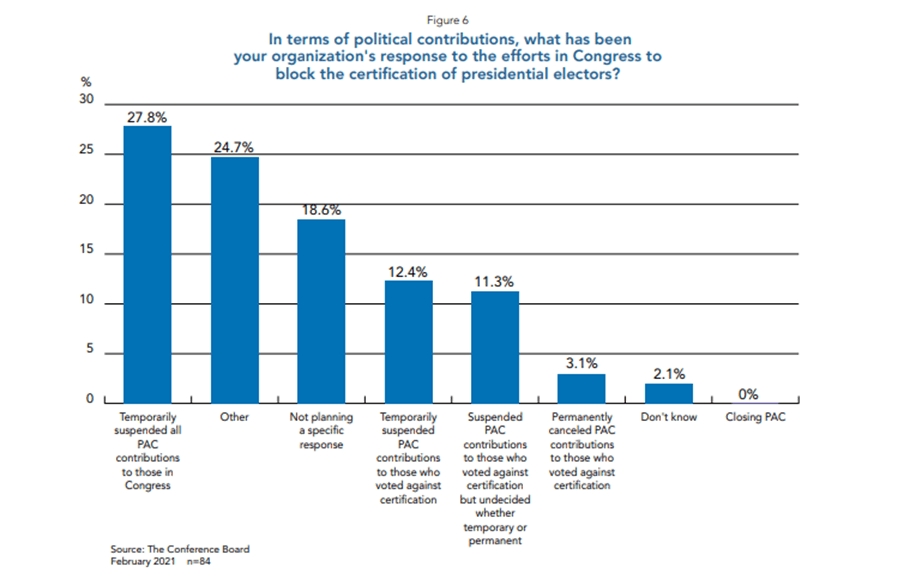 Image courtesy of The Conference Board
"In this era of intense political polarization in the United States, and with the immediacy, ubiquity, and (often) inaccuracy of social media, companies are subject to ever-greater scrutiny for their political activities," The Conference Board wrote in the study. "The combination of polarization and scrutiny is enough to make some companies choose to limit, or avoid engaging in, political activity, including spending."
YouTube denies employee requests to remove rap song with anti-Asian lyrics
YouTube's trust and safety team refused employee requests to pull rapper YG's song "Meet the Flockers" off its platform, despite staff outcry over the tune's anti-Asian lyrics, which include a suggestion of targeting Chinese neighborhoods during burglary attempts.
Though critics say the song violates the company's hate speech policy, YouTube says it will stay publicly available because of an exception for content that has educational, documentary, scientific or artistic merit. In the note to employees, YouTube stressed concern over the precedent that removing the song would set.
"We'll start by saying we find this video to be highly offensive and understand it is painful for many to watch, including many in Trust & Safety and especially given the ongoing violence against the Asian community," the statement reads. "One of the biggest challenges of working in Trust & Safety is that sometimes we have to leave up content we disagree with or find offensive."

"While EDSA is not a free pass for any content, there are likely thousands of music videos that would otherwise violate policies including Sex & Nudity, Violent or Graphic Content and Hate Speech were it not for these sorts of EDSA exceptions," the statement reads. "As a result, removing this video would have far-reaching implications for other musical content containing similarly violent or offensive lyrics, in genres ranging from rap to rock. While we debated this decision at length amongst our policy experts, we made the difficult decision to leave the video up to enforce our policy consistently and avoid setting a precedent that may lead to us having to remove a lot of other music on YouTube."
Why It Matters:
YouTube's response to employees reminds communicators about the perils of handling stakeholder pressure to change policies. Establish a review team and protocol for assessing any new precedent that a proposed policy change will set and prepare to explain the "why" behind your decision. Make your vocal stakeholders feel heard in your response, and empathize with their objections while clearly explaining the reasoning behind the final decision.
---
CONFERENCE ALERT
As the news cycle continues to rapidly shift and communicators grapple to create strategies that overcome content exhaustion and misinformation, it's crucial to embrace new best practices grounded in measurement, data and insights that can both build engagement and boost brand awareness.
Learn how to build stronger relationships with journalists to tell your story, and measure the results at Ragan's Media Relations & Measurement Virtual Conference on Wednesday, April 7.
Attendees will discover new and smart opportunities to overcome crisis challenges, pitch stories that reporters crave, better understand and deliver to target audiences through analytics and insights, enhance media relations efforts through the PESO model and brand journalism, prove the ROI of your efforts, and more.
Learn powerful insights and secrets from speakers at organizations including NAACP, PepsiCo, Goodwill, Pfizer, Hilton and Britannica Group.
---
WHAT YOU SAID
After learning that many big companies are announcing a slow but steady reopening of offices, we asked where you expect to be working over summer. Just over half of you (52%) still expect to be working remotely, while 26% of you anticipate a hybrid work setup that sees you both going to the office and working remotely at different times. Just 18% of you expect to be in the office by summer and 5% said that no decisions have been made yet.
Now that many big companies have announced office reopening dates, where do you expect to be working over the summer months, PR pros and communicators?

Let us know under #DailyScoop and we'll share the results in tomorrow's roundup.

— PR Daily (@PRDaily) March 30, 2021
Is there a question you'd like us to ask? Let us know by tagging it with #DailyScoop!
---
SOUNDING BOARD
What's your strategy for taking work breaks to avoid burnout, PR pros and communicators?
What's your strategy for taking work breaks to avoid burnout, PR pros and communicators?

Let us know how you pace out your day under the hashtag #DailyScoop. We'll share the results in tomorrow's roundup.

— PR Daily (@PRDaily) March 31, 2021
Let us know how you pace out your day under the hashtag #DailyScoop. We'll share the results in tomorrow's roundup.
COMMENT
One Response to "Spotify and LinkedIn to launch social audio apps, YouTube refuses employee request to remove rap song with anti-Asian lyrics, and Netflix touts plan for net-zero carbon footprint"
Robin Robinson

says:

Robin Robinson

Western Kentucky University

Nike had to make a big decision of going with the rebels' young people or the strong religious group. They chose the religious group because those are the people buying the shoes for their kids. I understand Lil Nas' stunt is a commentary on extreme religious people. The religious groups in this country are strong and powerful groups of people to mess with. Nike did make the right decision of immediately getting out of the situation. I agree that a lawsuit is the most logical thing to do. It shows that you do not associate with this or condone this behavior. To be accused of a problematic, rebellious, parody is too risky. It was going to be associated with Nike no matter what because of their logo. There are so many problems such as stealing their logo and expecting them to be okay with it. This situation reminds me of when Covid-19 was called coronavirus. People thought if you drink Corona beer you would get Covid-19. It is not as extreme as this situation but it is a little relatable.