Taco Bell focuses on 'to go' design, Instagram adds 'Suggested Posts,' and Chipotle shares rice recipe on TikTok
Also: The MTA highlights its COVID-19 messaging on Twitter, General Mills offers Cinnamon Toast Crunch 'dust,' how D&I success relies on internal alignment, and more.
Hello, communicators:  
Chipotle's social media team recently shared, via TikTok, the secret to making its cilantro rice:
Though it's not an formal recipe, it's a great way to give fans a behind-the-scenes peek at the iconic menu item and increase brand excitement.
Here are today's top stories: 
Taco Bell redesign focuses on to-go orders
The fast food chain unveiled its updated restaurant designs, which focus on drive-thru orders as well as curbside pickup options.
The Yum Brands chain's newest design includes two drive-thru lanes, one of which will be for picking up orders made through its mobile app, following a trend set by Chipotle with its "Chipotlanes."

"We have a lot of franchisees interested in expanding drive-thru capacity," Taco Bell Global Chief Operating Officer Mike Grams said.

The new "Go Mobile" design also features parking spots designated for contactless curbside pickup and indoor shelves for claiming digital orders. The size of the dining rooms will vary in size depending on the market.
The designs fit in with Taco Bell's COVID-19 marketing messages:
Why it's important: Many COVID-19 changes are here to stay, including more digital-focused sales and contactless delivery or pickup. As you make your plans, focus on how you can help your leaders and employees quickly get up to speed, but also create strategies that will last.
---
SOCIAL BUZZ
The Metropolitan Transportation Authority's Twitter feed features 24/7 subway alerts, but this recent tweet showcased the organization's "Mask Force" volunteers, who are handing out free masks:
👋 Make sure to say hello to our Mask Force volunteers who are out today on subways, in stations, and on buses. They're handing out free masks to folks who don't have one or need an extra.

If you need a mask and don't see us, stop by the station booth for a free one! pic.twitter.com/7vy9OkYx3u

— NYCT Subway. Wear a Mask. Fill out the Census. (@NYCTSubway) August 20, 2020
The tweet is a great way of showcasing MTA's efforts during COVID-19, and its social media team also changed its Twitter name to "NYCT Subway. Wear a Mask. Fill out the Census." If you're looking for a way to quickly get out your message on Twitter, don't forget about the visable real estate available in your profile name.
---
MEASURED THOUGHTS
In Weber Shandwick's "Chief Diversity Officers Today: Paving the Way for Diversity & Inclusion Success" report, on which it partnered with United Minds and KRC Research, the agency revealed that 90% of chief diversity and inclusion officers feel that their efforts' success rely on internal support.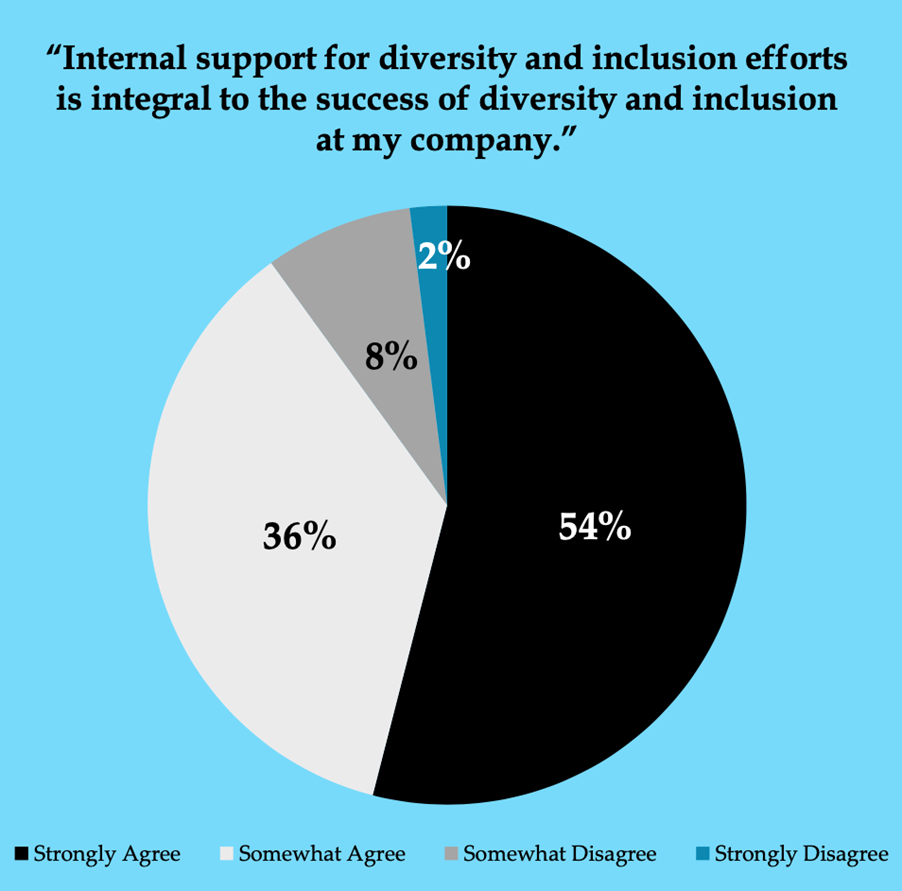 Image courtesy of Weber Shandwick.
 However, 46% of respondents said there's room for improvement when it comes to aligning diversity and inclusion initiatives to overall business strategies—and 14% reported that their organizations have a long way to go.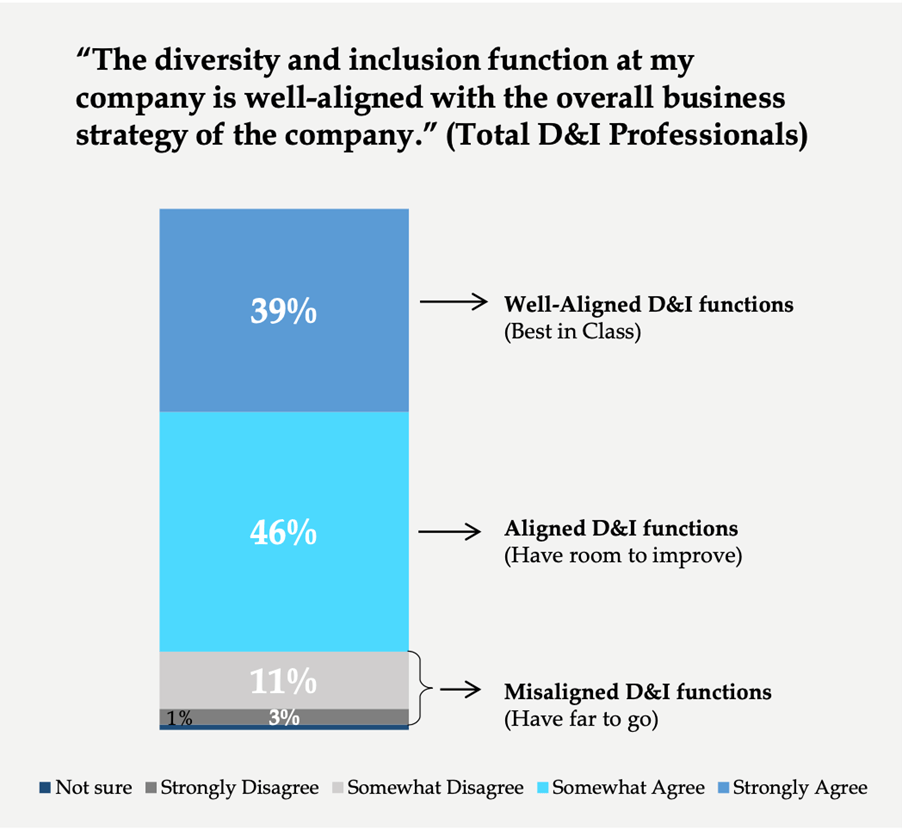 Image courtesy of Weber Shandwick.
You can view the entire report here.
---
CRISIS LEADERSHIP BOARD
Looking for more insight on how to address the current global crisis and lead your organization into a strong recovery?
Join Ragan's Crisis Leadership Board to network and brainstorm with peers, get the latest intelligence and research and start to strategize for the future of your organization.
Learn more about this exclusive membership here.
Instagram rolls out post suggestions
The Facebook-owned social media app is looking for ways to keep its users scrolling—and to help, it's launched a "Suggested Posts" feature.
These posts, from accounts you don't follow, will show up after you've reached the end of your feed and give you the option to keep scrolling with Instagram's suggestions. Up until now, the feed has been entirely determined by users' preferences and the people they follow.

For the past couple of years, Instagram has shown users a message when they reach the end of their feeds, meaning they've seen every post over the past two days from people they follow. With suggested posts, they'll have the option to keep scrolling past that marker for more content. (That message will still be there along with the option to revisit old posts.)
The "Suggested Posts" feature gives Instagram a new surface where it can display ads that will appear alongside the suggested content from accounts you don't follow, but Instagram thinks you might like. For advertisers, that means more chances for people to see their pitch.
Why it's important: If you're on Instagram, consider how this feature might help both your organic content as well as ads increase your reach and engagement. If you're debating whether to add an Instagram account to your social media profiles or whether to prioritize it as a key channel, consider your key audiences' current behaviors and where they are now. This probably has changed during COVID-19, so a revisit can help you become more effective.
---
DOWNLOAD OUR REPORT
Following the deaths of George Floyd, Ahmaud Arbery, Breonna Taylor and others, organizations were pushed more forcefully than ever before to take stands against systemic racism and move to support social justice initiatives. Which responses made an impact—and which responses fell flat?
Learn from 10 of the biggest brand messages in our special report, "Organizational responses to Black Lives Matter." The report offers communicators important takeaways to lead organizations and clients in the second half of 2020 and into the future.
---
TACTICALLY SPEAKING
Consumers can soon experience General Mills' Cinnamon Toast Crunch on a variety of foods with its upcoming "Cinnadust":
The seasoning you never knew you needed. ✨ #Cinnadust coming soon, exclusively to @samsclub. pic.twitter.com/1obgGnNkwF

— Cinnamon Toast Crunch (@CTCSquares) August 19, 2020
The Cinnamon Toast Crunch Cinnadust will be available starting September 1 exclusively at Sam's Club. If you're not a member of Sam's Club, you'll have to wait a little longer to pick up a bottle. The Cinnadust will be available in grocery stores nationwide and online retailers in early 2021.
The product is just one of the new forms of the cereal brand's offerings and partnerships. Cinnamon Toast Crunch has also been offered as bars, ice cream and as a Coffee-mate creamer, showcasing the importance of expanding your brand's portfolio as consumer habits change.
No milk necessary 😉
Find Cinnamon Toast Crunch Soft Baked Bars at Walmart now. pic.twitter.com/LRa6NCqqVj

— Cinnamon Toast Crunch (@CTCSquares) July 2, 2020
---
WHAT YOU SAID 
We asked if you're focusing on e-commerce sales or digital-first content during COVID-19, and 47% of you have made content a priority. Nearly 24% are focused on e-commerce efforts, while 24% of you are boosting both online sales and digital content formats:
Are you focusing on e-commerce sales or digital-first content during COVID-19?

Share how you've shifted your efforts below and under #DailyScoop.

— PR Daily (@PRDaily) August 19, 2020
Is there a question you'd like us to ask in an upcoming poll? Let us know!
---
SOUNDING BOARD
As many workplaces remain remote and dispersed, what has your organization offered to employees?
As many workplaces remain remote and dispersed, what has your organization offered to employees?

Share what you're doing to connect below and under #DailyScoop.

— PR Daily (@PRDaily) August 20, 2020
Share how you're connecting colleagues below and under the #DailyScoop hashtag.
COMMENT