The Motion Picture Academy touts 'Best Picture' inclusion standards, Netflix eyes a return to the office, and Mattel debuts 'Dia de Muertos' Barbie
Also: Microsoft Outlook asks for top email hacks, infographics and articles top content formats for marketing agencies, Uber pledges to go entirely electric by 2030, and more.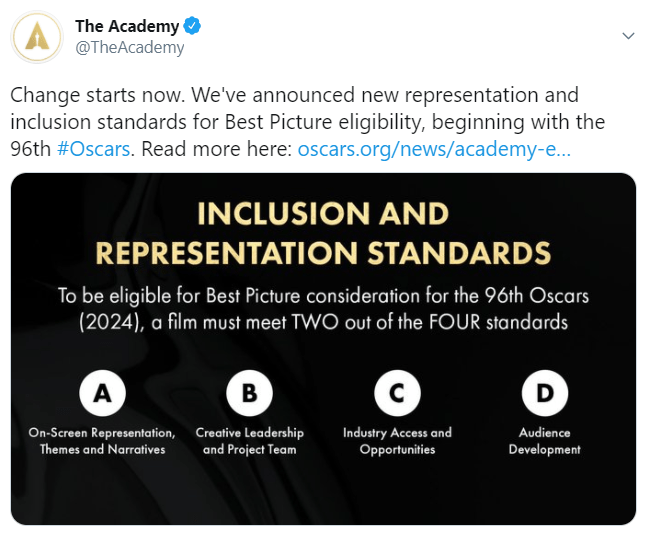 Hello, communicators:
Microsoft Outlook's social media team recently asked its Twitter followers for their most interesting Outlook rule (automated systems or procedures meant to streamline common functions):
What is your most interesting #Outlook rule and what is it used for?

— Microsoft Outlook (@Outlook) September 3, 2020
The tweet brought the team a flurry of engagement, along with interesting insights, such as the following tip:
I seem to have a rule that on incoming email that has specific words in the body, then it marks them as read moves them to the RSS folder.

— Lee (@it5myyard) September 3, 2020
Consider asking your social media followers how they use your product and for their insights.
Here are today's top stories: 
The Academy announces 'Best Picture' inclusion standards
The Academy of Motion Picture Arts and Sciences released new representation and inclusion standards for its "Best Picture" Oscar, and it will require films to meet two out of the four standards to be eligible for the award. The requirement comes into effect for the Academy's 96th Oscars in 2024, though the organization will require films to submit an inclusion standards form in 2022 and 2023.
Change starts now. We've announced new representation and inclusion standards for Best Picture eligibility, beginning with the 96th #Oscars. Read more here: https://t.co/qdxtlZIVKb pic.twitter.com/hR6c2jb5LM

— The Academy (@TheAcademy) September 9, 2020
The first standard requires at least one lead or significant supporting actor to be from an underrepresented racial or ethnic group, or at least 30% of the actors in secondary and minor roles come from at least two underrepresented groups, including women, racial or ethnic groups, the LGBTQ+ community or people with cognative or physical disabilities. Films can also meet this requirement with a main storyline of the film centered on an underrepresented group.
The second standard applies the same rules to a film's crew and technical positions, while the third standard focuses on internships as well as developmental and training opportunities. The fourth standard applies these rules to a film's marketing, publicity and distribution teams and includes the requirement that the studio must have "multiple in-house senior executives" from underrepresented groups.
Why it's important: The announcement is part of the organization's Academy Aperture 2025 initiative, which aims to reverse the criticism from #OscarsSoWhite by increasing diversity, equity and inclusion within the Academy as well as highlighting and requiring similar efforts from films applying for its awards. Consider these new requirements as you create diversity, equity and inclusion goals for your organization, as they're a good example of holistic initiatives that affect all parts of a film and its production company.
---
TACTICALLY SPEAKING
After a popular debut in 2019, Mattel is offering a follow-up to its "Dia de Muertos" doll ahead of the Dia de Muertos holiday:
From the delicate lace embroidered dress, to the captivating calavera face paint, the #Barbie Día de Muertos doll pays tribute to the customs of families around the world.https://t.co/xHEXkYiPJa pic.twitter.com/lQiQXiaKSl

— Barbie (@Barbie) September 2, 2020
The new Barbie is yet another product meant to highlight diversity and inclusivity.
In a press release, Mattel wrote:
On the occasion of the second doll's release and the formalization of the dolls as a collection, we asked Designer Javier Meabe for his thoughts and reactions. "My hope for these dolls is that they're able to bring more awareness to the Dia de Muertos celebration. The Dia de Muertos celebration is very important because it honors and pays respect to family and friends that are no longer with us. It is such a beautiful tradition and I love that Barbie is now honoring the Dia de Muertos holiday. I also know how important representation is in our community, and I wanted little girls to see themselves through this doll. Barbie has always been a doll that celebrates women and dreams, and inspires girls. I am beyond grateful that Barbie is now celebrating traditions and cultures that mean so much to so many people."
---
MEASURED THOUGHTS 
A survey by Fractl and Moz of content marketing agencies reported that articles and infographics are the most-requested types of content, at 35% and 24% respectively: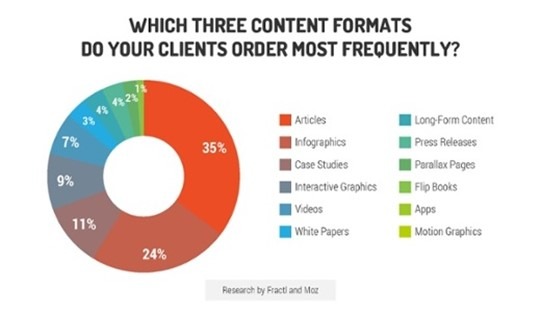 Fractl also rreported that 41% of content marketing agencies produce less than five pieces of content per client each month, with 25% producing 5-9 pieces and 19% crafting 10-19 pieces of content, across formats: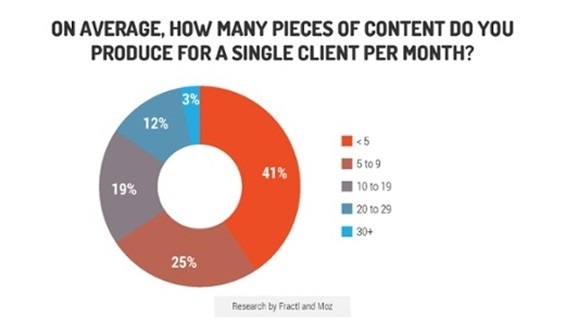 You can view the entire report here.
---
CRISIS LEADERSHIP NETWORK
Looking for more insight on how to address the current global crisis and lead your organization into a strong recovery?
Join Ragan's Crisis Leadership Network to network and brainstorm with peers, get the latest intelligence and research, and start to strategize for the future of your organization.
Learn more about this exclusive membership here.
Netflix chief touts culture and office attendance
The streaming service's employees won't work from home forever.
In an interview with the Wall Street Journal about his new book, Netflix founder and co-CEO Reed Hastings compared his company's culture to a sports team: Bosses speak candidly, employees are expected to take big risks and prove their value, and under-performing employees are cut from the team. This model, he argues, was complicated by people working from home during the COVID-19 pandemic. "Debating ideas is harder now," he says. "I don't see any positives."
Just because Netflix's vision of the future workplace is inside its offices doesn't mean there won't be changes. Hastings mentioned potentially moving from a five-day week to a four-day week. Company culture is also crucial to recruiting and keeping talented employees.
Hastings also told CNBC's Andrew Ross Sorkin on "Squawk Box":
Our culture is much better than it was 20 years ago. We've continued to get more honest, more thoughtful, more creative. We have better tools internally. We're focused on inclusion, all kinds of dimensions, so our culture gets better as we get bigger.
Why it's important: Use your current remote workforce setup to evaluate what works and what doesn't, and start planning for the future. Map out workplace alternatives similar to business continuity plans, so you're better prepared internally for crises, but can also choose the most effective layout for your organization's employees.
---
TAKE OUR POP QUIZ
Embracing inclusive language is at the heart of effective diversity and inclusion efforts, but do you have blind spots when it comes to which words and phrases you should or shouldn't include?
Test your inclusive language knowledge in Ragan's D&I Pop Quiz. Sponsored by Yammer and Workplace from Facebook, your answers to this quick five-question test might surprise you.
As thanks for taking it, you'll get $100 off registration to The Communicator's Role in Diversity, Equity & Inclusion virtual conference, Sept. 17-18. Results will be shared at the event, and your answers will be confidential and anonymized.
---
TACTICALLY SPEAKING
Uber promised that by 2040, it will operate a "fully zero-emission platform," which includes using 100% electric vehicles in the United States, Europe and Canada by 2030. To do this, Uber is committing $800 million to help drivers transition to electric vehicles by 2025.
In a blog post, Uber's chief executive, Dara Khosrowshahi wrote:
When two-thirds of the world's population was under lockdown in early April, carbon emissions fell 17% compared to last year. By June, the drop was only 5%. And the fires that continue to rage across our home state of California are a sobering reminder of the urgency of the climate crisis.

Instead of going back to business as usual, Uber is taking this moment as an opportunity to reduce our environmental impact. It's our responsibility as the largest mobility platform in the world to more aggressively tackle the challenge of climate change. We want to do our part to build back better and drive a green recovery in our cities.
---
WHAT YOU SAID
We asked if your workplace has a wellness program or offerings for employees, and 47% of you said your organization does offer resources or a program, with nearly 6% adding a program or resources during COVID-19. About 6% of you don't have anything in place but would like to have one, and 41% don't offer anything in the way of wellness.
Does your workplace have a wellness program or offerings for employees?

Share your ideas and efforts around virtual workplace wellness with us under #DailyScoop.

— PR Daily (@PRDaily) September 8, 2020
Is there a question you'd like us to ask in an upcoming poll? Let us know!
COMMENT