Uber pledges to double Black leadership, Kroger releases COVID-19 comms 'blueprint,' and Trader Joe's addresses 'racist packaging'
Also: Home Depot announces mask requirement, Target expands inclusive Halloween costume offerings, back-to-school retail posts have 40% more engagement, and more.
Hello, communicators:          
Home Depot announced that it's requiring all customers to wear masks in its United States locations, starting July 22:
To help protect our associates, customers and communities, we're taking an important step and requiring customers to wear masks in all U.S. stores beginning Wednesday, July 22. Click here for more:https://t.co/71BqrOZ8Xa pic.twitter.com/dkEXRYx5jc

— The Home Depot (@HomeDepot) July 17, 2020
The move follows similar announcements made by Walmart, Sam's Club, CVS, Target, Kohl's and Kroger.
In its press release, Home Depot wrote:
"We appreciate all of our associates who have been working so hard to serve our customers with the essential products they need throughout the COVID-19 pandemic, and we want to thank our customers for their cooperation as we work to protect everyone in our stores," said Ann-Marie Campbell, executive vice president of stores for The Home Depot.
As your organization navigates policies and procedures during COVID-19, make sure you frequently communicate both changes and updates to employees and customers. Use Home Depot's example as a template for outlining when and how these modifications will be enforced, and focus your messages on people's safety.
Here are today's top stories:
Uber pledges to be an 'anti-racist' company       
The ride-hailing company promises to "double Black representation among the five most senior levels at Uber," double its talent pipeline to give its drivers and delivery workers access to corporate opportunities, maintain pay equity across races and genders, expand its internship and fellowship programs to reach underrepresented groups and officially expand its "Fairness Working Group," which will be tasked with identifying "instances of racial bias" within Uber's offerings.
We are committed to being an anti-racist company.

— Uber (@Uber) July 17, 2020
Uber also pledges to provide anti-racism and unconscious bias recources to its drivers and riders, give unconscious bias and discrimination training to its customer support employees, and offer cross-cultural competency and inclusiveness training to its managers.
Outside of the company and its workers, Uber says it will invest $10 million in Black-owned small businesses over the next two years, along with donating $1 million to the Equal Justice Initiative and Center for Policing Equity. The company is also committing to double its supplier spending with Black-owned businesses and is removing delivery fees for Black-owned restaurants through the end of the year.
Why it's important: Though taking a vocal stand against systemic racism should have already happened within your organization, announcing a plan forward takes time and careful consideration. Don't be afraid to take the time and get your commitments to diversity and inclusion right. Just keep your stakeholders updated on your progress, so you can be held accountable.
---
TACTICALLY SPEAKING
Trader Joe's responded to a recent Change.org petition calling for it to remove "racist packaging" across its store-branded ethnic foods, such as "Trader José" for its Mexican food products and "Arabian Joe" for its Middle Eastern offerings.
The grocery chain said it's already stopped using the names and is continuing to update its packaging to remove the older labels.
"While this approach to product naming may have been rooted in a lighthearted attempt at inclusiveness, we recognize that it may now have the opposite effect — one that is contrary to the welcoming, rewarding customer experience we strive to create every day," Kenya Friend-Daniel, a spokeswoman for Trader Joe's, said in a statement.

"Packaging for a number of the products has already been changed, but there's a small number of products in which the packaging is still going through the process," Friend-Daniel added.
Talk with your employees and trusted brand advocates to see if there are areas in which your organization can improve upon its inclusivity aims, and integrate feedback as you strive for greater diversity and inclusion while also protecting your brand image and reputation.
---
MEASURED THOUGHTS
Sprout Social's Back-to-School Retail Report reveals that retailers garnered 40% more engagements on posts published in 2020's second quarter, in comparison to the same days in 2019. Retailers also saw 72% more inbound messages than compared to last year.
However, retailers must listen to consumers and meet them with solutions in today's "new normal." Sprout Social reported that more than 40,300 messages sent Jan. 1 to June 30 included the keywords "safe" or "safety," amassing roughly 596,300 engagements within that time.
Solutions could be as simple as highlighting additional supplies on this year's back-to-school lists amid COVID-19: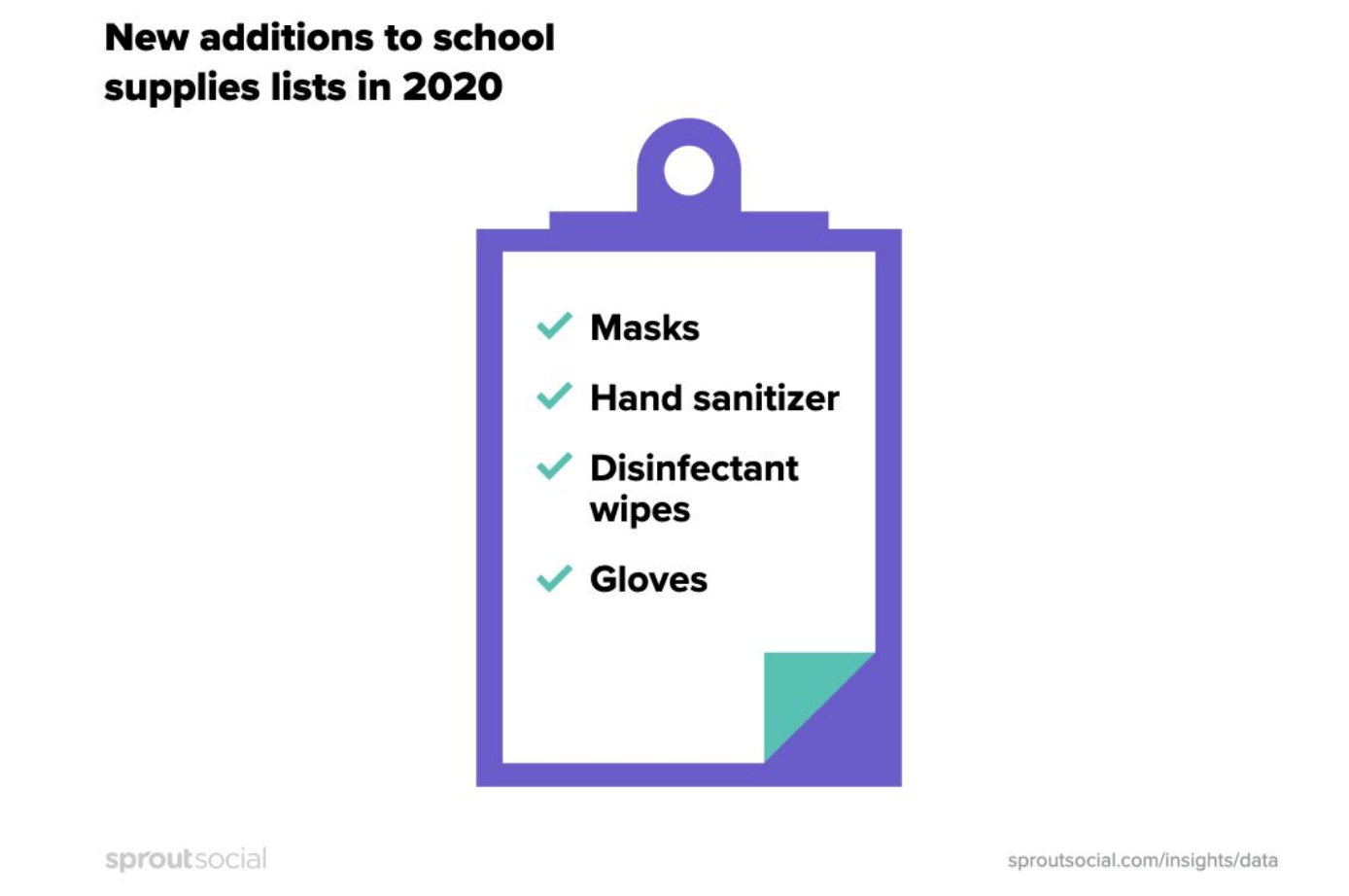 Image courtesy of Sprout Social.
You can view the entire report here.
---
CRISIS LEADERSHIP BOARD
Looking for more insight on how to address the current global crisis and lead your organization into a strong recovery?
Join Ragan's Crisis Leadership Board to network and brainstorm with peers, get the latest intelligence and research, and start to strategize for the future of your organization.
Learn more about this exclusive membership here.
Kroger provides COVID-19 'blueprint' for crisis response 
Kroger has published its latest edition to its "Blueprint for Business" guide, which includes actionable takeaways for communicators navigating re-opening and similar steps during the COVID-19 crisis.
The most recent section includes bulleted lists of communications channels and content suggestions for both internal and external audiences: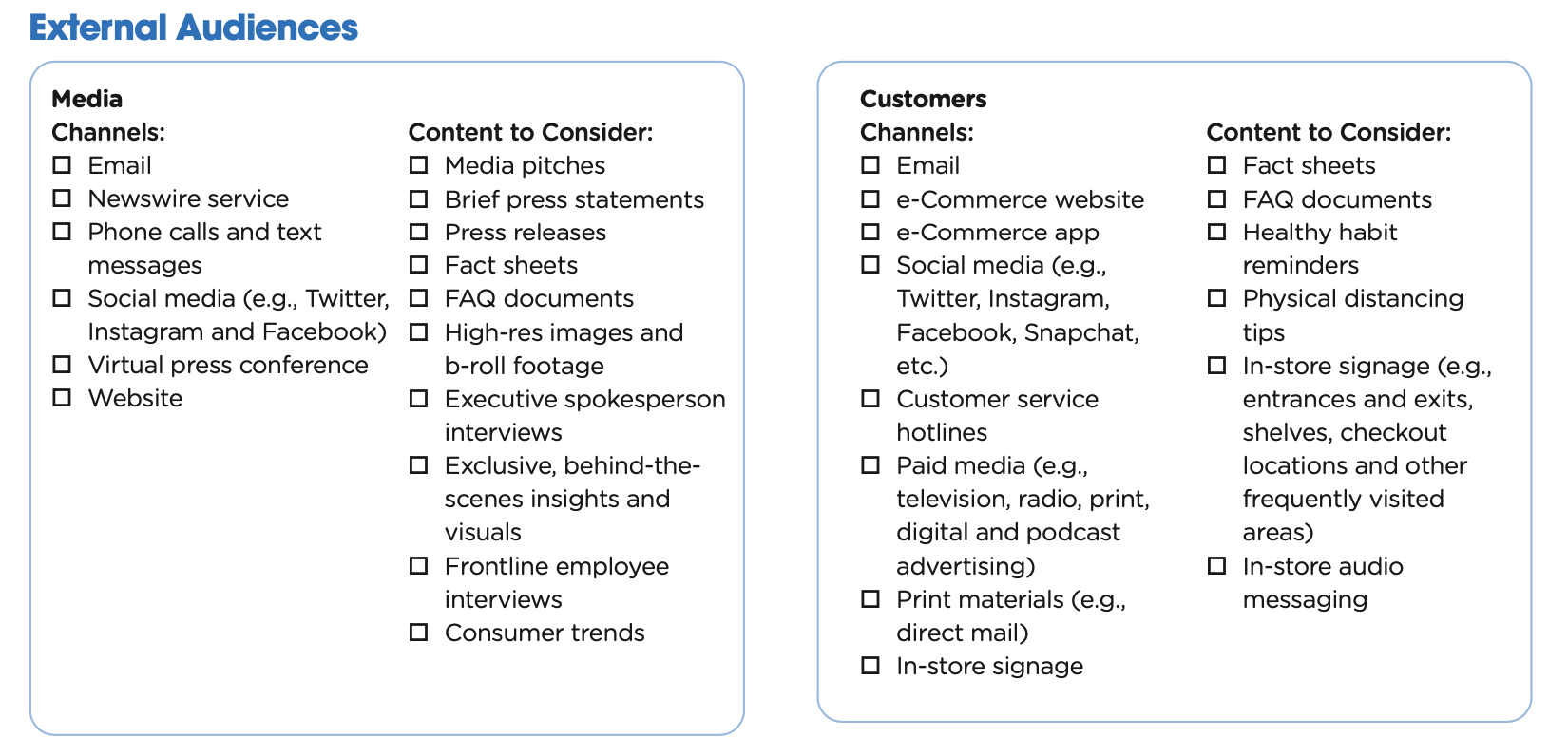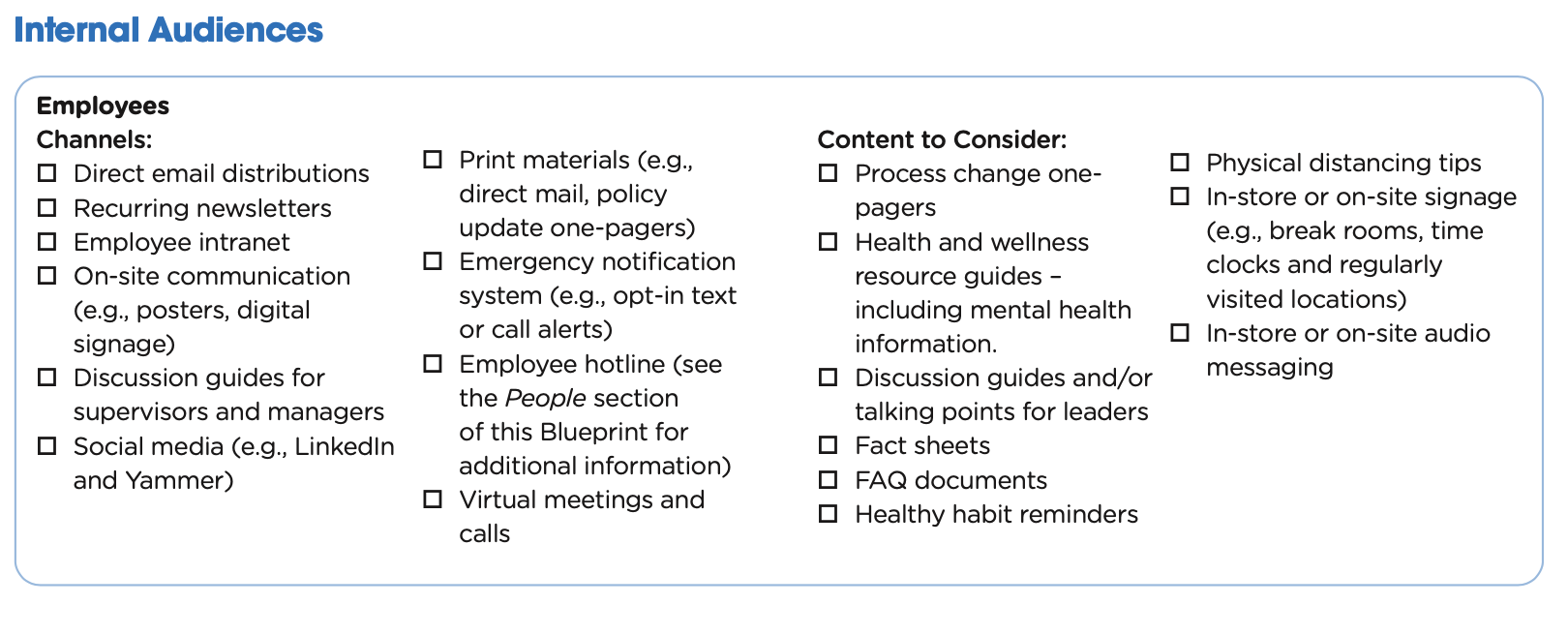 Corporate communicators, media relations pros and more can use the guide to create their own checklists as they continue to inform their stakeholders and issue crisis responses during COVID-    19. Kroger also provides sections with tips and takeaways for effectively gathering and reporting data, implementing safety measures and more.
You can view the entire blueprint here.
Why it's important: Sharing successful strategies and collaborating on what's working is necessary to build strong business continuity plans and updated crisis response playbooks. Along with checking out Kroger's blueprint, reach out to your peers and offer to trade insights and ideas to help one another on the path to recovery.
---
TAKE OUR SURVEY
Have your storytelling efforts shifted during COVID-19 and as your organization responds to the nationwide movement for racial equality and inclusion? We want to hear how you're telling your brand's story, including what messages you're using and the content formats and channels you're focusing on to strengthen your reputation and effectively reach stakeholders.
Please take our survey here. All responses are confidential and anonymous.
Survey findings will be released at Ragan's Brand Storytelling During a Crisis Virtual Conference, Aug. 4-5. You can hear the results—and learn how to tell your brand's story to help you thrive in our "new normal"—with speakers from Con Edison, Google, Experian, Minnesota Timberwolves, Crayola, Marriott International, Girl Scouts of the USA, Cleveland Clinic and more.
---
TACTICALLY SPEAKING
Though October is months away, many retailers have been preparing for fall and winter holidays. Target recently announced that its doubling the amount of inclusive Halloween costumes available for children, along with options for adults, all available for pre-order:
Target's inclusive costumes are back with *double* the Halloween fun: https://t.co/hufDRSU0CG. pic.twitter.com/os9vtd95tt

— Target News (@TargetNews) July 13, 2020
In a press release, Target wrote:
"Whether you're simply getting dressed every day or dressing up for special moments like Halloween, everyone deserves to feel included and celebrated," says Julie Guggemos, Target's senior vice president and chief design officer.
The retail chain focused on its models' stories to introduce the expanded product line as well, such as the following:
Finding the perfect Halloween costume isn't always easy, as 12-year-old Elijah Smith and his nana, Audrey, know. "Elijah's costumes were homemade the first years he went trick-or-treating," she says. "It was very difficult getting the right measurements to fit around the wheelchair and getting the costume to stay on—one year, we finally just left it in the garage," she says. "So I'm really excited that Target is doing adaptive kids' costumes. And I hope this shows Elijah's peers and others that kids with special needs have the same opportunities as other kids—and shows families that there are options out there."
Consider ways you can make holidays and other activities more inclusive to both internal and external stakeholders. When sharing your efforts, take Target's lead and highlight the stories and viewpoints of those involved in your initiative.
---
WHAT YOU SAID
We asked what type of skills training and development your workplace is focusing on during and beyond COVID-19, and 36% of you said virtual events and webinars are helping your employees sharpen their skills and stay on top of best practices. Nearly one-quarter (24%) are emphasizing platform- and tool-specific training, while 16% are offering access to courses and certifications.
What is your workplace focusing on in terms of employee skills training and development during COVID-19 and beyond?

Share your thoughts with us under #DailyScoop, and we'll share following the weekend.

— PR Daily (@PRDaily) July 17, 2020
Some of you are creating an education mix for your employees, similar to ARPR:
We have been focusing on a mix of all of the above. From our team getting their @HubSpot certifications to monthly lunch and learns to discuss topics like graphic design, media relations social media and more!

— ARPR (@AR__PR) July 17, 2020
Wheelhouse Marketing and PR are focusing on offering new services—and the skills necessary to accomplish them:
Creating completely new verticals and services for current and new clients.

— Wheelhouse Mktg&PR (@WheelhousePR) July 17, 2020
Is there a question you'd like us to ask in an upcoming poll? Let us know!
---
SOUNDING BOARD
Have you offered new products and services due to COVID-19?
Have you offered new products and services due to COVID-19?

Share how your organization's offerings have changed to meet changing consumer behaviors below and under #DailyScoop.

— PR Daily (@PRDaily) July 20, 2020
Share how your organization's offerings have changed to meet changing consumer behaviors below and under the #DailyScoop hashtag.
COMMENT
One Response to "Uber pledges to double Black leadership, Kroger releases COVID-19 comms 'blueprint,' and Trader Joe's addresses 'racist packaging'"
Ronald N. Levy

says:

How about getting rid of the racist names by which American cities are known?

New York was named by racist Europeans after the Duke of York but had been called Lenapehoking by Native Americans. Chicago had been called Shikaakwa by Native Americans.

We took the food Native Americans donated to avert starvation of settlers, we took their agricultural advice like planting a fish as fertilizer beside corn plants, we took their land, and we even took back Jim Thorpe's medals although no one doubts he won the events for which he medalled.

Should we at least give back the right to call cities by their original names? And how about reparations for the land we took?