UK retailers face bankruptcy affecting 25,000 employees, NASDAQ proposes diversity requirements for listed companies, and Google Maps launches a newsfeed
Also: Sephora partners with Kohl's for in-store shops, Microsoft offers a ugly holiday sweater for a good cause, how thriving company cultures help mitigate COVID-19 damage, and more.
Hello, communicators:
Budweiser is aiming to take the sting out of buyers's remorse for purchases made on Cyber Monday by offering consumers a chance to win $10,000 and Budweiser Zero.
If you don't shop responsibly on #CyberMonday, a couple clicks can lead to a pizza-loving sloth shower curtain. Been there? We have.

Tell us about a purchase you regret using #ShopResponsibly #sweepstakes for a chance to win $10K & Budweiser Zero to keep your shopping game 💯 pic.twitter.com/6NGfaqRAvz

— Budweiser (@budweiserusa) November 30, 2020
Twitter users have been sharing their e-commerce horror stories and mistakes under the hashtag #ShopResponsibly—the tagline for Budweiser Zero's holiday campaign.
Here are today's top stories: 
UK retailers Debenhams and Arcadia Group collapse
 Arcadia Group, the parent company of retail chains Topshop, Miss Selfridge, Dorthy Perkins and more, filed for bankruptcy. Though Arcadia's companies will continue operations as it's under administration, the future is uncertain for its 466 stores (22 of which are outside of the United Kingdom), along with the group's 13,000 employees.
On Friday, Arcadia said lockdowns to curb the spread of coronavirus have had a "material impact" on its business. In recent years, the company has struggled to keep up with fast-fashion online rivals, and its dependency on physical stores has been a disadvantage as the virus has sped up the long-running demise of the British high street.
Following Arcadia Group's filiing, U.K.'s largest department store chain, Debenhams, announced it was unable to find a buyer and will permanently close its 124 locations throughout the U.K. as well as its e-commerce site, as well as laying off its 12,000 employees.
Why it's important: The announcements underline the struggle for retailers amid the COVID-19 crisis, but the bankruptcies can also serve as a reminder that e-commerce is here to stay. Both Arcadia Group and Debenhams are large and established retailers, but that won't save them in the face of changing consumer behaviors that have led to sharp declines of in-store sales. If you think that online shopping is a limited trend during the pandemic, think again.
---
DIVERSITY, EQUITY & INCLUSION
NASDAQ is working on diversity requirements for the almost 3,000 organizations that are listed on its stock exchange—and the majority fall short. That means companies will have to improve or publicly justify why they should remain listed.
Today, @Nasdaq announces a proposal filed with the U.S. Securities and Exchange Commission to adopt new listing rules related to board diversity and disclosure.

Learn how we are working to drive greater transparency on corporate governance: https://t.co/L0aZsowglt pic.twitter.com/IhoaY3f3Ld

— Nasdaq (@Nasdaq) December 1, 2020
The requirements push the organizations to have at least one woman on their boards, as well as a director who comes from a racial minority or identifies as LGBTQ+.
 The Wall Street Journal reported:
Around 80% or 90% of companies had at least one female director, but only about a quarter had a second one who would meet the diversity requirements, a person familiar with the review said, adding that it was difficult to measure because of inconsistencies in the way companies report such data.
The proposal is a huge step in pushing for meaningful diversity and inclusion initiatives within organizations executive structures.
---
MEASURED THOUGHTS
O.C. Tanner Institute's 2021 Global Culture Report revealed that along with burnout rising 15% among respondents, employees' sense of wellbeing dropped 15% because of the COVID-19 crisis, their sense of appreciation declined 13% and employees' net promoter score fell 6%.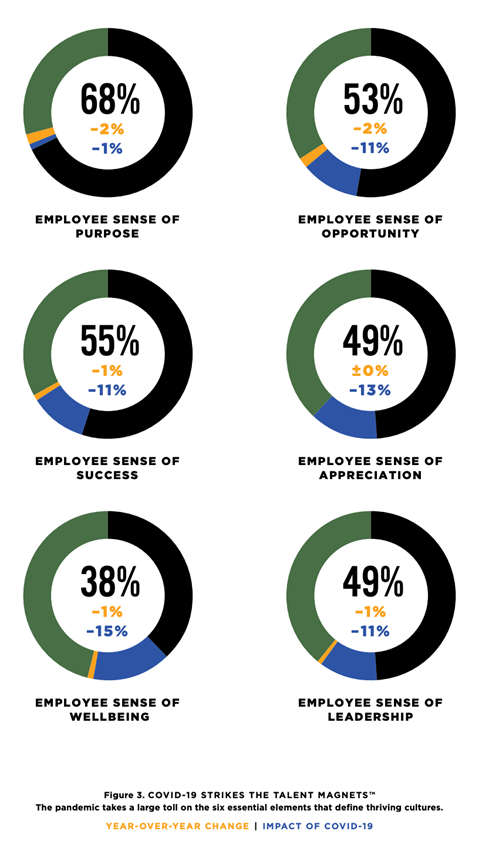 Image courtesy of O.C. Tanner Institute.
 However, organizations with thriving company cultures are faring much better during this time of continuing uncertainty. Organizations that lack an outstanding workplace culture have experienced a 52% drop in employee engagement, 51% drop in employees' net promoter score, 51% decline in inclusion and 81% increase of employee burnout—all elements which affect customer service offerings, branding, purpose-led initiatives and more: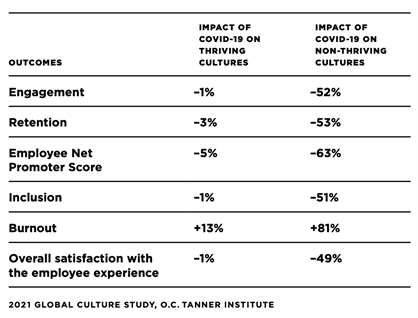 Image courtesy of O.C. Tanner Institute.
As more consumers purchase from brands that align with their values, company culture has become even more crucial to communicators' initiatives, no matter where your focus or department.
You can read the entire report here.
---
CRISIS LEADERSHIP NETWORK
Looking for more insight on how to address the current global crisis and lead your organization into a strong recovery?
Join Ragan's Crisis Leadership Network to network and brainstorm with peers, get the latest intelligence and research and start to strategize for the future of your organization.
Learn more about this exclusive membership here.
Google Maps launches newsfeed
On Tuesday, Google announced a new community feed in its Maps app, which users can find in the "Explore" tab of the platform. The feed features recent reviews, photos and posts from users, restaurants and merchants, and publishers.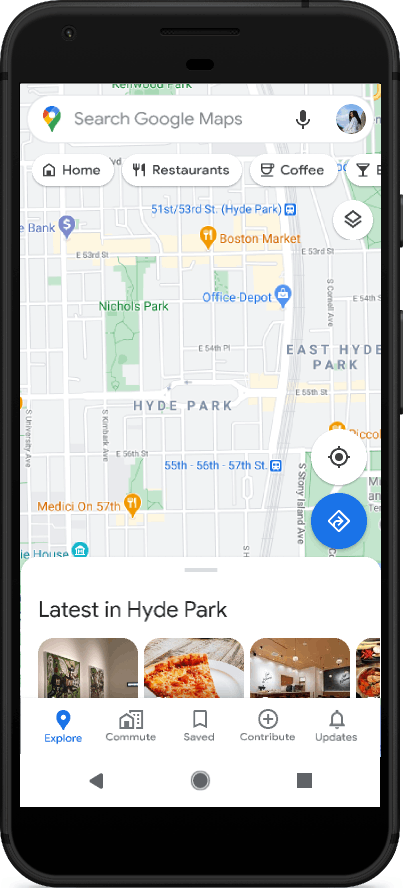 Capella Yee, product manager for Google Maps, wrote in a company blog post:
If there's anyone that can keep you in-the-know, it's the Google Maps community. Every day, people submit more than 20 million contributions—including recommendations for their favorite spots, updates to business services, fresh reviews and ratings, photos, answers to other people's questions, updated addresses and more. 

… The community feed brings together helpful local information and tailors it to your selected interests. For example, if you've marked an interest in healthy food or Greek cuisine in your Google Maps food and drink preferences, you'll see more recommendations, photos and business posts for that type of dining.
Why it matters: If you manage social media and digital marketing for brick-and-mortar locations and haven't considered Google Maps as part of your strategy, now's the time to reconsider. Google has been growing its community of contributors, who share real-time photos from listings, along with reviews and answers to frequently asked questions. For consumers searching for food, drinks or other offerings nearby, the feed can encourage purchases and strengthen branding. Yee reported that during testing, posts from merchants in the community newsfeed are seen two times more than without the feature.
---
TACTICALLY SPEAKING
Microsoft is selling ugly holiday sweaters themed in its "Paint" program, and is donating $20 from each sale to the nonprofit Girls Who Code, an organization "dedicated to closing the gender gap in tech." The sweaters, which retail for $69.99, are nearly sold out on the Xbox store: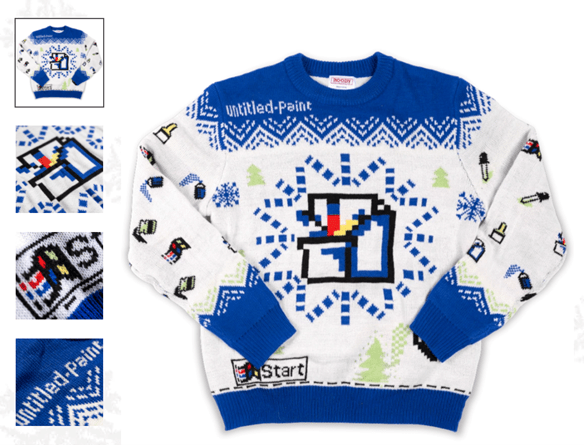 "The company made Windows XP and 95 sweaters in the past to give to influencers and super fans, but this marks the first time the company is selling a sweater directly to customers," The Verge reported.
Along with the per-purchase donation, Microsoft said it's giving at least $50,000 to Girls Who Code—and encouraged consumers to donate to the nonprofit directly as well.
---
TAKE OUR SURVEY
We want to know about how PR agencies are building lasting, sustainable relationships with clients, what is working and what is rubbing both parties the wrong way. That's why we're partnering with The Institute for Public Relations on a new survey to learn more about the state of the agency/client relationship.
Please take this 10-minute survey here.
---
TACTICALLY SPEAKING
Sephora is partnering with Kohl's and will open 2,500 square-foot mini stores within 200 Kohl's locations starting in the fall of 2021. The companies are aiming for more than 800 shop-in-a-shop locations by 2023, along with Sephora's items being offered through Kohl's website.
"Beauty is an area where Kohl's is currently underdeveloped, so it doesn't capture much spend from shoppers who are already in its stores," said Neil Saunders, retail industry analyst and managing director of GlobalData. "Adding a Sephora automatically resolves this issue, and it also makes Kohl's a more interesting destination, which may help to drive foot traffic."

From Sephora's perspective, Saunders said Kohl's provides access to many off-mall locations where Sephora is currently underrepresented.
Ulta recently announced a similar move with its new partner Target, and both underline the importance of partnerships, especially for in-person shopping, as retailers struggle to boost sales as well as attract new customers.
---
EDITOR'S PICKS
Though the holiday season looks different this year amid COVID-19, many organizations and agencies are creating themed content and extras for customers and social media followers, as well as sharing holiday cards and sending gifts that can provide a much-needed boost to employees, partners and influencers.
Check out these fitting holiday gifts:
---
WHAT YOU SAID
We asked which platform you use the most to share short-form content, and roughly 85% of you turn to Instagram. Twitter, Snapchat and Facebook are used much less (each receiving 5% of your votes):
Where do you post the most short-form content (such as "Stories" or "Fleets") for your brand?

Weigh in below and we'll share in tomorrow's #DailyScoop.

— PR Daily (@PRDaily) December 1, 2020
Is there a question you'd like us to ask in an upcoming poll? Let us know!
---
SOUNDING BOARD
What's on your holiday wish list this year, PR and communications pros?
PR and communications pros, what's on your holiday wish list? It doesn't have to fit under the tree!

Respond below using a GIF to show what you actually want this year, and we'll share top replies in tomorrow's #DailyScoop.

— PR Daily (@PRDaily) December 2, 2020
Respond with a GIF of what you truly desire either below or on Twitter using the #DailyScoop hashtag.
Editor's note: Ragan Communications may earn a commission through our affiliate partnerships when purchasing items in our content.
COMMENT