UNC responds to tenure controversy, a third of business travelers to stay home for 2021, and Gates Foundation details leadership plans
Also: Adidas creates 'swimmable' billboard, YouTube tests comment moderation features, and Amtrak introduces sustainable trains.
Hello, communicators:
Adidas has created what it calls the world's first "swimmable" billboard in collaboration with Havas Middle East, asking women in the region to take a "leap of faith" by swimming in public. The billboard, which holds 11,500 gallons of water and resides on a popular Dubai beach, was erected to create awareness around Adidas' new inclusive swimwear line and was designed in response to a survey commissioned by Adidas that found only 12% of women in the United Arab Emirates are comfortable wearing a swimsuit at a beach or public pool, citing body shame and a lack of privacy.
"Our belief is that nobody should be prevented from enjoying the benefits of being in and around the water," senior brand director of Adidas GCC Amrith Gopinath told Forbes. "Each piece is also carefully crafted to ensure that additional fabric does not reduce a swimmer's ability to move in the water. The range went through a detailed testing process with consumer groups across multiple regions to help find the perfect balance of fit, features, performance and coverage." 
Adidas' innovative billboard echoes PR Cannes Lions Grand Prix winning campaign "The Bread Exam" and serves as a reminder that your campaigns can seek to educate, inspire and challenge cultural stigma to provide value to its audience.
UNC staff responds to Nikole Hannah-Jones tenure controversy
Pulitzer Prize-winning journalist Nikole Hannah-Jones has announced that she will join the faculty at Howard University, rejecting an offer to teach at the University of North Carolina at Chapel Hill (UNC) following UNC declining to offer tenure, the protection which offers some job security for academics, until several students and faculty protested that Hannah-Jones had been mistreated. Hannah-Jones also suggested that her tenure had been delayed because of political opposition to her work around critical race theory for "The 1619 Project" and discrimination she faces as a Black woman.
In a statement issued through her attorneys, Hannah-Jones said Tuesday that she could not work at UNC's Hussman School of Journalism and Media. "I cannot imagine working at and advancing a school named for a man who lobbied against me, who used his wealth to influence the hires and ideology of the journalism school, who ignored my 20 years of journalism experience, all of my credentials, all of my work, because he believed that a project that centered Black Americans equaled the denigration of white Americans," she said.

Reached by telephone, [Walter E.] Hussman [Jr.] said the statement mischaracterized his actions and his views. "I don't think the school should have any ideology," he said. He said he wished he had been able to talk directly with Hannah-Jones. "I felt kind of a sense of sadness in seeing some of her comments," he said. "I think if we'd had a chance to meet, her comments might have been different." Asked whether he would have done anything differently, in hindsight, Hussman declined to second-guess his actions. He said he took issue with the 1619 Project's portrayal of the role of slavery and race in certain episodes of American history. "I would definitely continue to share my concerns," he said.

UNC journalism faculty members lamented what had happened to Hannah-Jones and said they support her choice. "The appalling treatment of one of our nation's most-decorated journalists by her own alma mater was humiliating, inappropriate, and unjust," more than 30 professors and others affiliated with the Hussman School of Journalism and Media wrote in a blog post. "We will be frank: It was racist."
What it means:
The philosophical disagreement between UNC's journalism faculty and Hussman, a news publisher and major donor to the school, highlights a larger debate in news media about whose perspectives and histories are reflected in how stories get covered that New York Times reporter Wesley Lowery called a "reckoning over objectivity."
You can acknowledge journalists' push for more DE&I in the newsroom by focusing your media pitching efforts not only on top-tier outlets, but specific journalists who bring their diverse lived experiences to their reporting on your brand, organization or client. Just as the people who work on your communications and messaging campaigns should mirror the diversity of the audiences you hope to reach, the reporters that you target and sources that you offer should, too.
---
MEASURED THOUGHTS
In a new report by Morning Consult, roughly 1/3 of business travelers said that they don't plan to book work trips for the remainder of 2021. Meanwhile, 61% of business travelers said that they will go out of their way to buy from a brand that they trust. The key drivers of trust among business travelers are brand legacy and sustainability.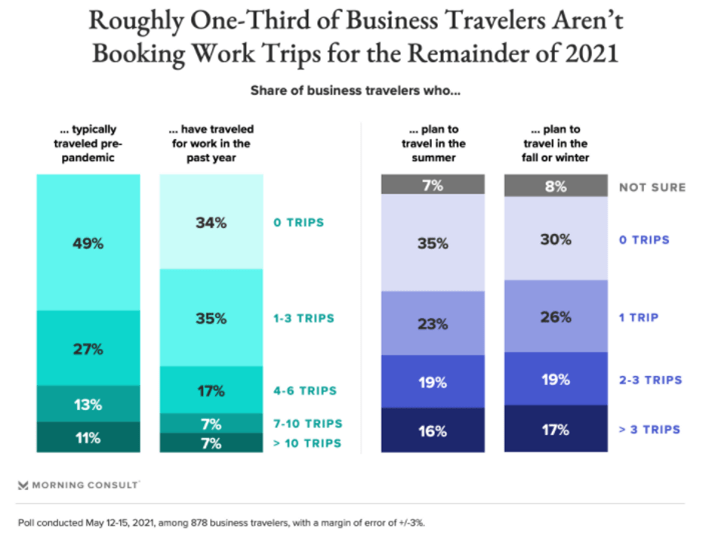 These numbers suggest that you should align your expectations for attendance at in-person events and industry gatherings to acknowledge that it will be some time before crowds get back to normal. If you are pushing your organization to approve business travel, consider making the case not only around the reasons for the trip, but the trust you have in the modes of transportation, lodging and the destination that you are visiting.
---
SOCIAL BUZZ
YouTube has announced that it is testing new channel guidelines to give users more comment management options:
"We're experimenting with a small number of creators, giving them the ability to define up to three channel guidelines for comments. These are a specific set of rules that everyone has to read and accept before they post a comment to your YouTube channel that help outline the kinds of conversations that you want to see on that channel."
YouTube's new feature echoes similar efforts by social media platforms like Facebook, which has also introduced group posting settings that allow moderators to prevent would-be bullies and trolls from organizing in the comment section. These features highlight the "teach a person to fish" approach to proactive communications—rather  than escalating crisis communications with your stakeholders once an issue gets out of control, craft messaging to explain the tools and resources being offered to your stakeholders that empower them to better protect themselves.
---
RAGAN'S DISNEY CHARACTER CONTEST  
Which Disney character best resembles your work life? Are you like Moana, who chooses not to blindly follow tradition and instead live independently? Maybe you're more like Belle, whose voracious appetite for reading is overshadowed by other people's assumptions about her? Or Raya, trying to save the world alone before realizing she needs the help of others?
Ragan has announced a reader contest to find out who your Disney double is (yes, Star Wars and Marvel characters count). One winner will be selected to win a free night at Walt Disney World's Swan & Dolphin Resort during our upcoming Social Media Conference for PR, Marketing and Communications Professionals Sept. 9-10.
E-mail us at submissions@ragan.com with your name, title, Disney character, and photo of yourself (optional) by July 12.
The winner will be announced the week of July 19 on PR Daily, where we will run all the entries we receive. We could all use a little levity in our day, so share away!
---
TACTICALLY SPEAKING
Amtrak has announced that it will spend $7B to upgrade its passenger trains, replacing aging railcars and locomotives with new coaches that will have more comfortable seating, improved accessibility and power outlets, along with elevated food options. The new trains will also improve environmental efficiency and include battery hybrid locomotives that mix diesel power with all-electric power to reduce Amtrak's carbon footprint.
The Wall Street Journal reports:
"These new trains will reshape the future of rail travel by replacing our aging 40- to 50-year-old fleet with state-of-the-art, American-made equipment," Amtrak Chief Executive Officer Bill Flynn said in a statement. "This investment is essential to preserving and growing our Northeast Regional and state-supported services and will allow our customers to travel comfortably and safely, while deeply reducing criteria pollutants."
By tethering its sustainability messaging to the customer experience, Amtrak acknowledges that passengers consider sustainability a necessary element of modernization and aligns its purpose work to reflect the culture and values of its stakeholders.
---
RAGAN'S 2021 BENCHMARK REPORT
Ragan has released its annual Communications Benchmark Report, an exclusive study from Ragan's Communications Leadership Council that analyzes the major trends in the profession over the last year.
During that time, comms pros have been called on to develop and distribute messages on new policies that affect internal and external stakeholders alike. Their role has become more essential as they helped keep their organizations focused and moving forward. They've seen their access to the C-suite increase throughout 2020, and they forged important new alliances with peers in other departments, including HR, finance and workplace wellness.
Culled from more than 750 respondents, the 32-page report is available in its entirety exclusively to members of the Communications Leadership Council.
Download your copy of the exclusive Benchmark Survey Executive Summary today and get a crucial competitive advantage that will fuel your success for 2021 and beyond.
Gates Foundation explains restructuring plans for future leadership
The Gates Foundation has shared a plan and timeline for determining who will control the company along with plans to expand its board and philanthropic efforts. The restructuring announcements seek to provide clarity around who will lead the organization following the divorce of Bill Gates and Melinda French Gates earlier this year. The plans also include adding trustees outside of the Gates' close circle of friends and advisors for the first time.
"They have agreed that if after two years either one of them decides that they cannot continue to work together, Melinda will resign as co-chair and trustee," [Gates Foundation chief executive Mark] Suzman said in a message on Wednesday to employees of the Bill and Melinda Gates Foundation. If that happened, he added, Ms. French Gates "would receive personal resources from Bill for her philanthropic work" separate from the foundation's endowment.

"These new resources and the evolution of the foundation's governance will sustain this ambitious mission and vital work for years to come," Mr. Gates said in a statement.

Ms. French Gates emphasized the importance of expanding the board. "These governance changes bring more diverse perspectives and experience to the foundation's leadership," she said in a statement. "I believe deeply in the foundation's mission and remain fully committed as co-chair to its work."

"We're trying to do this in a very careful and deliberate manner, thinking for the long term," Mr. Suzman said in an interview. "The degree and depth of engagement of our co-chairs and trustees goes significantly beyond what a traditional board does and how it does it. So we'll need some time to think through how we balance that with the people we bring on board."
Why it matters:
While Suzman's announcement seeks to answer some questions around what the Gates' divorce means for the organization, the messaging functions as more of an update around evolving decisions than a firm plan. That said, it highlights the importance of communicating the expectation for plans to change when you are uncertain about the final result.
Offer timelines for reaching firm decisions to hold yourself accountable. Emphasize the values and principles that are guiding the decisions to alleviate some uncertainty about what those decisions will be. When those decisions affect the operations and structure of your organization, reach out to employees and internal stakeholders first to let them know that they are being considered a priority.
---
SOUNDING BOARD
Which stakeholders would you alert first in the event of a major company restructuring, PR pros and communicators?
Which stakeholders would you alert first in the event of a major company restructuring, PR pros and communicators? #DailyScoop

— PR Daily (@PRDaily) July 8, 2021
Let us know how you approach communicating layoffs, mergers and other restructures in the comments below using #DailyScoop!
COMMENT