Wells Fargo cancels all personal credit lines, the best content types for each social media platform, and Tokyo Olympics bars spectators amid COVID surge
Also: Juvenile and BLK rework hit single to 'Vax That Thang Up', Four Seasons Total Landscaping hosts punk rock show, and Google responds to antitrust lawsuit.
Hello, communicators:
Online dating app BLK has partnered with rapper Juvenile to rework Juvenile's 1998 hit "Back That Thang Up" into "Vax That Thang Up," effectively breaking the Internet with new lyrics that encourage Black singles to get vaccinated against COVID-19. As part of the campaign, BLK has added a "Vaxified" badge to its app that lets users show their vaccine status. The company says that 100,000 users have added the badge to their profiles in the past month.
"We have a direct line to the audience that needs to internalize this message," Jonathan Kirkland, BLK's head of marketing and brand, told Marketing Dive. "The song may be playful and fun, but the underlying message is as real as it gets."
"I just wanted to do something positive for my people and to stand in the front to show that I'm willing to sacrifice my life not just for me but also for my family," Juvenile told Rolling Stone. "We don't know what we're facing right now but we really do all need to be vaccinated so we can continue to do our thing and survive."
Much like Bill Pullman's partnership with Budweiser to promote American vaccine rate progress ahead of July 4th, Juvenile's partnership with BLK serves as a reminder that partnering with the right influencer can bring some levity and good vibes to otherwise serious and sobering messaging efforts.
Wells Fargo explains cancelation of personal credit lines
Wells Fargo announced that it is shutting down all existing personal and portfolio lines of credit over the next few weeks with no plans to offer the products again. The bank originally positioned the credit lines, which normally allowed users to borrow between $3,000 and $100,000, as a tool to consolidate debt or avoid overdraft fees. Customers were given notice that affected accounts will be closed in 60 days, and remaining balances will require payments at a fixed interest rate.
"Wells Fargo recently reviewed its product offerings and decided to discontinue offering new Personal and Portfolio line of credit accounts and close all existing accounts," the bank said in the six-page letter. The move would let the bank focus on credit cards and personal loans, it said.

With its latest move, Wells Fargo warned customers that the account closures "may have an impact on your credit score," according to a frequently asked questions segment of the letter. Another part of the FAQ asserted that the account closures couldn't be reviewed or reversed: "We apologize for the inconvenience this Line of Credit closure will cause," the bank said. "The account closure is final."

After publication of this article, a Wells Fargo spokesman gave additional remarks: "We realize change can be inconvenient, especially when customer credit may be impacted," the bank said, adding that it was "committed to helping each customer find a credit solution that fits their needs."
Twitter users were quick to criticize the decision, accusing the bank of hypocrisy for shuttering personal credit lines while continuing to spend money on things like executive compensation and promoting its golf tournament:
Wells Fargo CEO Charlie Scharf was whining that his pay was cut by about $2.7 million during the COVID-19 pandemic. His total compensation was $20.3 million for 2020 instead of almost $23 million.

But yeah customers personal line of credit. #WellsFargo pic.twitter.com/zaT4gpKwSK

— ClockOutWars (@clockoutwars) July 8, 2021
Wells Fargo: We don't have enough money to offer consumer credit any longer.

Also Wells Fargo: We do have enough money to pay for the marketing of our own golf tournament, extra social media accounts, and player sponsorships. pic.twitter.com/TaQvCAQIIE

— Certified Supervillain (@CrtfdSprvlln) July 8, 2021
it's hard to stand out for being awful when you are a bank but Wells Fargo really does do its best

— Dan Price (@DanPriceSeattle) July 8, 2021
Many also took issue with Wells Fargo's note about how the decision would affect customer credit scores, resurfacing past crises:
Not a single @WellsFargo customer should see their credit score suffer just because their bank is restructuring after years of scams and incompetence. Sending out a warning notice simply isn't good enough – Wells Fargo needs to make this right. https://t.co/wyuuY2WEk5

— Elizabeth Warren (@SenWarren) July 8, 2021
Wells Fargo is THE most corrupt banking entity that is available (or used to be) to ordinary Americans, and the worst in customer service.

Please pass this along if you agree.

Also, credit scores are yet ANOTHER way to keep poor people poor! https://t.co/DNkNnHJtuN

— Carlye Hooten, Palmer Report reader 🌟 (@carlye_hooten) July 8, 2021
What it means:
Given Wells Fargo's multiple missteps over the last several years, including bankers creating fake accounts for customers to boost their performance metrics, the bank's abrupt decision and matter-of-fact messaging about the end to its personal credit lines is a missed opportunity for Wells Fargo to renew its commitment to customer service and reposition the decision around the best interests of its customers.
Every bad piece of corporate restructuring news provides an opportunity to renew your brand purpose, values and stakeholder commitments. That said, your initial statement should always lead first by taking responsibility for the news, explaining the intentions and reasoning behind the decision with empathy, followed immediately with solution-oriented messaging that provides resources to affected stakeholders.
---
MEASURED THOUGHTS
A new infographic by Click Dimensions highlights the types of content that perform best on Facebook, Twitter, LinkedIn and Instagram:

These content ideas serve as a reminder that there are many formulas that lead to a successful content marketing strategy and that some types of content can find a home on multiple channels. Finding the right mix involves testing similar content styles on different channels to understand where your audience is most active, analyzing each platform's proprietary metrics to understand your audience segments, and understanding that you don't need to be everywhere at once to make an impact.
Check out the full infographic here.
---
SOCIAL BUZZ
The Four Seasons Total Landscaping Company in Philadelphia became popular overnight last fall after Rudy Giuliani booked a press conference for the Trump campaign in its parking lot. Now, the commercial landscape business is trending again after announcing that it will be hosting live events, with its first show featuring Laura Jane Grace, a singer-songwriter best known for fronting the progressive punk band Against Me:
We're going to class the joint up with @LauraJaneGrace and @badsandwich on August 21st! pic.twitter.com/VxXnVwcPgP

— Four Seasons Total Landscaping (@therealfstl1992) July 8, 2021
The news earned the landscaping business plenty of press, and the show sold out in 17 minutes:
.@therealfstl1992, the area business that made headlines for an election week mix-up by former President Donald Trump's campaign staff, will be the backdrop for a @LauraJaneGrace concert.https://t.co/dxv94vHsg7

— CBS Philly (@CBSPhilly) July 8, 2021
Laura Jane Grace of Against Me! trolled Rudy Giuliani with a sold-out performance at the infamous Philadelphia parking lot. https://t.co/Jv86FRt7Im

— HuffPost Women (@HuffPostWomen) July 8, 2021
Laura Jane Grace to perform concert at Four Seasons Total Landscaping https://t.co/FQAiEjixyN pic.twitter.com/JQ8ClM3IVV

— The Hill (@thehill) July 8, 2021
Twitter users also celebrated the decision and had some fun with the news:
Four Seasons Total Landscaping is now hosting concerts and I hope everyone comes to the show dressed as Rudy Giuliani and moshes super hard. https://t.co/btRZC9JB1P

— Stephanie Farr (@FarFarrAway) July 8, 2021
It's going to be THE concert venue on the East Coast. Anybody who's anybody is going to play the Four Seasons Total Landscaping! 😀

— Teresa Rothaar (@trothaar) July 8, 2021
Hot new music venue alert: Four Seasons Total Landscaping https://t.co/pKIbz1e1Y2

— Kaya Fraser (@kayafraser) July 8, 2021
Four Seasons Total Landscaping's decision to host a punk concert headlined by a progressive, transgender musician highlights how a brand can simultaneously capitalize on its previous moments in the spotlight while defining its values in contrast to past associations by create new milestone moments with its public narrative.
---
RAGAN'S DISNEY CHARACTER CONTEST  
Which Disney character best resembles your work life? Are you like Moana, who chooses not to blindly follow tradition and instead live independently? Maybe you're more like Belle, whose voracious appetite for reading is overshadowed by other people's assumptions about her? Or Raya, trying to save the world alone before realizing she needs the help of others?
Ragan has announced a reader contest to find out who your Disney double is (yes, Star Wars and Marvel characters count). One winner will be selected to win a free night at Walt Disney World's Swan & Dolphin Resort during our upcoming Social Media Conference for PR, Marketing and Communications Professionals Sept. 9-10.
E-mail us at submissions@ragan.com with your name, title, Disney character, and photo of yourself (optional) by July 12.
The winner will be announced the week of July 19 on PR Daily, where we will run all the entries we receive. We could all use a little levity in our day, so share away!
---
CRISIS COMMUNICATIONS
Google is pushing back on a lawsuit brought by 36 states and D.C., claiming that the software giant and its mobile app store abuses its power by forcing aggressive terms of service on software developers. Though this is the fourth antitrust lawsuit filed against Google since October, it is the first to specifically take issue with its app store. The lawsuit specifically focuses on Google's insistence that software companies use Google's proprietary system for in-app purchases, which charges a 30% commission that developers claim drives up the prices of their services.
Google claims that the 'meritless' lawsuit ignores its operating system's openness compared to other rivals like Apple.
According to a Google blog post:
We understand that scrutiny is appropriate, and we're committed to engaging with regulators. But Android and Google Play provide openness and choice that other platforms simply don't. This lawsuit isn't about helping the little guy or protecting consumers. It's about boosting a handful of major app developers who want the benefits of Google Play without paying for it. Doing so risks raising costs for small developers, impeding their ability to innovate and compete, and making apps across the Android ecosystem less secure for consumers.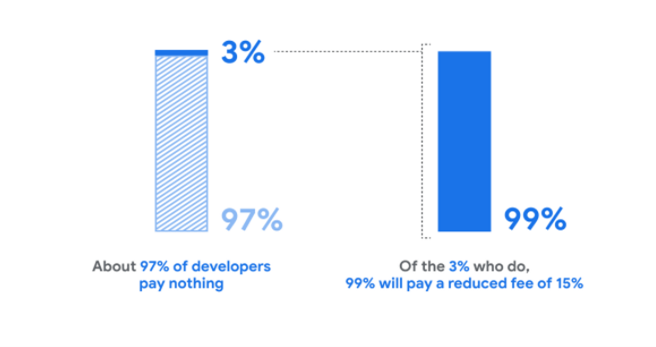 The messaging in Google's blog post walks the tight rope of defining the company's practices in contrast to other competitors in the space while also pushing back against the complaints by offering graphs that support its app store practices. It's a reminder that data can be deployed in a moment of crisis to turn down the temperature of an accusation or claim and provide a frame for discussion.
When deploying data to contest a specific critique, be sure to talk with those who have collected and organized the campaign so you can communicate the methodologies around how it was sourced and presented to assure critics that the data isn't being disingenuously manipulated or reframed just to fit your defense.
---
RAGAN'S 2021 BENCHMARK REPORT
Ragan has released its annual Communications Benchmark Report, an exclusive study from Ragan's Communications Leadership Council that analyzes the major trends in the profession over the last year.
During that time, comms pros have been called on to develop and distribute messages on new policies that affect internal and external stakeholders alike. Their role has become more essential as they helped keep their organizations focused and moving forward. They've seen their access to the C-suite increase throughout 2020, and they forged important new alliances with peers in other departments, including HR, finance and workplace wellness.
Culled from more than 750 respondents, the 32-page report is available in its entirety exclusively to members of the Communications Leadership Council.
Download your copy of the exclusive Benchmark Survey Executive Summary today and get a crucial competitive advantage that will fuel your success for 2021 and beyond.
Japan explains decision to bar spectators from 2021 Olympics
Japan has decided to ban in-person spectators from the 2021 Olympics, reversing its initial plans with a decision based on a fresh state of emergency being imposed on Tokyo, along with feedback from Japanese citizens and scientists. The decision will leave Tokyo's newly reconstructed, 68,000-capacity stadium largely empty during the games.
"This is a sorry message that we have to announce," Seiko Hashimoto, president of the Tokyo Olympic organizing committee, said at a news conference. "I am very sorry for those people who will be disappointed. But in order to prevent the spread, this was the only choice available for us to take. I hope that you understand the difficult choice that we made."

"They want a lot of people to watch their performance. I know how they feel, but many Japanese people were worried about the covid-19 situation," she said. "So if a lot of people are opposed to the idea, maybe we should refrain from having spectators—and there are athletes thinking that way as well. "

The International Olympic Committee and the International Paralympic Committee said they respect Japan's decision and "support it in the interest of safe and secure Games for everybody."

Shigeru Omi, the government's top health adviser, reiterated his concerns to a parliamentary health committee this week. "We are asking many people to take steps to prevent further spread of the infection," he said. "Images of spectators would be sending out a contradictory message."
Olympic sponsors also expressed their frustration over having to change their plans at the last minute.
"We are finally making decisions on our own, without waiting for the organisers' cue," said one source, an employee at one sponsor, who, like other people interviewed, declined to be identified because the information is not public. "It's a 'damned if you do and damned if you don't' situation for sponsors, but everyone is starting to take action."

One source at a sponsor company said there was concern the public would feel it "unfair" that sponsors could attend instead of other ticketholders. "It's an awkward situation."
Why it matters:
Though Japan's last-minute change of course banning spectators is an escalation from the country's initial decision this past March to only ban foreign spectators, it comes a little too late for the Olympics to save face as 80% of the Japanese public, along with the country's top scientists, all urged the Olympic committee to cancel the games altogether months ago. Though the committee's statements are successful in expressing empathy by aligning with audience disappointments along with explaining its concerns over messaging and optics, the messaging shift serves as a reminder that audiences will be more receptive to changing procedures and bad news when the information is provided with respect to an actionable timeline. Though health and safety measures are constantly evolving, a proactive crisis strategy means leaving yourself enough time to address the needs and concerns of all affected stakeholders while offering contingency plans in the event of sudden change.
---
WHAT YOU SAID
Yesterday, we asked which stakeholders would you alert first in the event of a major company restructuring. A solid 61% of you said that you would alert employees first, while 23% would go to shareholders before employees. Meanwhile, 16% of you would alert internal and external stakeholders at the same time.
Which stakeholders would you alert first in the event of a major company restructuring, PR pros and communicators? #DailyScoop

— PR Daily (@PRDaily) July 8, 2021
Is there a question you'd like to see? Let us know using the hashtag #DailyScoop!
---
SOUNDING BOARD
Why is it that the shorter work weeks always feel the longest? Whatever the reason, you've made it to another Friday, PR pros and communicators. Show us your ideal plans for this weekend, in GIF form, below! We'll share the top responses in Monday's #DailyScoop.
Why is it that the shorter work weeks always feel the longest? Whatever the reason, you've made it to another Friday, PR pros and communicators. Show us your ideal plans for this weekend, in GIF form, below! We'll share the top responses in Monday's #DailyScoop pic.twitter.com/QSBM3xD913

— PR Daily (@PRDaily) July 9, 2021
COMMENT
One Response to "Wells Fargo cancels all personal credit lines, the best content types for each social media platform, and Tokyo Olympics bars spectators amid COVID surge"
Ronald N Levy

says:

The PR opportunity for Google is to show who in this controversy is on each side.

Google seems to be saying that it's between major app developers and Google, that the developers want benefits without paying for them. But it would be better for Google to say that the controversy is between major app developers vs. the PUBLIC because if developers get more, it's the public in the end that may pay.

If a controversy is developers vs. Google, many people may favor the developers because they seem more like a little guy than Google does even though Google says the developers aren't little guys. But if the public sees this controversy as developers vs. the public, we can easily forecast which side the public will favor.

Google calls the suit "meritless" which is lawyer lingo like "baseless" or "unfounded" or "without foundation." Lawyers often talk like that instead of saying "baloney" or something stronger. It would be better for Google to call the suit a "disguised effort to make the public pay more so the developers get away with paying less."

A big advantage of Ragan and PR Daily courses is their teaching not just how to EXECUTE PR communication successfully but how to select PR OBJECTIVES so that in an accusation situation like Google's, the public will see correctly who is on each side. The lawsuits are a threat not just to Google and smaller developers but to the PUBLIC.

In an accusation crisis, it's helpful when the public is not just the judge but also recognizes that the public is a party that may win or lose depending on how the controversy is resolved. It's no wonder that recruiters for PR favor candidates who have been course-takers.