Jelly Belly founder launches treasure hunt, LinkedIn connects remote employees, and Facebook to pay users to log off before the election
Also: Dunkin' partners with a TikTok influencer, the ACLU creates GIFs to raise awareness about voting via USPS, OKCupid touts voter registration user preferences, and more.
Hello, communicators:
Dunkin' has teamed up with social media influencer and TikTok star Charli D'Amelio on a menu item dubbed "The Charli"—a cold brew with whole milk and three pumps of caramel swirl.
RELATIONSHIP STATUS = OFFICIAL! 💕 'The Charli', @charlidamelio's fave drink- a medium cold brew w/ whole milk & caramel swirl- is now on the menu! ✨ DD Perks Members, earn 100 bonus points on a medium of 'The Charli' when you order ahead on the Dunkin' app through 9/4. pic.twitter.com/Fu15g4bL3a

— Dunkin' (@dunkindonuts) September 2, 2020
Yup… it really has her name on it. 🙌 ➡️ @charlidamelio. Order 'The Charli' on the Dunkin' App. ✨#CharliRunsOnDunkin pic.twitter.com/fwH3hrh2IA

— Dunkin' (@dunkindonuts) September 8, 2020
The offering is similar to McDonald's limited-edition "Travis Scott" meal and comes with a contest that offers winners the chance to virtually connect with D'Amelio.
In a press release, Dunkin' wrote:
Dunkin' is also giving fans an opportunity to enjoy "The Charli" with the star herself. The Charli x Dunkin' contest launches September 9*, inviting fans to post a photo on Instagram recreating an iconic Charli x Dunkin' moment using #CharliXDunkinContest.
As more brands look for ways to reach and entice Gen Z consumers, expect additional partnerships with social media content creators and influencers to pop up.
Here are today's top stories: 
Jelly Belly founder offers candy factory in treasure hunt
David Klein, creator of Jelly Belly and owner of Candyman Kitchens, launched "The Gold Ticket" challenge, which enables consumers across the United States to search for golden tickets and win $5,000—or the keys to one of his factories.
He announced the contest with business partner Stephanie Thirtyacre:
To participate, consumers must purchase a riddle, which costs roughly $50 per state. They're then put into a private Facebook group, where the riddle is shared and participants can search for a gold necklace printed with "The Gold Ticket." Winners in each state will win $5,000. The winner of the "ultimate treasure hunt" will win one of Klein's Candyman Kitchens, located in Florida. Each hunt is limited to 1,000 participants.
Though the prizes are large, the website and video production are simple and straightforward as seen in this live stream, where Klein and Thirtyacre announced California's riddles were sold out.
Why it's important: As people continue to stay at home and socially distance during COVID-19, contests and interactive activities can help build excitement and enagement. Adding a monetary prize makes the effort sweeter. You can follow Klein's lead without busting your budget by offering interactive polls and activities as well as exclusive recipes and do-it-yourself project ideas.
---
SOCIAL BUZZ  
Facebook is offering its users up to $120 to not use the social media platform or Instagram ahead of the November presidential election. The deactivation could last one to six weeks, during which users will be asked questions by independent research partners.
Anyone who chooses to opt in – whether it's completing surveys or deactivating FB or IG for a period of time – will be compensated. This is fairly standard for this type of academic research. More here: https://t.co/uw4B8XhsYY

— Liz Bourgeois (@Liz_Shepherd) September 3, 2020
The survey is part of an effort by Facebook to better understand how it can better respond to political posts and comments on both its platform and on Instagram.
In a blog post, Facebook wrote:
Facebook constantly works to improve the way its services foster democratic participation–for example, this month we launched a new Voting Information Center as part of the biggest ever voter information campaign in the US, with the goal of registering 4 million voters. But it doesn't mean – given how young this technology is – that we have fully researched all its effects yet. The US elections in 2016 exposed the risk of social media being abused to interfere in elections, and misinformation and political polarization clearly play out on social media platforms too.
Facebook said it expects up to 400,000 people to participate.
---
MEASURED THOUGHTS
OKCupid recently published a report titled, "Voters Make Better Lovers," in which half of its users said being registered to vote is an important consideration in a potential match. The dating platform also revealed that 63% its users who are registered to vote are also more likely to get a match, and 85% more likely to get a message.
Data Finds Voting Makes You Better at Dating, and Yes We Have Receipts On This

— OkCupid (@okcupid) September 1, 2020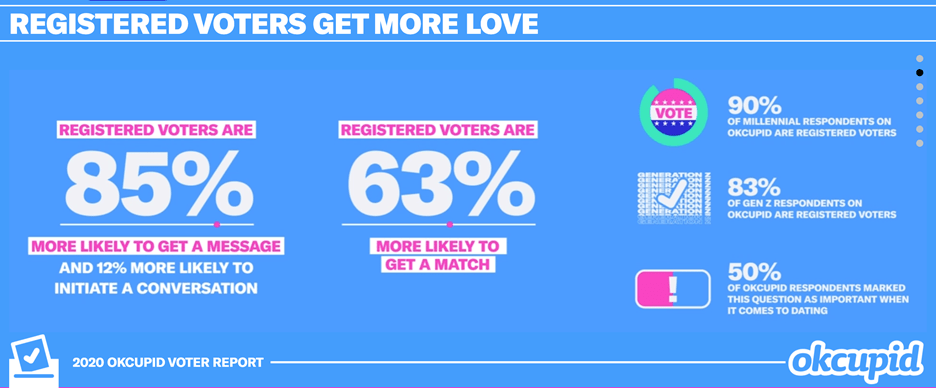 Along with being registered to vote, 76% of OKCupid users said the political leanings of their potential match is very important:
PRO TIP: register to vote cuz our data show registered voters are 63% more likely to get a match.

— OkCupid (@okcupid) September 1, 2020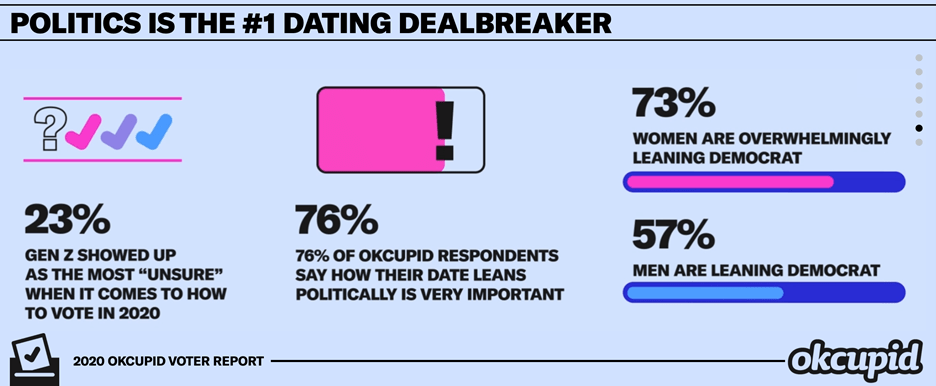 OKCupid gathered this data through user questions alongside its first-ever Voter 2020 profile badge. The company has been tweeting the findings and made its report interactive, with the ability to click on each state to get a quick breakdown of how users feel about prison reform, climate change and other issues.
TIRED PICK UP LINE: Hey, how are you?
WIRED PICKUP LINE: Are you registered to vote?

— OkCupid (@okcupid) September 2, 2020
You can read the entire report here and here.
---
CRISIS LEADERSHIP NETWORK
Looking for more insight on how to address the current global crisis and lead your organization into a strong recovery?
Join Ragan's Crisis Leadership Network to network and brainstorm with peers, get the latest intelligence and research and start to strategize for the future of your organization.
Learn more about this exclusive membership here.
LinkedIn expands pages with 'My Company' tool  
The social media platform is offering the "My Company" tab on organizations' LinkedIn pages, which enables you to "bring your workforce closer together by helping you celebrate key accomplishments, increase engagement within your employee community and connect colleagues with a single click." It includes features such as employee milestones to celebrate new hires, promotions and anniversaries as well as trending content from colleagues.
LinkedIn also announced an "Events" tab, which can help your organization promote its virtual events on LinkedIn. The offering helps brand managers further promote those events to page followers and other LinkedIn users: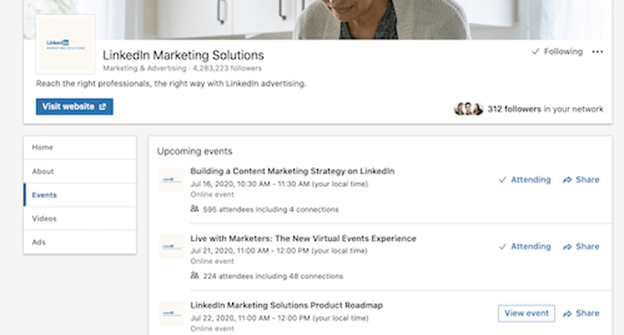 Why it's important: Whether using LinkedIn or another tool, consider ways you can better connect your remote and dispersed workforce throughout COVID-19 and beyond. As the future of the workplace becomes more increasingly virtual as well as a hybrid of in-office and remote employees, the efforts you create now can set you up for future success and help strengthen your company culture.
---
TAKE OUR POP QUIZ
Embracing inclusive language is at the heart of effective diversity and inclusion efforts, but do you have blind spots when it comes to which words and phrases you should or shouldn't include?
Test your inclusive language knowledge in Ragan's D&I Pop Quiz. Sponsored by Yammer and Workplace from Facebook, your answers to this quick five-question test might surprise you.
As thanks for taking it, you'll get $100 off registration to The Communicator's Role in Diversity, Equity & Inclusion virtual conference, Sept. 17-18. Results will be shared at the event, and your answers will be confidential and anonymized.
---
SOCIAL BUZZ
The American Civil Liberties Union created a collection of GIFs on Giphy encouraging people to support the United States Postal Service and vote through the mail.
The GIFs range from simple messages to voting instructions:
The effort is a great example of making bite-size content designed to be easily shared across social media platforms and embedded within blog posts. Consider ways that you can make your messages more shareable and accessible.
---
WHAT YOU SAID 
We recently asked you to share your Labor Day weekend plans with us through GIFs:
Are you as excited for the holiday weekend as we are?

Show us your Labor Day weekend plans in a GIF, and we'll share in Tuesday's #DailyScoop. pic.twitter.com/xwIBunbnT5

— PR Daily (@PRDaily) September 4, 2020
OKCupid's global communications and PR manager, Michael Kaye, enjoyed a picnic with his partner, while communicator Christina Krenek also basked in the holiday sunshine:
— Michael Kaye (@MichaelKayePR) September 4, 2020
— Christina Krenek (@ChristinaKrenek) September 4, 2020
PR student Dorothy Corbett spent the time applying for internships while Keya Boyles prepared to start on her master's degree in public relations and advertising:
Applying for internships! pic.twitter.com/cjdS3uGHIg

— Dorothy Corbett (@dorcorbett) September 4, 2020
Prepping to start grad school! pic.twitter.com/cYahGoWBz0

— Keya Boyles (@masterkeyss) September 4, 2020
Comms pros at Hot Paper Lantern and The James Agency simply enjoyed the long weekend, which included copious amounts of food:
Are waffles delicious? pic.twitter.com/RRIwL7g7aX

— Hot Paper Lantern (@HotPaperLantern) September 4, 2020
#cantstopwontstop eating pic.twitter.com/walCMsDCy9

— The James Agency (@TheJamesAgency) September 4, 2020
Is there a question you'd like us to ask in an upcoming poll? Let us know!
---
SOUNDING BOARD
Does your workplace have a wellness program or offerings for employees?
Does your workplace have a wellness program or offerings for employees?

Share your ideas and efforts around virtual workplace wellness with us under #DailyScoop.

— PR Daily (@PRDaily) September 8, 2020
Share your insights and efforts below and under the #DailyScoop hashtag.
COMMENT