LinkedIn lays off 960 employees, Marriott and Hyatt announce mask requirement, and Walmart to close for Thanksgiving
Also: Amazon delays its #PrimeDay, Twitter reveals marketing and engagement opportunities with sports fans, Twitter cracks down on conspiracy theories, and more.
Hello, communicators:          
Walmart is breaking with tradition by closing its doors for Thanksgiving.
They take care of you and we want to take care of them. Along with special cash bonuses this quarter, we will be closing our doors on Thanksgiving Day to give our associates much-needed time with their loved ones. https://t.co/nbk7o0bkZq pic.twitter.com/3Lenfi6ZhT

— Walmart (@Walmart) July 21, 2020
The retail chain's president and chief excecutive of Walmart U.S., John Furner, said in a press release:
We know this has been a trying year, and our associates have stepped up. We hope they will enjoy a special Thanksgiving Day at home with their loved ones. We are certainly thankful to our people for all of their efforts.
Walmart is also paying its full-time hourly employees a $300 bonus, while its part-time hourly and temporary workers will receive $150 each. The company will spend roughly $428 million on the third of its special bonuses this year, with its total adding up to $1.1 billion so far.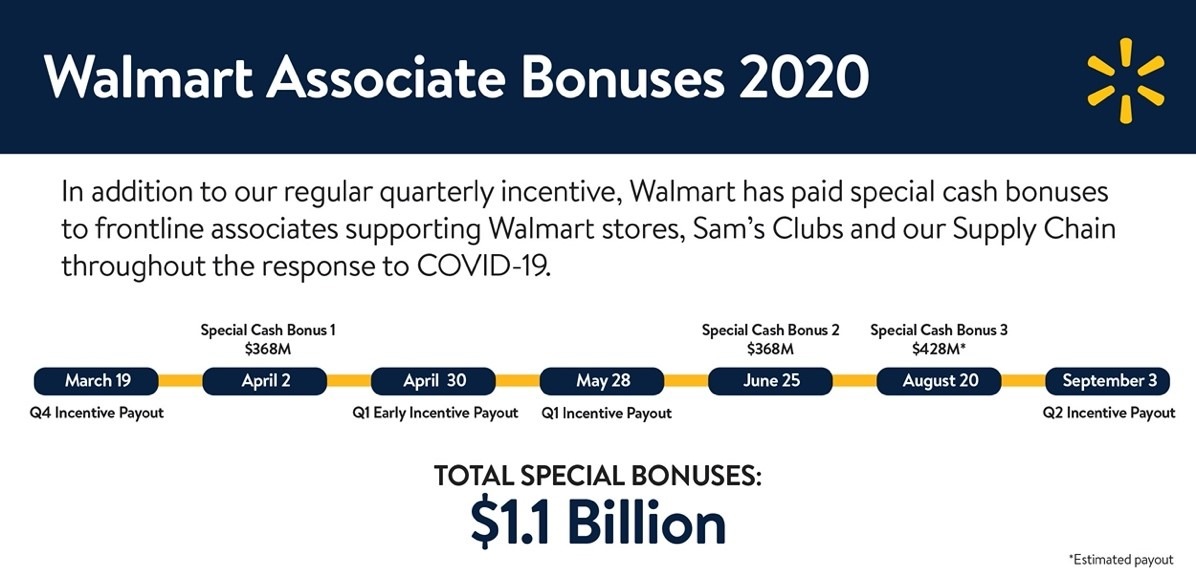 The efforts have already garnered kudos for Walmart. Consider how you can show appreciation for your employees' efforts and grab positive PR without hurting your bottom line (for example, consumers can still shop Walmart.com on Thanksgiving).
Here are today's top stories: 
LinkedIn lays off 960 employees
The company's job cuts affect roughly 6% of its workforce around the world, and affected employees in the Uniited States will receive at least 10 weeks of severance pay, career transition assistance and a year of health care coverage through COBRA. They'll also be able to keep company-purchased equipment such as laptops and phones, and will have the opportunity to apply for new roles.
The company's chief executive, Ryan Roslansky, wrote in a message to employees:
LinkedIn is not immune to the effects of the global pandemic. Our Talent Solutions business continues to be impacted as fewer companies, including ours, need to hire at the same volume they did previously.

… To continue adapting and accelerating the company like we have been, we need to ensure we are focusing our efforts and resources against our most strategic priorities to set up the company for success today—and well into the future.
Why it's important: The affects of COVID-19 have forced organizations across industries to reinvent their business models to adapt to changing trends that include less travel, corporate hiring freezes, decreased retail spending and increased content consumption. As your organization decides its best path forward, invite your employees into the discussion. Remain transparent and keep them updated of your business decisions, so they can prepare for what's to come. Doing so helps to protect their livelihoods as well as your organization's reputation.
---
TACTICALLY SPEAKING  
Amazon is delaying its #PrimeDay, with some sources suggesting the site-wide sale could happen in October.
We'll be bringing #PrimeDay savings to members later than usual this year. Safety of our employees, customers, and selling partners remains our #1 priority.

➡️#PrimeDay in India will take place on Aug 6-7, with details for the rest of the world coming soon! 📦

— Amazon (@amazon) July 21, 2020
Communicate delays or cancelations as early and transparently as possible, keeping your messages grounded in your organization's values. Amazon, for example, reminded consumers that its employees' and customers' safety is its first priority.
---
MEASURED THOUGHTS 
Twitter's marketing team reported a 31% increase in sport tweets in June, compared with May—and the conversation is continuing to grow with several sports organizations preparing for their returns.
Sports are back. And fans are pumped.

By looking at the talk on Twitter, brands can find the best ways to connect and be part of this epic moment. 🧵 pic.twitter.com/YHxmuT3HDp

— Twitter Marketing (@TwitterMktg) July 9, 2020
The conversation has increased across sports, with tweets related to the NFL increasing 62%, PGA mentions rising 70% in time for the PGA Tour, and conversations about MLB increasing 59%.
They're not just Tweeting about one sport. They're Tweeting about golf, football, baseball, basketball, hockey, and more. pic.twitter.com/i187jCrsM0

— Twitter Marketing (@TwitterMktg) July 9, 2020
You don't have to work for a sports organization or venue to take advantage of the increased online chatter, either. With many fans across the United States staying at home to watch the games, brand managers across organizations and industries have additional opportunities to take part of conversations and interact with consumers.
In its report, Twitter wrote:
Passionate fans, eager to connect, all in one place? Yes, please. Don't miss your chance to be part of this major cultural moment.
You can read the overview here.
---
CRISIS LEADERSHIP BOARD
Looking for more insight on how to address the current global crisis and lead your organization into a strong recovery?
Join Ragan's Crisis Leadership Board to network and brainstorm with peers, get the latest intelligence and research, and start to strategize for the future of your organization.
Learn more about this exclusive membership here.
Marriott and Hyatt announce mask and social distancing requirements
The American Hotel & Lodging Association recently released updated health and safety protocols, and its members including Marriott, Hyatt, Radisson, Hilton, Wyndham, Loews Hotels and IHG are preparing to require masks and social distancing in their common areas. The new policies will take effect on July 27.
Marriott announced the requirement with a video featuring the chain's president and chief executive, Arne Sorenson:
Following American Hotel & Lodging Association (AHLA)'s "Safe Stay Guest Checklist" announcement last week, Marriott International will require all guests to wear a face covering in its hotels effective July 27. pic.twitter.com/frOjzcCQAs

— Marriott International (@MarriottIntl) July 20, 2020
"Please help us do what we can to beat COVID-19," Sorenson says in the video. "These are all easy steps we can take to support one another and the communities we love, whether we live there, work there or are visiting."
Hyatt also featured its chief executive within its announcement.
At Hyatt, the safety of our colleagues and guests is a top priority. To help reduce the spread of COVID-19, all Hyatt hotels in the U.S. & Canada will require face coverings within indoor public areas beginning July 27.

Learn more: https://t.co/NX2e2q6JaG. pic.twitter.com/uTAirJOCTH

— hyatt (@Hyatt) July 21, 2020
"To help enable safe travel amid the ongoing challenges of covid-19, we need to come together as an industry and promote clear guidelines, which for the foreseeable future include the wearing of face coverings in indoor public spaces and practicing social distancing," said Mark Hoplamazian, chief executive of Hyatt Hotels, which requires guests in the United States and Canada to wear facial coverings.
Why it's important: As more organizations implement policies and procedures to stop the spread of COVID-19, it's crucial for communicators to prepare their employees and leadership now for crisis responses to online critics, current and future guests, and additional stakeholders.
---
TAKE OUR SURVEY 
Have your storytelling efforts shifted during COVID-19 and as your organization responds to the nationwide movement for racial equality and inclusion? We want to hear how you're telling your brand's story, including what messages you're using and the content formats and channels you're focusing on to strengthen your reputation and effectively reach stakeholders.
Please take our survey here. All responses are confidential and anonymous.
Survey findings will be released at Ragan's Brand Storytelling During a Crisis Virtual Conference, Aug. 4-5. You can hear the results—and learn how to tell your brand's story to help you thrive in our "new normal"—with speakers from Con Edison, Google, Experian, Minnesota Timberwolves, Crayola, Marriott International, Girl Scouts of the USA, Cleveland Clinic and more.
---
SOCIAL BUZZ
Twitter announced that it's taking steps to limit misinformation and harassment from accounts associated with the right-wing conspiracy theory QAnon. Its recent actions will affect roughly 150,000 Twitter accounts, including 7,000 accounts that Twitter has suspended for breaking its terms of service.
We've been clear that we will take strong enforcement action on behavior that has the potential to lead to offline harm. In line with this approach, this week we are taking further action on so-called 'QAnon' activity across the service.

— Twitter Safety (@TwitterSafety) July 22, 2020
In addition, we will:

1⃣ No longer serve content and accounts associated with QAnon in Trends and recommendations
2⃣ Work to ensure we're not highlighting this activity in search and conversations
3⃣ Block URLs associated with QAnon from being shared on Twitter

— Twitter Safety (@TwitterSafety) July 22, 2020
As we work at scale to protect the public conversation in the face of evolving threats, we'll continue to lead with transparency and offer more context on our efforts.

— Twitter Safety (@TwitterSafety) July 22, 2020
Facebook is also moving to stop the spread of QAnon misinformation across its platform.
Facebook is preparing to take similar steps to limit the reach of QAnon content on its platform, said two Facebook employees with knowledge of the plans, who spoke on the condition of anonymity. The company has been coordinating with Twitter and other social media companies and plans to make and announcement next month, the employees said. Facebook declined to comment.
You can also help fight against fake news and misinformation by teaching your stakeholders—including executives, employees, partners and consumers—how to look for information sources and verify stories' validity.
Not sure where to start? Use these videos created by the team at "Last Week Tonight with John Oliver," which feature Paul Rudd, Alex Trebek, Billy Porter, John Cena and Catherine O'Hara talking about ways to stop the spread of conspiracy theories and other misinformation.
---
WHAT YOU SAID
We asked if you're offering employees digital wellness resources, and roughly 53% said yes:
Are you offering employees/does your workplace offer digital wellness resources?

Share what you and your employees value the most as you work from home during COVID-19. #DailyScoop

— PR Daily (@PRDaily) July 21, 2020
To the nearly 47% whose workplace doesn't offer digital well-being resources, consider how you can lean into wellness during COVID-19, along with top-of-mind workplace wellness trends and how a corporate wellbeing program can improve your company culture.
Is there a question you'd like us to ask in an upcoming poll? Let us know!
---
SOUNDING BOARD
Does your organization have a COVID-19 resource hub?
Does your organization have a COVID-19 resource hub?

Share how you're compiling your responses to the ongoing pandemic as well as your updated business plans, policies and more under #DailyScoop.

— PR Daily (@PRDaily) July 22, 2020
Share how you're compiling your responses to the ongoing pandemic as well as your updated business plans, policies and more below and under the #DailyScoop hashtag. 
COMMENT
No Responses to "LinkedIn lays off 960 employees, Marriott and Hyatt announce mask requirement, and Walmart to close for Thanksgiving"
Ronald N. Levy

says:

It's like politics where the candidate who makes the biggest promise tends to win. The important PR skill is judging WHICH promises will be biggest in winning public support, WHEN to make them, and HOW.

WHICH. In 2016, Mrs. Clinton's qualifications may have seemed in many ways superior to Trump's but Trump was promising more jobs and a better economy. Mrs. Clinton kept promising more fairness to the poor. The majority of voters were not poor and she lost.

WHEN. Poor Dukakis was ahead in the polls by 17%–17%!–but his campaign manager, a brilliant lawyer, kept him off the tube for 11 days while the campaign managers decided what to say. By the time they decided what to say it was too late and he lost. Brilliant at civil law she was but not brilliant at PR law.

HOW. Billions and billions have been switched from old media to new by advertisers based on their experience with what works best. But Trump's reliance on the good old way—live rallies—brought him damaging criticism because of a partly empty arena in Tulsa. The lesson: the good old way is still old but may no longer be good. Or when good, it may no longer be best.