Lululemon condemns post with racist COVID-19 design, Ticketmaster responds to refund criticism, and Netflix subscriber numbers double expectations
Also: EDsmart is offering $1,000 for a 'Harry Potter dream job,' consumers share what they want to hear from brands, IPR's employee engagement survey, and more.
Editor's note: This article is a re-run as part of our countdown of top stories from the past year.
Hello, communicators:
McDonald's is offering frontline workers a free meal, and has asked its social media followers to spread the news:
🚨 Friends. Family. Community. WE NEED YOU! ❤ Please help us help our frontline workers. We want to give them a FREE thank you meal. If you know anyone who could use one, please like, tag in comment or retweet to let them know. We'd truly be proud to take their order. pic.twitter.com/5UzDKE4Z1w

— McDonald's (@McDonalds) April 21, 2020
The effort not only reminds communicators to focus on the people involved and their stories, but also showcases an easy way to get your community involved in your CSR efforts and crisis response.
Here are today's top stories:
Lululemon fires employee who shared racist shirt design online 
Lululemon quickly distanced itself from art director Travis Fleming after he shared through his Instagram a shirt for sale that featured a takeout box and chopsticks with bat wings, along with the words "no thank you" emblazoned on the sleeve.
There have been 100+ daily attacks on Asian Americans since the start of #COVID19. To see people adding to the hurt & racism hurts my heart. I hope someone picks up this story and these individuals take responsibility. I am more proud than ever to be part of the AA community. ✊🏼 pic.twitter.com/nWy9WJeMVE

— Kamauri Yeh (@yehwho) April 19, 2020
"At lululemon, our culture and values are core to who we are, and we take matters like this extremely seriously," Lululemon spokesperson Erin Hankinson said in a statement to USA TODAY. "We apologize that an employee was affiliated with promoting an offensive t-shirt… The image and the post were inappropriate and inexcusable and we do not tolerate this behaviour."

… "We acted immediately, and the person involved is no longer an employee of lululemon," the statement added.
 Fleming issued the following statement to Business Insider:
I sincerely apologize for the events that have transpired this week. Although I was in no way involved in the design of the t-shirt, I did make the decision to share a link to it, and I want to acknowledge that this was wrong. It is something I deeply regret, and my eyes have been opened to the profound ripple effect that this mistake has had. I apologize to those that have been hurt by this, as well as to my friends and colleagues at Lululemon who have been impacted by this situation. I commit to standing up against racist or discriminatory behavior and will work hard to ensure that my personal and professional contributions in the future are kind, inclusive and supportive.
Why it matters: The incident emphasizes how quickly both news and criticism can spread, even when headlines are dominated by COVID-19. Ensure employees understand your organization's social media policies and best practices, and be on the lookout for controversial posts along with regularly scanning the digital landscape for potential crises.
---
TACTICALLY SPEAKING
The number of new Netflix subscribers in January to March 2020 doubled the company's forecast.
The world's dominant streaming-video subscription service, operating basically everywhere except China, Netflix said subscribers grew by 15.77 million to 182.86 million total, according to the company's first-quarter results. Netflix reported earnings on Tuesday afternoon.

The performance soars past Netflix's January guidance of 7 million new members. Analysts on average had expected 7.5 million member additions, according to Thomson Reuters.
Though the numbers are impressive—and a result of consumers looking for entertainment as they stay at home—Netflix will soon reach a content obstacle. Filming has stopped in most places around the world, and the platform must have attractive content to keep subscribers as it competes against Disney+, NBCUniversal's Peacock, HBO Max and more.
You might not have to create the library of content that Neflix and other streaming services boast, but COVID-19 has made communicators across industries and positions scramble to offer both content and engagement opportunities. Keep brainstorming and creating, so your well doesn't run dry.
---
FROM THE EXPERTS
Tina McCorkindale, CEO for the Institute of Public Relations, and Steve Cody, founder of Peppercomm, share insights from their latest report on how COVID-19 is changing how organizations engage employees.
They argue that despite only 10% of leaders having extensive plans for how to "return to work," not having lots of planning around this issue means you are "behind the ball."
Read all of their insights, form what organizations are getting right to where they have room to grow, here.
---
MEASURED THOUGHTS
 Recent research from the 4A's and GlobalWebIndex revealed that more than half of consumers (56%) want to hear from brand managers during the pandemic, if they're taking actions such as donating goods and services. Forty-three percent said it's reassuring to hear from organizations: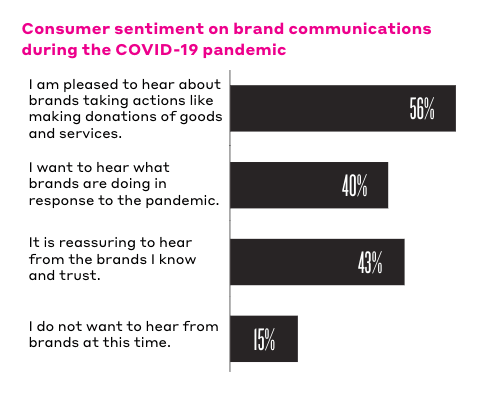 Image courtesy of GlobalWebIndex.
 The survey also revealed many opportunities for brand managers to engage with consumers, based on the activities they're embracing while staying at home. Though the largest amount (42%–43%) are watching more TV, streaming content and watching the news, 31% are cooking more. In addition, 32% are spending more time on social media platforms, and the same amount are turning to hobbies for entertainment.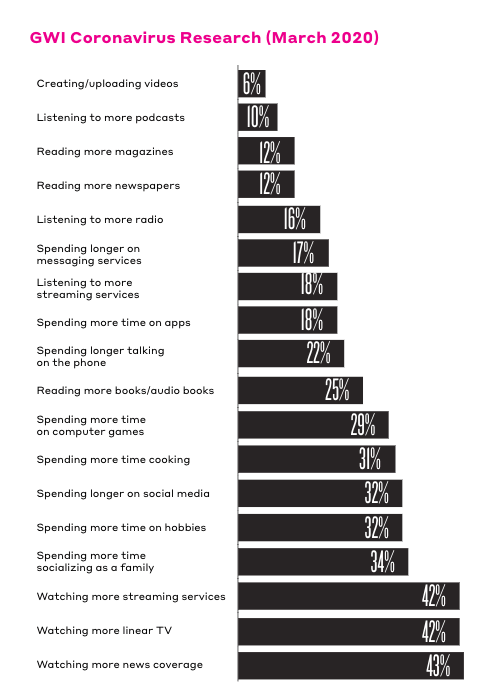 Image courtesy of GlobalWebIndex.
Consider what you can offer, whether it's a new recipe or a peek behind the scenes to entertain and build loyalty.
---
CRISIS LEADERSHIP BOARD
Looking for more insight on how to address the current global crisis and lead your organization into a strong recovery?
Join Ragan's Crisis Leadership Board to network and brainstorm with peers, get the latest intelligence and research, and start to strategize for the future of your organization.
Learn more about this exclusive membership here.
Ticketmaster answers backlash over refund policy
The ticketing platform recently responded to growing criticism regarding canceled and postponed shows:
A message regarding live event refunds: pic.twitter.com/aHTG42Sd9P

— Ticketmaster (@Ticketmaster) April 17, 2020
In its statement, Ticketmaster said it "intends to refund as many tickets as possible in as timely a fashion as is feasible" and that its "working every day towards that goal." However, the uncertainty surrounding many concerts and other live events have created obstacles for consumers seeking refunds.
Canceled? Sure, you can get your cash back, often automatically. New Jersey rockers Bon Jovi, for instance, canceled their entire 2020 tour Monday, in an effort to help ticketholders "pay their bills or buy groceries," the band said in a statement.

But postponed, even if a new date hasn't been set? The answer tends to be "no." It's left fans fuming as the continuing crisis forces A-listers like the Rolling Stones, Elton John, Taylor Swift, Madonna, Kelly Clarkson, Cher and Jason Aldean to cancel or postpone their shows.
Billboard reported that a lawsuit has been filed against Major League Baseball, its individual teams, StubHub, Ticketmaster and its parent company, Live Nation, with at least one similar suit filed against Ticketmaster and Live Nation for the companies' refund policies.
Why it's important: Many organizations across industries are backlogged in customer service requests, refunds and credits, with concerned consumers growing angrier by the minute. Though COVID-19 is rewriting the crisis communications playbook, responding as quickly as possible, with as much transparency as you can muster, remains a best practice. Providing any level of certainty within your communications (such as answers to common questions or decisions on whether an event is happening or will be virtual) can also build trust among consumers.
---
SOCIAL BUZZ
College rankings and reviews website EDsmart has offered up to five people the opportunity for a short-term dream job: Watch every "Harry Potter" and "Fantastic Beasts" film from start to finish, and get paid $1,000.
The company posted an earnings breakdown per film. Chosen candidates will have to share the marathon through social media, via live-tweeting, livestreaming and more. If chosen, you'll also get a "Harry Potter Marathon Survivial kit," which contains themed snacks, a blanket and a $100 Grubhub gift card.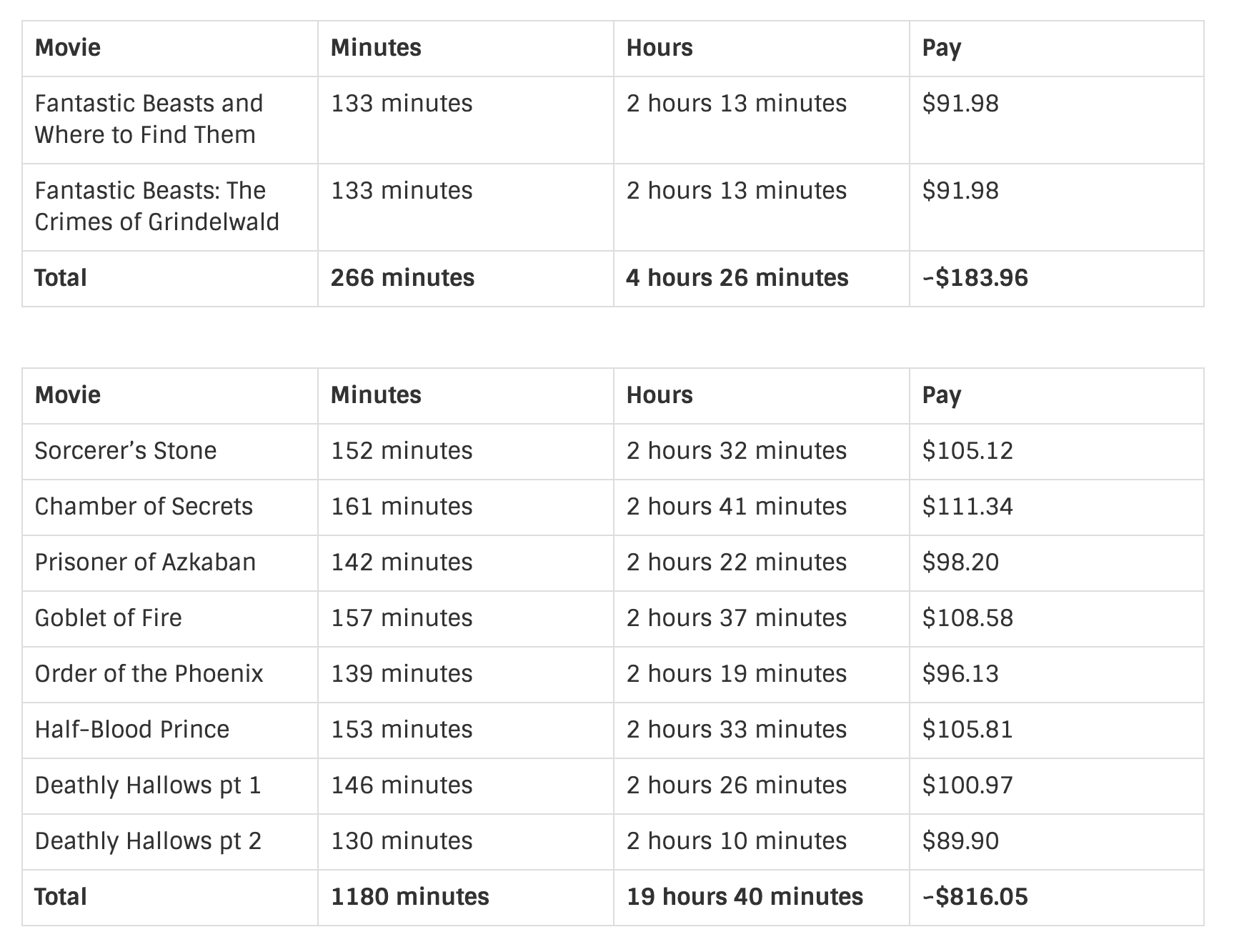 The contest is a fun way to help audiences stay entertained while sheltering in place, and might give you inspirataion for a virtual watch party that you can tie into your brand.
---
WHAT YOU SAID
We asked what you're calling the process of going back to work following sheltering in place. More than half of you (57%) call it the "new normal," while 21% call it "return to normal" and 21% call it "re-entry."
Communicators, what are you dubbing "going back to work" after shelter-in-place edicts are lifted?

Weigh in below and share how you're positioning your messaging under #DailyScoop. We'll share in tomorrow's roundup.

— PR Daily (@PRDaily) April 21, 2020
Corporate communications pro Nolan Sundrud tweeted a reminder for employee communicators not to overpromise, but rather, inform and support your workforce as you adjust to the crisis:
Crisis = disruption to business as usual. We cannot promise things will be the same as before. We do look forward to a time when we have "usual" processes and sustainable work environments again – a new normal. There is no "return" or "re-entry."

— Nolan Sundrud (@nsundrud) April 21, 2020
---
SOUNDING BOARD
Which of the following channels do you turn to the most for COVID-19 information and updates?
Which of the following do you use the most to get information and updates on COVID-19?

Share your thoughts below and under #DailyScoop, and we'll share in tomorrow's roundup.

— PR Daily (@PRDaily) April 22, 2020
Share your thoughts below and under the #DailyScoop hashtag.
COMMENT
One Response to "Lululemon condemns post with racist COVID-19 design, Ticketmaster responds to refund criticism, and Netflix subscriber numbers double expectations"
Ronald N. Levy

says:

An apology sounds like expressing regret for being guilty but Lululemon was NOT guilty so it was a PR blunder to apologize.

Better: express outrage that "the stupid comment wasn't funny and was unfair to all the Lululemon people who work hard every day to make Lululemon so hugely popular for style and quality."

Even bad publicity creates a good opportunity to get coverage that helps public esteem and sales.

The employee apologizing instead of expressing outrage shows why it pays to have a great PR firm that knows almost immediately how to handle such things.