Pinterest bans weight loss ads, podcast listenership rises, and comms takeaways from the biggest cyberattack in history
Also: Travelocity turns children's sketches into fantasy vacations, Airbnb reports numbers of blocked party rentals, and Mark Zuckerberg makes waves.
Hello, communicators:
A resurgence of travel has sparked many creative promotional campaign from companies including Hotels.com analyzing your dreams and Tripadvisor launching a Pride guide to travel along with a membership program. Now, online travel agency Travelocity has launched a campaign aimed at helping families hit the road.
Travelocity has announced a new contest that calls for families to submit their kids' drawings of an ideal getaway for a chance to win a family vacation. Five winning families will have their children's drawings interpreted by Travelocity and win a planned vacation worth $10,000. The company says that the campaign is intended to close the gap between the stress adults are saddled with around planning vacations and their kids' boundless imaginations.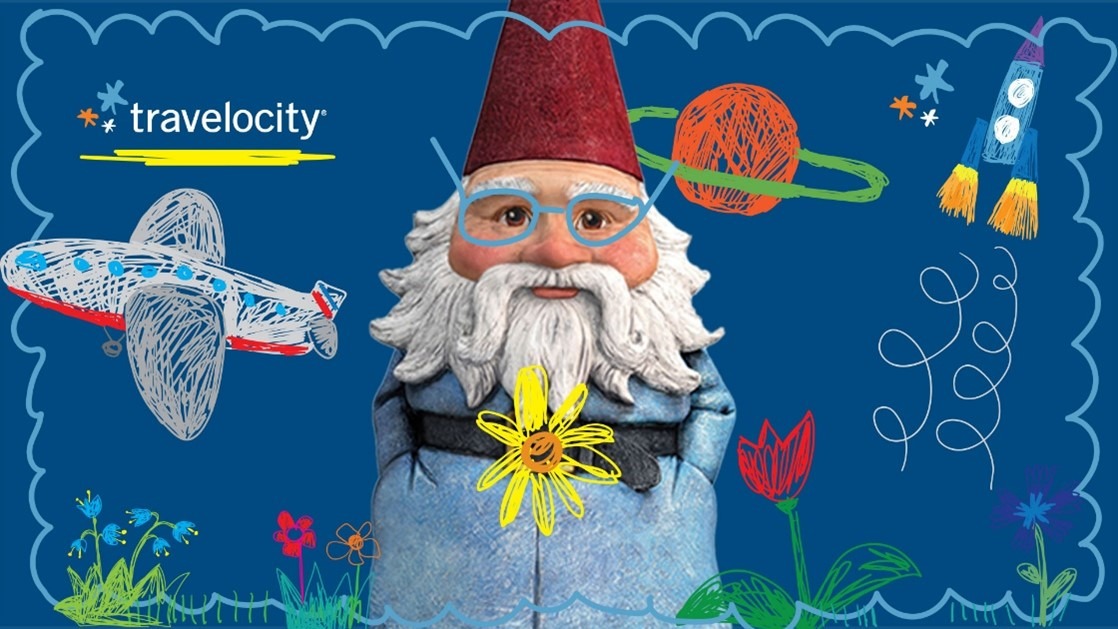 "We know that planning a trip can be daunting, especially when balancing different needs and budgets. As lives get more complex, we found that families are putting off their vacations, saying they'll take that one trip 'Someday,'" Katie Junod, General Manager at Travelocity, said in a press release. "We want to arm families with the confidence to find and book a vacation that's right for them."
While there is plenty to be said for offering resources to overwhelmed parents this summer, take note to tread lightly when crafting campaigns that involve engaging kids, as your efforts can easily be taken poorly if parents are not included in the effort.
Pinterest bans all weight loss ads in push for body positivity
Social media platform Pinterest has announced that it will no longer display advertisements that encourage weight loss, including language and imagery that encourages dieting, advertises weight loss products, references BMI and more.
This stance makes Pinterest the only major platform to prohibit all weight loss ads. It's an expansion of our ad policies that have long prohibited body shaming and dangerous weight loss products or claims. We encourage others in the industry to do the same and acknowledge, once and for all, that there's no such thing as one-size-fits-all.

"The National Eating Disorders Association (NEDA) applauds Pinterest for taking a leadership position as the first platform to prohibit all ads with weight-loss language and imagery. NEDA is encouraged by this necessary step in prioritizing the mental health and well-being of Pinners, especially those impacted by diet culture, body shaming, and eating disorders. We are hopeful this global policy will encourage other organizations and companies to reflect on potentially harmful ad messages and to establish their own working policies that will create meaningful change," said Elizabeth Thompson, Interim CEO for the National Eating Disorders Association.
Pinterest supported its decision with a graph that showed searches on the platform around body neutrality were trending: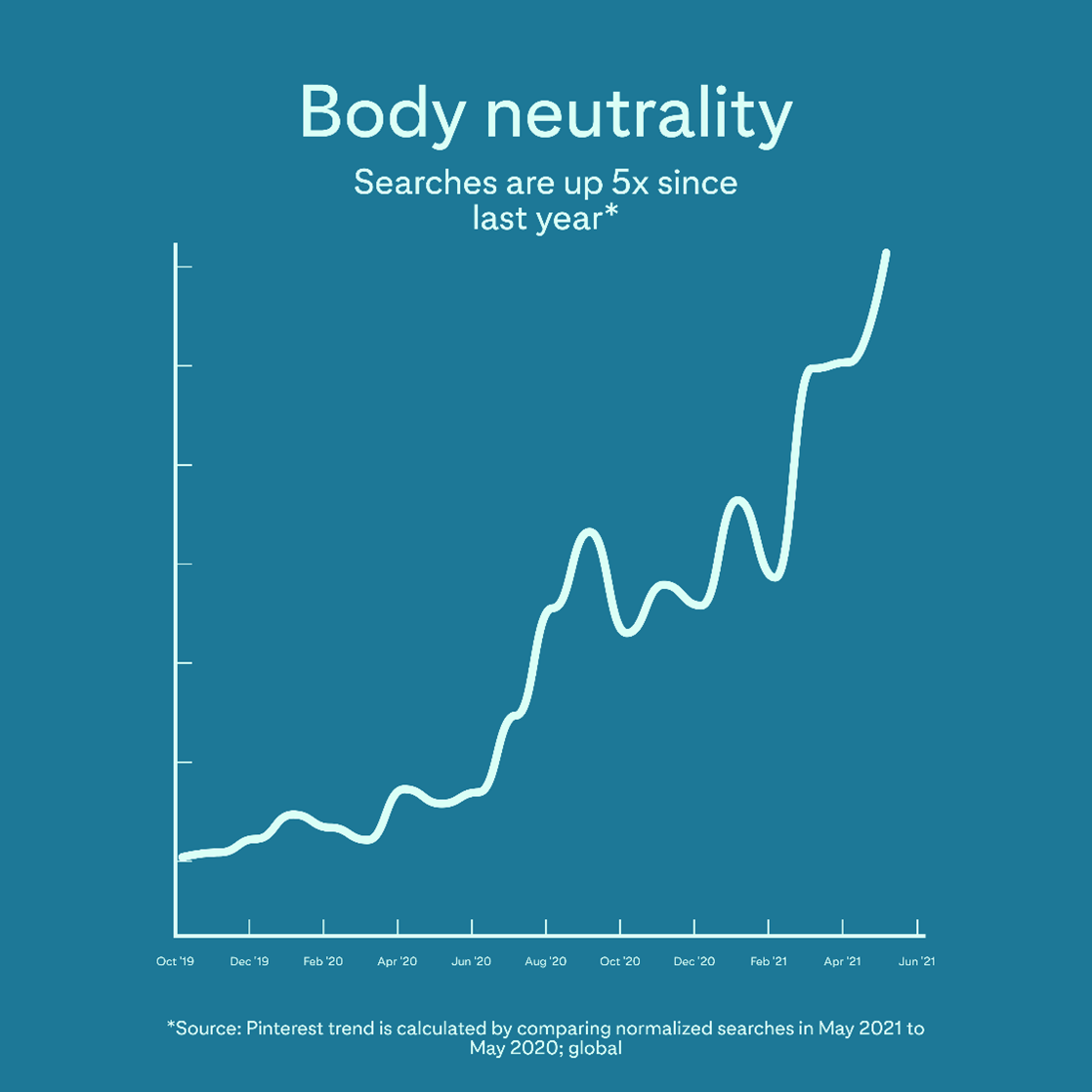 What it Means:
There is a clear pipeline between your brand or organization's proprietary data and the thought leadership that you produce. Whenever possible, discuss with your audience development and marketing teams the data that sticks out to them, and come up with an easy, streamlined workflow for visualizing that data to make it aesthetically on brand and easy to digest.
If your data speaks to a trend or insight that goes beyond your industry expertise, present it to a strategic partner (like NEDA) before publicizing it and ask for their insights, support and even a quote to bolster the effectiveness of your message.
---
MEASURED THOUGHTS
A study by Pew Research of NPR listener and user habits has found that the average weekly number of users who download NPR podcasts rose from 11.3 million in 2019 to 14 million in 2020, while general online audio listenership has plateaued. "As of early 2021, 68% of Americans ages 12 and older had listened to online audio in the past month, while 62% had listened in the past week," the study reported. "This has been about steady since 2019, revealing a plateau after steady year-over-year growth from 2007 to 2018."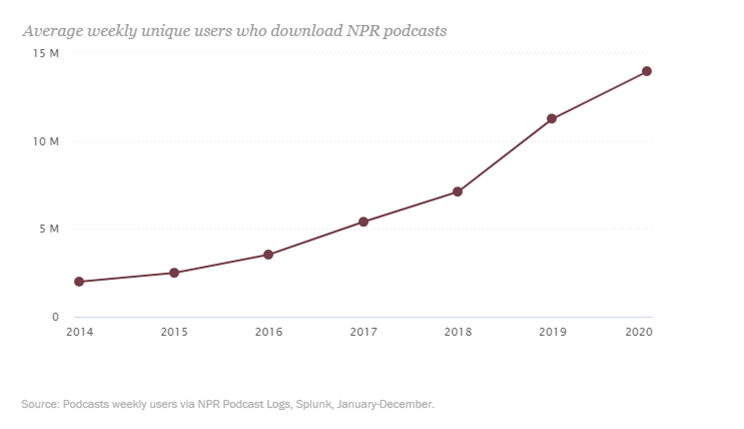 These numbers highlight just how much podcasting has moved to the mainstream over the past year, emphasizing that it is no longer an "emerging medium," but a practical outlet for thought leadership. When brainstorming ways to scale your podcast strategy, consider how social audio apps like Spotify's Greenroom allow for instant conversion of live audio chats into a podcast format.
---
SOCIAL BUZZ
While most Americans celebrated July 4th with the traditional BBQ and fireworks, Facebook CEO Mark Zuckerberg decided to post an Instagram video of himself surfing on an electric hyrdofoil while holding an American flag:
View this post on Instagram
On Twitter, some users questioned whether the late John Denver would approve of his song being used in such a way:
I wish they could bring John Denver back to life just so he could sue Mark Zuckerberg for this.

— The Hoarse Whisperer (@TheRealHoarse) July 4, 2021
Others questioned the optics of the video coming from a CEO who has struggled to come off as relatable in the past:
Zuck really doing his part to make tech founders seem normal pic.twitter.com/NBluMKhMCb

— Aaron Levie (@levie) July 4, 2021
Would prefer Zuck celebrate 4th of July by paying taxes
pic.twitter.com/Oxa091DBYk

— Ethan Klein (@h3h3productions) July 5, 2021
Zuckerberg's video is a reminder of the tough challenge communicators face in making their top execs relatable to a broad audience, even if they are social media experts. There may be no stopping your rogue CEO from saying or posting whatever they want, but the communicator's role should be strategically embedded amid your company's leadership in order to serve as an information pipeline between what your internal and external audiences expect from leadership and the thought leadership content that they produce.
---
RAGAN'S DISNEY CHARACTER CONTEST  
Which Disney character best resembles your work life? Are you like Moana, who chooses not to blindly follow tradition and instead live independently? Maybe you're more like Belle, whose voracious appetite for reading is overshadowed by other people's assumptions about her? Or Raya, trying to save the world alone before realizing she needs the help of others?
Ragan has announced a reader contest to find out who your Disney double is (yes, Star Wars and Marvel characters count). One winner will be selected to win a free night at Walt Disney World's Swan & Dolphin Resort during our upcoming Social Media Conference for PR, Marketing and Communications Professionals Sept. 9-10.
E-mail us at submissions@ragan.com with your name, title, Disney character, and photo of yourself (optional) by July 12.
The winner will be announced the week of July 19 on PR Daily, where we will run all the entries we receive. We could all use a little levity in our day, so share away!
---
TACTICALLY SPEAKING
Airbnb has blocked or redirected "potentially risky reservation attempts" from over 50,000 potential partiers across 15 US cities including include 7,000 in Dallas, 6,000 in San Diego, 5,100 in Charlotte, 3,500 in St. Louis, 3,000 in Columbus, and 2,700 in New Orleans. The move is part of an attempt to prevent big house parties that disturb neighbors and give the online rental home company a black eye.
"If you are under the age of 25 and you don't have a history of positive reviews, we will not allow you to book an entire home listing local to where you live," said Ben Breit, head of trust and safety communication with San Francisco-based Airbnb. "The system actually blocks that reservation. It doesn't allow it to go through."

This July 4th weekend, Airbnb is ratcheting down even more as part of its "Summer of Responsible Travel." U.S. guests, regardless of age, who lack a history of positive reviews can't make a one-night reservation of a home listing during the holiday weekend, whether the rental is local or not.

"The message we are trying to get across for our community is that we want you to have a good time, to reconnect and travel, but we want you to do it safely and responsibly," Breit said. "A big part of that is being respectful of properties and of neighbors."
Though Airbnb launched its campaign back in April, its strategic decision to share data around the progress of its campaign emphasizes how milestone moments for long-term messaging campaigns can remind audiences that your efforts extend beyond one holiday or press release. Every milestone moment is an opportunity to reiterate your purpose and values.
---
RAGAN'S 2021 BENCHMARK REPORT
Ragan has released its annual Communications Benchmark Report, an exclusive study from Ragan's Communications Leadership Council that analyzes the major trends in the profession over the last year.
During that time, comms pros have been called on to develop and distribute messages on new policies that affect internal and external stakeholders alike. Their role has become more essential as they helped keep their organizations focused and moving forward. They've seen their access to the C-suite increase throughout 2020, and they forged important new alliances with peers in other departments, including HR, finance and workplace wellness.
Culled from more than 750 respondents, the 32-page report is available in its entirety exclusively to members of the Communications Leadership Council.
Download your copy of the exclusive Benchmark Survey Executive Summary today and get a crucial competitive advantage that will fuel your success for 2021 and beyond.
Largest cyberattack on record prompts renewed focus on crisis communications
Cybersecurity teams at companies across 17 countries were hit with a ransomware attack this past Friday, making it the largest such cyberattack on record.
Earlier, the FBI said in a statement that while it was investigating the attack its scale "may make it so that we are unable to respond to each victim individually." Deputy National Security Advisor Anne Neuberger later issued a statement saying President Joe Biden had "directed the full resources of the government to investigate this incident" and urged all who believed they were compromised to alert the FBI.

In response, IT nonprofit CompTIA has offered several resources to affected companies including a newly formed Rapid Response team that has pledged to help any IT team whether they are a CompTIA member or not, driving or flying out to visit affected companies, providing crisis communications strategies and more.
According to its press release:
"This was a global attack impacting companies around the world, reminding us that we face unprecedented threats from cyberattacks unlike any threat we have collectively faced in the past," said [MJ Shoer, senior vice president and executive director of the CompTIA]. That is why it is critical that we engage in an active discourse that discourages 'cyber-shaming' and encourages public and private organizations to come forward immediately and share as much threat intelligence as possible to limit the damage of these attacks and to ward off future incursions."
Why it matters:
The continually increasing scale of cyberattacks hitting major corporations serves as a reminder that data security and privacy concerns are on the rise among more general audiences and stakeholders.
CompTIA's campaign, meanwhile, serves as a reminder to nonprofit communicators that you don't need to wait around for a large brand or corporation to offer you a partnership before getting involved in an issue where you have demonstrable expertise. Work with your marketing team to discuss how your organization can expand the reach of its resources in the event of a large-scale, industry-wide crisis and communicate the business case for offering free support to those who might not be paying customers (yet). Demonstrating goodwill will translate to new members and customers in the future.
---
SOUNDING BOARD
Has your brand or organization launched or expanded its podcast efforts over the past year, PR pros and communicators?
Has your brand or organization launched or expanded its podcast efforts over the past year, PR pros and communicators? #DailyScoop

— PR Daily (@PRDaily) July 6, 2021
Let us know where you are at with podcasting as a thought leadership tool below using the hashtag #DailyScoop.
COMMENT
One Response to "Pinterest bans weight loss ads, podcast listenership rises, and comms takeaways from the biggest cyberattack in history"
Ronald N Levy

says:

If over a million deaths a year could be prevented by weight reduction, and billions of our tax dollars saved every year, is barring weight loss messages good for the public or destructive?

Informational vaccination could save human lives and make companies more immune to the half-truths and whole falsehoods of activists. In the war of facts vs. fears, online media can choose to protect the public or not protect us.