Ben & Jerry's offers tips on anti-racism statements, Americans report increased summer travel plans, and NYC schools eliminate remote learning
Also: Hotels.com analyzes your dreams, Instagram offers new metrics, and pregnant CEO rejects doubtful investors.
Hello, communicators:
A brand that can tap into the power of dreams has a potent marketing weapon in its arsenal.
That's what Hotels.com hopes to do with its Dream Vacation contest, offering five winners the chance to take the vacation of their dreams—literally. Winners will earn a virtual consultation with dream interpreters, who will then recommend a destination based on the winners' dreams.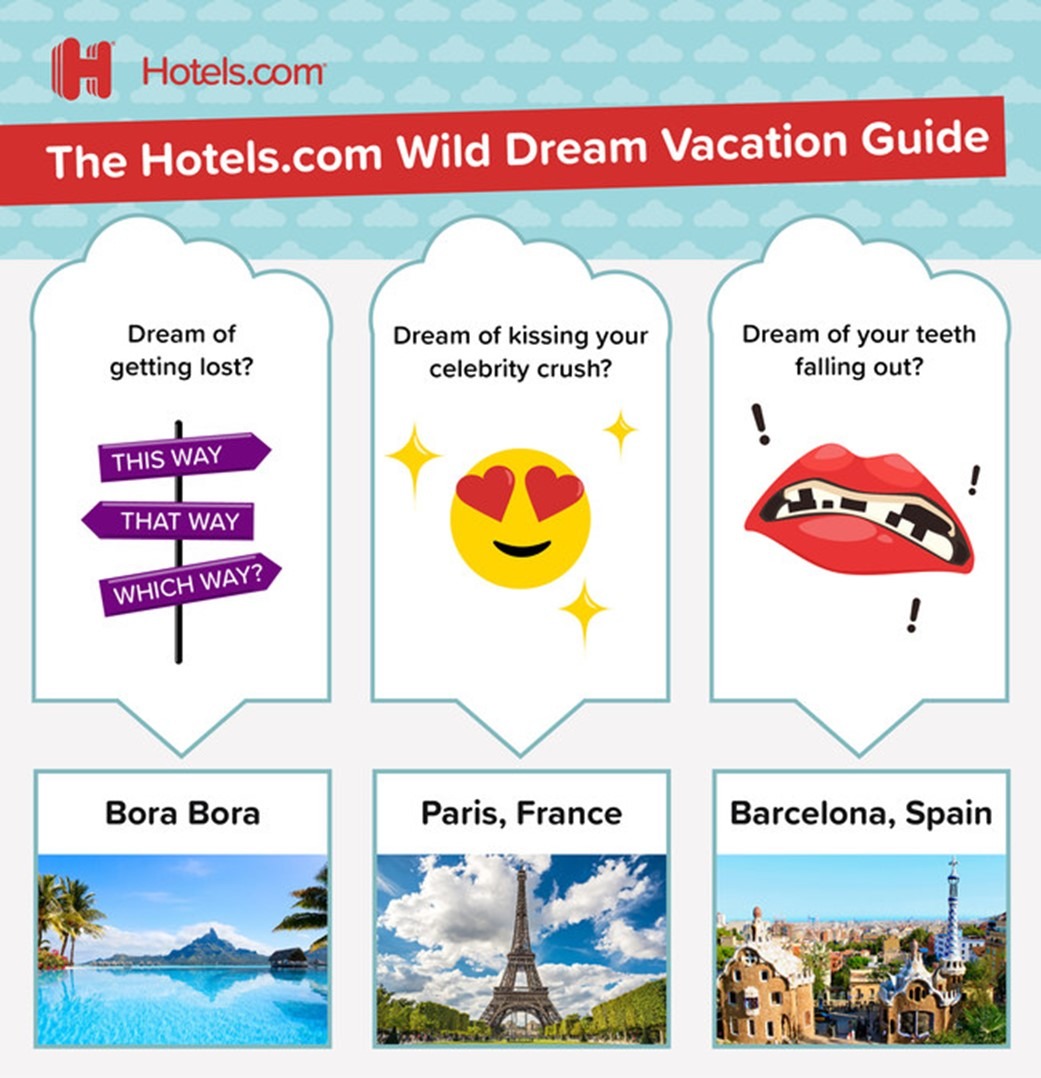 "We've all had those crazy, wild dreams that we can't explain, even more so in the past year," said Jennifer Dohm, head of PR and communications, North America. "Hotels.com is here to help you make sense of those subliminal thoughts and reward you with what your inner self really wants—a dream-worthy vacation.
The online hotel booking site claims that 47% of Americans have dreamt about travel over the past two months, and that 60% of travelers claim to have more relaxing dreams while on vacation.
Hotels.com has used its data to craft a fun and unique narrative (not unlike its clever 4/20 promotion). The contest ultimately serves as a reminder that surveying your audience with specific questions to your brand or industry allows you to build a campaign that resonates with a fun and unique tone, allowing your brand to stand out from competitors.
Ben & Jerry's PR lead offers insight on statement against white supremacy
On the first anniversary of George Floyd's murder, many brands and organizations are reflecting on their past year of messages that explain their DE&I initiatives and investments, along with statements of solidarity with activists who are doing the work to combat racial inequity and encourage social justice. Among those brands, Ben & Jerry's ice cream stood out for issuing a striking missive on its website that decried white supremacy.
Sean Greenwood, grand poohbah of PR for the ice cream brand, shared four reasons why its message was so well-received at Ragan's Diversity, Equity & Inclusion Virtual Conference on May 19.
The four pillars that made the statement effective, according to Greenwood, were:
You can't wait too long to speak up.
The stark language of the statement against white supremacy was able to break through.
Offer concrete steps your organization will take or support to address the issue. Ben & Jerry's called for several legislative actions and other reforms.
Be able to show how you are taking action internally to root out systemic oppression and racism. For example, Ben & Jerry's works to help support Black farmers who have been denied resources over generations leading to an underrepresentation in the farms that Ben & Jerry's can partner with for ingredients in its products.
Why it matters:
Greenwood challenges business leaders to use their platform to push for racial justice and other activist causes worthy of investment, which begs the question: How does leadership make that determination? It starts with communicators listening and having internal discussions with stakeholders, then tethering that feedback to tangible business outcomes.
Conduct surveys and listening sessions that provide a qualitative and quantitative view of stakeholder engagement around these issues, then put together a plan with KPIs that tie back to larger company goals. Connecting your social justice initiatives to the reputational impact that the work will have on your bottom line remains a more effective technique for engaging leadership than positioning the work as a moral issue.
---
MEASURED THOUGHTS
A study by Morning Consult has found that 64% of American adults plan to travel domestically this summer, up slightly from average, while just 16% of adults plan to travel internationally. Broken down by generation, 68% of millennials plan to travel domestically this summer, followed by Gen X (67%), Gen Z (62%) and boomers (61%). The inclination to travel also correlates with income, as 80% of those who make more than $100K plan to travel this summer compared to 73% the $50-$100K range and just 54% who earn less than $50K.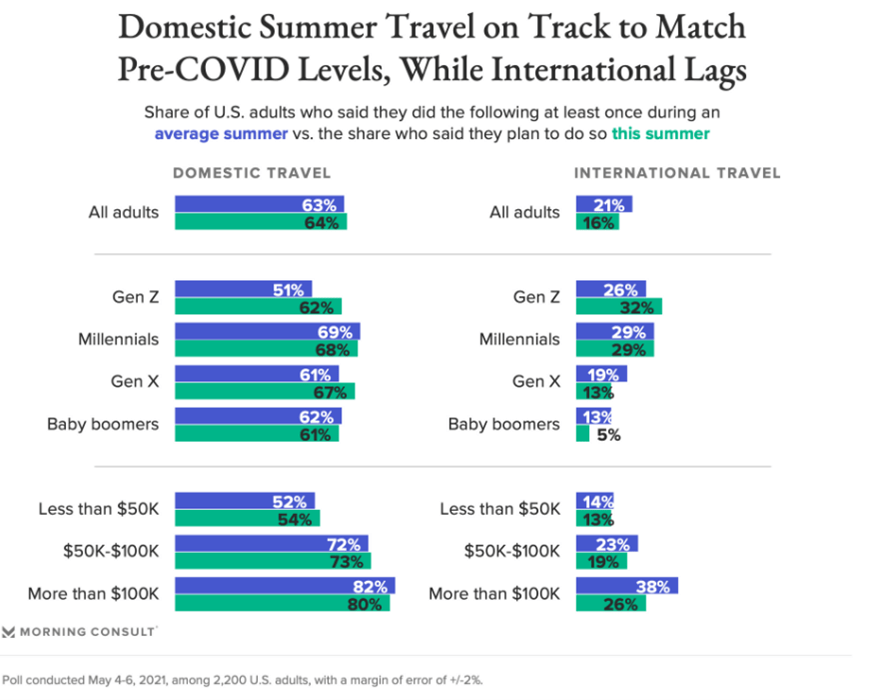 These numbers serve as a reminder that the comfort level of your stakeholders to travel will depend on countless factors, including income and age. Survey stakeholders about their willingness to travel to engage with your company or brand, and adjust your messaging around any real-life events or business offerings to acknowledge the distinct concerns of your audiences.
---
TACTICALLY SPEAKING
Joanna Griffiths, founder and CEO of e-commerce company Knix Wear Inc., was visibly pregnant with twins when her company needed to raise funds for its next phase of expansion. As a ground rule, she decided that any investor who expressed concerns over her ability to lead while pregnant would be disqualified from bidding.
"I don't care if they gave us the highest valuation, it didn't matter," Ms. Griffiths said. "If that's how they felt about me as an entrepreneur and as a female founder, they sure as hell were not going to understand the mission of Knix and what it is that we're trying to accomplish."

"I wanted to show myself and show other female founders that this is possible, that the world is starting to change, that you can raise money while you're pregnant, if you build a business that has metrics and you have a community that supports you."
Take note that every interaction with investors and partners is an opportunity for your brand or organization to live its values. Work with leadership whenever possible to conduct scenario trainings that ensure they are communicating with language and messaging that embodies the core values of your brand.
---
RAGAN'S 2021 BENCHMARK REPORT
Ragan has released its annual Communications Benchmark Report, an exclusive study from Ragan's Communications Leadership Council that analyzes the major trends in the profession over the last year.
During that time, comms pros have been called on to develop and distribute messages on new policies that affect internal and external stakeholders alike. Their role has become more essential as they helped keep their organizations focused and moving forward. They've seen their access to the C-suite increase throughout 2020, and they forged important new alliances with peers in other departments, including HR, finance and workplace wellness.
Culled from more than 750 respondents, the 32-page report is available in its entirety exclusively to members of the Communications Leadership Council.
Download your copy of the exclusive Benchmark Survey Executive Summary today and get a crucial competitive advantage that will fuel your success for 2021 and beyond.
---
SOCIAL BUZZ
Instagram has added new engagement insights for its Reels and Instagram Live broadcast features. Reels will provide metrics on plays, accounts reached, likes, comments, saves and shares. Live broadcasts will show accounts reached, peak concurrent viewers, comments and shares. Instagram will also include these metrics in the "Account Insights" section to provide a broader picture of how these numbers impact your account's performance.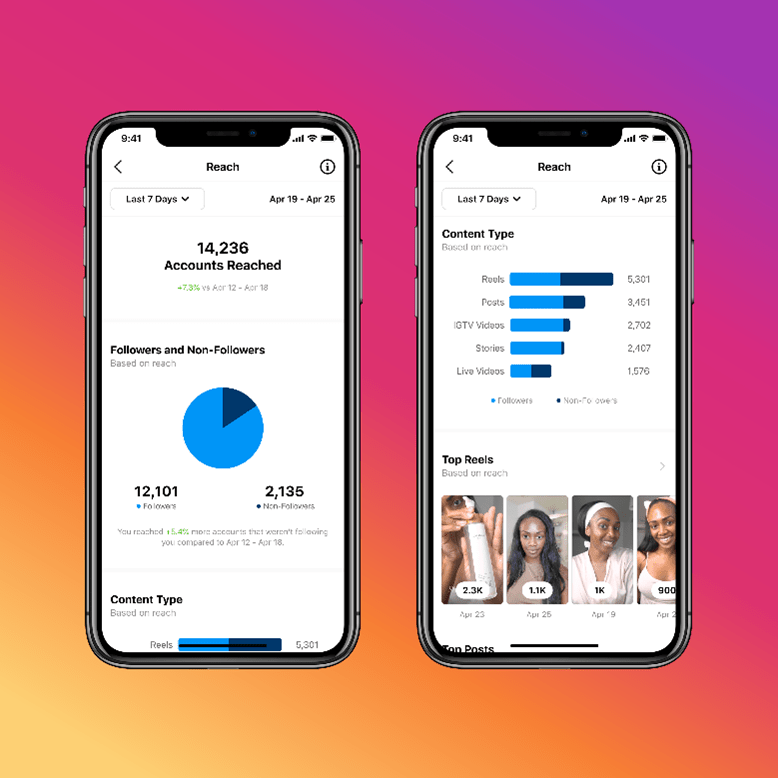 According to its press release:
We understand that Insights are a critical resource for creators and businesses looking to grow their audience and engage their followers. We will be continually updating the Insights experience throughout 2021 and beyond to better meet the needs of creators and businesses.
These new metrics serves as a reminder that your measurement strategy should be fluid enough to shift amid changing audiences, cultural developments and new products or features. Perform periodic testing to ensure that your data remains actionable and substantive, and continue refining the mix of metrics you evaluate until they combine to tell a story that helps communicate your successes.
---
COMMUNICATIONS WEEK
Ragan is delighted to add industry event and thought leadership brand Communications Week to our portfolio. You can read the full press release here.
"We are reimagining Communications Week as a year-round endeavor," says Ragan Communications CEO Diane Schwartz. "The rollout will begin next month with thought-provoking content on the future of communications on Commsweek.com, Ragan.com and PRDaily.com, culminating with a weeklong series in November that will feature conferences, networking events, workshops, webinars and more."
The flagship event for 2021 will take place Nov. 15-19. Stay tuned for updates on the many opportunities and offerings that will help communicators connect, learn and celebrate their achievements later this year.
NYC announces public schools will reopen, ending remote learning
New York City mayor Bill de Blasio has announced that NYC schools will reopen in the fall with no remote learning option available, citing increased vaccination rates for children. Officials added that no COVID-19-related teaching arrangements will be on the table for kids with unique home circumstances.
De Blasio broke the news on MSNBC's "Morning Joe":
.@nycmayor announces New York City schools will fully reopen in September without a remote option pic.twitter.com/DwKgHj8AHc

— Morning Joe (@Morning_Joe) May 24, 2021
Reporters provided more context for the announcement on Twitter:
Asked about de Blasio announcing full reopening of schools in September with no remote learning option for students, @NYGovCuomo says a statewide policy will be coming to govern all districts, but as of now he believes that's where things are headed & it is best for students.

— Ben Max (@TweetBenMax) May 24, 2021
I asked Mayor Bill de Blasio what he'd say to families who aren't ready to return to school in person this fall.
"We've got to understand we're leaving covid behind," and we can't stay in its grip forever, he says. It'll be like other diseases like the flu that are manageable.

— Emma G. Fitzsimmons (@emmagf) May 24, 2021
Worth noting that de Blasio's announcement today is a reversal – he's said for months he expected the city to have some kind of remote option in the fall. But he changed his mind over last few weeks as virus numbers plummeted and kids 12+ become eligible for the shot.

— Eliza Shapiro (@elizashapiro) May 24, 2021
What it means:
Despite playing up the fact that parents are eager to get their kids out of the house, Mayor de Blasio's current unwillingness to make any remote learning accommodations for families with special extenuating circumstances has echoes of Saks' and JP Morgan's requirements that employees return to the office without exception. These examples of inflexibility fails to acknowledge the complexity of individual experiences, instead pushing larger microtrends about city or industry rehabilitation. The message pursues an immediate reputational win while potentially sacrificing the goodwill of internal stakeholders who can prevent more permanent reputational damage in the future.
Messaging about reopening strategies should always begin with concern for your most vulnerable employees and stakeholders before reflecting other goals.
---
CONFERENCE ALERT
Communicators face a crossroads this year as they anticipate markets recovering and workplaces reopening. Their work crafting a flexible crisis plan and mindful messaging that ensures your brand or organization is ready to handle any future unforeseen situation smoothly will be essential.
Join us at Ragan's Crisis Communications Conference on June 10  to learn timely strategies to help you reimagine your approach to crisis communications, mobilize internal and external stakeholders to be your megaphone and foster goodwill—and make fresh plans for unforeseen obstacles that may arise.
Learn powerful insights and approaches from speakers at organizations including Carnival Cruise Line, KFC, IBM, Amtrak, Mastercard and more.
---
SOUNDING BOARD
Do you feel that your company has followed through on the DE&I and social justice goals it set over the past year, PR pros and communicators? Share your thoughts with us or take part in our anonymous Twitter poll.
Do you feel that your company has followed through on the DEI and social justice goals it set over the past year, PR pros and communicators? As a reminder, your responses are completely anonymous. #DailyScoop

— PR Daily (@PRDaily) May 25, 2021
COMMENT
2 Responses to "Ben & Jerry's offers tips on anti-racism statements, Americans report increased summer travel plans, and NYC schools eliminate remote learning"
Ronald N Levy

says:

It could be a good idea to have an answer if management asks you whether many customers may think White farmers are as deserving as Black farmers.

The multibillion dollar tech companies—Apple, Microsoft, Google, Amazon Facebook and others—are making PR decisions based on what seems fair. But public preference may be based, without most people consciously thinking about it, not so much on on "what's fair" but "what's best for me?"

That's not how it should be perhaps but top management may be more inclined to employ and reward PR realists rather than idealists.

If you run PR for a major company, your employer and your job may both be safer if you get your company to sponsor a huge health research project so 150 million Americans know they may live longer with less pain and more happiness if your company's project is successful.

If your PR for a project is especially effective, tens of millions of Americans may actually PRAY for your company's success. On the other had if you get management to back an initiative that millions of people dislike, those millions may gladly agree if some politicians say "those rich bastards" (i.e., big companies) should pay billions more each year and endure restrictive regulation that costs them and the public additional billions a year. Billions!

The PR challenge for top management is not just to favor "what's right" because several things may be right. The PR challenge is to favor a "what's right" option that helps the deserving without causing other millions to feel screwed.

Ronald N Levy

says:

When you answer with PR skill the public's question of "what's in this for us" about a public issue, you can protect not only powerful companies but also minorities who deserve more power than they have. The purity of our air and water affects rich and poor alike. So does the purity of our political leadership and judiciary.

A growing problem for our society is that "Black Lives Matter" advocates are in the ascendancy but do you see any group advocating persuasively that the lives of our leading corporations also matter?

Commuting to work tomorrow if we God forbid see an animal killed by traffic, millions of people will be upset all day. But if we read that three drug companies have been driven out of business by changes in patent laws, or that earnings of Amazon, Google and Facebook are being reduced by $10 billion a year each because of well-intentioned but stupid new antitrust laws favoring foreign companies over ours, millions of people won't be upset for even an hour if at all.

More PR is needed to sell realization that we are all in this life and this economy together. Many companies should each year send hundreds more executives to PR Daily and other courses in crisis management. At stake for major companies as some in government get more menacing: not just the corporate aspiration but the corporate ass.