Recording Academy introduces Grammys inclusion rider, newspapers make more money from circulation than ads, and Vrbo responds to elevator tragedy
Also: Molson-Coors retires 11 beer brands, Instagram shares successful business posts and Target offers employees debt-free educational assistance.
Hello, communicators:
Molson Coors has announced plans to retire 11 of its under-performing budget beer brands and instead lean more heavily into its premium beers and hard seltzers.
"This will improve our supply chain flexibility for our more profitable priority brands, enhance our innovation efforts, enable us to better focus resources and ensure dependable and on-time shipments to our distributors," Molson Coors CEO Gavin Hattersley said in a blog post.
"Distributors who sell brands like Magnum and Mickey's are going to feel it when they are discontinued," Hattersley added in an earnings call according to Food and Wine. "So, our local sales teams are partnering with distributors and retailers on a market-by-market basis on exit plans and to identify swaps that make sense."
Hattersley's positioning of this move as innovation and giving customers more of what they already want provides a textbook example of how to take potentially bad news and reframe the narrative in a positive light. His explanation of how local sales teams will partner with distributors to offset the loss of certain products, meanwhile, demonstrates mindfulness and consideration for all stakeholders, letting them know their concerns are being heard.
Recording Academy partners with Color of Change on inclusion rider
The Recording Academy has announced that its 64th Annual Grammy Awards in 2022 will be produced with an inclusion rider for the first time ever as part of the Academy's #ChangeMusicIniative created in partnership with nonprofit civil rights organization Color of Change. The inclusion riders will follow those used in the film and TV industries as tools to ensure diverse casting and hiring practices for productions, formalizing a contractual obligation for the Academy to audition and hire people onstage and offstage who have been "historically and systematically excluded from the industry," the Academy said in a press release.
The press release relied on partner organization Color of Change to deliver its message breaking down invisible barriers that hold back minorities:
"There are a lot of unwritten rules in the entertainment industry that create racial exclusion, and at Color of Change, we know that to change society you have to change the rules," said Rashad Robinson, president of Color of Change. "This inclusion rider is a written rule that will change the culture of hiring at the GRAMMYs, and will make inclusion the norm. We are proud to partner with the Recording Academy and hope that this joint effort inspires other entertainment industry leaders to join us in our fight for equity by adopting the Inclusion Rider."
Why it matters:
As The Grammy's years-long scandal regarding it DE&I issues came to a head this past March with the revelation of secret nominating committees that prompted a boycott led by The Weeknd, it became clear that The Recording Academy needed to partner with an outside organization to make meaningful change. The messaging from Color of Change's president emphasizes the utility of a tool like the inclusion rider to help set tangible, specific rules in order to influence your organization's larger cultural shifts, along with the importance of codifying your DE&I policies in writing.
---
MEASURED THOUGHTS
A recent study by Pew Research found that newspapers made more money from circulation than from advertising for the first time in 2020, with advertising earning just under $9 billion compared to $11 billion earned through subscriptions and sales. "For more than 50 years, U.S. newspapers had more annual revenue from advertising than from circulation (e.g., selling subscriptions or single issues)," the study found. "But with ad revenue in a long-term decline and circulation revenue holding steady, the two streams finally crossed in 2020."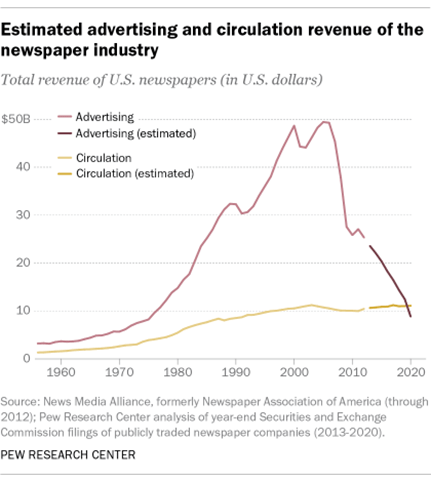 These numbers serve as a reminder that publications are moving away from reliance on traditional advertising methods, many of which rely on the collection of third-party data that companies such as Google are in the process of doing away with, in favor of earning revenue based on direct membership and subscription offerings to their audiences. The data also serves as a reminder that investing in your earned media efforts is still a viable promotional tactic, while your paid media efforts should lean into branded and sponsored posts that still offer editorial value to the reader and function as standalone stories.
Check out the full study here.
---
SOCIAL BUZZ
Instagram has added a new guide to the app's "Professional Dashboard" feature that highlights examples of well-performing organic and promoted posts from brands. The "See How Others Connect With People" guide can be accessed within the "Stay Informed" section.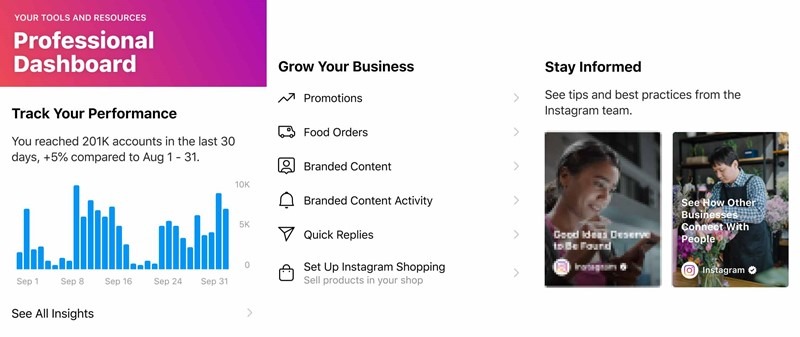 After tapping on the image, users will be able to see examples of exemplary brand posts. Tapping on each example allows you to scroll down and see more, while the guide also includes CTA buttons to create your own post: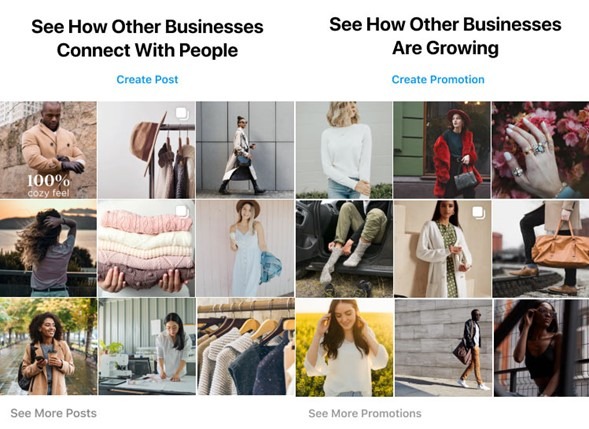 This new way of surfacing quality content is part of Instagram's ongoing commitment to build a suite of solutions to help businesses of all sizes unlock their potential. In addition to surfacing content, we also want to ensure that our community is empowered to use their prior performance to help shape future content.
Instagram's new guide offers a visual example of how crafting educational, instructive resources for users can deepen their relationship with your products and increase engagement. The artful inclusion of a CTA button at the bottom of the brand examples, meanwhile, highlights the importance of communicating your user's journey to the web team that designs your user interface and placing action items at strategic points in the customer journey.
---
TAKE OUR SURVEY
The Institute for Public Relations, Ragan Communications, and the University of Florida are conducting a follow-up survey to their 2020 report, "The Career Path of a Social Media Professional."
This year's survey investigates and illuminates the career path potential of social media professionals, shedding light on how social media is being managed, viewed and evaluated within organizations. Here are some highlights from our 2020 report.
We invite you to take this survey whether you're in charge of social media for your company or are involved in some aspect of social media for a client. The survey should take approximately 15-20 minutes to complete, and all responses will remain confidential.
As thanks for taking the survey, you'll get an opportunity to enter a drawing for three $50 gift cards and will receive a copy of the full report, which promises to be chock-full of valuable data for benchmarking and budgeting purposes. The report will be presented on Sept. 9, 2021 at Ragan's Social Media Conference in Orlando, Florida and published through IPR and PR Daily.
---
TACTICALLY SPEAKING
Target has announced plans to launch an education assistance program for all U.S. part-time and full-time team members that includes debt-free undergraduate degrees, certificates, certifications, free textbooks and more from their first day of work at Target. The program will include more than 40 schools, colleges and universities including the University of Arizona, Oregon State University, University of Denver and eCornell along with HBCUs Morehouse College, Paul Quinn College and more. As part of the program, Target promises direct payments of up to $5,250 each year for non-master's degrees and $10,000 for master's degrees.
Target also shared an infographic intended to make the program's specifics easier to digest: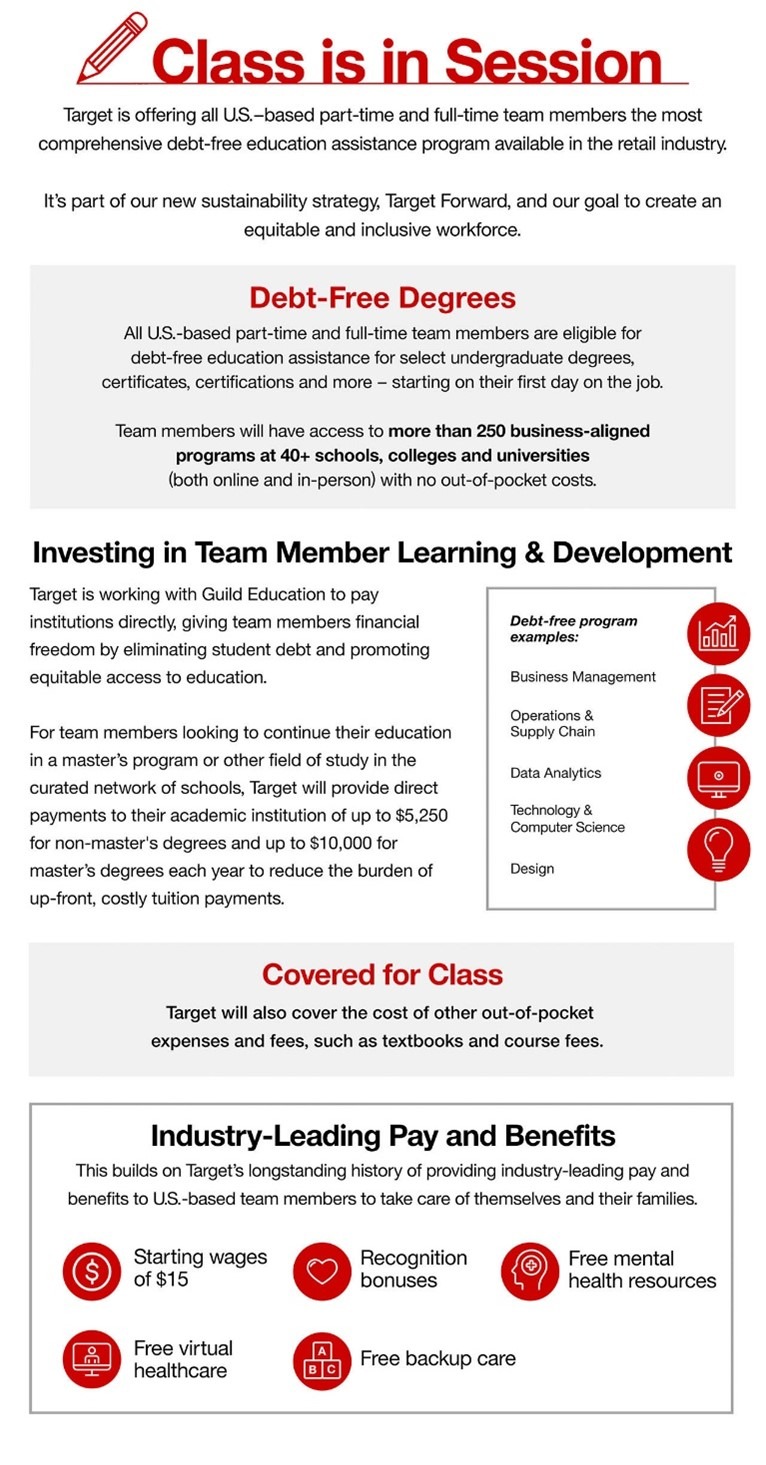 According to its press release:
"Target employs team members at every life stage and helps our team learn, develop and build their skills, whether they're with us for a year or a career. A significant number of our hourly team members build their careers at Target, and we know many would like to pursue additional education opportunities. We don't want the cost to be a barrier for anyone, and that's where Target can step in to make education accessible for everyone," said Melissa Kremer, chief human resources officer, Target. "Our team members are the heart of Target's strategy and success, and we have a long history of investing in industry-leading pay, extensive benefits and career opportunities to help our team thrive and have rewarding careers at Target."
Though Target's education program doesn't go as far as Walmart's education program to offer full college tuition to all employees, Target's infographic and transparency around maximum costs, along with the inclusion of HBCUs in its list of schools, improve upon Walmart's announcement while advancing the conversation about student debt relief.
Target's campaign also serves as a reminder that there can be an advantage to not being the first in your industry to announce a new purpose initiative, as it allows you to iterate and improve upon your competitor's communication strategies.
---
RAGAN'S 2021 BENCHMARK REPORT
Ragan has released its annual Communications Benchmark Report, an exclusive study from Ragan's Communications Leadership Council that analyzes the major trends in the profession over the last year.
During that time, comms pros have been called on to develop and distribute messages on new policies that affect internal and external stakeholders alike. Their role has become more essential as they helped keep their organizations focused and moving forward. They've seen their access to the C-suite increase throughout 2020, and they forged important new alliances with peers in other departments, including HR, finance and workplace wellness.
Culled from more than 750 respondents, the 32-page report is available in its entirety exclusively to members of the Communications Leadership Council.
Download your copy of the exclusive Benchmark Survey Executive Summary today and get a crucial competitive advantage that will fuel your success for 2021 and beyond.
Vacation rental companies respond to calls for elevator safety following child's death
The U.S Consumer Product Safety Commission (CPSC) has written a letter to Airbnb, Vrbo, TripAdvisor and other short-term rental platforms asking them to require that property owners shut down home elevators following the death of a 7-year old boy who was trapped between an elevator car and elevator shaft inside a North Carolina vacation rental.
"Residential elevators can pose a deadly but unforeseen hazard to children, particularly children who are encountering them in vacation or rental homes," Robert Adler, acting chairman of the independent regulatory agency, said in the letter. "I reach out to you, not as a regulator, but in the hopes that you will join us in ensuring that children are safe in rentals on your platform."
Airbnb said it had received CPSC's letter and was reviewing its contents.

TripAdvisor offered a similar reaction, saying in an emailed statement to CBS MoneyWatch that it was reviewing how the recommendations "might be applied to our vacation rental owner policies."

Vrbo, however, quickly committed to at least some of the CPSC's suggestions.

"We will share important elevator safety information with property owners who have residential elevators. This will include a recommendation to disable elevators until they can be properly inspected and common safety issues addressed. Vrbo has also posted elevator safety information to our Trust & Safety page, accessible by all guests. Our terms require property owners to abide by all safety-related laws and to keep equipment safe and in working order with regular maintenance," it stated.
True to its word, Vrbo updated its Trust & Safety page with guidance from the CPSC the same day:
If you have not done so recently, please have a qualified elevator inspector examine your residential elevator for potential safety hazards to ensure they meet the latest safety code requirements and guidance. In addition to following all local regulations, the Consumer Product Safety Commission asks you to disable elevator equipment if you have not had a recent elevator inspection. They also ask that space guards be placed on the back of the door and electronic monitoring devices be installed that deactivate the elevator if something is detected in the gap between the exterior and interior doors. Emergency call buttons in the elevator should be working properly and tested often. Please also inform guests about the proper operation of the elevator equipment and about any elevator safety measures you have in place. As a reminder, our terms require property owners to abide by all safety-related laws and to keep equipment safe and in working order with regular maintenance.
What it means:
As Vrbo's revised guidance demonstrates, communicating the concerns of the regulator directly with your stakeholders not only strengthens the function of both partnerships, but lets your community know that your company or organization isn't putting the needs of some stakeholders above others.
---
WHAT YOU SAID
Yesterday we asked if you and your leadership have discussed requiring employees to show proof of vaccination before returning your workplace. While a majority (40%) said that you already are, 33% said that you plan to and 20% said that you haven't had such discussions because it has already been made clear that proof of vaccinations is not happening. Meanwhile, 7% of you plan to have those discussions soon.
Considering NYC's unprecedented vaccination requirements for indoor activities, have you and your leadership discussed requiring employees to show proof of vaccination before returning your workplace, PR pros and communicators? #DailyScoop

— PR Daily (@PRDaily) August 4, 2021
Is there a question you'd like to see asked? Let us know using the hashtag #DailyScoop!
COMMENT
One Response to "Recording Academy introduces Grammys inclusion rider, newspapers make more money from circulation than ads, and Vrbo responds to elevator tragedy"
Ronald N Levy

says:

If you were hiring, which would you rather employ—a former Cuomo staffer or political ally who has turned against him or one who stayed and is defending him?

If you were voting whether or not to impeach, would you vote to oust Cuomo although the attorney general has reported no breach of law, or because 11 women said–without our attorney general finding evidence of any crime after a multimillion dollar investigation–he made them feel uncomfortable?

If you were selecting a PR firm for a country, would you pick one of those that promptly resigned the Saudi Arabia account when it was accused of killing Khashoggi, perhaps not for guilt despite what he admitted in writing but killed him perhaps for no reason at all, or would you prefer a PR firm that stays with and defends clients who are accused and tells their side of the story?