Roku, Spotify back antitrust moves to break up big tech, Americans consider data security a top issue, and Lin-Manuel Miranda apologizes for lack of representation
Also: Pride campaigns focus on LGBTQ+ homelessness, Philips issues ventilator recall, and Texas energy company ERCOT is slammed on Twitter.
Hello, communicators:
Halfway through Pride Month, brands continue to introduce campaigns that attempt to provide value and support to the LGBTQ+ community. One area where organizations are hoping to shine a light is on LGBTQ+ youth currently experiencing homelessness.
Dannone North America's plant-based beverage brand Silk is donating $100,000 to True Colors United, supporting the nonprofit's mission to help LGBTQ+ homeless youth through education, advocacy and leadership development program. It has also launched a virtual Pride parade on its social channels that amplifies True Colors United's mission and shares its story. Dannone's So Delicious Dairy Free brand, meanwhile, is donating to Denver-based nonprofit Urban Peak, which also works to end youth homelessness.
View this post on Instagram
Digital wedding planning platform The Knot has also launched a Pride campaign aimed at helping combat LGBTQ+ homelessness by partnering with the Ali Forney Center, the largest LGBTQ+ community center helping LGBTQ+ homeless youth in the U.S., to create a wish list of necessities like bedding and towels that users can purchase and donate to the center's emergency and transitional housing program The registry also includes a GoFundMe where people can donate funds directly to the center.
Each of these campaigns supports recent survey findings that consumers care more about a company's statements, partnerships and initiatives when it comes to Pride Month than the Pride-related products it releases. Providing true support to a community with your purpose work involves looking at the issues and conversations affecting that community in greater numbers and focusing your efforts there to make a demonstrable impact.
Here are today's top stories:
Roku and Spotify share support for antitrust bills targeting big tech
A bipartisan group of US lawmakers have announced five antitrust bills that attempt to regulate the power of big tech companies Apple, Facebook, Google and Amazon. If passed, the bills will make it easier for the government to break up large companies and prevent them to engage in what critics say are anti-competitive practices, like early competitor acquisitions, discriminating against rivals on their respective platforms and more.
While the big four tech companies have yet to comment, smaller competitors who have been impacted by big tech's dominance are speaking out.
Roku, which is currently in a standoff with Google over a deal to keep hosting the YouTube TV app on its streaming devices, called the bills a crucial step to curbing predatory behavior. "Roku has firsthand experience competing against and interacting with these monopolists," the company said in a statement. "We've seen how they flagrantly ignore antitrust laws and harm consumers by leveraging their dominance in one line of business to stifle competition in another."

Spotify, which has been a vocal critic of Apple's actions in its App Store, called the proposals a "clear sign that momentum has shifted" after "anticompetitive practices have gone unchecked for too long, stifling competition and threatening innovation."
Why it matters:
Sometimes advocating for change in your industry involves calling out industry leaders who are negatively impacting your business, as Roku has proven with its past public statements about Google. When communicating about bad faith industry practices, offer examples beyond your own company's experience and relationship with those competitors to show how the breadth of the conflict goes beyond your company's individual motivations and represents a wider issue.
---
MEASURED THOUGHTS
In a report by Fleishman Hillard, 57% of informed consumers said that data security is a top issue to them, while 55% said data privacy was a priority. Forty-eight percent expect companies to take a stand on data security and 47% expect companies to take a stand on data privacy.
These numbers position data security and privacy as greater concerns than health care, education, climate change, employment rights, DE&I and much more.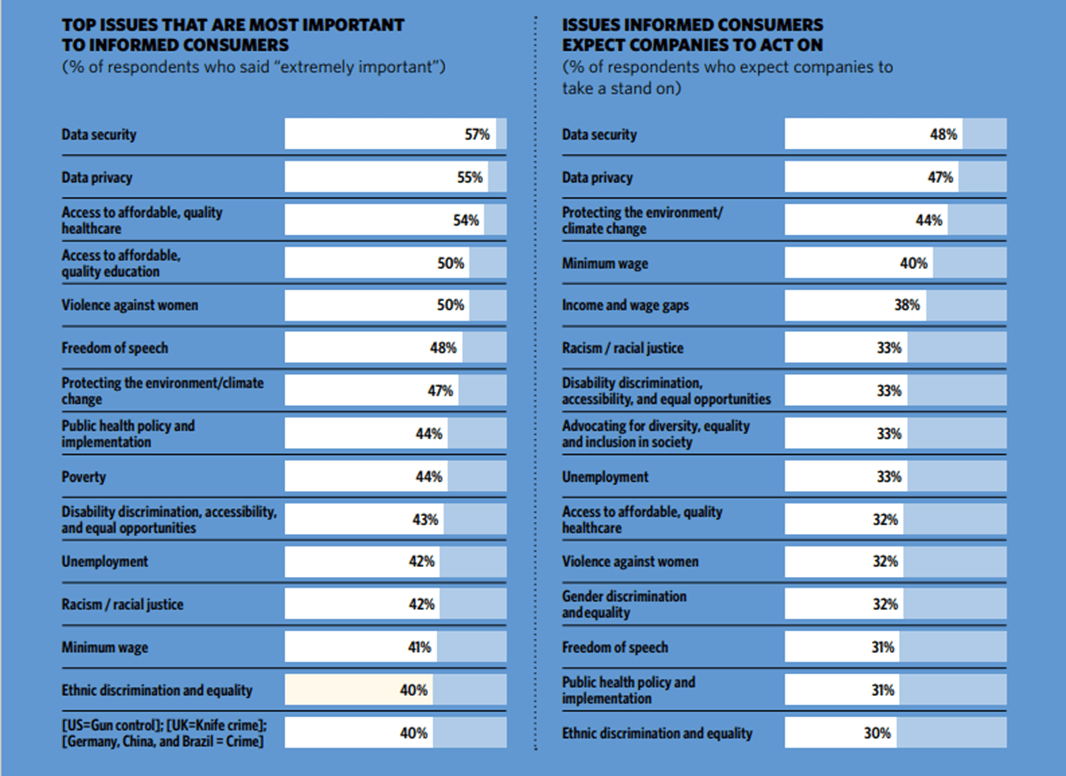 These numbers, coupled with multiple recent examples of cybersecurity attacks on everything from oil pipelines to fast food, highlight the fact that security concerns are an industry-agnostic issue that all communicators must develop an understanding and messaging plan to address sooner rather than later.
---
CRISIS COMMUNICATIONS
Medical equipment company Philips has issued a recall on as many as 4 million breathing devices and ventilators because of a foam part that can become toxic when it degrades,  increasing cancer risks.
"We're going to put all our capacity to focus entirely on replacing and repairing these units," [Philips Chief Executive Frans] Van Houten said in a call, a process he said would likely take a year. That "has a consequence that we will not be able to serve new customers, so there's going to be a shortage in the field."

"Philips has received reports of possible patient impact due to foam degradation," the company said in a statement. "To date, there have been no reports of death as a result of these issues." The company said the matter would cause "revenue headwinds" in the division making the devices but that would be compensated by strength in other businesses.
Philips' communications emphasized that the recall was a preventative measure and addressed the impact it would have on shareholders, showing care for both consumers and investors.
---
RAGAN'S 2021 BENCHMARK REPORT
Ragan has released its annual Communications Benchmark Report, an exclusive study from Ragan's Communications Leadership Council that analyzes the major trends in the profession over the last year.
During that time, comms pros have been called on to develop and distribute messages on new policies that affect internal and external stakeholders alike. Their role has become more essential as they helped keep their organizations focused and moving forward. They've seen their access to the C-suite increase throughout 2020, and they forged important new alliances with peers in other departments, including HR, finance and workplace wellness.
Culled from more than 750 respondents, the 32-page report is available in its entirety exclusively to members of the Communications Leadership Council.
Download your copy of the exclusive Benchmark Survey Executive Summary today and get a crucial competitive advantage that will fuel your success for 2021 and beyond.
---
SOCIAL BUZZ
The Electric Reliability Council of Texas (ERCOT) trended on Twitter last night after issuing a warning to customers that multiple power grids are offline for June and urging them to conserve power use:
https://twitter.com/ERCOT_ISO/status/1404499209403961352
BREAKING: ERCOT is now asking people to conserve electricity through Friday, saying there are a significant number of power plants offline and expecting possible record use for June. pic.twitter.com/zWZkf0bkPq

— Matt Largey (@mattlargey) June 14, 2021
Many recalled ERCOT's issues in February, when severe flooding left many without power for days during the cold weather:
ERCOT: our infrastructure was simply not designed for temperatures this cold

also ERCOT: our infrastructure was simply not designed for temperatures this hot

— wife Geist (@wife_geist) June 14, 2021
— anna!! (@M_asinMerry) June 14, 2021
Others pointed out that the regional utility service trending nationally online meant it had failed to communicate properly:
gee, that whole "we don't want to be part of the national grid because we don't want to be subject to federal mandates" is certainly not looking like a great strategy these days.

— Pé (@4everNeverTrump) June 14, 2021
Everything I have learned about ERCOT has been against my will pic.twitter.com/RkOcg273e7

— Spooky Suz (@spookysuz) June 14, 2021
ercot social media intern after tweeting that tweet pic.twitter.com/6ujoXOLs6j

— Nic Hates Spring (@pumpkinking39) June 14, 2021
ERCOT's latest communications misfire serves as a reminder that your crises don't live in a vacuum, and stakeholders will remember the last round of mishaps whether you acknowledge it or not. Be sure to measure audience sentiment before asking them for any help or show of goodwill to ensure the ask will not fall on deaf ears and further hurt your brand reputation.
---
COMMUNICATIONS WEEK
Ragan is delighted to add industry event and thought leadership brand Communications Week to our portfolio. You can read the full press release here.
"We are reimagining Communications Week as a year-round endeavor," says Ragan Communications CEO Diane Schwartz. "The rollout will begin next month with thought-provoking content on the future of communications on Commsweek.com, Ragan.com and PRDaily.com, culminating with a weeklong series in November that will feature conferences, networking events, workshops, webinars and more."
The flagship event for 2021 will take place Nov. 15-19. Stay tuned for updates on the many opportunities and offerings that will help communicators connect, learn and celebrate their achievements later this year.
Lin-Manuel Miranda apologizes for colorism in 'In The Heights' casting
Actor, writer and performer Lin-Manuel Miranda has apologized to critics of his film "In The Heights" who have accused Miranda of colorism in his casting of Afro-Latinx residents of Manhattan's Washington Heights neighborhood, where the film takes place. Merriam-Webster defines colorism as "prejudice or discrimination especially within a racial or ethnic group favoring people with lighter skin over those with darker skin."
Miranda responded on Twitter:
-LMM pic.twitter.com/CHfdLgFUz3

— Lin-Manuel Miranda (@Lin_Manuel) June 14, 2021
Leslie Grace, who is Afro-Latina and plays Nina, diplomatically addresses the colorism at play in this film and Hollywood at large, saying, "I didn't realize until making this movie that I didn't really get to see myself or people that looked like my siblings, that are darker than me, onscreen." She adds, "I hope that this is cracking that glass ceiling. Because I do hope to see my brothers and sisters that are darker than me lead these movies.
What it means:
Miranda and the "In the Heights" cast's responses serve as a reminder that representation and diversity can be nuanced and complex when looking to speak to specific communities. Treat each project, campaign and piece of outreach as another opportunity to educate yourself on the nuances of various communities and unlearn the biases and assumptions that may have made the community seem monolithic from your initial outside perspective.
If it's time to apologize, take care to explain your intentions without explaining away the criticisms you face in the first place, and validate them while making space and opportunity for future conversations with the community in question to take place.
---
WHAT YOU SAID
Yesterday, we asked if you have ever crafted a messaging strategy in the event of a cybersecurity attack. Over half (57%) of you said that you hadn't, while 21% said you have crafted holding statements and crisis plans in anticipation of cybersecurity incidents and 21% have just crafted crisis plans.
Have you crafted a messaging strategy in the event of a cybersecurity attack, PR pros and communicators? #DailyScoop

— PR Daily (@PRDaily) June 14, 2021
Is there a question you'd like to see asked? Let us know by tagging #DailyScoop!
COMMENT
One Response to "Roku, Spotify back antitrust moves to break up big tech, Americans consider data security a top issue, and Lin-Manuel Miranda apologizes for lack of representation"
Ronald N Levy

says:

Who gives a damn? That's a fascinating PR problem whether you want to attack or defend on antitrust grounds. If over 99% of Americans care more about their health, money, love lives or deficits in these areas, how can you get people interested in supporting your company's position about antitrust?

You can face a similar apathy if you face a Washington PR danger like proposals to (a) "lower consumer prices" by reducing patent protection that "gives patent holders monopoly power," or (b) "tax the rich more" because billion dollar companies can "easily afford it," or (c) "break up monopolies"—the way Roku and Spotify target Apple, Facebook, Google and Amazon—to give the "little guys" more of a chance.

Billion dollar companies like Roku and Spotify aren't little guys, nor able to do for the public what Apple, Facebook, Google and Amazon are doing for the public, but who cares much? Most people have much bigger problems.

Corporate executives are making two major blunders:

PR Blunder A: Focusing on rational defensive arguments although public decisions are often more emotional than rational.

PR Blunder B: Corporate lawyers prepare economics arguments and "fairness to our companies" arguments but over 80% of the public may not understand economics (even many of my Wharton classmates didn't get an "A" in it) or worry much about "fairness" to billionaire companies. So who gives a damn?

Fortunately, there is plenty that companies can do to win against proposals to break up the big guys, tax them more and restrict them further. God forbid restricting the freedom of big hospitals and big universities to help us but "billionaire companies" seem more remote and give us help that's less personal. So we can adopt the successful PR wisdom of great PR teams like Omnicom, WPP, Interpublic, Publicis, APCO, Qorvis, Finn and others: The public decides public policy questions based not on economic and legal theories but based on the public's judgment of "what's best for ME?"

It's protective to be a hero. The public loves heroes of sports, medicine,
war, earning money and more. Most of all the public loves heroes who PROTECT THE PUBLIC so if you show people how you do that, you can win over 100 million enthusiastic fans.

Health is big with the public so one successful approach is to show the public HERE'S HOW YOU MAY BENEFIT if our laws protect this company so it continues protecting our health. You could get the superbly trained army of a great PR firm to announce: (a) if you're an average American you have about one chance in five of eventual death from cancer which can be very painful but (b) a cancer vaccine could improve your chances to one in 10 or even one in 25 or much more so (c) our company will be spending $100 million a year for each of the next 10 years in a "Vaccine for Victory" program at America's Memorial Sloan Kettering Cancer Center.

Look what could happen:

.1. Your announcement would likely get page one and evening TV coverage worldwide.

.2. You could have national media interviews—including what people can do to avoid cancer and to detect it early—with medical experts from your company and the big anti-cancer research team of Dr. Andrew Zelenetz at MSKCC.

.3. Your doctors could credential 1,000 U.S. doctors and 1,000 abroad to
do local media interviews and give protective lectures to local groups.

.4. Every three months the Apple (or whatever name) Anti-Cancer Institute of MSKCC can do a briefing of worldwide media on breakthroughs and progress.

.5. Political leaders of both parties, federal and regional, can be recruited and designated as heads of anti-cancer protective groups in their districts.

.6. Schools and universities can have essay contests and art contests
to support your fight for a cancer vaccine, and churches can hold prayer vigils.
Country clubs could hold fundraisers.

There are obviously many additional opportunities that could bring a multi-city PR firm fees of more than $10 million a year for ten years with additional work by hundreds of local PR teams—and more importantly the sponsoring company and managing PR firm would help PROTECT the world's six billion people against cancer and PROTECT the company against Washington action that could harm the public and the company.

Can you imagine the justified pride of employees and their families—plus
that of customers, suppliers and stockholders—if a company does this to make the world a better place?