Southwest Airlines proposes pay cuts to avoid furloughs, new features for Instagram's 10th birthday, and Eskimo Pie renamed 'Edy's Pie'
Also: Studios delay theatrical releases due to COVID-19, Google rebrands digital workspace offering to compete with Microsoft, women are underrepresented in the C-suite, and more.
Hello, communicators:
Following similar moves by Quaker Oats, Mars, the Washington Football Team and more, Dreyers Grand Ice Cream announced it's changing the name of its Eskimo Pie bars to "Edy's Pie."
"The name Edy's Pie was chosen in honor of one of our company's founders, candy maker Joseph Edy, as well as a form of tribute to the entrepreneurial origins of this treat," [Elizabell Marquez, head of marketing for Dreyer's Grand Ice Cream] told TODAY. "The Eskimo Pie was created over 100 years ago by a candy store owner who wanted to appease a young boy's indecision on whether to buy ice cream or a chocolate bar with his nickel—he invented a way to coat ice cream with melted chocolate, and the rest was history."
The company, which stopped the products' production while it overhauled the branding to be more inclusive, said the bars with the new packaging will be available in 2021.
Here are today's top stories:
Southwest pitches pay cuts to avoid furloughs
 The airline proposed salary reductions to its labor unions, announcing it could avoid layoffs through 2021 or longer, if employees agree to the pay cuts. In a video news release, Gary Kelly, Southwest Airlines' chief executive, said:
Our Southwest warriors have done everything that we asked, and you all have performed magnificently. You are our heroes. And now it's time for us to do what must be done to save Southwest Airlines.
Along with asking union employees to decreased salaries, executives and other leaders are also taking pay cuts.
Kelly is reducing his base salary to zero through the end of 2021 and continuing a 20% cut in senior executives' pay through next year. The airline is also reducing all leadership group salaries by 10% until Jan. 1, 2022, when he said they will return to the current level.
Why it's important: As organizations extend their business continuity plans and crisis strategies to next year as COVID-19 continues, make sure to connect your employees to your values and mission. Elicit and incorporate employee feedback, too. That way, when you ask your employees to decrease their salaries to help save the organization, you'll have trust and confidence in supply.
---
TACTICALLY SPEAKING
 Several studios have announced theatrical delays. MGM and Universal have delayed until 2021 the latest James Bond film, "No Time to Die." The move not only caused Cineworld to shutter its doors in the United States and United Kingdom, but also sparked several additional delays and cancelations.
Denis Villeneuve's adaptation of sci-fi epic "Dune" was originally meant to come out this December, but has been pushed back to October 2021, taking the slot originally earmarked for Robert Pattinson's debut as the Caped Crusader. "The Batman" is now expected to grace our screens in March 2022 instead. With Dune and Wes Anderson's quirky comedy-drama "The French Dispatch" now both moved to next year, 2020 will be the first year since 2014 without a new Timothée Chalamet release.
Netflix has also canceled the final season of "Glow" due to COVID-19 production issues.
"We've made the difficult decision not to do a fourth season of 'GLOW' due to COVID, which makes shooting this physically intimate show with its large ensemble cast especially challenging," a Netflix spokesperson said in a statement. "We are so grateful to creators Liz Flahive and Carly Mensch, Jenji Kohan and all the writers, cast and crew for sharing this story about the incredible women of 'GLOW' with us and the world."
---
MEASURED THOUGHTS
 McKinsey & Company partnered with LeanIn.org for its recent "Women in the Workplace 2020" report, which revealed that because of the COVID-19 crisis, one in four women are considering "downshifting their careers or leaving the workforce completely."
That impending career shift, combined with "only modest signs of progress" in women's representation in the C-suite within the past five years, signals a continuing issue for diversity, equity and inclusion efforts for employees moving up the corporate ladder.
Women and women of color also continue to be underrepresented in leadership roles, as compared to their make counterparts: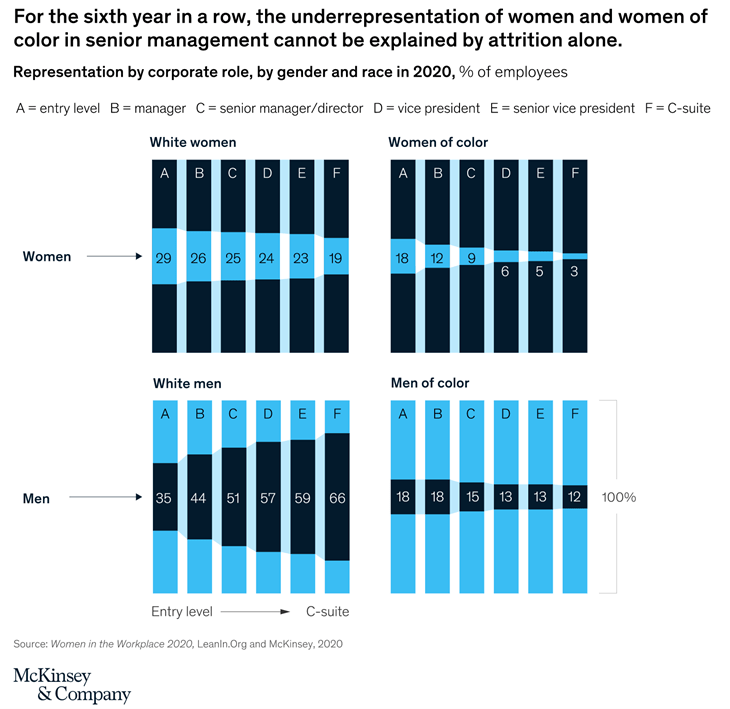 Image courtesy of McKinsey & Company.
 You can view the entire report here.
---
CRISIS LEADERSHIP NETWORK
Looking for more insight on how to address the current global crisis and lead your organization into a strong recovery?
Join Ragan's Crisis Leadership Network to network and brainstorm with peers, get the latest intelligence and research and start to strategize for the future of your organization.
Learn more about this exclusive membership here.
Instagram offers new features to mark 10th anniversary
 The social media app celebrated a decade of its users "pushing culture forward" with a thank-you note from Adam Mosseri, head of Instagram, as well as offering users different logos to use for the app, including Instagram's classic Polaroid-inspired logo.
The platform is also looking to the future with new features meant to cut down on harassment, collect the Stories users have shared throughout the year, and increase opportunities to purchase products and services.
In a blog post, Mosseri wrote:
Right now, we're witnessing enormous shifts in how people create and enjoy culture. One of the most profound is the shift of power from the organization to the individual. Athletes are arguably more relevant than teams. Artists can showcase their work without galleries or museums. Musicians have ways to reach people without labels. Culture is the collection of stories we tell, and we believe everyone has something worth saying. But it's often young people and creators who spark those conversations. They set the trends; they signal what's next.

To keep pace with what's next, we have to adapt, too. Instagram's home was designed at a different moment. Over the coming months, you'll see some major changes from us, like tabs for Reels and shopping, and some big improvements to messaging. We'll look to accelerate ways for creators to make a living and for small businesses to sell their products. Through all these changes, our community will remain the heart of Instagram, and we'll stay focused on keeping people safe and building new features that fight bullying, improve equity, address fairness, and help people feel supported.
 Why it's important: You can also "keep pace with what's next" by partnering with content creators, influencers and brand ambassadors, which many consumers are turning to as they search for and purchase products and services online. Look for ways to marry that content with social media campaigns pushed through your organization's branded accounts.
---
DOWNLOAD OUR REPORT
Though 70% of communicators are not looking beyond 2020 in terms of strategic planning, they also don't expect our current state of crisis to ease up by the end of the year. Operating in a constant state of crisis and rapidly responding to events throughout the world are top challenges for communicators, our recent report, Ragan Survey of Internal Communicators, revealed.
The survey sheds light on top challenges, with insights including top issues, what the "return to the office" looks like, which departments internal communicators will collaborate with the most and more.
To learn more about how to rise to the challenges facing organizations across industries, join us at Ragan's Internal Communications & Employee Experience Virtual Conference on Oct. 14. You'll learn from internal and employee communications experts from National DCP, Deloitte, Charles Schwab, American Psychological Association and more.
---
SOCIAL BUZZ
 Google has renamed its G Suite to "Google Workspace" to complete with Microsoft Office.
Along with the new branding for the product that encompasses Gmail, Docs, Meet, Sheets, and Calendar are new features designed to make all those products feel like they're more integrated with one another. Google is also changing up its pricing tiers just a bit, adding a new "Business Plus" level with more device management features.

As an example of the new features, a Chat window can spawn a new document for everybody in the group without needing a new tab. And in Google Docs, instead of chasing each others' cursors around or opening up a chat window, you can immediately just start a video call right in the same window for everybody who's active in the document.
A new logo also incorporates Google's colors and the combination of digital workspace solutions:
---
EDITOR'S PICKS
Yoga is a fantastic way to increase your flexibility and strength while improving your posture and reducing stress. Practicing for 12-20 minutes a day can help both your physical and mental wellness, especially as you deal with continuing crises while you work from home during COVID-19. Complete a traditional routine or incorporate yoga stretches at your desk.
These items can help you channel your inner yogi:
---
WHAT YOU SAID
 We asked if you have a digital newsroom or corporate blog, and nearly 53% of you do, with almost 12% of you opting for a wire service instead and 12% aiming to create a digital newsroom. Roughly 23% of you don't have one and don't anticipate adding one.
Do you have a digital newsroom or corporate blog for updates and storytelling efforts?

Show off your efforts below and we'll share in tomorrow's #DailyScoop.

— PR Daily (@PRDaily) October 5, 2020
ARPR said it uses both a digital newsroom and blog, the latter of which boosts its thought leadership and content strategies:
We have both! Our blogs give everyone in the agency a platform for their thought leadership. https://t.co/8SCR1RwuYP

— ARPR (@AR__PR) October 5, 2020
Is there a question you'd like us to ask in an upcoming poll? Let us know!
---
SOUNDING BOARD
Are you measuring and reporting on your PR and communications efforts more or less during COVID-19?
Are you measuring and reporting on your PR and communications efforts more or less during COVID-19?

Weigh in below and we'll share in tomorrow's #DailyScoop.

— PR Daily (@PRDaily) October 6, 2020
Share your efforts with us below and under the hashtag #DailyScoop. We'll share in tomorrow's roundup.
Editor's note: Ragan Communications may earn a commission through our affiliate partnerships when purchasing items in our content.
COMMENT