Walmart launches Twitter live shopping series, social media pros prove their worth in 2021, and Facebook defends hate speech policies
Also: Uber and Albertsons launch Thanksgiving food drive, Popeyes stumbles explaining American biscuits to UK customers, and more.
Hello, communicators:
Uber is partnering with supermarket chain Albertsons' Nourishing Neighbors program to provide families in need with 100,000 meals for the holiday. As part of the partnership, Uber is also sponsoring a "Thanksgiving Emergency" aisle at Albertsons locations stocked with often forgotten Thanksgiving items, including whole turkeys, gravy and cranberry sauce. All items ordered from this aisle can be delivered by Uber Eats with the delivery fee waived.
"At Uber, we're dedicated to supporting communities and we're honored to work with our partner, Albertsons Companies, and their Nourishing Neighbors program to help feed families in need this holiday season," Uber head of grocery Oskar Hjertonsson said in a press release. "We hope that with this small gift, by bringing Uber grocery to more of the US, and by adding new aisles of seasonal must-haves, we're able to help everyone get what they need this Thanksgiving."
By joining together to expand on the tradition of Thanksgiving food drives, Uber and Albertsons demonstrate how your brand can bolster your partnerships with seasonal tie-ins that align with your organization's values.
Here are today's top stories:
Walmart launches Twitter live shopping series during Cyber Week
Walmart says it will be the first retailer to use Twitter's new livestream shopping platform, kicking off a series of over 30 planned livestream events with its first event featuring musician Jason Derulo Sunday, Nov. 28.
The announcement builds on Walmart's past forays into live shopping, which included a holiday shopping event last December, a spring beauty event on TikTok and more.
"If you think about the number of livestreams that we'll be doing, the number of social commerce partners that we have, we're really building scale at this point," [Walmart CMO William White] said in an interview with CNBC. He said the retailer will step up the frequency but does not have a set number in mind on a weekly or monthly basis.

White, an alumnus of big-box competitor Target, said he sees the events as a way to strengthen Walmart's brand, build an emotional connection with shoppers and "shorten the distance between inspiration and purchase."
"Twitter continues to be an important platform for Walmart's business and our customers," said William White, chief marketing officer at Walmart U.S. "We've been focused on charting new territory in shoppable livestreams and are excited to celebrate an important milestone together with the first Livestream Shopping event on Twitter."
Why it matters:
Walmart's ongoing investment in online shopping offers  more evidence that brick-and-mortar retail shopping will not fully return to normal. Other examples of the changing retail market include Target's announcement that it will henceforth remain permanently closed on Thanksgiving.
White's words illustrate how e-commerce design and marketing initiatives require a communications strategy that focuses on sustaining a narrative from one event to the next. By crafting this narrative to provide a seamless experience between digital events, you can help your marketing partners understand the importance of fostering an emotional connection when meeting customers where they are most active.
---
MEASURED THOUGHTS
A new study from Hootsuite found that 83% of marketers were confident about how they quantified their ROI this year, compared to 68% in 2021. Over half (59%) also felt that customer care on social media has added to the overall value of their organization.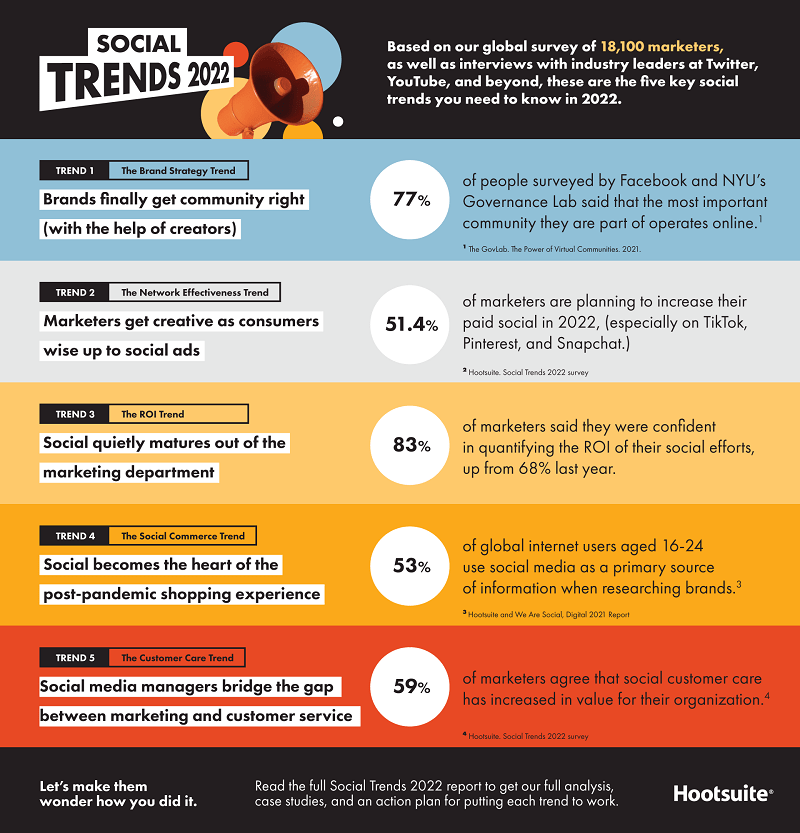 These findings illuminate how 2021 brought added value to the function of social media practitioners. They also make a renewed case for folding your social media plan into a larger communications strategy as a bridge to align the shared goals marketing and PR.
Check out the full study here.
---
Announcing the PR Daily Leadership Network
PR Daily is launching the PR Daily Leadership Network, a unique membership group from Ragan Communications offering peer-to-peer advisory and team training along with a unique slate of resources and events to help public relations professionals break through the noise, increase their visibility and forge meaningful connections.
The Network provides daily insights and coverage on a range of topics including media relations, social media, measurement, Diversity, Equity & Inclusion, branding, thought leadership and crisis communications.
"The fast pace of change coupled with the demand on public relations professionals to protect and sometimes defend their company's reputation make it imperative for leaders to tap into the wisdom of other communicators and continue to learn and grow," says Diane Schwartz, CEO of Ragan Communications. "The PR Daily Leadership Network provides the answers but also encourages members to question the status quo and push for positive change."
Visit leadership.prdaily.com to learn more.
---
TACTICALLY SPEAKING
Popeyes Chicken addressed the opening of its first U.K. location this past weekend, acknowledging that it could have better explained the difference between American biscuits and British biscuits, which typically refer to cookies.
Tom Crowley, the chief executive of Popeyes U.K., said that it was clear from focus groups that the typical British customer was confused about the concept of a buttermilk biscuit. Further complicating matters was that biscuits looked like scones, which are typically served with hot tea, not eaten with fried chicken.

Focus group participants, he recalled, would say: "'Why are you giving me a scone with chicken? I have no idea what you are doing.'"

"I guess if we ran with the research," he added, "we probably wouldn't have done it, if I'm honest." The team ultimately decided to put biscuits on the menu to keep the brand true to its Louisiana roots. "All that heritage plays well," Mr. Crowley said. "The U.K., in our view, actually appreciates that great fried chicken is going to come out of [the] Southern U.S."
Popeyes' fumble to contextualize biscuits for customers across the pond serves as a reminder to research the meanings and connotations of your core products when expanding to a global audience. Acting on that research might result in an educational messaging push, a decision to change the name of a product—or change which products are offered altogether.
Meta defends Facebook hate speech policies following new report
Meta, the company formerly known as Facebook, has responded to a new report alleging the company's data about hate speech disproportionately harming minorities on the Facebook app was not properly addressed. The report claims that this data was not shared with civil rights groups, including the independent civil rights auditors that Facebook partnered with in 2018.
Revealed as part of whistleblower Frances Haugen's document dump, the report's findings also allege that Facebook codified its policies to be neutral about hate speech and institute "half-measures" after feedback from some of Facebook's conservative partners following a two-year effort to overhaul the platform's algorithm and remove hateful speech from the platform.
Facebook spokesman Andy Stone defended the company's decisions around its hate speech policies and how it conducted its relationship with the civil rights auditors.

"The Worst of the Worst project helped show us what kinds of hate speech our technology was and was not effectively detecting and understand what forms of it people believe to be the most insidious," Stone said in a statement.

He said progress on racial issues included policies such as banning white nationalist groups, prohibiting content promoting racial stereotypes—such as people wearing blackface or claims that Jews control the media—and reducing the prevalence of hate speech to 0.03 percent of content on the platform.

Facebook approached the civil rights audit with "transparency and openness" and was proud of the progress it has made on issues of race, Stone said. Stone noted that the company had implemented parts of the "worst of the worst" project. "But after a rigorous internal discussion about these difficult questions, we did not implement all parts as doing so would have actually meant fewer automated removals of hate speech such as statements of inferiority about women or expressions of contempt about multiracial people," he added.
What it means:
This latest revelation to come out of The Facebook Papers creates a bump in the road for Meta's efforts to address the whistleblower revelations. The company has been making changes in recent weeks, including eliminating controversial ad targeting topics and its facial recognition program from the Facebook app.
The company's tone in this response differs from its recent commitments to hear and respond to criticism from crucial stakeholders. Stone's failure to address these stakeholders directly in his response demonstrates how the failure to address specific criticisms during a crisis can create the impression of evasiveness.
COMMENT
One Response to "Walmart launches Twitter live shopping series, social media pros prove their worth in 2021, and Facebook defends hate speech policies"
Ronald N Levy

says:

Facebook keeps trying to win by arguing what the EVIDENCE is. But in public policy fights the public may pick a winner based not so much on evidence but on which side he public LIKES more.

Brilliant Andy Stone uses terms like "insidious" and "rigorous" and "implement" but what the public cares about in a public policy fight is "which side is better for US?" How will the public be better off if Facebook loses? Or wins?

New Washington regs could easily cause Facebook to lose BILLIONS a year. If critics claim "those bastards" should have to PAY, could new tax laws cost
Facebook another $5 billion a year? Could new "public-protection laws" cost Facebook another $5 billion or more a year in lost revenue?

But if Facebook announces donating $1 billion over the next five years to find a cancer vaccine, another billion to find ways to make "new parts for old hearts" to save some of the one in every four of us now likely to die of heart disease, and a third billion over five or ten years to develop anti-ageing pills, would over 100 million Americans be STRONGLY against proposals that would reduce Facebook's ability to do this for the public?

The Edelman firm isn't crazy nor are their clients to put all that emphasis on REPUTATION. Neither is Ketchum whose EVP says PR is about not media coverage but is about CLIENT BENEFIT.

So which will benefit Facebook more, arguments about what 's "insidious" and "rigorous"–or public recognition that Facebook will finance research to find a cancer vaccine, anti-ageing pills and new parts for old hearts?

The Ketchum EVP and an EVP similarly bright at Porter Novelli didn't say these words but it's time for PR to "get more real" and like BCW in Washington, DO WHAT WORKS.