Meta shutters facial recognition program, 49% of US workers see no DE&I progress, and retailers address supply chain sustainability
Also: Crate & Barrel launches Kid Activist program, Tesla's Elon Musk spars with World Food Programme Director on Twitter, PR Daily launches leadership network, and more.
Hello, communicators:
Home goods chain Crate & Barrel is launching a "Kid Activist" program through its Crate & Kids brands designed to identify and support young activists. The company will select four young changemakers to receive a room makeover intended to create a space for innovation and creativity, a donation to the cause of their choice—and a presence on Crate & Kids' social handles along with the chance to work with brand leaders at the company's first-ever Kid Activist Summit. The press release notes that all interactions will take place with the consent and guidance of parents and legal guardians.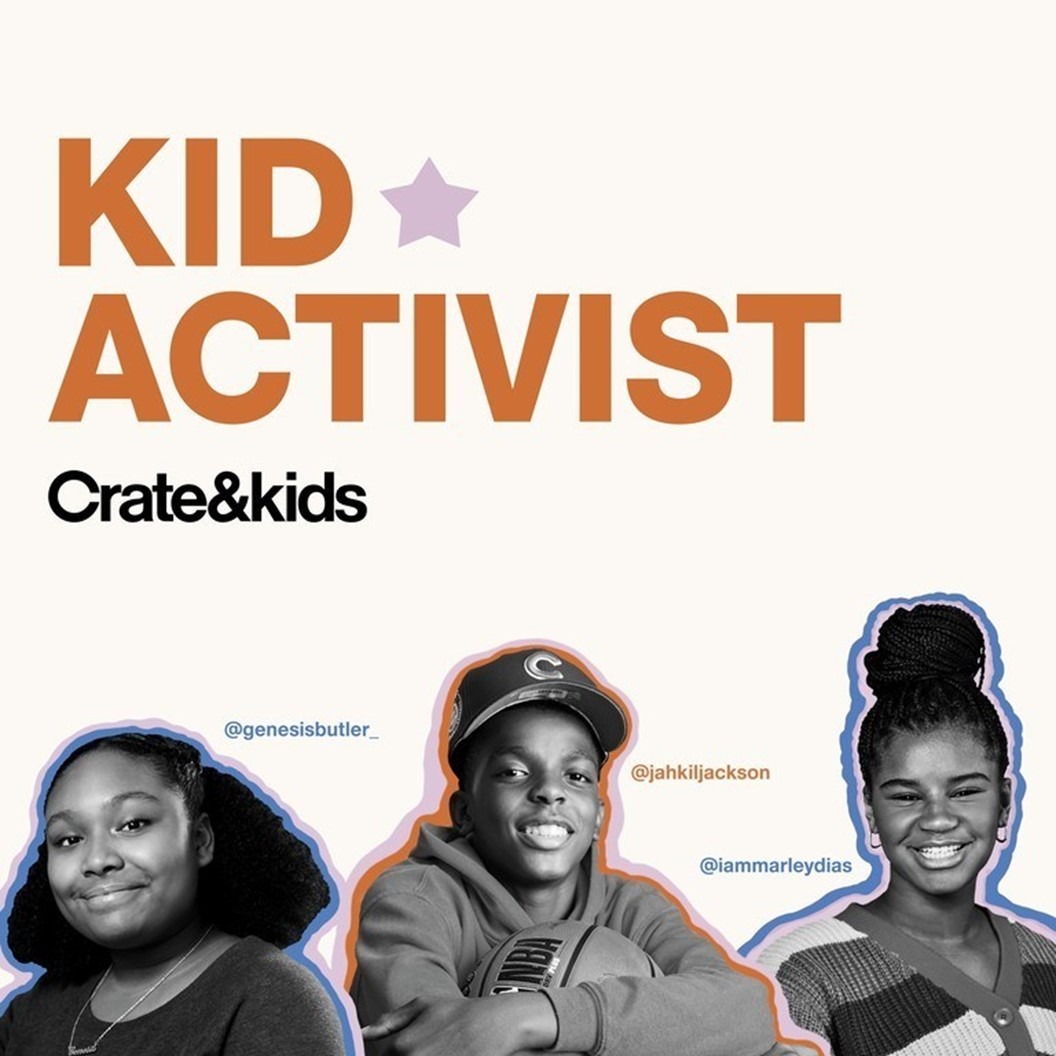 "Crate & Kids is about empowering the self-expression of youth and their families through environments that spark creativity and encourage individuality," said Alicia Waters, CMO of Crate & Barrel Holdings, in the press release. "We're honored to recognize and reward young activists who are using their creativity and ingenuity to prove that you don't need to be a grown-up to make a difference. They inspire us every day by standing up for what they believe in—and we couldn't be prouder to amplify their voices by sharing our platform with them and providing them a creative space to continue their amazing work."
Arriving a time when social media companies are under increased scrutiny for how they protect children's privacy, this campaign's words about parents' consent and involvement highlight the sensitivity that working with kids requires. Its focus on the idea of "creative space," which includes a room makeover that ties into the home décor brand's main product portfolio, brings awareness to its products while keeping the focus on the kids and the causes they support.
Here are today's top stories:
Meta (formerly Facebook) backtracks on facial recognition program
Meta, the company once known as Facebook, says that it will shut down its facial recognition system and delete the facial scan data of over 1 billion faces. In a blog post on the company's website, Meta vice president of artificial intelligence Jerome Pesenti acknowledged widespread concerns around how the technology was used.
Looking ahead, we still see facial recognition technology as a powerful tool, for example, for people needing to verify their identity, or to prevent fraud and impersonation. We believe facial recognition can help for products like these with privacy, transparency and control in place, so you decide if and how your face is used. We will continue working on these technologies and engaging outside experts.

But the many specific instances where facial recognition can be helpful need to be weighed against growing concerns about the use of this technology as a whole. There are many concerns about the place of facial recognition technology in society, and regulators are still in the process of providing a clear set of rules governing its use. Amid this ongoing uncertainty, we believe that limiting the use of facial recognition to a narrow set of use cases is appropriate.
Why it matters:
After a tumultuous year that included an investigative series in the Wall Street Journal, a consortium of news outlets publishing whistleblower testimony and a rebrand to "Meta," Facebook's decision to sunset its facial recognition program highlights a clear change in its communications. Most notable is the company's acknowledgment that regulators should set rules for emerging technology before it is widely implemented.
The blog post's structure also strikes a balance between explaining the company's initial intentions, and hopes for the future, while ultimately putting the concerns of its users and the wider community first. This exemplifies how a statement can simultaneously apologize for missteps while also offering context for future plans.
---
MEASURED THOUGHTS
A new survey from Morning Brew and Harris Poll found that only 13% of American workers say their employers have taken a step to expand existing diversity initiatives in any way. Nearly half (49%) said that there has been no effort to improve diversity, while 38% said they have no clue how leadership is addressing the problem.
"If you're an executive who's spent serious cash on diversity initiatives, this isn't what you want to hear," writes Morning Brew reporter Susana Vogel. "It points to a lack of internal communication about diversity policies and programs."
---
Announcing the PR Daily Leadership Network
PR Daily is launching the PR Daily Leadership Network, a unique membership group from Ragan Communications offering peer-to-peer advisory and team training along with a unique slate of resources and events to help public relations professionals break through the noise, increase their visibility and forge meaningful connections.
The Network provides daily insights and coverage on a range of topics including media relations, social media, measurement, Diversity, Equity & Inclusion, branding, thought leadership and crisis communications.
"The fast pace of change coupled with the demand on public relations professionals to protect and sometimes defend their company's reputation make it imperative for leaders to tap into the wisdom of other communicators and continue to learn and grow," says Diane Schwartz, CEO of Ragan Communications. "The PR Daily Leadership Network provides the answers but also encourages members to question the status quo and push for positive change."
Visit leadership.prdaily.com to learn more.
---
TACTFULLY SPEAKING
Elon Musk pushed back on public statements made by World Food Programme director David Beasley claiming that 2% of Musk's wealth could solve world hunger. Musk initially tweeted a response to a story referencing the interview that Beasley gave to CNN, claiming he would donate the $6 billion if the agency was open and transparent with its accounting of how the funds would solve the hunger crisis:
But it must be open source accounting, so the public sees precisely how the money is spent.

— Elon Musk (@elonmusk) October 31, 2021
Musk's reply prompted responses from Beasley that attempted to keep the conversation going—as well as clarify Beasley's comments made in his initial interview:
I can assure you that we have the systems in place for transparency and open source accounting. Your team can review and work with us to be totally confident of such.

— David Beasley (@WFPChief) October 31, 2021
.@DrEliDavid, We've never said $6B would solve world hunger. This is a one-time donation to save 42 million lives during this unprecedented hunger crisis.

— David Beasley (@WFPChief) October 31, 2021
Beasley's replies lacked clarity and specifics for some onlookers, inviting questions around how the World Food Programme manages its finances:
He is not primarily concerned about your ability to track money later. Elon (validly and honestly) thinks your promises are numerically implausible, that you can't actually save 42M lives at $150/life; he is challenging you to provide details publicly if they exist.

— Eliezer Yudkowsky (@ESYudkowsky) November 1, 2021
We are very well known, how your system and transparency works in poor countries..and @elonmusk better know know it too. pic.twitter.com/qv5Cw1gYGY

— Jyoti Devkota (@jyotis92) October 31, 2021
"6B will not solve world hunger, but it WILL prevent geopolitical instability, mass migration and save 42 million people on the brink of starvation. An unprecedented crisis and a perfect storm due to Covid/conflict/climate crises," Beasley said in another tweet. He also tweeted that with Musk's help the organization "can bring hope, build stability and change the future."

"Let's talk: It isn't as complicated as Falcon Heavy, but too much at stake to not at least have a conversation. I can be on the next flight to you. Throw me out if you don't like what you hear!" he wrote.

To which Musk replied: "Please publish your current & proposed spending in detail so people can see exactly where money goes. Sunlight is a wonderful thing."
Beasley's decision to call out one of the most vocal executives on broadcast news highlights the limits of taking aim at high profile figures to raise your own profile. In this case, it backfired as Musk seemed to call Beasley's bluff and asked for more specifics.
While a Twitter conversation can offer transparency and accountability, these interactions demonstrate how having a public conversation about nuanced issues can muddy the issue as outside perspectives bury your messaging and subvert your intentions.
---
TAKE OUR SURVEY
The HarrisX – Ragan CEO/Communicators Competencies Survey is looking for chief communications officers, senior vice presidents and top comms officers to take our first-of-its-kind poll. The survey seeks your feedback on what you consider to be the most important skills and attributes communicators must master—and we're asking your CEO as well.
The findings—and comparisons of CEO views vs. those of communicators—will be announced during Ragan's Communications Week Nov. 15-19 and in a special report this winter.
Can you spare a few minutes to help us chart the future of the communications role?
Walmart, Target face questions on supply chain sustainability
A recent The New York Times story reported on how supply chain emissions and waste are often left out of company sustainability reports. The piece features quotes from several climate change experts claiming that, despite the public becoming more aware of how global supply chains work over the past 18 months, companies aren't doing enough to measure and mitigate the emissions of their supply chain partners.
Walmart said it is difficult to accurately measure carbon contributions from its many suppliers, and the company does not disclose whether total emissions in its supply chain have been increasing or declining each year. The company said about 95 percent of the carbon emissions related to its business comes from its supply chain. The retailer said that it has set a voluntary emissions reduction goal for its suppliers and that about 1,500 companies have reported progress toward the goal.

But Walmart has stopped short of requiring suppliers to reduce emissions. Rather if they report certain levels of progress, Walmart awards them with labels such as "Giga-Gurus" and "Sparking Change Suppliers." "We have internal dashboards showing which suppliers are participating and who the leaders are," said Zach Freeze, a senior director of strategic initiatives and sustainability at Walmart. "Merchants are competitive. They want to be on the leaderboard."

"The historic challenges and unique retail needs driven by the dynamics of 2020 had an undeniable impact on our business as we met increased consumer demand," Target said in its most recent sustainability report. "In turn, we also saw an increased impact of our emissions." Still, Target says it is keeping its pledge to reach net zero emissions, including its supply chain, by 2040.

"These increases do not deter us from our net zero commitment, nor from our work to continue creating strategies to avoid, reduce and remove emissions from our value chain," the company said.
What it means:
The story emphasizes the importance of engaging partners on environmental, social and governance (ESG) issues. The challenges of the modern global economy can't be solved by any company on its own and so communications must work to solidify collaboration and build a network of organizations with shared goals.
And the partnership goes both ways. A partner can burnish your reputation on ESG with a credible record on meeting its goals, but a poor performance will also reflect poorly on your organization. Make sure you identify the stakeholders that have the power to influence how audiences view your efforts.
COMMENT
One Response to "Meta shutters facial recognition program, 49% of US workers see no DE&I progress, and retailers address supply chain sustainability"
Ronald N Levy

says:

Compare these two PR responses following accusations:

.1. The "Facebook to Meta" facial plastic surgery which means little or nothing to nearly everyone because why should anyone care.

.2. The Elon Musk challenge which over 100 million people may care about because $6 billion of Musk money may be involved: "Please publish your current & proposed spending in detail," Musk says, so people can see exactly where money goes. Sunlight is a wonderful thing."

When money talks it can be fascinating but the Meta's name game gets little or nothing from a public with nothing to gain. It's like a person wearing one color instead of another.

When money talks, money is listened to. Look at the interest value if a major company announces: "We are spending $1 billion over the next five years to help America's Memorial Sloan Kettering Cancer Center find a cancer vaccine that can protect the one in five Americans who are today likely to die of cancer."

How would that announcement compare with a drug company announcing a name change not to something like Meta which doesn't mean anything to most people but to some "save the world" name?

Like each of us individually, the public looking at news cares about "what's in this for us?" If Musk changes his name to something that sounds Spanish or Polish or Indian, few people even of those extractions may give a damn. But when a Musk announcement relates to $6 billion or even $1 billion people may GET, that easily rivals the Jeopardy TV quiz show with only thousands in prizes but millions of viewers.

Having good PR people isn't enough as we can judge from the fact that Facebook-now-Meta has two of the best PR execs who ever lived. Also needed is a CEO who doesn't think the public will care about what HE cares about.

When money talks, it says to the public eloquently "here's news of interest to YOU." Informational sunlight can kill. Enough of the sunlight Musk calls for can give accusers stage four cancer of their credibility. Part of the world is a stage, and savvy PR even by a nonprofessional can create a stage four hit to an accuser's credibility.