WHO targets misinformation with new COVID variant naming system, American job vacancies hit record high, and Discovery announces new moniker
Also: Giant Food promotes e-commerce Pride campaign, Reuters pauses paywall plans, and TikTok launches incubator for Black creatives.
Hello, communicators:
Pride Month has kicked with many new brand products and campaigns, including Lego's first LGBTQ+-themed set and an increased brand focus on donating to transgender advocacy groups in light of multiple pieces of legislation that restrict the rights of the transgender community. As brands seek to engage with queer audiences in authentic, meaningful ways, some campaigns offer clear lessons.
Supermarket chain Giant Food has teamed up with Kellogg's and P&G to launch a campaign that spotlights LGBT-owned brands and offers customers the opportunity to get involved with Can't Cancel Pride 2021, an organization that raises visibility and funds benefitting organizations that support the LGBTQ+ community. Giant Foods will match P&G and donate $12,500 for a total of $25,000 to benefit Can't Cancel Pride 2021. The supermarket chain is also publishing exclusive recipes curated by celebrity chef and LGBTQ+ advocate Elizabeth Falkner while offering customers discounts on the ingredients in Falkner's recipes.
"Over the past year, we have been working to bring more awareness to our LGBT-owned products through our shelf labeling program and media campaigns," Ira Kress, president of Giant Food and executive sponsor of Giant's Pride Business Resource Group said in a press release. "The Pride Month online experience is another great opportunity for customers to discover these products and join us in supporting our LGBT business partners."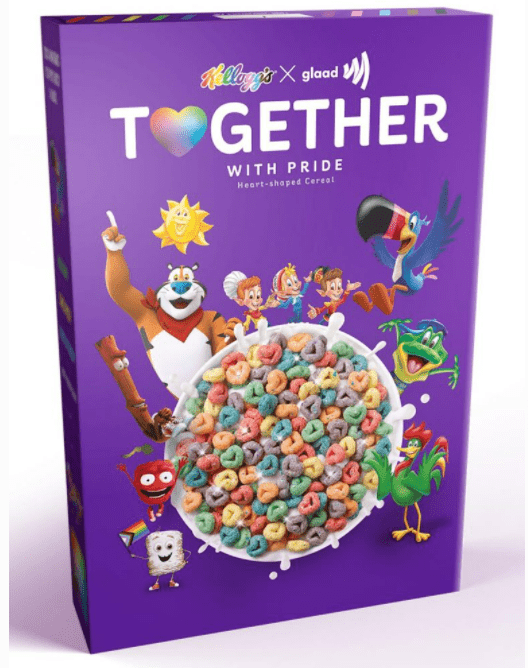 This campaign stands out for several reasons. Tying its awareness efforts to discounts for customers is meaningful, but those discounts apply to ingredients in Falkner's recipes and not specifically to the LGBTQ-owned businesses the campaign spotlights. The campaign also avoids any engagement of specific advocacy or issues in favor of focusing on products, like Kellogg's limited edition Together With Pride cereal, which features berry-flavored rainbow hearts dusted with edible glitter.
The press release states that the cereal was made by Kellogg's in collaboration with GLAAD, but the details of that partnership are unexplained. This campaign serves as a reminder that, as brands seek to authentically engage with changing audiences, awareness can no longer stop at a product or marketing push and must also be issues-driven to resonate.
WHO changes COVID-19 variant names to avoid misinformation
The World Health Organization (WHO) has implemented a new system naming for COVID-19 variants, moving away from classifying them by location and instead assigning each new variant a letter of the Greek alphabet to avoid stigmatizing locations where new variants emerge.
The labels do not replace existing scientific names, which convey important scientific information & will continue to be used in research. The naming system aims to prevent calling #COVID19 variants by the places where they are detected, which is stigmatizing & discriminatory. pic.twitter.com/MwWGGMXPjn

— World Health Organization (WHO) (@WHO) May 31, 2021
"While they have their advantages, these scientific names can be difficult to say and recall, and are prone to misreporting," the WHO said in a statement Monday. "As a result, people often resort to calling variants by the places where they are detected, which is stigmatizing and discriminatory."

Use of such language became widespread. In one study released in May, researchers at the University of California, San Francisco directly linked Trump's first tweet about a "Chinese virus" to an exponential rise in anti-Asian language on Twitter.

In India, sensitivity around stigmatization led the government last month to ask social media companies to remove any references to the "India variant" from their platforms.
Why it matters:
WHO's new naming system serves as a reminder that your messaging should always be tweaked and optimized to encourage desired audience behaviors. A robust social listening strategy should include all regions and markets where your stakeholders are active, as certain language may resonate differently in different parts of the world.
---
MEASURED THOUGHTS
A recent study from The U.S. Chamber of Commerce found that there was a record high of 8.1 million vacant job openings in the United States in March 2021, the latest month for which data is available. That number is up more than 600,000 from February.
There are approximately half as many available workers for every open job (1.4 available workers/opening) across the country as there have been on average over the past 20 years (2.8 historical average)—and the ratio continues to fall.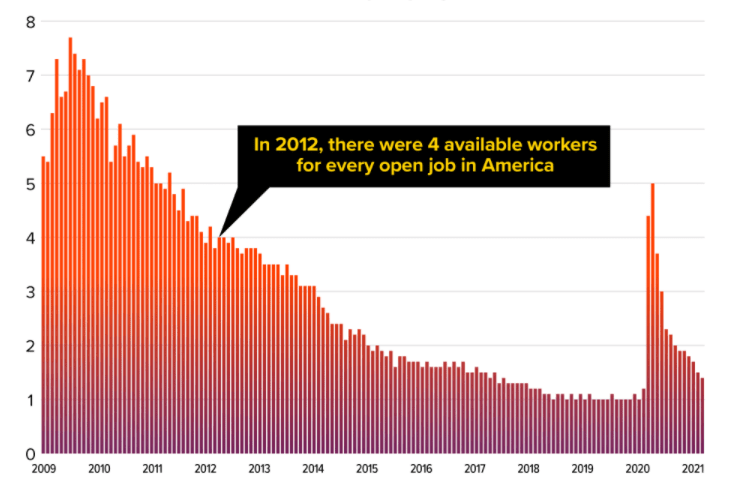 Courtesy of The U.S. Chamber of Commerce
Take note that the struggle to fill job vacancies is not simply an internal crisis but resonates with external stakeholders from a reputational standpoint as an understaffed team makes your company seem like an unattractive place to work and can decrease productivity to negatively affect customer experience and your bottom line. Craft campaigns that spotlight your star employees as cultural ambassadors to emphasize the aspects of workplace culture that don't come through in job postings.
Check out the full study here.
---
TACTICALLY SPEAKING
Reuters News has postponed its plans to put its website behind a paywall after a dispute with financial data provider Refinitiv raised questions over whether the decision would breach a news supply agreement between the companies.
In a staff meeting on Thursday, Reuters Editor-in-Chief Alessandra Galloni confirmed that the news agency had paused the launch of the website paywall as well as the introduction of a new legal news section on the website, while discussions with Refinitiv to resolve the dispute were ongoing.

In a statement, a Reuters spokesman said, "We are still working through our plans for the relaunch of Reuters.com as a subscription service." Discussions with Refinitiv were "about our business approach and products, and how we can enhance our offer to all customers," the spokesman said.
Reuters rollback of its widely publicized paywall plans serve as a reminder that any big news on company operations should be shared internally before published externally so employees feel included in the decision and have all the facts beforehand.
---
RAGAN'S 2021 BENCHMARK REPORT
Ragan has released its annual Communications Benchmark Report, an exclusive study from Ragan's Communications Leadership Council that analyzes the major trends in the profession over the last year.
During that time, comms pros have been called on to develop and distribute messages on new policies that affect internal and external stakeholders alike. Their role has become more essential as they helped keep their organizations focused and moving forward. They've seen their access to the C-suite increase throughout 2020, and they forged important new alliances with peers in other departments, including HR, finance and workplace wellness.
Culled from more than 750 respondents, the 32-page report is available in its entirety exclusively to members of the Communications Leadership Council.
Download your copy of the exclusive Benchmark Survey Executive Summary today and get a crucial competitive advantage that will fuel your success for 2021 and beyond.
---
SOCIAL BUZZ
TikTok has launched an incubator program aimed at helping Black TikTok users build their personal brand on the platform. The program grew out of criticisms that the platform suppressed Black Lives Matter content following the murder of George Floyd.
TikTok released an apology last June to members of the Black creator community who felt "unsafe, unsupported, or suppressed" by the app, and vowed to take steps to improve Black creators' experience on the app. One step was establishing a program to recognize and uplift diverse voices.

When TikTok announced the incubator in January, the company said it wanted to "focus on nurturing and developing" the creators and help "open doors for them to reach new heights in their careers."

"One of the areas of feedback that we heard from the Black creator community was wanting more representation in the top creator cohort," Kudzi Chikumbu, TikTok's director of creator community, said in an interview. "That insight was the kernel for the building on this program, which was: How do we help not only give Black creators the tools to succeed on TikTok … but translate that into a career and a livelihood that is successful? Yes, on TikTok, but beyond that."
What it means to provide value to your audience will change with shifting demographics and changes in cultural consciousness. Take note to not only listen to your audiences, but shift your communications approach to them as they make their desires known and consider how the resources that you provide may be disproportionately distributed to some stakeholders over others.
---
COMMUNICATIONS WEEK
Ragan is delighted to add industry event and thought leadership brand Communications Week to our portfolio. You can read the full press release here.
"We are reimagining Communications Week as a year-round endeavor," says Ragan Communications CEO Diane Schwartz. "The rollout will begin next month with thought-provoking content on the future of communications on Commsweek.com, Ragan.com and PRDaily.com, culminating with a weeklong series in November that will feature conferences, networking events, workshops, webinars and more."
The flagship event for 2021 will take place Nov. 15-19. Stay tuned for updates on the many opportunities and offerings that will help communicators connect, learn and celebrate their achievements later this year.
Warner Bros. Discovery emphasizes storytelling and brand legacy with new company name
The new company formed by the merger of WarnerMedia and Discovery Inc. will be known as Warner Bros. Discovery CEO David Zaslav has announced. Zaslav also said that the name is intended to evoke the new company's focus on storytelling and honor the nearly century-old legacy of Warner Bros. studio. The company's tagline will be "the stuff that dreams are made of," a nod to the classic 1941 noir film "The Maltese Falcon."
The Wall Street Journal reports:
"We're not coming in here thinking that we know all the answers," Mr. Zaslav said of his company's approach to the acquisition. "There is a ton we don't know. And there's certainly a whole bunch that you guys know a lot better than we do."

"The consumer eventually tells you how they want to receive the content," he said.
Some Twitter users mocked the Warner Bros. logo as outdated, some using the old "graphic design is my passion" meme:
Graphic design is my passion as well. https://t.co/u1F2qN5PrT

— Aaron Earls (@WardrobeDoor) June 1, 2021
The Adventures Of Rocky And Bullwinkle walked so Warner Bros. Discovery could run. pic.twitter.com/aeOIg32uWG

— Briggon Snow (@BriggonSnow) June 1, 2021
Why it matters:
Warner Bros. Discovery's new name not only reminds cinema fans that the platform will continue to honor the heritage of its classic titles, but demonstrates a clear understanding that audience metrics will play a large part in the company's direction moving forward. That said, the design of its logo and other branding materials may soon change to reflect negative social sentiment.
Because Warner Bros. Discovery faces a crowded streaming market where customers tend to let subscriptions lapse, an established, periodic reporting strategy will be crucial to the company's survival.
---
CONFERENCE ALERT
Communicators face a crossroads this year as they anticipate markets recovering and workplaces reopening. Their work crafting a flexible crisis plan and mindful messaging that ensures your brand or organization is ready to handle any future unforeseen situation smoothly will be essential.
Join us at Ragan's Crisis Communications Conference on June 10  to learn timely strategies to help you reimagine your approach to crisis communications, mobilize internal and external stakeholders to be your megaphone and foster goodwill—and make fresh plans for unforeseen obstacles that may arise.
Learn powerful insights and approaches from speakers at organizations including Carnival Cruise Line, KFC, IBM, Amtrak, Mastercard and more.
---
SOUNDING BOARD
Have you ever partnered with your marketing team to change the language or verbiage of your messaging in the interest of clearing up misinformation or disinformation, PR pros and communicators?
Have you ever partnered with your marketing team to change the language or verbiage of your messaging in to clear up misinformation or disinformation, PR pros and communicators? #DailyScoop

— PR Daily (@PRDaily) June 2, 2021
Let us know using the hashtag #DailyScoop. We'll share the top examples in tomorrow's roundup.
COMMENT