NHL's Arizona Coyotes drop draft pick after backlash, Walmart removes guns from shelves due to 'civil unrest,' and brands make fun of tone-deaf Kardashian tweet
Also: Carters offers personalized videos from Santa, a Halloween costume encourages voting, 68% of agency executives have altered their offerings during COVID-19, and more.
Hello, communicators:
Amanda Ponzar, chief communications and strategy officer for Community Health Charities, recently shared her "Captain Vote America" costume that she created as part of the nonprofit's "Fall for a Cause" campaign:
Ponzar also flexed her PR prowess with a clear call to action in her image and LinkedIn post, sharing where you can vote in person or drop off your ballot.
Here are today's top stories: 
Arizona Coyotes cut ties with draft pick for bullying incident 
The National Hockey League team announced it was renouncing rights to Mitchell Miller, whom the team picked in the fourth round of the 2020 NHL draft. Four years prior, Miller admitted in a juvenile court to bullying a Black classmate with disabilities, which included calling him racial slurs and tricking him into eating candy that was previously placed in a urinal.
The Arizona Coyotes have renounced the rights to Mitchell Miller:https://t.co/ZZ3WPmDIaT

— Arizona Coyotes (@ArizonaCoyotes) October 29, 2020
The decision comes on the heels of backlash across social media and in headlines for the draft selection. Coyotes' president and chief executive, Xavier Gutierrez, said in a statement:
Prior to selecting Mitchell in the NHL Draft, we were aware that a bullying incident took place in 2016. We do not condone this type of behavior but embraced this as a teachable moment to work with Mitchell to make him accountable for his actions and provide him with an opportunity to be a leader on anti-bullying and anti-racism efforts. We have learned more about the entire matter, and more importantly, the impact it has had on Isaiah and the Meyer-Crothers family. What we learned does not align with the core values and vision for our organization and leads to our decision to renounce our draft rights. On behalf of the Arizona Coyotes ownership and our entire organization, I would like to apologize to Isaiah and the Meyer-Crothers family. We are building a model franchise on and off the ice and will do the right thing for Isaiah and the Meyer-Crothers family, our fans and our partners. Mr. Miller is now a free agent and can pursue his dream of becoming an NHL player elsewhere.
The team also said it would "continue to work with numerous local organizations" that include American Special Hockey Association, One Steep Beyond and Best Buddies—nonprofits that support people with developmental and intellectual disabilities.
Miller's college, the University of North Dakota, also released a statement after the Arizona Republic published the story.
"We are aware of the unfortunate incident that occurred with Mitchell in eighth grade," the school said. "We made a decision that our program could provide him the necessary infrastructure and culture to hone not only his hockey abilities but most importantly assist him in his continuing growth as a human being which will last the remainder of his life."
Why it's important: The lesson to be learned in this situation comes courtesy of the Coyotes' general manager, Bill Armstrong. In a statement, he said [emphasis added]:
Mitchell is a good hockey player, but we need to do the right thing as an organization and not just as a hockey team.
If your business, PR or marketing goals conflict with your organiation's commitment to diversity, equity and inclusion, revisit your goals. More consumers than ever before are looking to organizations to make significant and lasting changes to support equality and diversity, and they won't accept excuses.
---
SOCIAL BUZZ
Twitter users have been creating memes to snark on Kim Kardashian West's recent tweets showcasing the lavish 40th birthday held on a private island during COVID-19, criticizing the celebrity for tone-deaf messages and images.
It didn't take long for social media managers to jump aboard the conversation with brand references, including the American Museum of Natural History, "The Sims," Slim Jim and Kraft Heinz's Planters:
After 2 weeks of multiple health screens and asking everyone to quarantine, I surprised my closest inner circle with a trip to a private island where we could pretend things were normal just for a brief moment in time. pic.twitter.com/aUmU87W8Px

— American Museum of Natural History (@AMNH) October 28, 2020
"After 2 weeks of multiple health screens and asking everyone to quarantine, I surprised my closest inner circle with a trip to a private island where we could pretend things were normal just for a brief moment in time." pic.twitter.com/K0CHPippGX

— The Sims (@TheSims) October 28, 2020
After 2 weeks of multiple health screens and asking everyone to quarantine, I surprised my closest inner circle with a trip to a private island where we could meat up and pretend things were normal just for a brief moment in time. pic.twitter.com/8PEV2TYxOF

— Slim Jim (@SlimJim) October 28, 2020
After 2 weeks of multiple health screens and asking everyone to quarantine, I surprised my closest inner circle with a trip to a private island where we could pretend things were normal just for a brief moment in time. pic.twitter.com/cKCwROEU8W

— Peanut Jr. (@MrPeanut) October 28, 2020
---
MEASURED THOUGHTS
In Digital Third Coast's survey, "How COVID-19 Impacted Marketing & Advertising Agencies," the firm revealed that 68% of agency executives said the crisis changed their business models, with nearly half amending their service offerings, 29% offering new services and 16% reducing prices (in comparison with the 6% increasing their prices):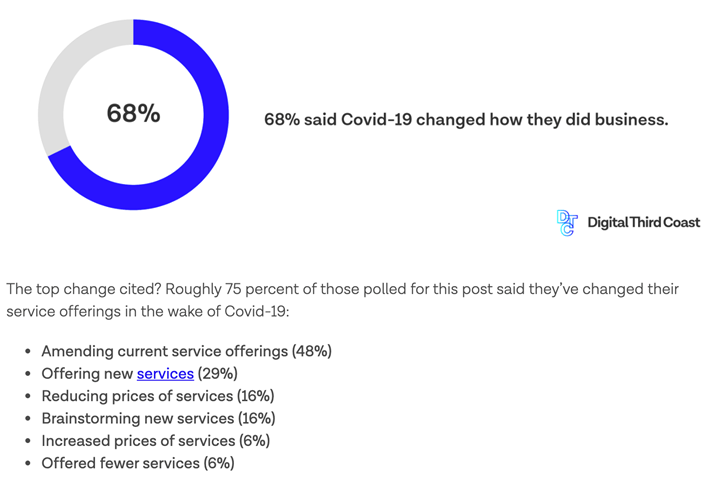 You can read the entire report here.
---
CRISIS LEADERSHIP NETWORK
Looking for more insight on how to address the current global crisis and lead your organization into a strong recovery?
Join Ragan's Crisis Leadership Network to network and brainstorm with peers, get the latest intelligence and research and start to strategize for the future of your organization.
Learn more about this exclusive membership here.
Walmart removes guns from Philly shelves due to 'civil unrest'
 The retail chain said the move was a precautionary measure in response to protests in Philadelphia, which have followed the police fatally shooting Walter Wallace Jr., "a Black man with mental health issues who approached them while carrying a knife," The New York Times reported. Wallace Jr. was shot more than a dozen times.
Walmart issued a short statement to reporters, noting both that the guns and ammunition could still be purchased, and that the chain sells these in only half of their locations.
"We have seen some isolated civil unrest and as we have done on several occasions over the last few years, we have moved our firearms and ammunition off the sales floor as a precaution for the safety of our associates and customers," Walmart said in a statement.

… Walmart said it sells firearms in about half its stores, "primarily where there are large concentrations of hunters, sportsmen, and sportswomen."
Why it matters: The nationwide movement for racial equality has affected organizations across industries and specialties. Along with setting meaningful DE&I goals and initiatives that will keep you accountable to your consumers and employees, communciators should also remain hyper aware of situations that could negatively affect their brand image—far before the damage can be done.
---
TACTICALLY SPEAKING
Carters is offering consumers the chance to be one of 100 daily winners to receive a personalized video message from Santa Claus. The contest, which ends Oct. 30, is part of the organization's "From Santa with Love" campaign (and the company says more surprises are coming):
Psst…hurry! This ends TODAY! Enter now for a chance to win a custom Santa Cameo video gram from the big guy himself. Oh what fun! https://t.co/VyXKcbPVbs pic.twitter.com/ztjDU3eOU9

— Carter's (@Carters) October 30, 2020
Jeff Jenkins, the company's executive vice president of global marketing, said in a press release:
Carter's has been with families for generations, and during these unexpected times, parents need us more than ever. Our 'From Santa With Love' sweepstakes helps parents create that personal moment with Santa for their children and restore a bit of the holiday magic that makes this season special for our families. This sweepstakes is one of the many ways we are showing families we have their backs, during the holidays and beyond.
Macy's also recently announced its visits from Santa Claus are going virtual this holiday season.
---
CATCH UP WITH OUR REPORT 
More than half (57%) of social media managers say they plan to leave their current position within two years, according to a new survey from the Institute for Public Relations, Ragan Communications and the University of Florida. Though these managers are ambitious, the career path to social media leadership roles remains unclear.
The report sheds light on social media pros' career trajectory as well as the challenging lack of resources and employee burnout that's on the rise. Check out the findings here.
To learn more about how to prepare for the future of social media and more, join us at Ragan's Future of Communications Conference, Nov. 10-11.  You'll learn from PR, social media, marketing and internal communications experts about the top trends and what's on the horizon for the industry.
---
EDITOR'S PICKS
While responding to historic crises and shifting communications strategies to accommodate both consumer and employee behavior changes, communication pros are under more stress than ever. If you qualify and can't wait for the weekend to arrive, make sure you're taking breaks for self-care, so you can give your all for press releases, tweets and more.
---
WHAT YOU SAID
We asked what tactic gives you the most media coverage and brand mentions, and 42% of you see success with reports, studies and other data, while 26% have secure headlines and mentions through expert insights and quotations. More than 21% of you clinch media relations victory by pitching related topical content, while almost 11% of you go for large and crazy PR stunts to attract reporters' attention:
Which one of the following helps you the most in grabbing media coverage and getting brand mentions during COVID-19, racial justice movements and election season?

Share how you get headlines during times of crisis and we'll share in tomorrow's #DailyScoop.

— PR Daily (@PRDaily) October 29, 2020
Is there a question you'd like us to ask in an upcoming poll? Let us know!
Editor's note: Ragan Communications may earn a commission through our affiliate partnerships when purchasing items in our content.
COMMENT