Quaker Oats to rebrand Aunt Jemima, PepsiCo offers plan to support racial equality, and HSBC, Hilton and AT&T announce layoffs
Also: Amazon encourages employees to reflect on Juneteenth, Facebook launches largest voting effort in history, younger users turning to Instagram for COVID-19 news, and more.
Editor's note: This article is a re-run as part of our countdown of top stories from the past year.
Hello, communicators:
Though Amazon isn't giving its workforce the day off on Friday for Juneteenth, it's encouraging employees to spend the day learning and reflecting, CNBC reported.
In a memo to employees, the company's chief executive, Jeff Bezos, wrote:
This Friday, June 19, is Juneteenth, the oldest-known celebration commemorating the end of slavery in the U.S. I'm cancelling all of my meetings on Friday, and I encourage all of you to do the same if you can. We're providing a range of online learning opportunities for employees throughout the day.
Amazon joins Twitter, Square, the National Football League, Google, Target, Nike, Facebook and more in either commemorating the day or declaring it a company holiday.
Here are today's top stories:
Quaker Oats to rebrand Aunt Jemima
The food company, which was purchased by PepsiCo in 2001, announced it's changing the name and image of its Aunt Jemima pancake mix and syrup. The products brand were inspired by the minstrel song, "Old Aunt Jemima."
"We recognize Aunt Jemima's origins are based on a racial stereotype," Kristin Kroepfl, vice president and chief marketing officer of Quaker Foods North America, said in a press release. "As we work to make progress toward racial equality through several initiatives, we also must take a hard look at our portfolio of brands and ensure they reflect our values and meet our consumers' expectations."

Kroepfl said the company has worked to "update" the brand to be "appropriate and respectful" but it realized the changes were insufficient.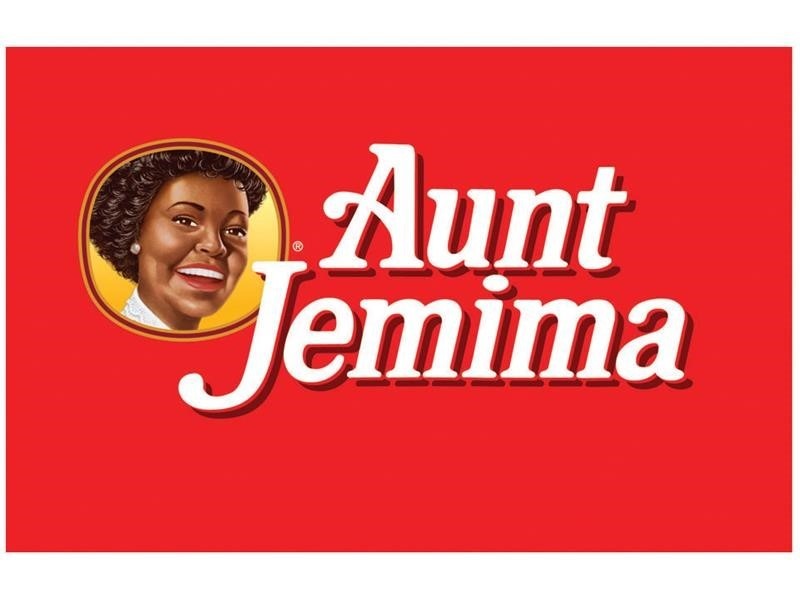 Image courtesy of Quaker Oats Co.
Why it matters: Though Quaker Oats had removed Aunt Jemima's "mammy" scarf when it updated the brand's image to its current version, the company can't erase the product line's inspiration nor its history. Evaluate long-standing products, policies and images within your organization to identify and replace those that don't reflect your core values.
---
SOCIAL BUZZ
Facebook is rolling out its Voting Information Center, which is the biggest effort in its history to encourage users in the United States to vote.
Users can get information about polling locations and voter registration, including mail-in ballots and early voting options. "People will also be able to see local election alerts from their officials about changes to the voting process," Facebook's Naomi Gleit, vice president of product management and social impact, wrote in a blog post.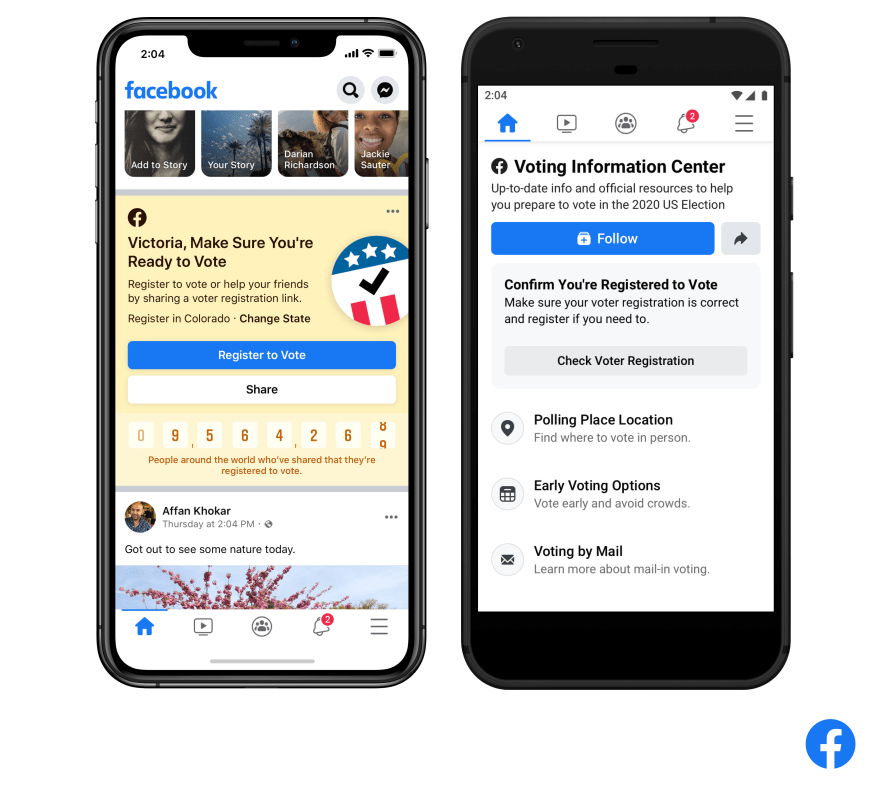 U.S. Facebook users will also be able to turn off "all social issue, electoral or political ads from candidates, Super PACs or other organizations that have the 'Paid for by' political disclaimer on them."
The same voting features will be available on Instagram, including the option to turn off political ads.
In an opinion piece for USA Today, Facebook's co-founder and chief executive, Mark Zuckerberg, wrote:
By giving people a voice, registering and turning out voters, and preventing interference, I believe Facebook is supporting and strengthening our democracy in 2020 and beyond. And for those of you who've already made up your minds and just want the election to be over, we hear you—so we're also introducing the ability to turn off seeing political ads. We'll still remind you to vote.
---
MEASURED THOUGHTS
Reuters Institute for the Study of Journalism and the University of Oxford recently published the 2020 Digital News report, which revealed that the number of people turning to Instagram for news has doubled since 2018, with 26% percent of U.S. users ages 18-24 checking Instagram for COVID-19 updates. Germany and Argentina had even higher percentages (38% and 49%, respectively).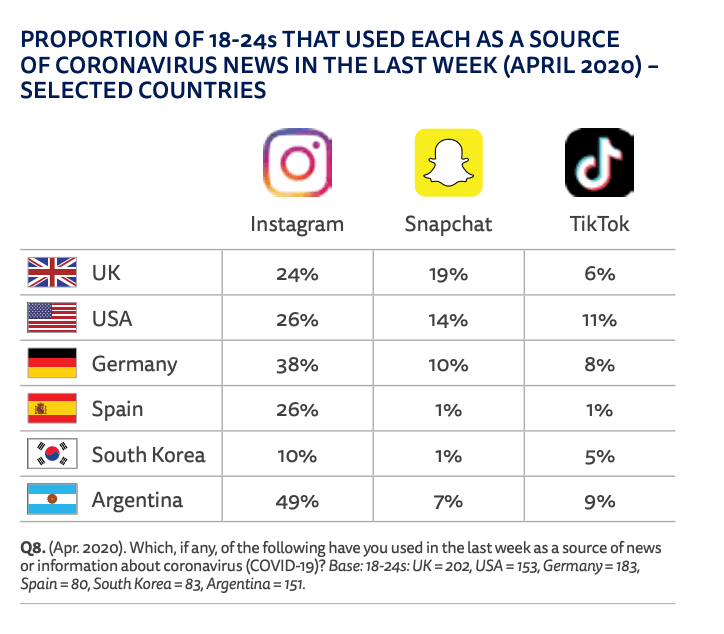 Image courtesy of Reuters Institute.
 However, distrust of news found on social media platforms averages roughly 40% of people across countries, showing that scientists, doctors, health organizations, news media outlets and the government are all sources considered more trustworthy with COVID-19 information and updates.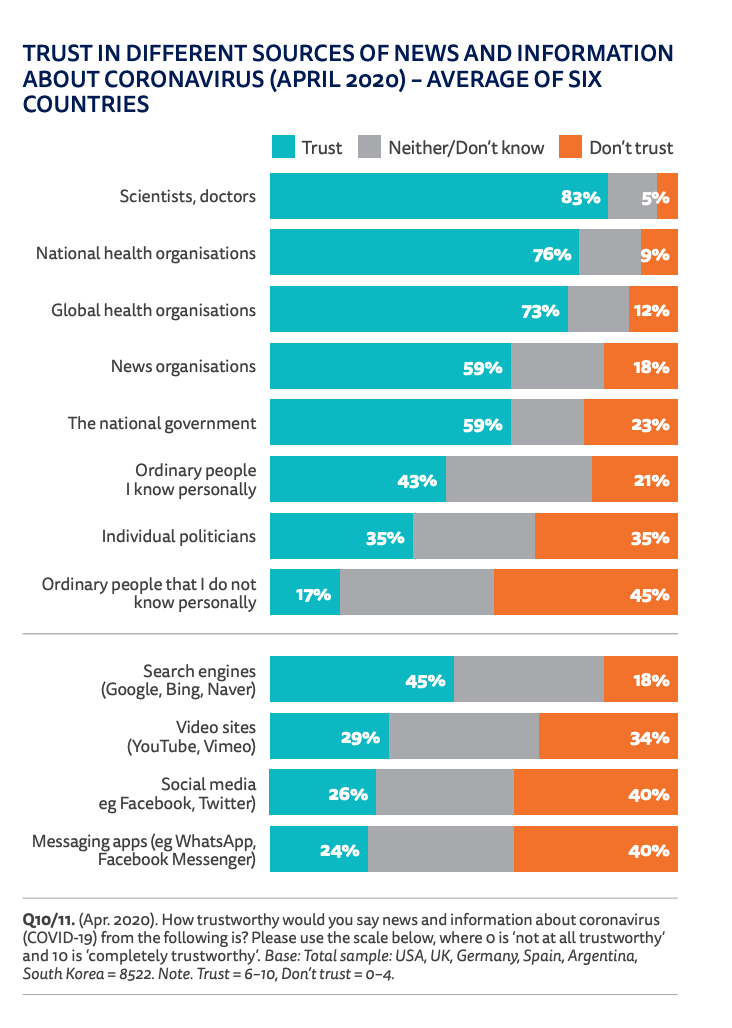 Image courtesy of Reuters Institute.
You can read the entire report here.
---
CRISIS LEADERSHIP BOARD
Looking for more insight on how to address the current global crisis and lead your organization into a strong recovery?
Join Ragan's Crisis Leadership Board to network and brainstorm with peers, get the latest intelligence and research, and start to strategize for the future of your organization.
Learn more about this exclusive membership here.
HSBC to cut 35,000 jobs amid bevy of layoff announcements  
The bank's job cuts will affect roughly 15% of its 235,000 employees around the world in a restructuring program that aims to cut $4.5 billion by 2022. HSBC announced in April that it would hold off on layoffs so as to not leave employees jobless during COVID-19, but it's now moving forward out of necessity.
"You will have seen that our profits fell in the first quarter, and virtually all economic forecasts point to challenging times ahead," Quinn said in the letter, which was shared with CNN Business and first reported by Reuters. "The reality is that the measures and the change we announced in February are even more necessary today. We could not pause the job losses indefinitely."
Hilton is cutting nearly 22% of its corporate staff by laying off 2,100 employees. It's also extending its employee furloughs for another 90 days.
"Never in Hilton's 101-year history has our industry faced a global crisis that brings travel to a virtual standstill," CEO Christopher Nassetta said in a press release, adding he was "devastated" by the decision.
AT&T is also slashing 3,400 jobs as it shutters the doors on more than 250 locations.
The "economic impact and changed customer behaviors" resulting from the COVID-19 pandemic were also drivers behind the telecom giant's decision, AT&T said in a statement to Business Insider. The carrier also said it was eliminating more nonpayroll workers, many of whom are based outside of the US, than managers or union-represented employees.
Why it's important: Communicating with employees before and throughout layoffs is crucial to mainintaining trust, but don't forget transparency as you look to inspire your workforce rather than stoking anxiety. Communicators must balance the realities of COVID-19's effect on organization's bottom lines while maintaining clear plans for the future. The sooner you can share these steps with your employees, the better.
---
EXECUTIVE COMMUNICATIONS
PepsiCo's chairman of the board and chief executive, Ramon L. Laguarta, recently published a Forbes opinion piece and LinkedIn post outlining the three focuses of the beverage company's approach to increasing racial equality.
Today I am announcing that @PepsiCo is investing more than $400 million over five years to lift up Black communities and increase Black representation. This is a holistic effort to address the need for systemic change. https://t.co/xKcqshJKTd

— Ramon Laguarta (@ramonlaguarta) June 16, 2020
Under the pillars of "people," "business" and "communities," Pepsi committed to add more than 250 black associates to managerial roles by 2025, along with at least 100 black associates to the company's executive positions.
Pepsi will also mandate company-wide unconscious bias training, double its budgets with black-owned suppliers, invest $50 million over the next five years to strengthen black-owned companies, launch a "Community Leader Fellowship program" for black nonprofit chief executives and donate $5 million to members' education and grants, and more.
The efforts make up a "more than $400 million set of initiatives over five years to lift up Black communities and increase Black representation at PepsiCo."
Laguarta wrote:
The bottom line: This moment calls for big, structural changes, and we're committed to being agents of that progress. As we continue our journey, we are going to keep listening—to leaders, communities, and all of our associates—and we will work to do the right thing. We are committed to this work because we know that American society has placed the burden disproportionately on Black people. Injustice and inequality are problems for us all, and we all must do our part to defeat them. These efforts will also inform and positively impact our broader diversity efforts beyond our Black associates, as we look to be an actor in addressing other types of inequality going forward.
Pepsi's efforts are similar to Coca-Cola's multi-pillared approach to increasing diversity and inclusion, along with standing against racial injustice. Communicators should take note of the clearly defined commitments and how they fit under the organization's overall mission and vision. To make a similar announcement, don't forget to outline specifics and how you'll be accountable for them.
---
RESEARCH SNAPSHOT
The COVID-19 crisis has drastically changed the landscape for communicators and PR pros. More than ever before, communicators must gain key skill sets and employ strategic communications and media relations strategies to boost their organizations' coverage, reputation and overall brand.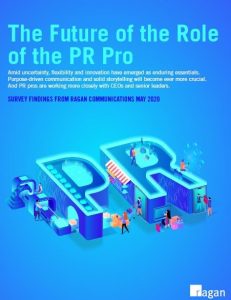 Learn what the 315 communicators we surveyed say about what parts of the PR function are more important than ever, how to adjust for COVID-19, and more with our free report revealing insights that can help you persevere during this uncertain time.
Download your copy of the report here.
---
WHAT YOU SAID
We asked you about how you were doing with Zoom fatigue. Are you trying to limit your video calls?
Most of you said you were worn out, but see little alternative for the videoconferencing solution. Almost a third (32%) said that you are trying to avoid video chat, and less than 10% said they still love to Zoom.
How are you doing with Zoom fatigue? Has your appetite for video calls dropped drastically in recent days?

Share how you are coping with our hashtag #DailyScoop.

— PR Daily (@PRDaily) June 16, 2020
The folks at ARPR said that Zoom still offers an important stand in for in-person contact with team members.
Even though we miss seeing each other in person, video chat is still a great alternative for our team to connect and work together.

— ARPR (@AR__PR) June 16, 2020
For those who haven't grown tired of the Zoom call, what's you secret? Share with us with our hashtag #DailyScoop or in the comments below.
---
SOUNDING BOARD
Do you plan to return to the office this year?
Are you planning on getting back to the office this year? How about this summer?

Share how your return to work thinking is evolving with our hashtag #DailyScoop.

— PR Daily (@PRDaily) June 17, 2020
Share your thoughts about returning to a workplace with our hashtag #DailyScoop.
COMMENT
One Response to "Quaker Oats to rebrand Aunt Jemima, PepsiCo offers plan to support racial equality, and HSBC, Hilton and AT&T announce layoffs"
Ronald N. Levy

says:

Good. There's entirely too much association of cooking with women although men deserve equal opportunity so it's time for a label that says Uncle Jemima.

And it's time to stop a "one recipe fits all" label for oats. Foster individual creativity with awards for the best examples of Oat Cuisine. And promote moistened oat sculptures. We already have oat milk so the best sculptures could be called cream of the crop. (Crop with an "o" since this is family newsletter.)

Artists who do expressionist oat abstractions can be said to be "really feeling their oats" like Jack the Dripper.