Bank of America shares minimum wage benchmarks, privacy drives brand trust, and Amazon expands worker safety initiative
Also: The Muppets encourage vaccinations, Google I/O conference drives conversation on Twitter, and Facebook seeks input from researchers.
Hello, communicators:
Brands and organizations have gone to great lengths to promote vaccine awareness and encourage vaccinations among stakeholders. From the mayor of New York City eating a cheeseburger on-air to the mayor of Ohio offering a million-dollar lottery prize, not to mention Krispy Kreme offering free donuts and Uber and Lyft offering free rides, the creativity of vaccine campaigns seemingly knows no bounds.
Not to be outdone, Disney has enlisted The Muppets to encourage fans to get vaccinated with its "Give It a Shot" campaign. The collaboration between Disney, the Ad Council and COVID Collaborative will be airing across ABC, ABC affiliates and social channels:
"Like Gonzo and Pepe, I'm a big advocate for vaccines," Dr. Pamela Hymel, chief medical officer for Disney Parks, wrote in a blog post. "At Disney Parks, we're stepping up to do our part, too. Our health and safety teams around the world have assisted local health initiatives by helping to organize onsite clinics offering vaccines to our cast members in California, Florida and France. And I'm proud that we've been able to assist the vaccination efforts in our communities."
While many vaccine awareness campaigns deployed a brand voice that audiences found questionable, the Muppets make masterful mascots for this initiative because they strike a tone that is fun, funny and sincere all at once. Moreover, by creating assets that Disney can deploy across all its channels, this campaign serves as a reminder that content can, and should, be created with the intent to repurpose and repackage whenever possible for all available outlets.
Bank of America shares benchmark goals to raise minimum wage
Bank of America has announced plans to raise the minimum wage for its employees to $25 by the year 2025. In addition, the company will also require all U.S. to pay employees who primarily work with the bank at or above $15 per hour. It says that 99% of the company's more than 2,000 U.S. vendor firms and 43,000 vendor employees are now paying qualifying employees at least $15 per hour as a result of this policy.
The bank's new benchmark builds on last year's decision to raise its minimum wage to $20.
According to its press release:
"A core tenet of responsible growth is our commitment to being a great place to work which means investing in the people who serve our clients," said Sheri Bronstein, the firm's top human resources officer. "That includes providing strong pay and competitive benefits to help them and their families, so that we continue to attract and retain the best talent."
What it means:
Bank of America's minimum wage benchmarks stand in stark contrast with a recent employee wage campaign from Chipotle, which promoted an average minimum wage hike of $15 an hour without setting any tangible commitments to employees. This campaign serves as a reminder to emphasize the connection between employee well-being and its effect on the customer experience in your messaging and accentuate those parallels with data whenever possible. Remind audiences of your past successes and fulfilled goals to justify the reasoning behind any bold benchmarks that you set.
---
MEASURED THOUGHTS
A report from Morning Consult reveals that the highest emotional driver of brand trust for consumers is whether the company respects and protects the customer's data, privacy and security, which respondents rated with a net importance score of 74. Respondents said that privacy and data were higher drivers of brand trust than the quality of products, how well the brand treats it customers and how strong a brand's customer service is (each earned a net importance for trust score of 72).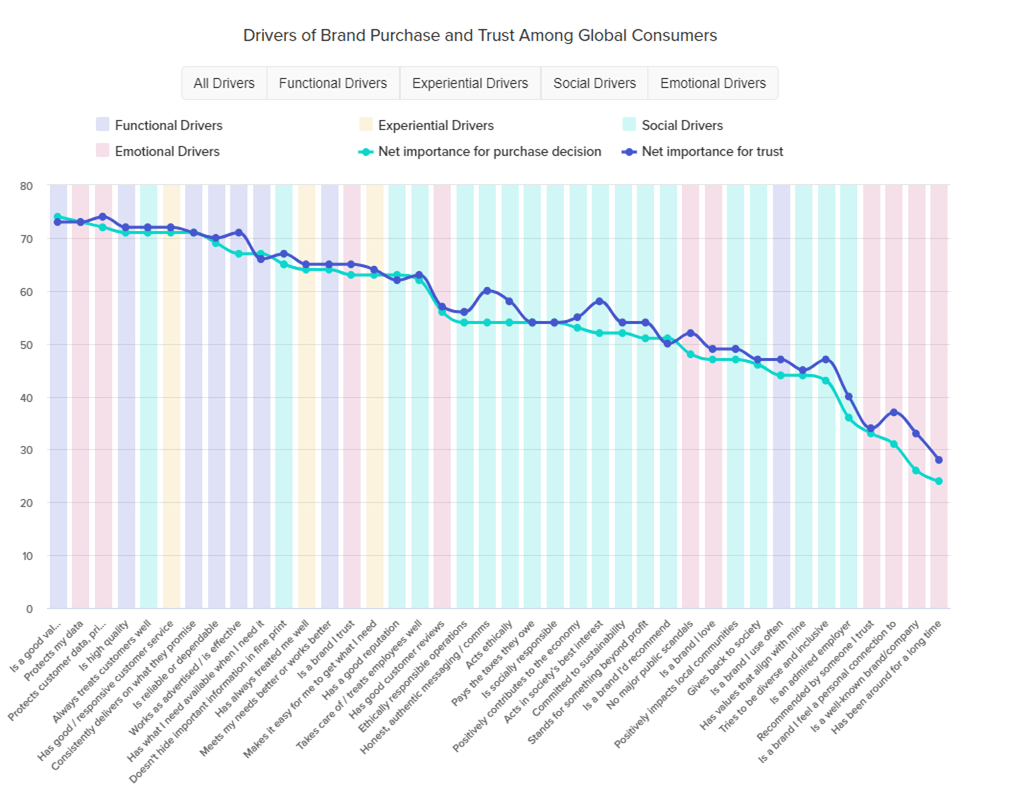 While customer service remains a crucial component of maintaining positive brand reputation, these findings suggest that privacy and data are a much bigger customer concern than many communicators realize. Remember that changing privacy practices from industry-leading companies like Apple, along with new privacy regulations like the California Privacy Rights Act, will require you to partner with marketing and ad teams to craft external messaging for your customers that clearly explains how you will use and safeguard their data.
---
TECH TALK
After taking a year off in 2020, Google kicked off its annual I/O developer conference yesterday in a hybrid virtual/live format that saw many announcements for the silicon valley mainstay, including a new project that creates a 3D image of a person sitting across from you and an interconnected Google Workspace suite that will let users link to other Workspace apps and give you the ability to start a Meet video call right from Google Doc, Sheet or Slide.
Twitter users were quick to crack jokes about some of the announcements:
Sundar Pichai somehow managed to host this year's #GoogleIO in The Good Place… pic.twitter.com/bWFPZ7T0uR

— Claire Reilly (@reillystyley) May 18, 2021
Some found the animated creatures that Google deployed to showcase its machine learning technology confounding:
so I guess this is what machine learning looks like huh #GoogleIO pic.twitter.com/Lhgp7dicbw

— Ben J (@DeepSpaceBen) May 18, 2021
What is this and how can i make it stop? #GoogleIO pic.twitter.com/r0zdzbHqNm

— CH 🐺 (@karl_iaxd) May 18, 2021
Many relished the fact that Marvel actor Michael Peña, who appears in the "Ant-Man" film series where heroes explore the "quantum realm," joined the broadcast to talk about quantum computing:
Sundar Pichai: I need a someone to explain Quantum Computing to the world
Michael peña: hold my taco 🌮#GoogleIO #sundarpichai pic.twitter.com/JPt6bijtbd

— Joy (@Joyvin9) May 18, 2021
Watching MichaelPeña #GoogleIO over Quantum Computing was awesome. pic.twitter.com/2v0UtjuLDI

— Mahoro Pierratono Costa (@pierratono) May 18, 2021
Fave part of #GoogleIO so far – Michael Peña.

— Robin Osborne 🇪🇺 💙💉💪🏻 (@rposbo) May 19, 2021
Ultimately, the digital footprint of Google I/O reinforced how strongly the developer community feels about the company's innovations:
Google IO 2021 keynote summary #GoogleIO #GoogleIO2021 #sketchnotes #sketchnoting pic.twitter.com/GyKTM5jfLu

— Lara Martín (@lariki) May 18, 2021
Google's deployment of large set pieces and actors that developers will appreciate also reinforces the need for your brand or organization to make its livestreams stand out from the endless scroll of content by infusing your broadcasts with unusual experiences that your community can share and amplify.
---
RAGAN'S 2021 BENCHMARK REPORT
Ragan has released its annual Communications Benchmark Report, an exclusive study from Ragan's Communications Leadership Council that analyzes the major trends in the profession over the last year.
During that time, comms pros have been called on to develop and distribute messages on new policies that affect internal and external stakeholders alike. Their role has become more essential as they helped keep their organizations focused and moving forward. They've seen their access to the C-suite increase throughout 2020, and they forged important new alliances with peers in other departments, including HR, finance and workplace wellness.
Culled from more than 750 respondents, the 32-page report is available in its entirety exclusively to members of the Communications Leadership Council.
Download your copy of the exclusive Benchmark Survey Executive Summary today and get a crucial competitive advantage that will fuel your success for 2021 and beyond.
---
TACTICALLY SPEAKING
Amid widespread objection to its planned version of Instagram for kids, Facebook has reached out to several researchers who have found a correlation between social media use and depression among teenagers.
The request says Facebook is "currently working on speaking with a range of experts who study algorithms and virality," but it doesn't specify whether the company is planning to assemble a more organized public- or private-facing group of experts focused on the mental health effects of the platform. Facebook declined to provide more detail about the requests, but a spokesperson did note that a company as large as Facebook reaches out to a variety of subject-matter experts frequently. The email does, however, allude to the company having relevant internal information regarding the mental health effects of its platforms. "The team would like to share some insights about what we're working on internally and ask for your input," the email says.

"I believe that they have done the research. They're not being transparent," [Rep. Cathy] McMorris Rodgers told NPR in an interview. "They seem to be more concerned about their current business model, and they have become very wealthy under their current business model. But the fact of the matter is we're seeing more and more evidence … that their current business model is harming our kids."
Facebook reframing its lack of transparency as an attempt to confirm findings with expert researchers serves as a reminder that sharing your data with experts can refine your practices and ultimately lead to a reputational win. In such situations, however, the flow of information sharing remains crucial. Craft messaging to external stakeholders that offers some transparency into your approach, even if the data isn't ready to share externally yet.
---
COMMUNICATIONS WEEK
Ragan is delighted to add industry event and thought leadership brand Communications Week to our portfolio. You can read the full press release here.
"We are reimagining Communications Week as a year-round endeavor," says Ragan Communications CEO Diane Schwartz. "The rollout will begin next month with thought-provoking content on the future of communications on Commsweek.com, Ragan.com and PRDaily.com, culminating with a weeklong series in November that will feature conferences, networking events, workshops, webinars and more."
The flagship event for 2021 will take place Nov. 15-19. Stay tuned for updates on the many opportunities and offerings that will help communicators connect, learn and celebrate their achievements later this year.
Amazon announces expanded plan to reduce worker injuries
Amazon says it is rolling out its WorkingWell safety and injury prevention program to 1,000 U.S. operations sites before the end of the year. The company's goal in expanding this program is to cut workplace incident rates by 50% by 2025. The expansion of this program, which was first introduced in 2019, will cost the company $300 million.
"We want [workers] to be healthy and safe and feel cared about and proud to work for Amazon," said Heather MacDougall, vice president of worldwide workplace health and safety at Amazon. Employee health and wellness "is not just a talking point," she said. "We made hundreds of changes as a result of employee feedback."

"I am not aware of any company with this many workers doing this kind of work all at once," said Deborah Roy, president of the American Society of Safety Professionals and former head of health, safety and wellness at L.L. Bean. "Just because of sheer numbers, if they do a good job collecting data and doing comparisons in a more controlled way, there is a good possibility we can learn from their implementation. … But we need to see the published data."
What it means:
Following Amazon's social media fracas with lawmakers and journalists over the treatment of its workers, this expansion of the company's existing employee wellness program demonstrates a commitment to employee well-being at scale in the eyes of industry experts. When performing an audit to measure your company's current programs and initiatives, determine what additional resources a program needs to resonate with external audiences before making additional investments. Create industry learning opportunities sharing any proprietary data with experts to ensure that your methodologies establish your brand as a leader in your industry.
---
CONFERENCE ALERT
Communicators face a crossroads this year as they anticipate markets recovering and workplaces reopening. Their work crafting a flexible crisis plan and mindful messaging that ensures your brand or organization is ready to handle any future unforeseen situation smoothly will be essential.
Join us at Ragan's Crisis Communications Conference on June 10  to learn timely strategies to help you reimagine your approach to crisis communications, mobilize internal and external stakeholders to be your megaphone and foster goodwill—and make fresh plans for unforeseen obstacles that may arise.
Learn powerful insights and approaches from speakers at organizations including Carnival Cruise Line, KFC, IBM, Amtrak, Mastercard and more.
---
WHAT YOU SAID
Yesterday, we asked when your company or organization will issue new policies on employee travel for work. Fifty-six percent of you said you're still not sure, while 22% said your companies have already issued guidance on travel for work. Another 17% are expecting employee travel policies to take shape by late summer or fall and only 6% are expecting new guidance soon after Memorial Day.
When will your company or organization issue new policies on employee travel for work, PR pros and communicators? #DailyScoop

— PR Daily (@PRDaily) May 18, 2021
Is there a question you'd like to see asked? Let us know by tagging #DailyScoop!
---
SOUNDING BOARD
Have you worked on a vaccine awareness campaign for internal or external stakeholders, PR pros and communicators?
Have you worked on a vaccine awareness campaign for internal or external stakeholders, PR pros and communicators? #DailyScoop

— PR Daily (@PRDaily) May 19, 2021
Let us know in the comments below. We'll share the results in tomorrow's roundup.
COMMENT