McDonalds, Lyft and Uber push vaccine messaging and services, Black employees see less progress on DE&I, and Chipotle promises wage hike
Also: Mattel wants to recycle old Barbies, YouTube offers funds to compete with TikTok for influencers, insights from Ragan's Communications Benchmark Report, and more.
Hello, communicators:
Plenty of brands are looking to have an impact on the conversation around COVID-19 vaccines—despite mixed evidence on the effectiveness of incentives and giveaways.
Following Krispy Kreme's promo offering a free donut to any customer who presents proof of vaccination, McDonald's announced that it has partnered with The White House to provide vaccination information on its coffee cups. Beginning this July, the cups will feature the "We Can Do This" slogan created by the U.S. Department of Health and Human Services to promote vaccine confidence, along with a website address directing people to nearby appointments and safety information.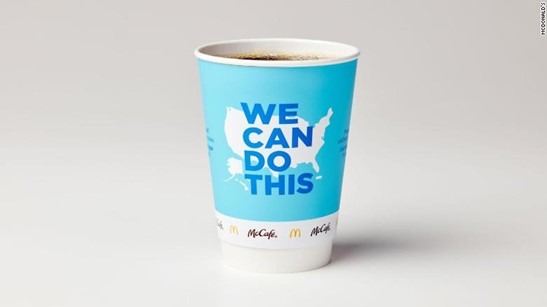 "We all want to protect ourselves and our loved ones and be together with our communities again," Genna Gent, McDonald's USA vice president for global public policy and government relations, said in a statement. "McDonald's is excited to be doing our part for the people we serve, providing them with simple information that can help keep them safe."
How responsive customers will be to messaging affixed to their morning cup of joe, this public-private partnership promotion (say that five times fast) comes off as a win for McDonald's. With plans to print the vaccine information on approximately 50 million coffee cups, the promotion also marks another example of a brand offering to share its wide reach with partners to achieve a mutually beneficial goal.
Uber and Lyft offer free rides to vaccine sites in new WH partnership
Uber and Lyft have joined forces with the Biden administration to provide free transportation for anyone needing a ride to get vaccinated. Riders can take advantage of promotion, which will launch in the next two weeks and run through July 4, by booking a vaccine appointment near them and redeeming the companies' offer for a free ride in the apps.
We're working hard to ensure transportation is less of a barrier when it comes to getting a COVID-19 vaccine. And I'm excited to share that starting May 24th, Uber and Lyft will offer everyone in America free rides to vaccination sites.

— President Biden (@POTUS) May 11, 2021
Uber did not immediately provide details about its plan, but both Uber and Lyft have previously pledged to offer millions of rides to people who need help getting to a vaccine appointment. In Uber's earlier effort, the company promised to provide up to 10 million free or discounted rides to help people get vaccinated, particularly "communities of color that have been disproportionately hurt by the pandemic."
What to know:
News of this partnership comes less than a week after Biden blocked a Trump-era rule that would have made it easier for Uber and Lyft to categorize gig workers as independent contractors. Skeptics will ask what additional steps Uber and Lyft will be taking to protect their drivers as the vaccination ride program roles out at scale. When sharing any messaging about an expanded application of your company's resources, be sure to include language on what those changes mean for your workforce to prevent turnover and ensure that the well-being of both internal and external stakeholders has been considered.
---
MEASURED THOUGHTS
A report by Glassdoor found that Black workers rated DE&I progress 8% lower than their non-Black colleagues. The report also suggests that the gap in perceptions of workplace diversity between Black or African American employees and their non-Black peers has widened in recent years.
"In 2019, the adjusted gap was about 0.2 out of 5 stars," the report reads. "But in 2020—the year in which the Black Lives Matter movement made international headlines—the gap widened to 0.4 stars, due to both rising D&I sentiment among non-Black employees and falling sentiment among Black or African American employees. And, so far in 2021, this diverging perception of D&I has only continued to grow, with the gap in workplace D&I ratings between Black or African American employees and non-Black employees rising to 0.6 in early-2021."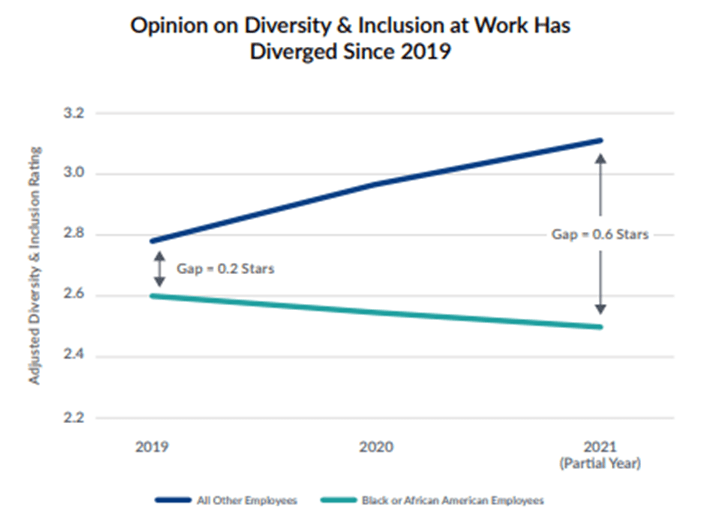 This widening perception gap shows the need for measuring the progress of your brand or organization's DE&I work by surveying all internal stakeholders holistically and not lumping employee sentiment into one massive group. If your internal sentiment says that your DE&I initiatives are improving, but that sentiment is weighted by one racial or ethnic identity group, it's safe to assume that your results are not free of bias.
---
SOCIAL BUZZ
YouTube is launching a $100 million fund to pay the most popular creators on its Shorts product, a short-form video app designed to compete with TikTok. The decision follows a trend, as Snap and TikTok have launched similar creator funds to acquire more influencers.
At YouTube, we're making it easier to create content on your phone with our Shorts beta. Today we're announcing the $100M YouTube Shorts Fund to reward creators with the highest engagement. Anyone who creates Shorts is eligible to participate! Read more: https://t.co/7P7cGhY3Br

— Susan Wojcicki (@SusanWojcicki) May 11, 2021
"The Shorts Fund is just the first step in our journey to build a long-term monetization model for Shorts on YouTube," the company said in a blog post. YouTube said it'll reach out to thousands of creators every month who received the most engagement and views. It'll also ask those creators to share feedback on the platform.

A company spokesperson declined to share details about how much creators can earn, or the metrics that will determine who gets paid, and said that the company would release more information in coming months.
YouTube's Shorts Fund serves as a reminder that communicators can develop long-term monetization models, too, by building relationships with influencers who are relevant and active on the platforms where your brands audience is also active. Each new influencer network is an opportunity for your brand to become an early adopter on the platform by reaching out to developers and offering to be a part of pilot advertising programs.
---
RAGAN'S 2021 BENCHMARK REPORT
Ragan has released its annual Communications Benchmark Report, an exclusive study from Ragan's Communications Leadership Council that analyzes the major trends in the profession over the last year.
During that time, comms pros have been called on to develop and distribute messages on new policies that affect internal and external stakeholders alike. Their role has become more essential as they helped keep their organizations focused and moving forward. They've seen their access to the C-suite increase throughout 2020, and they forged important new alliances with peers in other departments, including HR, finance and workplace wellness.
Culled from more than 750 respondents, the 32-page report is available in its entirety exclusively to members of the Communications Leadership Council.
Download your copy of the exclusive Benchmark Survey Executive Summary today and get a crucial competitive advantage that will fuel your success for 2021 and beyond.
---
TACTICALLY SPEAKING
Chipotle has announced that it will raise its average hourly pay to $15 to attract workers in an increasingly tight labor market.
"Chipotle is committed to providing industry-leading benefits and accelerated growth opportunities, and we hope to attract even more talent by showcasing the potential income that can be achieved in a few short years," said Marissa Andrada, Chief Diversity, Inclusion and People Officer at Chipotle.
The pay hike comes just weeks after New York City sued Chipotle alleging that multiple locations violated scheduling laws enacted in 2017 to protect workers from unreliable shift scheduling and other unfair labor practices.
Laurie Schalow, Chipotle's chief corporate affairs officer, called the city's lawsuit a "dramatic overreach" and said the company would "vigorously defend itself." Chipotle remains committed to its employees and their right to a fair, just and humane work environment that provides opportunities to all," she said in a statement.
While timing of Chipotle's pay hike announcement suggests that the brand hopes to gloss over the pending litigation in New York with a positive PR push, its statement reminds audiences that the pay hike is not a guaranteed minimum wage so much as a "potential income that can be achieved in a few short years," which points to an attempt to prevent employee turnover rather than establish worker equity.
---
COMMUNICATIONS WEEK
Ragan is delighted to add industry event and thought leadership brand Communications Week to our portfolio. You can read the full press release here.
"We are reimagining Communications Week as a year-round endeavor," says Ragan Communications CEO Diane Schwartz. "The rollout will begin next month with thought-provoking content on the future of communications on Commsweek.com, Ragan.com and PRDaily.com, culminating with a weeklong series in November that will feature conferences, networking events, workshops, webinars and more."
The flagship event for 2021 will take place Nov. 15-19. Stay tuned for updates on the many opportunities and offerings that will help communicators connect, learn and celebrate their achievements later this year.
Mattel's asks consumers to send back old toys in sustainability effort
Mattel has launched a takeback program that will allow customers to recycle old Barbie, Matchbox and Mega toys by returning them to Mattel, which will recover and reuse the materials in future products.
Pamela Gill Alabaster, Mattel global head of sustainability, said the program is one step the company is "taking to address the growing global waste challenge." For materials that cannot be repurposed as recycled content in new toys, Mattel said it will either downcycle them or convert them from waste to energy. The company's goal is to use 100% recycled, recyclable or bio-based plastic materials across all products and packaging by 2030.
Why it matters:
Mattel's launch of this takeback program is well timed, as it arrives a week after the EPA announced regulations to reduce greenhouse gas emissions, which will include rules for corporations to reduce emissions that all will be required to follow beginning next year. Though hollow ESG campaigns encourage recycling and sustainability from external stakeholders without explaining how the customer' footprint affects the brand footprint, Mattel's program goes a few steps further by setting benchmark goals, establishing timelines for meeting those goals and detailing how it will make use of unrecyclable components received from its program.
---
CONFERENCE ALERT
Communicators are in a unique position to collaborate with other DE&I leaders to foster unity, build a stronger internal and external brand reputation, maximize innovation and improve the bottom line. The days of brands comfortably remaining silent are gone as employees and customers are demanding impactful change.
Join us at Ragan's Diversity, Equity and Inclusion conference on May 19 and glean timely strategies to educate, engage and uplift your employees and customers in the wake of unparalleled uncertainty, political upheaval and a new mandate for social justice change.
Learn powerful insights and approaches from speakers at organizations including Ben & Jerry's, Reebok, Warner Music Group, E.W. Scripps, NielsenIQ, Facebook and more.
---
WHAT YOU SAID
Yesterday, we asked if your company or organization has ever responded publicly to problematic partners when their behavior reflected negatively on your brand or your industry. A majority of you (56%) said "yes," while 44% said "no."
Has your company or organization ever responded publicly to problematic partners when their behavior reflected negatively on your brand or your industry? As a reminder, your responses are completely anonymous. #DailyScoop

— PR Daily (@PRDaily) May 11, 2021
Is there a question you'd like to see asked? Let us know by tagging it with #DailyScoop!
---
SOUNDING BOARD
Have you ever worked on a public/private partnership campaign, PR pros and communicators?
Have you ever worked on a public/private partnership campaign, PR pros and communicators? #DailyScoop

— PR Daily (@PRDaily) May 12, 2021
Let us know how that worked out in the comments below. We'll share the results in tomorrow's roundup.
COMMENT