Sony fires Mike Richards from 'Jeopardy!', how moms left the workforce during COVID-19, and New Orleans comms tech fails during Ida
Also: LGBTQ organizations use rapper DaBaby to educate, Pop-Tarts celebrates Día de Muertos, and Bonnaroo fans show support after organizers cancel festival.
Hello, communicators:
Pop-Tarts is releasing limited edition breakfast pastries to celebrate Mexican holiday Día de Muertos, also known as Day of the Dead. The effort was conceived by parent company Kellogg's in collaboration with its HOLA Latino Business Employee Resource Group.
Kellogg's partnered on the campaign with the National Association of Latino Arts and Cultures (NALAC), a Latinx nonprofit organization focused on promoting, connecting and cultivating the next generation of Latino arts. The company will also provide grants to four Latinx arts organizations in L.A., San Diego, Dallas and Houston.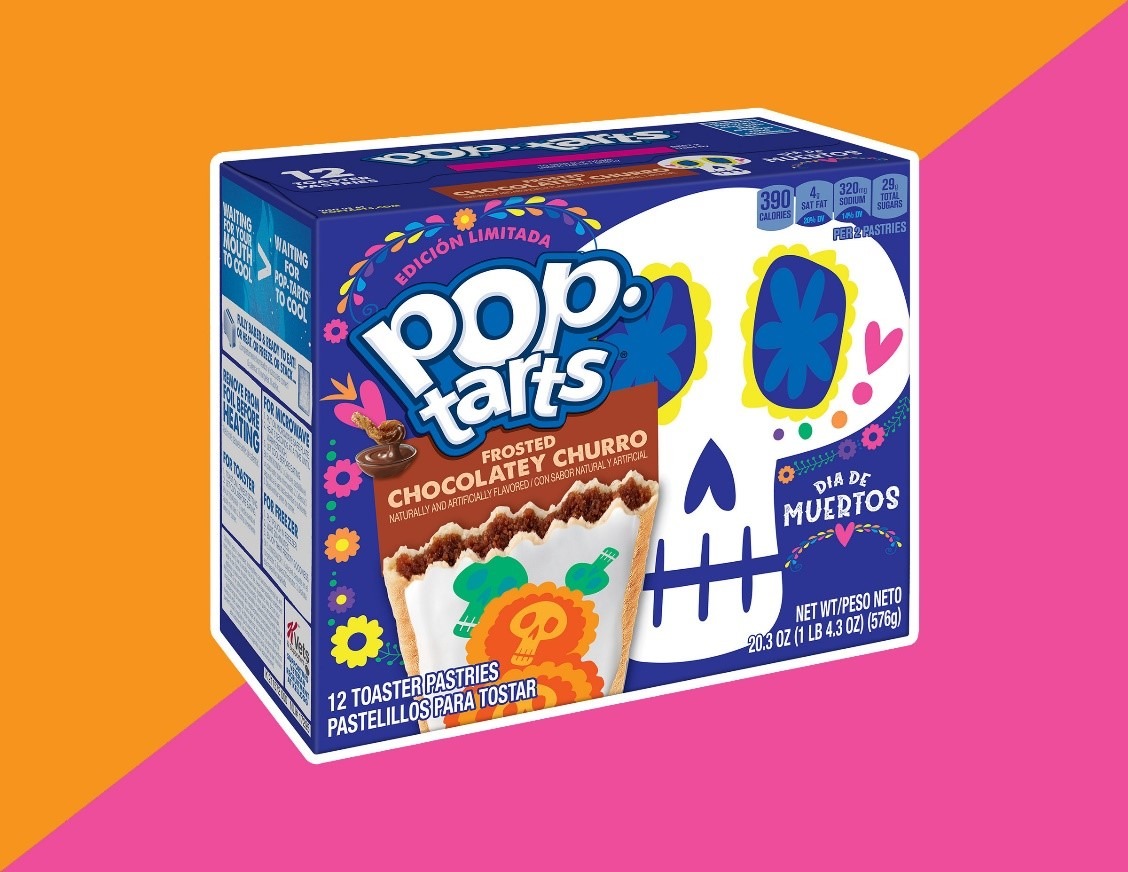 "Día de Muertos is an indigenous practice of remembrance in communities across the Americas that many hold incredibly dear. This living tradition has inspired artists, communities and cultures for thousands of years,"  María López de León, president and CEO of NALAC said in a press release. "We are pleased that Pop-Tarts is engaged in helping us enrich knowledge to fuel understanding, creativity and passion."
Kellogg's campaign is rife with both best practices and missed opportunities. While the company smartly consulted its own employees around the project and acknowledged the creation of its HOLA resource group, nowhere does the press release explain the breadth or autonomy of the group's work. While the press release or this campaign educates audiences on the specific elements of Día de Muertos iconography adorning each Pop-Tart, it does not say whether that context will be shared with general consumers.
Finally, the admirable partnership with NALAC and commitment to provide grants to Latinx arts organization doesn't offer specifics about which organizations have been chosen and the work that they are doing.
Here are today's top stories:
Rapper DaBaby meets with LGBTQ advocacy groups following homophobic remarks
The Gay and Lesbian Alliance Against Defamation (GLAAD) announced that it met with rapper Jonathan "DaBaby" Kirk following DaBaby's homophobic onstage comments at a festival in Miami that included inaccurate information about how HIV and AIDs are transmitted. DaBaby faced swift backlash for his comments and was removed from the lineup of several major music festival this summer.
The incident prompted an open letter from several organizations that led to the meeting. Along with GLAAD, DaBaby also met with the Black AIDS Institute, Gilead Sciences COMPASS Initiative Coordinating Centers,  National Minority AIDS Council (NMAC), The Normal Anomaly Initiative, Positive Women's Network-USA, Prevention Access Campaign (U=U), the Southern AIDS Coalition,  and Transinclusive Group, to discuss HIV history and education along with each group's work in Black, LGBTQ and faith communities.
GLAAD shared news of the meeting along with findings from its 2021 State of HIV Stigma Study released the week prior.
According to a joint statement shared by GLAAD:
The open letter to DaBaby was our way to extend him the same grace each of us would hope for. Our goal was to 'call him in instead of calling him out.' We believed that if he connected with Black leaders living with HIV that a space for community building and healing could be created. We are encouraged he swiftly answered our call and joined us in a meaningful dialogue and a thoughtful, educational meeting.

During our meeting, DaBaby was genuinely engaged, apologized for the inaccurate and hurtful comments he made about people living with HIV, and received our personal stories and the truth about HIV and its impact on Black and LGBTQ communities with deep respect. We appreciate that he openly and eagerly participated in this forum of Black people living with HIV, which provided him an opportunity to learn and to receive accurate information.
Why it matters:
As the LGBTQI+ community continues to combat harmful stereotypes and misinformation about HIV, this joint statement highlights the power that communication has to quell ignorance through open dialogue. While presenting those who challenge your brand or organization with facts is important, the forum and delivery style that you choose to deliver those facts is just as crucial.
Resisting the urge to get defensive when responding to influential people with bad information by offering resources beyond education and information—such as communications tools, including data and press releases—can turn an adversary into a future partner.
---
MEASURED THOUGHTS
A recently updated study by Pew Research Center found that 27% of mothers with children younger than 18-years-old said their ideal personal situation during COVID-19 would be not to work for pay at all, while the share of mothers who said it would be best for them to work full time dropped from 51% to 44% from 2019 to 2020. There was no notable change in how fathers described their ideal work arrangements.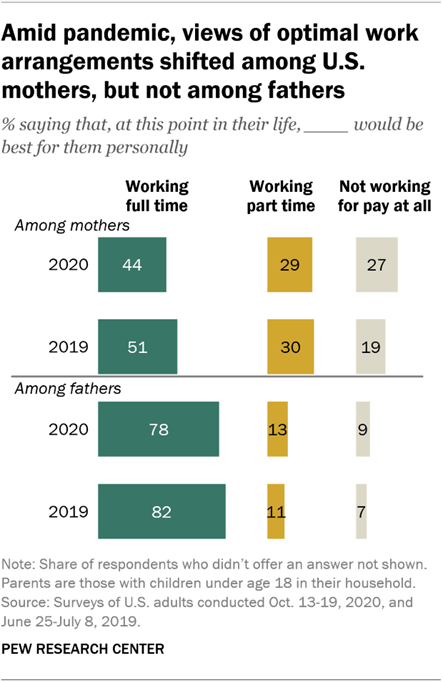 Courtesy of Pew Research Center
These numbers illuminate the extent to which the pandemic has affected how your workplace must reevaluate its policies to combat "The Great Resignation" as parents continue to question whether working for their current level of pay still works for them. While social listening sessions and frequent pulse surveys are powerful means for increasing employee engagement, it's important to communicate that these tools and designed to be flexible for the individual needs of each employee.
Work with your HR/people team to design an employee communications strategy that meets workers where they are creates trust and consideration that can increase the likelihood of employees opening up about their thoughts around leaving.
---
SOCIAL BUZZ
This weekend's edition of Tennessee music festival Bonnaroo will no longer take place after rain from Hurricane Ida left the festival grounds waterlogged. The organizers sent emails to all ticketholders about the last-minute cancelation and posted the disappointing news on social media:
we are unable to drive in or park vehicles safely.
 
We have done everything in our power to try to keep the show moving forward, but Mother Nature has dealt us a tremendous amount of rain over the past 24 hours, and we have run out of options to try to make the event happen…

— Bonnaroo (@Bonnaroo) August 31, 2021
Bonnaroo twitter rn pic.twitter.com/fQA5VeTdKH

— Bonnaroovian (@Bonnaroovian) August 31, 2021
While many ticketholders expressed their disappointment and accused Bonnaroo of taking the easy way out, community members rushed to the defense of the festival organizers and their decision:
I went to a festival like this in Vermont 2004. They didn't cancel and tried to tow us into the fields to camp. Cars sank in the mud and were stuck for weeks. Others had their axels ripped off by the tow trucks. Canceling is the smart move. That weekend sucked

— sandi (@sandigirl15) September 1, 2021
Tell me you didn't read the agreement terms when you purchased without telling me you didn't read the agreement terms when you purchased.

Don't worry, my guy! I pulled them up for you 😎😎 pic.twitter.com/EWhpeDYHVc

— heidee. (@struggs_) August 31, 2021
Y'all would still complain if Bonnaroo wasn't cancelled and had to put your tent up in 6 inches of water,

— RUCKUS THE JAM @ NORTH COAST (@snacob105) August 31, 2021
https://twitter.com/sujesstive/status/1432813612494635009
The Bonnaroo community's tremendous outpouring of support for festival organizers following a difficult, last-minute announcement emphasizes how building a community among your stakeholders can turn them into brand advocates and agents of goodwill who are ready to show their support when a crisis hits.
---
TAKE OUR SURVEY
If you're looking for benchmark data to take to your bosses the next time you ask for a raise or search for a new job, lend us a hand—and help yourself and your peers while you're at it. Participate in Ragan's Salary & Workplace Culture Survey, a comprehensive look at salaries, benefits, culture, bonuses and other aspects of the job in a fast-moving industry.
Both internal and external communicators are encouraged to participate.
By taking part, you will receive a $150 discount to a Ragan virtual conference of your choice and be entered to win one of five $50 gift cards. All who complete the survey will receive a full report on the findings. Responses are anonymous. Enter by Sept. 17.
Take the Ragan Salary & Workplace Culture Survey now.
---
CRISIS COMMUNICATIONS
Sony has fired Mike Richards as the executive producer of "Jeopardy!" and "Wheel of Fortune," ending the saga that began after Richards stepped down as the new host "Jeopardy!" when old podcast episodes surfaced that featured Richards making sexist and antisemitic comments. Though Richards apologized for his past words and acknowledged that he had "a lot of work to do," fans were not happy that he remained involved with the show in any capacity.
"We had hoped that when Mike stepped down from the host position at 'Jeopardy!' it would have minimized the disruption and internal difficulties we have all experienced these last few weeks," a Sony executive, Suzanne Prete, wrote in a memo to staff on Tuesday. "That clearly has not happened."

Andy Saunders, who runs the website The Jeopardy! Fan, said on Tuesday that he was relieved and hopeful that peace might be restored at the game show.

"Its reputation has taken a bit of a hit over the past few weeks," he said in an interview. "I'm really looking forward to being able to move on from this. And I'm hopeful that the show has learned from what's happened."
By reversing course on its initial decision, Sony demonstrates that it is listening to the active fan community for "Jeopardy!" and acknowledging how that community's concerns affect its business overall.
Hurricane Ida disrupts communications technology, channels
As Hurricane Ida made landfall in Southern Louisiana this past Sunday on the 16th anniversary of Hurricane Katrina, state and government officials alike acknowledged that the city of New Orleans and its surrounding areas were much better prepared for the incoming storm and had learned from past tragedies. While city officials claimed to have modernized emergency communications infrastructure, including upgrading the city's emergency telephone systems and consolidating medical, police and fire calls under one roof, the call-routing technology that would keep the systems operating during an outage had yet to be installed.
As a result, emergency calls went unanswered while The Orleans Parish Communication District's dispatch center was down for 13 hours on Monday.
"Our technology is antiquated," Tyrell Morris, the district's executive director, said Monday. "The calls never got to the building." As to why it hadn't been installed years ago, Morris said part of the reason was, "It's expensive."

AT&T's basic cell service also came under criticism from New Orleans residents—and the family and friends trying to reach them, judged by looking at the deluge of complaints on social media. AT&T spokesman Jim Greer responded to questions about whether AT&T fared worse than other carriers after Ida by writing in an email: "I'm not sure that is the case." AT&T said 60 percent of its wireless network in Louisiana was working normally early Monday — rising to 82 percent later in the day as crews worked to restore service.

Verizon said it was seeing only limited problems. "We are pleased to date with performance of the network," Verizon spokeswoman Karen Schulz said. T-Mobile reported its network was "about 70% operational across Louisiana and Alabama."
Why it matters:
The failure of communications technology during Ida, along with the many cybersecurity incidents and data leaks over the past year, emphasize how imperative it is that you have a basic understanding of the technology and tech infrastructure that makes your business run.
Hold periodic check-ins with IT teams and cybersecurity experts alike to identify upgrade needs and vulnerabilities, then communicate those vulnerabilities to leadership with an emphasis on how they can affect your bottom line when a crisis hits. Be sure to include those vulnerabilities in your crisis plans and scenario training until they have been adequately addressed.
COMMENT
One Response to "Sony fires Mike Richards from 'Jeopardy!', how moms left the workforce during COVID-19, and New Orleans comms tech fails during Ida"
Ronald N Levy

says:

It's hard to imagine why, after being accused of allegedly antisemitic and antigay remarks, Richards didn't make PRO semitic and PRO gay remarks—and more important, take pro semitic and pro gay ACTIONS.

Instead of saying it was long ago, Richards could have said "everyone who has ever made a stupid joke as I did may know how stupid I feel, and everyone who thinks minorities deserve a better break than they are getting may appreciate the three things I want to DO.

Then he could name the three things and everyone who cares more about minority benefit than about punishing Richards, all those many people could favor keeping him employed so he can do the good deeds he wants to do. Otherwise what—he loses but minorities also lose out? That's not how the public decides on what it favors.