Twitter users roll their eyes over Juneteenth messaging, 6 top cybersecurity threats, and Boeing explains 737 Max certification
Also: Southwest Airlines marks anniversary with gift to employees, Facebook enacts new satire policy, and Disney Parks unwinds COVID safety procedures.
Hello, communicators:
In celebration of the 50th anniversary of its first flight, Southwest Airlines has announced that it is gifting each employee with 50,000 Rapid Rewards points that they can redeem toward flights, hotel stays, rental cars, gift cards and more.
"Southwest revolutionized the travel industry since our very first flight on June 18, 1971—a time when less than 15% of Americans ever had traveled by air," Southwest Airlines' Chairman of the Board and Chief Executive Officer Gary Kelly said at an employee anniversary party. "The People of Southwest democratized the skies with friendly, reliable and affordable air travel, and what better way to honor you, our employees, on our 50th Anniversary than by offering a gift of 50,000 Rapid Rewards points."
As Southwest recovers, not only from massive layoffs and a reduction in service due to the pandemic but a rough week of communication following three days of canceled flights, this campaign serves as a reminder that company anniversaries can provide ample opportunities to reinforce your corporate culture to both internal and external stakeholders and hit the cultural reset button.
Here are today's top stories:
Twitter users speak out against Juneteenth brand messaging
Soon after Juneteenth became a federal holiday this past Friday, several brands began sending out promotional communications about the significance of the holiday. Corporate and brand marketing interest in the holiday jumped up as businesses looked to respond to the social movement following the police killing of George Floyd in 2020.
[Miles] Dotson and the HellaCreative team launched the #HellaJuneteenth landing page, filled with testimonials, educational resources, and opportunities to email local and state representatives, on Friday, June 5, 2020 — 11 days after Floyd's death. The response was immediate. By the time the following Monday rolled around, tech executives including Twitter CEO Jack Dorsey promoted the website as a resource for followers to find out about Juneteenth. Before 2020, many non-Black Americans knew very little about the holiday.

"It was like a fire hose," Dotson said. "We didn't really have time to consciously think about what was happening, we were just very responsive in riding the wave, staying up late nights until three or four in the morning to make updates to the site."

Within five days of launch, over 600 companies, like VSCO, Adobe, Lyft, Spotify, and Netflix, signed up to take the pledge to recognize Juneteenth as a paid, corporate holiday for their employees. As of today, the digital reach of the #HellaJuneteenth campaign has a total of over 300 million unique impressions.
This year, the promotional marketing communications have been coming fast, on both social media and email:
Imagine my ancestors thinking I'd one day wake up to 60% off. pic.twitter.com/RhCLFL69Rc

— Chumach (@Bulmanghani) June 19, 2021
brands on Juneteenth—

"✊🏾Cop 50% off today, Sis! Facts. No printer. ✊🏾" pic.twitter.com/oifC5xhXpJ

— Brittani Warrick (@BrittaniWarrick) June 15, 2021
brands doing juneteenth is a new circle of hell

— mads (@utahmads) June 19, 2021
Some have used the trend as an opportunity to remind marketers and communicators that not every holiday or event is appropriate for their brand to engage with:
as a black marketer and creator, i'm going to say this—

the thing about cultural moments, like juneteenth, is that you don't always have to insert yourself into the conversation.

brands need to learn when to tap in to moments that are ✨appropriate✨ for their business. pic.twitter.com/CsHGEyBbzh

— jayde i. powell (@jaydeipowell) June 19, 2021
Last year when Black workers at @Amazon asked to observe Juneteenth, Amazon responded with a no and a side of fried chicken and waffles.

Today, it's marking Juneteenth ahead of #PrimeDay designed to break bodies of their mostly Black and brown warehouse workers #AmazonHurts https://t.co/tmGM0tWEkp pic.twitter.com/oG081AdIAt

— Athena 🦉 (@athenaforall) June 19, 2021
And others noted that the intersection of Juneteenth with Pride marketing campaigns offers parallels in how brand are pandering to affected communities:
Brands on Juneteenth pic.twitter.com/4XmGYfb60G

— Giovanti (@GioCharles12) June 19, 2021
Why it matters:
Consider Dotson's revealing comment about responding to the massive virality of his company's Juneteenth campaign when he said, "We didn't really have time to consciously thing about what was happening." Though HellaCreative's work may have been well-intentioned, the story serves as a reminder that piggybacking on cultural moments just because they are trending seldom leaves time for communications and messaging efforts to examine their impact.
---
MEASURED THOUGHTS
A new infographic by Custom Writing notes that internet crime complaints rose from 467,361 in 2019 to 791,790 in 2020. With 2021 already rife with many cases of cyberattacks hitting brands, Custom Writing's list of top cybersecurity threats to look out for could not come at a better time.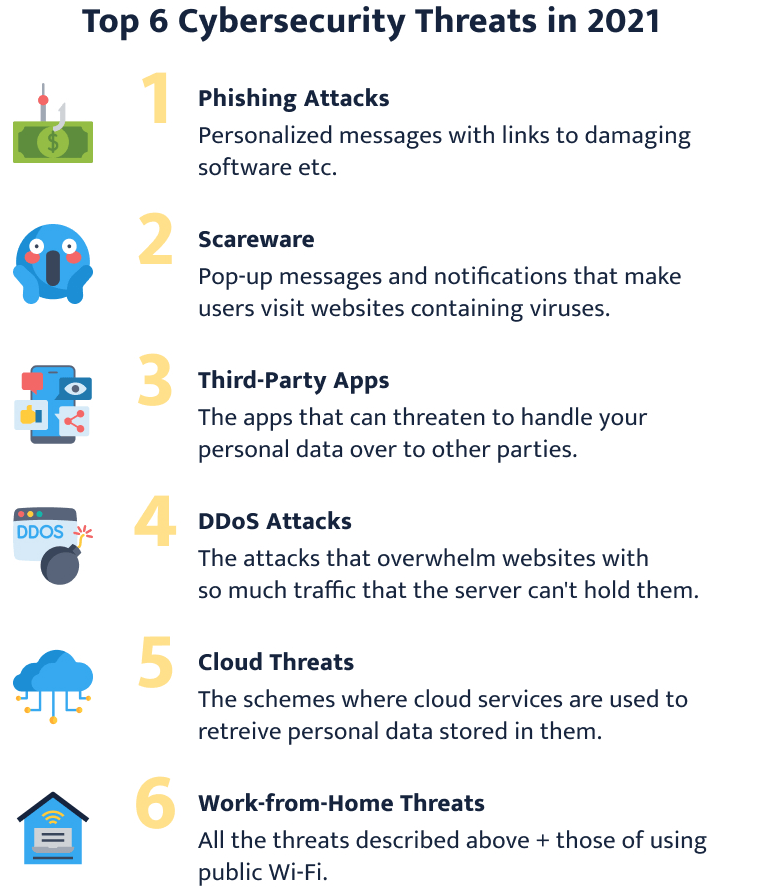 While some of these threats may seem obvious, your workforce and customers remain increasingly vulnerable to attack in an age of heightened digital communication and e-commerce. Work with your tech teams to craft messaging plans that address how these specific threats might materialize for stakeholders engaging with your brand or industry. As record numbers of Americans consider data security a top concern, your efforts will build positive goodwill in the long run.
Check out the full study here.
---
TACTICALLY SPEAKING
As pandemic restrictions relax, Disney Parks is transitioning back to some semblance of normality with the elimination of physical distancing markers, plexiglass on rides and in queues and more. Nonetheless, Disney leaders were careful to communicate the expectation that things will not go back to the way they were pre-pandemic just yet.
California lifted most of its coronavirus safety restrictions this week, and the parks at the Disneyland Resort in Anaheim are continuing to reopen in phases, but a handful of the COVID-era changes are going to stick. "I don't want to say we are going to go back to the way it was," Josh D'Amaro, chairman of Disney Parks, Experiences and Products, said Thursday about managing the parks. "I want to be really smart in the way we do this."

The annual pass program — which was canceled in January and which experts blamed for some of the parks' crowding problems — will be replaced with a membership program that "will reflect the behavior of our superfans," D'Amaro said, adding that more details will be released "relatively soon." D'Amaro attributes the recent crowd sizes to the pent-up demand of Disney fans who have been away for more than a year. "The yearning for the Disney experience has grown stronger over the pandemic," he said.
D'Amaro's tactful reset of expectations for Disney Parks' fans serves as a reminder that your communication should do away with messaging that stresses a return to normal and instead emphasize that, while things will change for the better, things will be different. Responsible alignment of expectations in your messaging need not attempt to have all the answers, but explain your decision process and unknowns with a consideration for your most vocal supporters and brand advocates at the heart of your statements.
---
RAGAN'S 2021 BENCHMARK REPORT
Ragan has released its annual Communications Benchmark Report, an exclusive study from Ragan's Communications Leadership Council that analyzes the major trends in the profession over the last year.
During that time, comms pros have been called on to develop and distribute messages on new policies that affect internal and external stakeholders alike. Their role has become more essential as they helped keep their organizations focused and moving forward. They've seen their access to the C-suite increase throughout 2020, and they forged important new alliances with peers in other departments, including HR, finance and workplace wellness.
Culled from more than 750 respondents, the 32-page report is available in its entirety exclusively to members of the Communications Leadership Council.
Download your copy of the exclusive Benchmark Survey Executive Summary today and get a crucial competitive advantage that will fuel your success for 2021 and beyond.
---
SOCIAL BUZZ
Facebook's Oversight Board has announced an update to its community standards to be clearer about how it handles satirical content.
We previously began developing a framework for assessing humor and satire and are prioritizing completing it based on the board's recommendation. This work included over 20 engagements with academic experts, journalists, comedians, representatives of satirical publications, and advocates for freedom of expression. Stakeholders noted that humor and satire are highly subjective across people and cultures, underscoring the importance of human review by individuals with cultural context. Stakeholders also told us that "intent is key," though it can be tough to assess. Further, true satire does not "punch down": the target of humorous or satirical content is often an indicator of intent. And if content is simply derogatory, not layered, complex, or subversive, it is not satire. Indeed, humor can be an effective mode of communicating hateful ideas.
It's hard to communicate with a sense of humor on social media as artful comedy relies heavily on timing, delivery, vocal inflection, body language and other attributes that are sacrificed when jokes are read on a screen. Consider the degree to which your brand voice allows for humor based on your industry, your audience and your brand's relationships with each as distinct from other players in the space.
---
COMMUNICATIONS WEEK
Ragan is delighted to add industry event and thought leadership brand Communications Week to our portfolio. You can read the full press release here.
"We are reimagining Communications Week as a year-round endeavor," says Ragan Communications CEO Diane Schwartz. "The rollout will begin next month with thought-provoking content on the future of communications on Commsweek.com, Ragan.com and PRDaily.com, culminating with a weeklong series in November that will feature conferences, networking events, workshops, webinars and more."
The flagship event for 2021 will take place Nov. 15-19. Stay tuned for updates on the many opportunities and offerings that will help communicators connect, learn and celebrate their achievements later this year.
Boeing explains 737 Max 10 safety certification process
Airplane manufacturer Boeing's largest 737 Max 10 model jet has taken off on its maiden flight, but the company's new aircraft is facing scrutiny after a series of scandals and fatal crashes involving the smaller 737 Max 8 model, grounded the 737 Max line in 2019. Boeing's Commercial Airplanes CEO Stan Deal has said that the company still needs time to develop and certify additional safety enhancements and certifications before the new model will be ready for passengers.
Although the Max 10 was originally scheduled to enter service last year, it won't do so until 2023 to provide ample time to address all regulatory requirements and test all the technical details.

"We're going to take our time on this certification," Deal said, in a short interview, his first since taking over Boeing Commercial Airplanes in October 2019. "We're committed to make further safety enhancements. We need the time to do that, to allow the regulators to be on the airplane.

"We looked at an enhancement to the air data indication system" that provides alerts to the crew, Deal said. "We are working on that as we speak."
According to its press release:
"The airplane performed beautifully," said 737 Chief Pilot Capt. Jennifer Henderson. "The profile we flew allowed us to test the airplane's systems, flight controls and handling qualities, all of which checked out exactly as we expected."

Today's flight was the start of a comprehensive test program for the 737-10. Boeing will work closely with regulators to certify the airplane prior to its scheduled entry into service in 2023.
What it means:
Boeing's focus on transparency and caution underscore its recent push for reputational repair that also included the temporary grounding of more than 60 of its planes citing an insufficiently vetted manufacturing change in April. Take note that the most tried-and-true fix for a massive reputational hit comes when you acknowledge the operational and/or cultural issue at the root of a crisis and make the fix a demonstratable cornerstone opportunity of your brand values moving forward.
Demonstrating that you live those values also means acknowledging when a formal PR event or ceremony around a new product or milestone brings up painful memories and finding less overtly promotional ways to tell your story, such as providing publications with access to your leaders.
---
WHAT YOU SAID
This past Friday during Pride month and ahead of Juneteenth weekend, we asked if your organization's DE&I and purpose work is wide-reaching enough to engage with multiple diverse communities at once. A majority (57%) of you said yes, while 43% of you said no.
While Juneteenth just became a national holiday, Pride Month also remains in full swing. Do you feel that your organization's DE&I and purpose work is wide-reaching enough to engage with multiple diverse communities at once, PR pros and communicators? #DailyScoop

— PR Daily (@PRDaily) June 18, 2021
Is there a question you'd like to see asked? Let us know by tagging #DailyScoop!
---
SOUNDING BOARD
Does your brand voice allow you to use humor in your messaging when appropriate, PR pros and communicators?
Does your brand voice allow you to use humor in your messaging when appropriate, PR pros and communicators? #DailyScoop

— PR Daily (@PRDaily) June 21, 2021
Let us know if humor has a place in your communications strategy by tagging us at #DailyScoop.
COMMENT